Stunning Cocktail and Party 20s Style dresses
This article contains links where we may earn a small commission at no cost to you: Learn more here
The simplest explanation of a cocktail party is that it is an event that serves cocktails. A better explanation is that it is a social gathering often present after weddings and other formal ceremonies. If you got an invitation to a unique vintage party, you would need the perfect 1920s cocktail dress.
You might not have enough experience with choosing the right attire, but we are here to help. Check out the top 1920s cocktail and party dresses and find your favorite!
Why Is a Flapper Dress Perfect for a Cocktail Event?
Flappers are girls that revolutionized the entire female fashion in the roaring 20s. That is why a flapper dress is an ideal choice for a unique clothing combination to take to a cocktail party. You have different approaches when it comes to the colors and design of the dress.
If you appreciate vivid colors, you will love the 1920s flapper dress fashion. You can wear glitters and rest assured you fit the era perfectly.
Here is another great trick to consider while you shop for a flapper dress. You should aim for spaghetti straps since they are a flapper trademark. They can also be great for a cocktail reception, especially if you plan to show your moves on the dance floor.
Stunning Roaring 20s Party Outfits
Did you know which two colors fit perfectly for elegant attire? It is a mixture of black and silver, and you can often see them in art deco style dresses. If you search for a flapper dress, the odds are you will find many using this formula.
Get the 1920s Vintage Style Flapper Dress!
If you don't want your dress to be too dark, pick silver as the primary color of your silver flapper dress. It can still feature a unique vintage pattern that will help you stand out from the crowd.
The black spaghetti straps serve to emphasize your every step, and you can mix them with other accessories. That includes black satin gloves and a handbag, and don't forget the importance of matching shoes.
Add a Modern Touch with a Sequin Women Cape Dress
Your search for the perfect flapper dress might end once you see the vintage cape combinations for the outfit. What's special about these 1920s style clothing combinations?
 Get the 1920s Great Gatsby Party Dress!
At first glance, they are a regular flapper dress. They feature an art deco style inspired pattern, and the spaghetti straps pinpoint your moves while dancing. However, if you want to add a dose of elegance, you can consider a cape over the sleeveless upper body part. It will make the V-neck look more discreet, and adding a headpiece will ensure you look cuter than ever, or you can complete this stunning look with a different 1920s fascinator.
You can also go for a flapper dress that pinpoints glitters and sequins. The sequins will work to your advantage, and make sure you look sparkly. If the event you are visiting is truly special, it will ensure that your dress is unique, too.
Get the Vintage Flapper Dress!
Why Black Fits Well with any Era?
It was during the roaring 20s when Coco Chanel came up with her vintage little black dress. Although it has been a century, women still consider it the perfect combination for various events. You will find 1920s cocktail dresses often feature black as the dominating color. If you don't appreciate black silver unique vintage pattern, you can try all-black gowns.
Get the Vintage Style Evening Dress!
Now, remember that you want a flapper dress, so you shouldn't hesitate to keep it at knee-length. A beaded flapper costume can be a fine choice for a retro-inspired party. If you plan to show off your skills on the dance floor, you shouldn't hesitate to shorten your vintage 1920s costume. Apart from going with a beaded flapper dress with spaghetti straps, consider adding accessories like a pearl necklace, satin gloves, and even a feather boa.
Get the 1920s Style Flapper Dress!
The classic 1920s black fringed flapper dress with a V-neck can also be a smart choice. You don't have to worry about finding the plus size since all sizes are available. It is the perfect combination of a dress following your curves while ensuring you look elegant and dazzling.
You might not like the roaring 20s that much, which is perfectly fine. If that is the case, you can still choose a black cocktail party dress and fit the theme.
Enjoy Charleston with a Fringe Flapper Party Dress
A fringed flapper dress can be a mixture of the 1920s and modern times. The modern touch is added by the see-through sleeves, while the spaghetti straps and the beaded flapper design ensure you stay in line with the 1920s.
Get the Black Sequin Evening Dress!
You can wear this dress if you like dancing and want to demonstrate your Charleston skills to the world. If you feel like you could use a plus size, don't hesitate to go with it. You don't want anything restricting your movements once you hear those tunes, and this dress will ensure that doesn't happen!
Would You Like a Short & Attractive Roaring 20s Party Dress?
We can think of many reasons why a woman would love a short dress. Perhaps you want to show off your long legs; maybe there is a special someone to impress at the cocktail party. Alternatively, perhaps you want to dazzle everyone and look and feel attractive during the ceremony.
Whatever your motive is, a mini sequin dress is a perfect choice. It is quite short and hugs your figure. It is easy to zip it in the back, and the neckline is quite deep. Whether you are heading to prom, party, or a cocktail event, you will be a sight for sore eyes.
If you don't want to keep the dress that short, but you still appreciate one that allows you to move freely, you can look for an alternative beaded flapper dress.
The good news is that you can pick from a variety of colors, although teal seems like the perfect fit for cocktails.
The fact you can choose between numerous unique vintage 1920s outfits doesn't make your choice easier. However, it means you will easily find the desired color and size, even if you are looking for a plus size attire.
We hope our selection helped you to pick the perfect flapper dress for the upcoming event. As long as you fit the theme and ensure the dress makes you feel confident and comfortable, we are certain that everyone will love your clothing combination!
FAQ
Q: What were dresses called in the 1920s?
A: The synonym for the vintage 1920s style dress is a flapper. These got their names after women who embraced an energetic lifestyle that showed they wanted to be free and independent from any restrictions the society imposed by then. Apart from a flapper, females also used the term gown to describe formal dresses during the 20s.
Q: What should females wear to a cocktail party?
A: It comes as a given that you should choose a dress since a cocktail party is a formal event. Don't hesitate to choose knee-length or shorter attires, but try to keep things elegant. A couple of accessories should be sufficient since you don't want to look like you tried too much.
Q: How should a couple dress for a cocktail event?
A: The best advice the experts give you is to match your colors. That doesn't mean you should wear identical colors, but make sure the selection is complimentary. Depending on the theme, you can go for matching motifs. For example, a 1920s style cocktail party is perfect for dressing like the Great Gatsby and Daisy Buchanan.
After a different certain color? Click below to see: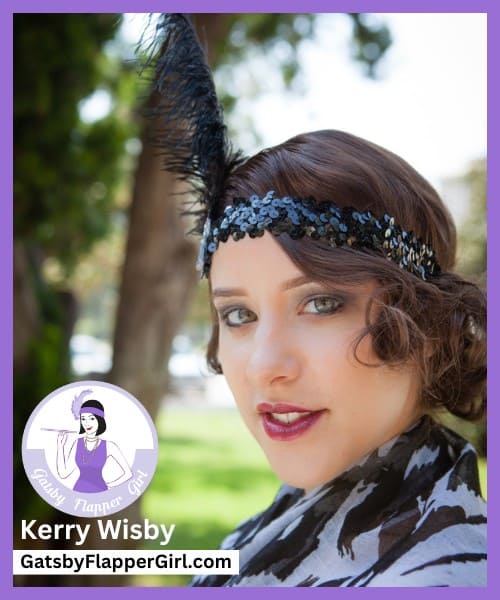 Written by Kerry Wisby – GatsbyFlapperGirl.com
Owner & Founder of GatsbyFlapperGirl.com
Kerry Wisby, a former teacher with a BA in English, is the founder of GatsbyFlapperGirl.com. With a passion for all things 1920s, including The Great Gatsby novel, her website is the ultimate source for Roaring Twenties fashion, history, and party ideas.  Read more about Kerry here.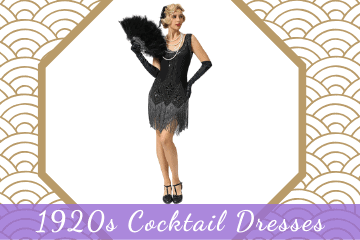 1920s Cocktail Dresses, Flapper and 20s Party Dress Styles!
Did you get an invitation to a vintage-inspired event, and you need to find 1920s cocktail dresses? Check out all our great styles, guaranteed to turn heads at your next party!