Costume Ideas Not Flapper Style to Get into the 20s Mood for Your Next Party!
This article contains links where we may earn a small commission at no cost to you: Learn more here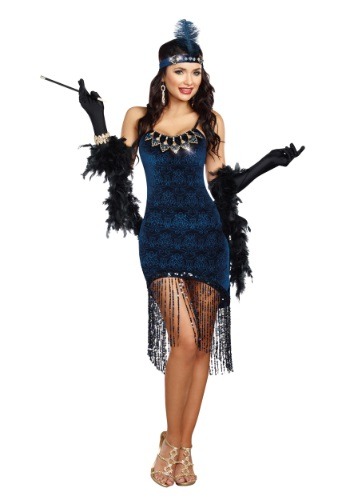 When people think of women in 20s parties, they usually think of a fabulous girl in a stunning flapper dress. Flapper dresses are usually the go-to option for women when attending a 20s party.
That's not the only option, though! Did you know that the 20s were also the time of gangsters and Amelia Earheart? These are great costume options that will still impress your friends at the party.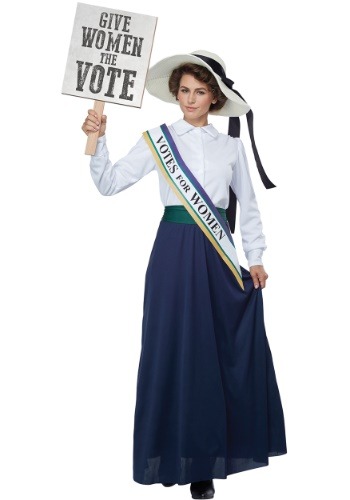 Get this Great 20s Women's Costume!
The 20s was a time of sophistication and elegance for women. At parties, you would see flappers flirting with influential men and entertaining. Female gangsters  would dominate the scene and exude power and influence, and saloon girls danced all night with cowboys! These are only a small look into the lives of people in the 20s.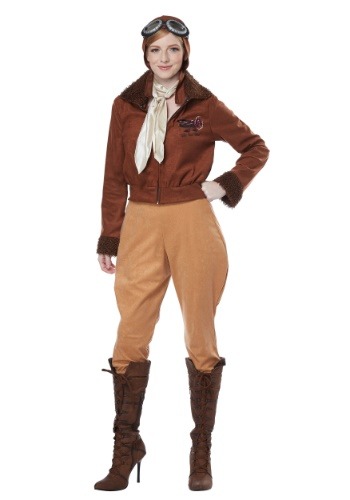 Get the Amelia Earhart Outfit! 
The 20s were also filled with influential people. Amelia Earhart achieved many things for aviation in the 20s before her tragic death in the 30s. The Suffragettes movement were nearing their end goal in the 20s, allowing women to vote in the decades to come. The 20s were a time where women contributed to society in multiple forms, and we are all benefitting from that today!
If you're the type that likes to stand out, this article is for you! The 20s was not only a time for sophistication and elegance but for change and strength as well. Get into character and find out how to embody the 20s below!
Roxie from Chicago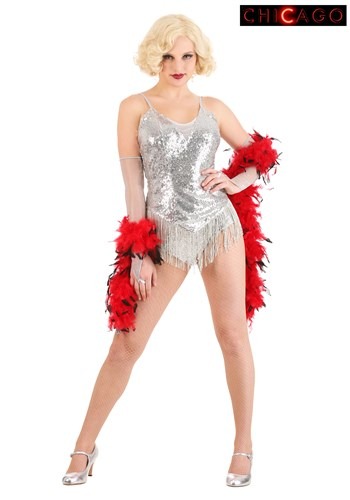 Chicago is a classic movie that depicts the tale of Roxie, a sensual and beautiful woman who is accused of murder. Set in the 20s, Roxi is the epitome of beauty and sensuality. She's a great choice to emulate if you want to go to a 20s themed party!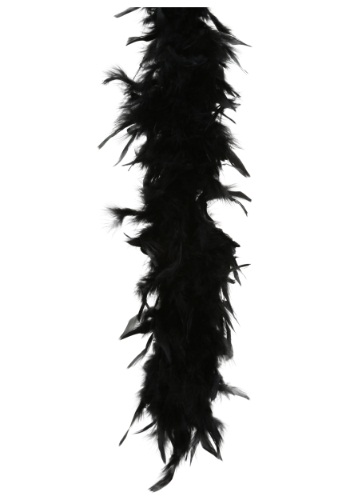 Don't Forget to Get a Feather Boa!
Roxie's dress is a classic 1920s style. It's comfortable, easy to wear, and will catch the eye of everyone in attendance. Her dress is short and easy to dance in, making sure that you are ready to have the night of your life! Pair it with a beautiful feather boa and you'll be set to captivate the audience, or in this case your fellow party-goers.
Daisy Buchanan
Get the Daisy Buchanan Costume!
Daisy Buchanan is a character in The Great Gatsby, which was set in the 20s. She is a romantic socialite who reconnects with her ex-lover Gatsby. In the story, Daisy is seen as charming and charismatic, yet also shallow and naive at times. This made her great at creating connections and climbing up the social ladder.
In the adaptations, Daisy is seen to be wearing multiple flapper dresses. However, her most iconic one is surely the bluebells dress that she wore to Gatsby's party.
Daisy's dress is a different take on the classic flapper dress. Instead of the usual tassels at the hem, the Daisy Buchanan dress has the tassels in bundles scattered all over the skirt. It gives the dress more flair and character, making it an incredibly great choice for someone looking for a 1920s dress with style!
The Socialite

Socialites are usually seen with their wealthy husbands, giving off an aura of beauty and grace. They attended parties in lavish gowns that showed how much money they had. These socialites were often seen as respected members of the community and were well appreciated by all. They were also the landmark of status in the 20s. If you were able to become a socialite, you could do anything you wanted.
To be a socialite, you had to look the part. They would wear floor-length gowns that hugged their bodies in all the right places. The neckline was high for modesty, and they usually wore a velvety coat to protect from the cold. If you're the type that likes to feel rich and look great, this is probably a good option for you! Stay classy and sophisticated when you dress up as a 20s socialite.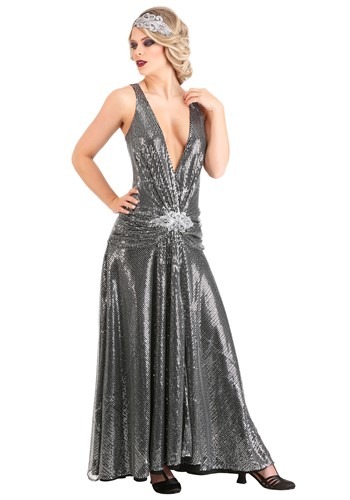 Look Glamours In this 1920s Evening Costume!
If you prefer a more sultry take on the floor-length gown, go as a Kerry Wisby! Many socialites also wore provocative dresses that were still as amazing as their more conservative counterparts. These dresses featured a plunging neckline, short sleeves, and a feather boa to top it all off. This costume is a great option for women who love gowns and are not afraid to show a little skin!
Dress it up with this 1920s Shawl!
Amelia Earhart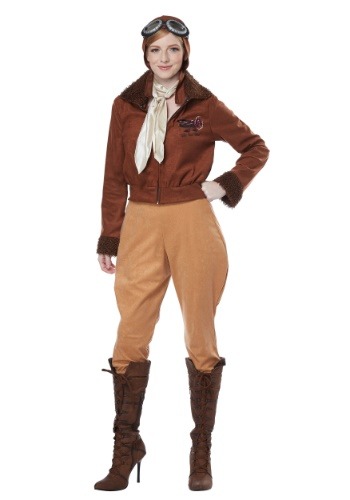 Get the Amelia Earhart Costume! 
While Amelia's tragic death happened in the 30s, she made a huge impact in the 1920s as well. After she graduated from Columbia University, she made records for being the first woman to fly over the Atlantic Ocean alone. She wrote many best selling books and was an incredible woman who made history in the world of aviation.
Do you want to attend a 20s party as Amelia Earhart? It's incredibly simple to do so! Amelia's style was perfect for aviation and looked great too! All you need is an aviator jacket, some brown leather boots, a pair of pants, and aviator goggles to complete the look. If you want to go to a 20s party as the most influential female pilot in history, this is the best costume you could go for!
Made for a Pair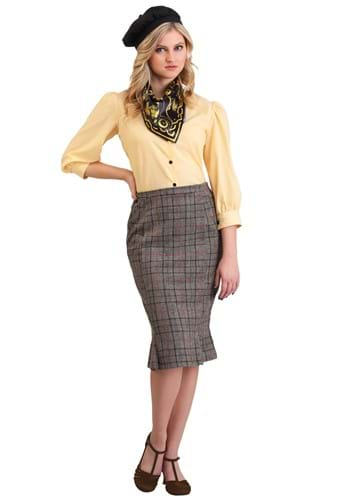 Get the Bonnie & Clyde Costume! 
Going to the party with your partner? Consider wearing matching costumes by sporting a Bonnie and Clyde look! Bonnie costumes pair perfectly with men being mafia bosses, gangsters, and mob heads. People won't be messing with you at the party if you show up as Bonnie!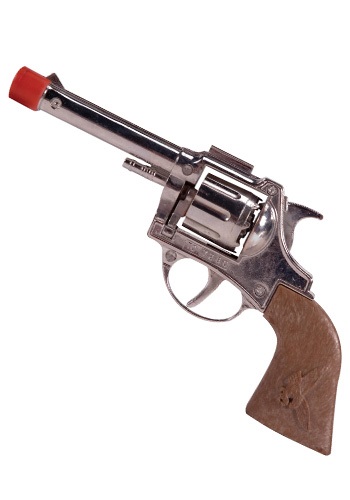 Complete the Outfit with a Toy Gun!
This outfit is incredibly simple and comfortable to wear as well. A mid-length pencil skirt, a long-sleeved blouse, and a beret are the main parts of this costume. Round it out with a toy gun and you'll be ready to rob a bank or steal the show!
Suffragettes

Get this 1920s Women's Costume! 
The Suffragettes were nearing the end of their campaigns in the 1920s, but they were still incredibly prominent. They fought for the rights for women to vote, forever changing the course of history. They are considered the first feminists, and they were probably the first women to stand up for themselves on a large scale.
Make a statement and go to the party as a suffragette! This costume sends a message while also staying true to the 20s theme. The suffragettes were strong, independent, and unafraid to push for their rights. Feel the same strength for a night and go to the party fighting for women's suffrage!
While virtually anything can be worn by a suffragette, the general formula is to wear a floor-length skirt, a long-sleeved blouse, and a sun hat to keep out the blinding sun. A great way to enhance your look is to add in a picket sign and a sash! This costume isn't as sophisticated as others, but it sure is as meaningful.
Gangsters

Get this Gangster Gal Costume!
The 1920s was also a time when gangsters had a lot of influence and control within their cities. Fights and turf wars would break out, and these gangsters would be at the head of it all. Because of their power, a lot of people feared and were in awe of the gangsters and anyone who was associated with them. They became a symbol for strength and control in the 1920s, leaving a mark in history forever.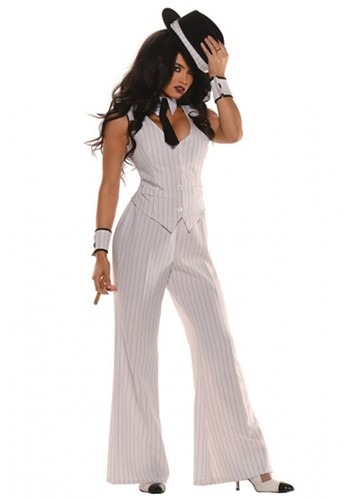 Get the Gangster Woman Costume!
While the gangsters of the 20s were predominantly men, women can also feel the power and influence that comes with being a gangster. Even in the 20s, powerful and influential women were seen beside gangsters and were well respected as well.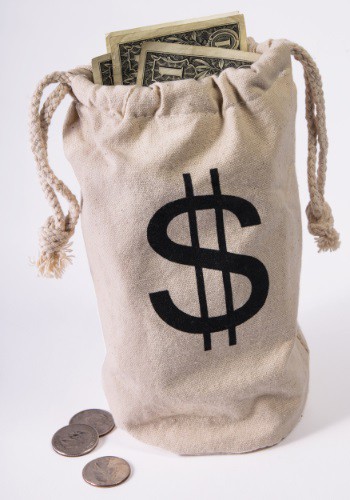 Being a female gangster is easy to achieve. All you need is a monochromatic pinstripe suit, a fedora, a fake Tommy gun, and you'll be good to go. It's basically the classic gangster look of men in the 20s, but made in a more feminine way. Add some feathers and design to your fedora for that extra flair!
Variations

Get this Sexy Gangster Costume!
Is the full suit too stuffy? Try a more revealing option! Some gangster costumes feature high waisted shorts, a midriff vest, and long-sleeves combo, as well as fedoras with more flair to give it that ultra-feminine look. You can get creative with the accessories as well. Try matching it with a machine gun handbag or a violin case to achieve the ultimate 20s gangster girl look!
Beachside Outfit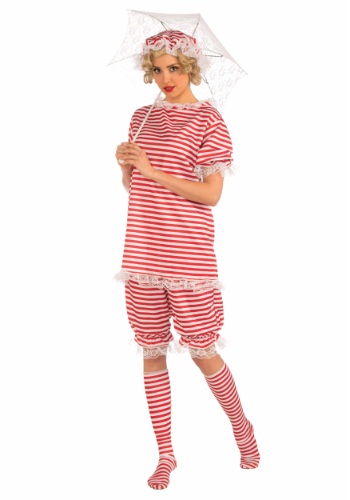 Get this 1920s Beachside Betty Costume! 
Another way to fit into a decade-themed party is to go by the beachwear that they had during the time. Each decade had different forms of swimwear, and the 20s are by far the most interesting. If you don't want to wear a dress or a suit for your 20s party, wearing 20s themed beachwear is sure to be a hit.
Get the 1920s Parasol to Complete the Look! 
20s beachwear was more about comfort and less about style. They were either striped or came in a solid color. They also covered a woman's entire body. Made from polyester, 20s beachwear is incredibly comfortable and easy to wear to a 20s themed party. The iconic stripes will definitely catch the eye of your friends.
Complete the outfit with accessories! A small parasol is perfect to capture that beach-day vibe. Wearing a cap that matches your swimsuit is also a great option to go for. Matching knee socks round out and complete the whole look.
Saloon Girl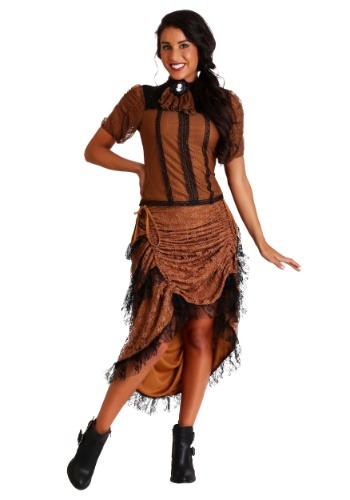 Give off the aura of the Wild West in the 20s and wear a saloon girl costume! This costume was iconic in the 20s, especially in the western part of America. These saloon girls would be responsible for helping cowboys up on their feet and start dancing! This is a great way to stand out at the 20s party without straying too much from the theme.
Saloon girls were known for their clothes. A mid-length dress in a solid color with ruffles at the hem is the best way to describe it. The top is usually a short-sleeved blouse with ruffles on it, matching perfectly with the bottom. Complete this look with a pair of high heeled leather boots and tied-back hair!
Plus Size Options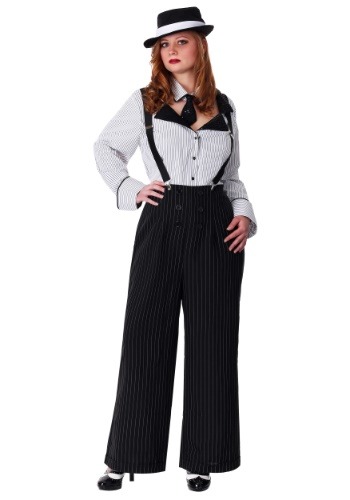 Get this Plus Size Gangster Girl Costume!
Of course, we can't forget about our curvier sisters! So many style options are available for plus-sized women everywhere. Be as flirty and sophisticated as a flapper girl. Give off an aura of strength and influence as a gangster. Wrangle in some cowboys and make them dance as a saloon girl. Fight for voting rights for women as a suffragette! The possibilities are practically endless. The world is incredibly more inclusive, and you are the first in line to reap the benefits.
Frequently Asked Questions 
Q: What accessories are appropriate for a 20s themed party?
In general, the 1920s was a time of sophistication and elegance. Men showed up in their finest suits and their golden canes, accompanied by their wives dressed in golden jewelry. The general rule of thumb is to stick to the costume you plan on wearing. If you're going as a flapper, bring a feather boa. Going as a gangster? Bring a toy gun! It's things like these that keep the costume consistent and more accurate.
Q: Is there a specific hairstyle I should wear?
Again, it depends on your costume. Flappers kept their hair short, emphasizing the elongated look that their dresses brought. Some gangsters preferred to keep their hair tucked away into their fedoras. Saloon girls kept their hair in a bun so it wouldn't get in the way. Whatever is appropriate for the costume and is comfortable for you to wear, that's what you should be wearing.
Conclusion
The 20s was a time for multiple types of women to exist and influence society in different ways! From flappers to socialites, suffragettes to saloon girls, many women in the 20s made our world what it is today. Now, at your next 20s themed party, you have options as to who you want to be apart from what the usual thought of 20s women is. Stand out in style and catch the eye of everyone in attendance!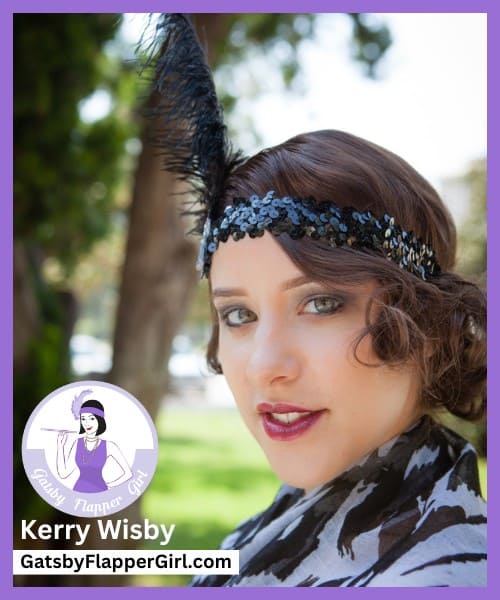 Written by Kerry Wisby – GatsbyFlapperGirl.com
Owner & Founder of GatsbyFlapperGirl.com
Kerry Wisby, a former teacher with a BA in English, is the founder of GatsbyFlapperGirl.com. With a passion for all things 1920s, including The Great Gatsby novel, her website is the ultimate source for Roaring Twenties fashion, history, and party ideas.  Read more about Kerry here.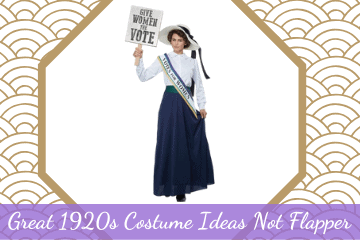 Great 1920s Costume Ideas Not Flapper
Need a 1920s costume that's not flapper style? These costume ideas for women are sure to make you feel great. Get into the 20s mood with these amazing costumes