1920s Female Gangster Costume Ideas – Pick Your Favorite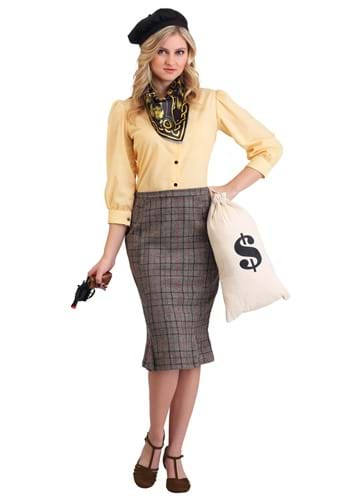 You might not have any experience with theme parties, and you've just been invited to one. Perhaps you don't have enough knowledge about the Roaring Twenties, and you could use some help with the costume.
Many things marked the 1920s, and the unique clothing style is one of them. The era that was portrayed in the Great Gatsby novel was also marked by gangsters. Mobsters were into bootlegging due to prohibition, but also robberies, murders, and all types of other crimes.
Since crime is one of the trademarks of the 1920s, how about some female gangster costume ideas? It is bold, unusual, and cool, which means you are guaranteed to dazzle everyone at the party. Here is how you can dress up to be a true female gangster!
Chic and Elegant
Would you like to dress a bit more formal, but still deliver a clear message that it is a female mobster costume? Here is the good news – that is more than doable if you choose your clothing carefully.
Think about what is the most characteristic thing about the gangsters from the 1920s. Yes, guns would be my first association, too, but I am talking about clothing. If you thought striped suits, you guessed right!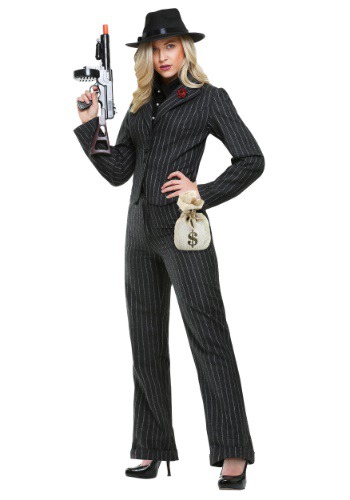 Wearing striped pants is an excellent way to look formal, and having a matching jacket contributes to the overall elegance. You can never go wrong with the classic black suit with white stripes.
Check Out All Our Mobster Couple Costumes – Click Here
Now, the devil lies in the details, and so does the 1920s female gangster clothing. You want a stylish black mobster-like hat on your head, and make sure to get a toy Tommy gun in your hand. And if you want it to look like you only returned from a robbery, how about getting a bank money gag prop?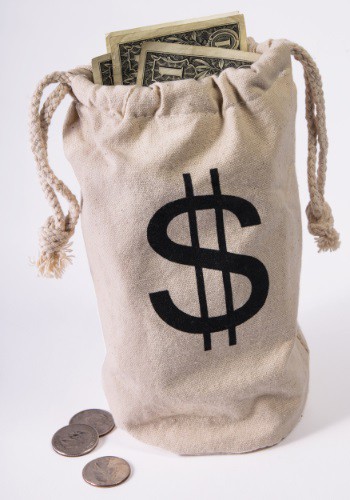 As for the shoes, any high-heel black option will do. Make sure you feel comfortable in them, especially if you plan to stand for a long time at the party.
Pay Homage to Bonnie the Bandit
Bonnie was Clyde's partner and probably the most famous and vicious female gangster ever. Is there a better character to look for inspiration in that niche?
When it comes to Bonnie's style, she preferred to keep things down to earth and look elegant. That is why the essential component of your clothing should be a herringbone-patterned skirt.
A perfect match with that skirt can be a simple shirt that could be white or pale yellow. Women always like to dedicate their attention to details, and the 1920s were no different. If you are going for a bandit style, think about a beautiful beret hat and a scarf.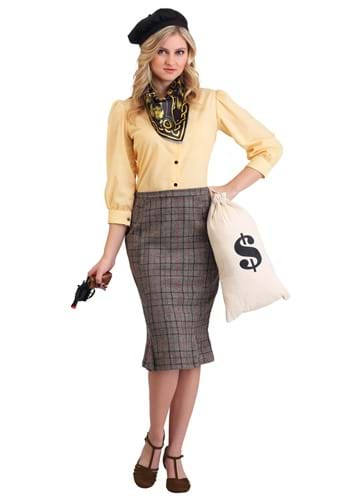 Get the 1920s Female Gangster Outfit!
Simple black shoes with a high heel will never go out of style and compact-sized pistols fit well with a woman gangster.
A Provocative Twist to Your Costume
You feel good in your body and you like it when you look cool and attractive. After all, gangsters should look dangerous and provocative. That is why you should consider looking for a costume that suits this description.
The first variant includes going with classic striped pants that will point out your long legs ( see more 1920s Women's Pants Outfits ). The twist lies in choosing the clothing item for the upper body. Instead of going with a jacket, how about putting on a vest?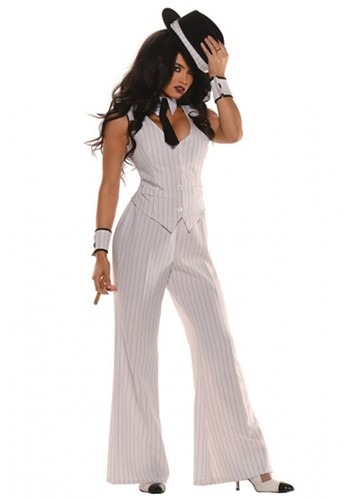 Get the Gangster Woman Costume!
Yes, I am thinking about putting on JUST a vest! It can look fantastic, provocative, but elegant, especially if you combine it with a tie. Since your shoulders will be bare, consider letting your hair loose. You can also think about putting on wrist cuffs on both arms.
If you are a smoker, a real cigarette fits perfect with this combination. But even if you are not, you can acquire fake ones!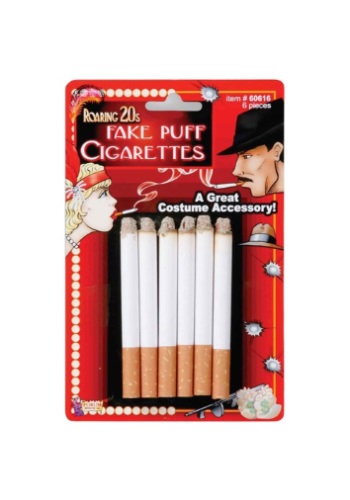 Complete Your Look With These Fake Cigarettes!
An Opposite Combination
Some women like to use cleavage to draw attention to their upper body. Others prefer to attract focus on their legs. If you are among the latter, you might want to consider going with shorts instead of pants.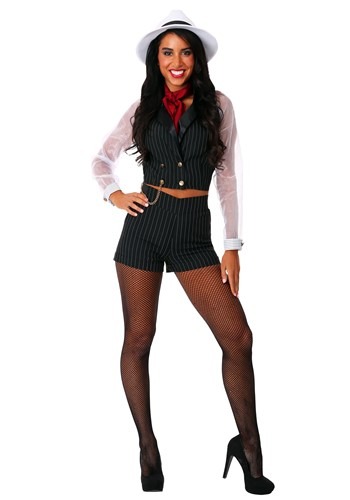 Get this Cute Gangster Gal Costume!
Now, you can't wear just any shorts but go with a striped variation to fit with the era. As for the upper body, how about choosing a matched vest with a shirt attached to it? Some costumes offer a single-piece combination, but you can also choose one of your shirts and wear a vest over it.
I would suggest classic black and white colors for the combination, except for the scarf. You can experiment with a red or blue scarf, depending on the available choices. Whichever way you go, make sure to go with black fishnets. You can even consider a garter with a gun. Why? Well, because it looks hot!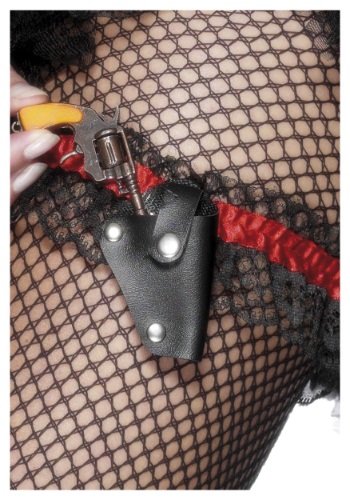 Get this Gun Garter Holster to Complete Your Look! 
A Dress That Looks Like a Skirt? Yes, It's Possible!
While we are talking about attractive 1920s female gangster costumes, you don't have to stick to pants. Instead, you can wear a striped skirt, or even go for a mini single-piece dress.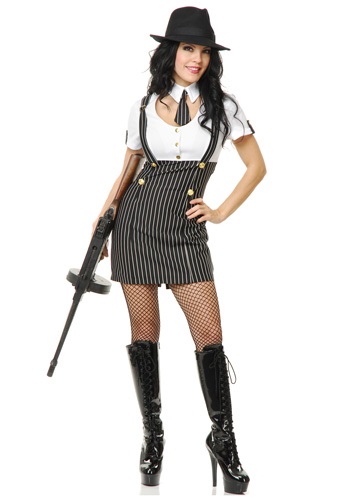 These dresses will look like you are wearing a skirt with a blouse. The suspenders are in line with the era, as well as the stripes. If the dress has a round neckline, you can consider a collar with a mini tie. Since you are wearing a short skirt, don't hesitate to put on some knee-high boots, especially if you combine them with black fishnets!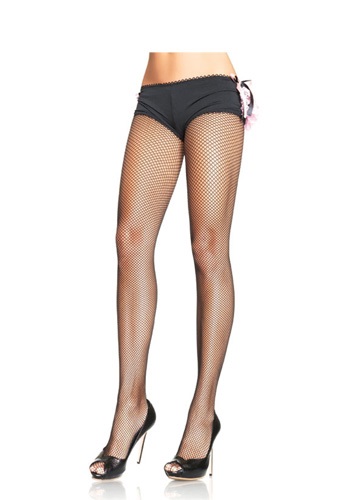 Get the Roaring 20s Fish Net Stockings!
Frequently Asked Questions
Q: What do you call a female gangster?
A: A female gangster might be called a gun moll if she is a companion of a male mobster. Women themselves weren't gangster's that often, but many of them were accompanying crime bosses of the time.
Q: Who was the most famous gangster in the 1920s?
A: If we are talking about female gangsters, there is no one most famous that Bonnie Elizabeth Parker. She killed 13 people and robbed many banks and gas stations with her partner Clyde Barrow. As for other gangsters, you've surely heard of Bugsy Siegel, Al Capone, John Dillinger, Charles Luciano, etc.
Q: What are some gangster slang words?
A: If you dress like a mobster, you want to speak as one, too. That will help you to make a believable impression of your character.
Here are some gangster words to use:
Broad or babe – a girl
Scratch or cabbage – cash
Glomming – when you steal something
Packing heat – having a gun on you
Meat wagon – a hospital ambulance vehicle
Copper – a police officer
Bearcat – a passionate woman
Clip or bump – kill someone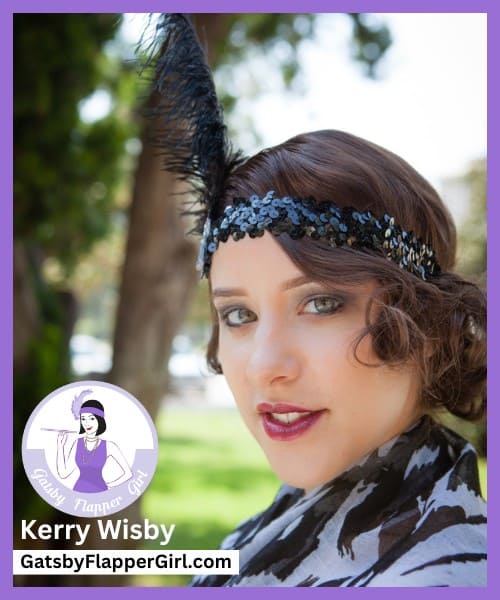 Written by Kerry Wisby – GatsbyFlapperGirl.com
Owner & Founder of GatsbyFlapperGirl.com
Kerry Wisby is the owner & founder of GatsbyFlapperGirl.com, your go-to source for all things 1920s & The Great Gatsby. With a passion for the era & a wealth of knowledge to share, Kerry is dedicated to providing you with everything you need to know about Roaring 20s fashion, 1920s history, & Great Gatsby-themed party ideas. Join Kerry in bringing the spirit of the Roaring 20s to life! Read more about Kerry here.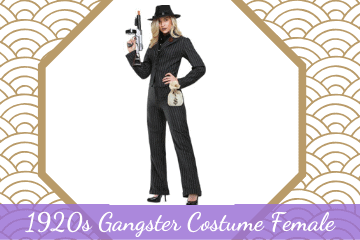 1920s Gangster Costume Female
Have you ever dreamt of dressing like a mobster? Check out our top 1920s female gangster costume ideas and pick your favorite for the next upcoming party!