When the first World War finally came to an end, cultures around the world went through rapid change and transformations. From the foods they ate to the clothes they wore, the 1920s was the time for creating unique, iconic, and timeless fashion pieces.
1920s Boys Fashion
If you are looking for 1920s little boys clothes for a photoshoot, a Gatsby-themed event, or just because you love the look I have found some of the highest quality little boy clothes that are made to the same standard as they were in the 1920s. Let's take a look!
Tweed, Tweed, Tweed!
Whether you were a high-class businessman or a blue-collar worker, you almost always had a three-piece suit. The plain white button-up shirt paired with a tweed vest, matching pants, and a matching hat were almost as essential as undergarments in the 1920s. It was essential because it was versatile and it still is. You can have your son wear this to important events such as weddings, birthday parties, or even to church. However, if your family simply loves the style of the 1920s you can also have him wear this to school or on the weekends.
This is the perfect outfit for a little boy who needs a relatively formal outfit but doesn't necessarily like to dress up. The entire outfit is made from organic cotton which is not only high quality but also incredibly soft. The soft cotton is essential when you are trying to get through a photoshoot or an important event. The last thing you want is for your kid to feel uncomfortable or irritable because the material is too tight or itchy.
There are small details in this 3-piece that set the tone of the 1920s. For starters, the gentleman style bowtie. The black bowtie is a no-brainer when it comes to a casual yet classy look. Paired with a white shirt, it automatically sets the mood for a cocktail party or a wedding. Once you add the tweed-looking hat, pants, and vest, it brings it down to a more birthday party or day out on the town kind of vibe.
Looks aren't everything when it comes to children's clothing. Function is just as important, and you learn that pretty quickly when you are at an event and your kid needs to use the bathroom. Fortunately, this outfit thought through the details. There are some heavy-duty buttons on the legs and crotch to allow easy access for diaper changes. The buttons have a unique color that blends well with the closures on the suspenders. It is a small detail but an important one that ties it all together.
The most recognizable piece of the 1920s that still makes its way into our homes would be the flat cap. This cap was often made from felt and always looked great. It is a staple piece in a little boy's wardrobe and fortunately, it comes with three pieces. I know I have many friends who still wear this style cap daily and it does not get old.
Dressing Up Denim
Pants are without a doubt the hardest item of clothing to pick out for a kid. The sizing is really difficult and there are usually a few pairs of pants that your kid loves. Fortunately, there is a lot you can do to an outfit with just a few accessories. The majority of the defining aspects of clothing in the 1920s were the accessories.
That is where this next outfit comes in. This three-piece comes with a tweed vest, flat cap, and bow tie. If you are just looking for a low-cost way, that's quick and easy to spruce up an outfit for a photoshoot, you can't get a better option than this! It is casual and looks best when paired with another casual option. Your kid probably already has a nice button-up and a nice pair of denim so why not just accessorize it. It is the best route for busy parents.
The entire set is made out of a polyester and rayon blend. Traditionally, these pieces would be made of wool which is a little too itchy and stiff for most kids to handle. Luckily, the designers made sure that wouldn't be a problem. The most appealing part of this set is the color choices. You can get it in khaki, brown, royal blue, charcoal, and grey. Depending on your event, photoshoot, or the outfit you are pairing it with, the options are pretty much endless.
Looking for Girls Outfits? Check Out My 1920s Little Girls Dresses They Are So Cute! – Read Full Article
Just Like Dad
Every little boy wants to be just like his dad. He mimics mowing the lawn, he wants to help dad with work, and he probably puts on shoes owned by his dad every once in a while. If your family already loves the style of the 1920s, you can very easily implement it into your little boy's wardrobe too.
This outfit is the perfect option for a little boy who wants to look just like dad. In the 1920s every dad would own a pair of tweed pants and a chambray shirt. It was casual and comfortable, yet looked clean cut at the same time.
The chambray shirt is an absolute classic piece of the 1920s. A button-up shirt was the norm, but adding a denim appearance was very new and exciting. The blue was eye-catching but still subtle enough to wear to important events. If you are heading to church or a birthday party this is a great choice. It isn't too flashy so it won't draw too much attention but it is still quite the head-turner.
The shirt features a cute plaid bowtie that uses velcro to attach to the shirt. A velcro bowtie is a great option for kids because it is very easy to take on and off and there is no risk of getting jabbed by a pin. However, if your kid is fidgety the velcro might be a bad choice. Velcro is somewhat noisy and if he starts taking it on and off, it could become more of a problem than an accessory.
If the shirt and pants didn't make you immediately think of the 1920s, the suspenders definitely should. You would rarely find any little boys outfit in the 1920s that didn't have a pair of suspenders supporting them. We all need some support, and suspenders are almost always there for us. They kept our kids pants up in the 1920s and they are still managing to do so!
The main downside to this particular outfit is the sizing. A lot of buyers claim that the sizing is way off. If you like this outfit I would recommend getting the measurements and making sure it would fit your little guy first.
Keeping It Casual
This outfit is the most casual that you can get away with almost every day. You don't need to be heading to church or a fancy party to pull this outfit off. In the 1920s, a high-quality button-up shirt and a nice pair of pants were essential to a little boy's wardrobe. I don't know about you, but this makes me immediately think of Great Gatsby. If you're planning an outfit for a Great Gatsby themed party, I think this is a winner!
This particular outfit is made out of 100% cotton. This makes it comfortable, easy to clean, and easy to repair if it ever gets a rip. The material is very lightweight and isn't too thick. If you need a nice long-sleeved outfit for a warmer day this is a good option.
The shirt itself is quite functional. It features some buttons to allow easy access to a diaper. Additionally, if your kid is potty training already, it just makes things a lot quicker to avoid accidents at important parties. This feature is dependant on your size choice. Depending on the age of your little boy, the shirt might just be a regular shirt that you can reuse on other occasions.
The package includes one button-up shirt that comes with an attached bowtie and one pair of pants with attached suspenders. This set comes with a ton of different colors and patterns to suit your little boy's style. The colors range from pink to blue and the patterns range from stars to elephant prints. The pants also come in a range of colors such as grey, black, blue and plaid.
If you are going for a 1920s theme, I would recommend the white shirt with the plaid suspender pants. Plaids were popular in the 1920s and a white shirt can hardly ever be outdone.
Button Up Shirts Don't Have To Be Boring
This next outfit is quite similar to the one above but might appeal to kids who like a little more fun in their outfits. Does your son like brightly colored clothing rather than beige and grey? If so, this is a really good option for his everyday wear or a more formal outfit.
This is a full set that features a shirt with an attached bowtie, and pants with attached suspenders. The main difference is this set comes with plaid shirts rather than mostly plain. However, there is one option that comes with a plain shirt.
In the 1920s, patterns were becoming more and more popular. While plaids have always been trendy, they were being implemented into formal wear rather than just casual shirts.
Similar to the previous set, the suspenders come with a star pattern on the straps and brown leather-looking button enclosures. The color options available are blue, green, pink, red, beige, and a few other blue options. The pants are almost always blue except for one tan set.
The shirt is 100% organic cotton while the suspender pants and bowtie are 100% regular cotton. Cotton, in general, is a great option for these types of outfits because they normally would be made with materials that are somewhat stiff and uncomfortable. Cotton allows for a lot of movement and breathability which is never a bad idea when you have a little boy that would rather be at home playing with his toys.
The Paisley Party Tuxedo
Every outfit suits every child differently. If your kid is shy and likes to stay out of the limelight, a 3-piece tweed outfit is a really good match. However, if your kid has big energy and loves to be the center of attention, a paisley suit might be more his style!
In the 1920s, suits were all the rage. They were fitted perfectly and featured wide lapels. On the one hand, the suits were almost always grey, brown, tweed or herringbone. On the other hand, they were bright, bold, paisley, or plaid.
If your little man loves to be the life of the party, this is the suit for him. It comes in different colors such as blues and reds to suit his particular taste. Each outfit features a bold paisley pattern all over the blazer. The pants that come with the suit are quite plain. This is somewhat disappointing since an entire suit covered in the paisley pattern would be historically more accurate – but let's be honest, it does look great!
The blazer is single-breasted with a wide silk lapel and it has high-quality buttons that are not likely going to rip or break, even if your son is pulling at them all day. The outfit itself comes with 2 pieces, a blazer, and pants.
The entire suit is made up of high-quality polyester. The polyester is a nice touch because it would be less itchy than wool or tweed. It also allows a lot more movement compared to other materials that are historically used. Polyester is soft and it doesn't wrinkle which is a bonus. It's hard enough getting your kids in a nice suit, imagine trying to keep it wrinkle-free. Luckily, the designer took care of that little detail so you don't have to worry about it.
Looking for some great men's outfits – Click Here to Read My Full Article
Looking For A Formal Tuxedo?
We have officially moved away from casual and are now on the formal side of the wardrobe. If your son hates wearing blazers but needs a formal tuxedo, this option was made for him. This set comes with a long-sleeve button-up shirt, a full vest, and pants. Each vest and outfit features a full pinstripe pattern on the back and front.
Fortunately, the designers made sure that the details sold as much as the outfit itself did. The vest features high-quality buttons that are going to require a lot of tugging and tearing to get ripped off. If your kid is a chewer or a fidgeter you don't need to worry about this tuxedo.
Depending on the age and size you chose, the pants might come with an elastic waist and an elastic back. However, if your child is older there will be a zipper fly and a button closure to ensure that the fit is comfortable and the bathroom breaks are a breeze.
The details don't end there. There is a long tie included in the set. It features a classy stripe and formal colors throughout the entire design. The vest and pants come in colors such as charcoal, blue, brown, and grey and the ties are designed to match. If you aren't a fan of the tie, you are in luck. Unlike most children tuxedos, it is not attached and you can switch it out.  Tie or no tie, they will look so handsome in this formal suit!
Dressing Up Isn't Just For Halloween
 GET THE LOOK
If your son loves dressing up and is looking for a costume for a 1920s themed party, this is the one. Gangsters and crime bosses are a huge part of the 1920s history and they came with a very signature look. Your son might not be the boss around your home, but he will be the boss of the party in this outfit!
This costume is made out of 100% polyester to keep it soft and comfortable. The costume comes with a black shirt attached to the pinstripe vest. The shirt features a winged collar and is paired with a bright white tie. The pants are pinstripe and match the vest perfectly.
The sizing is a bit different because the outfit is considered a costume rather than a regular suit. Unfortunately, the costume doesn't come with suspenders or a hat. These are really important accessories that should be included in any gangster-themed costume. (See below for great low-cost hat and accessory options)
Who's Really in Charge?
Nothing quite says who's in charge like a pinstripe suit. You might see a pinstripe suit and immediately think of Al Capone, The Godfather, or The Great Gatsby. A pinstripe suit is an absolute necessity in any 1920s wardrobe.
This pinstripe suit comes with a jacket rather than a vest. If it is going to be a cold night, this is a much better option. The overall look of the pinstripe outfit isn't that much different from the other one. However, it is less shiny and is more of a matte black.
Complete The Look with Some Great Accessories
The only thing missing from the pinstripe costumes was good accessories. Unfortunately, without a few essential accessories, it just looks like a pinstripe costume. The 1920s was all about the hats, the bowties, and the suspenders.
Fortunately, this little kit features all the things you could need to complete a good 1920s costume. Additionally, if you are just looking to spruce up a simple outfit, it would work too! I would personally pair this with a button-up shirt and some nice pants. It would take something very simple and immediately give it a 1920s feel without breaking the bank!
This particular kit is made out of a spandex and polyester blend. The suspenders feature the classic Y style back clip that is seen on most suspenders from that era. The bowtie uses a clip to attach to the shirt which is a good and a bad thing. Kids tend to clip themselves when putting these bowties on. If you put the bowtie on and can trust your son to leave it on, this is a better option than something like a pin or velcro.
The fedora is a classic piece of the 1920s. Little boys love their hats and no outfit is truly complete without one. The great thing about a fedora is like a flat cap, it can be worn in casual and formal activities. The fedora is made from acrylic.
Looking for some men's vests and suspenders – Click Here to Read My Full Article
Dressing your little boy up in 1920s clothes isn't impossible. By choosing the right basics and accessorizing appropriately, your little boy can be ready for his next Gatsby party in no time!
Frequently Asked Questions:
What did little boys wear in the 1920s?
In the 1920s little boys had a wide variety of clothing choices. They wore a lot of plain and patterned button-up shirts as tops. T-shirts were not very common or popular during this time though they were there. For pants, they wore a lot of tweeds, plaid, and neutral-colored pants that were somewhat baggy and often held up by suspenders.
What did kids do in the 1920s?
In the 1920s kids participated in a lot of fun activities. This was the time when jazz was popular and the radio was the main source of media. Kids would play outside and with different types of board games such as chess and checkers if they were bored.
What did kids play with in the 1920s?
The main toys kids played with in the 1920s were cards, jacks, and dominoes. At this time a lot of toys were handmade. There were not many toys that you would see today such as lego or an iPad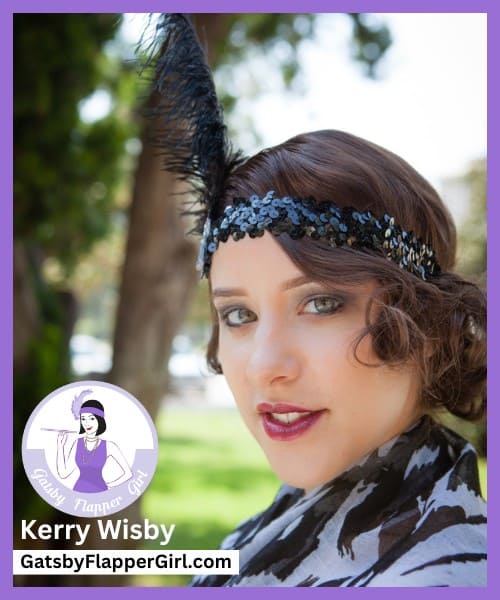 Written by Kerry Wisby – GatsbyFlapperGirl.com
Owner & Founder of GatsbyFlapperGirl.com
Kerry Wisby is the owner & founder of GatsbyFlapperGirl.com, your go-to source for all things 1920s & The Great Gatsby. With a passion for the era & a wealth of knowledge to share, Kerry is dedicated to providing you with everything you need to know about Roaring 20s fashion, 1920s history, & Great Gatsby-themed party ideas. Join Kerry in bringing the spirit of the Roaring 20s to life! Read more about Kerry here.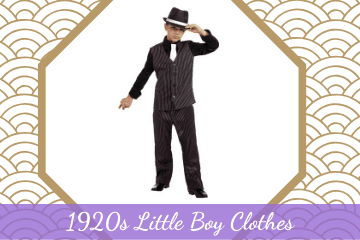 Are you getting your little boy or son ready for a costume party or Halloween? He will look cute and dashing in these 1920s little boy outfits and costumes!