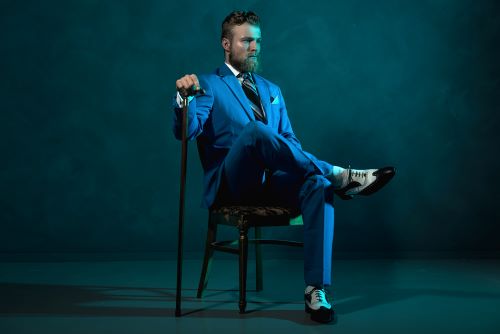 The 1920s have been so ubiquitous in the fashion world that it's hard to imagine that it has been a full century since they started. The '20s have come roaring back and now it's time to take some of the amazing looks and bring them to the 21st century.
The Perfect Mens Shoes for the New Roaring '20s
A great way to work the wonder of the 1920s into everyday men's fashion is to invest in some 1920s style shoes. While there are many bold options that I'll share with you, there are also plenty that can be incorporated daily.
You'll even notice you have seen these shoes on male stars on the red carpets all season!
So, without further delay, let's get started on our top picks of 1920s shoes for men that can take your outfit to the next level and celebrate this new decade in style.
Gatsby-Style Shoes For Men
Black and White Mens Shoes Gangster Style
I've started with these shoes as they fit so many 1920s fashion trends into one great shoe. It is a little bit amazing that they were able to accomplish this and have the shoe still look as great as it does!
These shoes are traditional two-toned spectators in an oxford style. The pointed toe is shaped in that classic wingtip shape that is so popular with men's shoes these days.
Men should wear these for an extra pop to a casual suit where they would traditionally wear a brown wingtip. These shoes are also great for a fun wedding or other formal events. A black and white party or Gatsby party would be particularly perfect!
These shoes also have awesome ratings on amazon- so you don't have to worry about the quality. Many reviewers claim these are the most comfortable dress shoes they own and they can easily get through night's in the service industry while wearing them.
I am particularly fond of the more matte leather of these shoes, as it allows you to more easily pull off the two-toned look than with a shiny patent leather. They also come in both black and brown options, so you can choose the one to suit your outfit or wardrobe best.
Stacy Adams – Men's Gregorio Wingtip Oxford
Now, these shoes are definitely a conversation starter. I absolutely adore the look of these shoes, from a distance they are pretty simple, but up-close they are very original in their design.
While you may not think a Croco-lizard material would really be that reminiscent of the 1920s, we always need to think about attitude and theme. In fact, Baz Luhrmann went outside of "real" 1920s fashion to capture the essence of the time period and place – which was one of extravagance and show.
In that regard, these shoes fit the bill. I can imagine a Miami high-roller wearing these while walking down the art-deco adorned streets while women swooned. Luhrmann would be proud if you made a fashion choice that can provoke the very feeling the 20s had.
The wingtip style of these shoes will ensure that they fit nicely with a well-tailored suit pant, and the navy and cream color scheme will accentuate most suit color choices.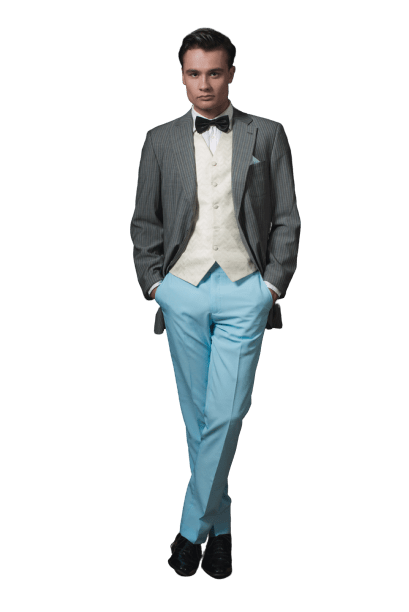 Click Here to See My Top Men's Suits!
If you are worried about the navy, never fear! These shoes come in six colorways, ensuring you can find the perfect pair for your individual style.
I love these shoes so much, I may just purchase some for myself! Hey, men can't have all the fun.
Titan03 – Spectator Mens Tweed Plaid Oxfords
Tweed Plaid Shoes Worn in the 1920s 
These shoes turn the traditional two-toned spectators on their heads by replacing one of the solid tones with plaid. I love it!
It is so important when dressing Gatsby-style to take the elements of the 1920s and make them work for you. The plaid is reminiscent of much of the day-wear of that era, and it is incorporated into the spectator style beautifully.
I can imagine an Ivy-educated man walking through central park with these shoes, arm-in-arm with a lady donning a very 20s cloche hat. These shoes are definitely for the man who has a library full of many leather-bound books and maybe a few too many mahogany candles.
These shoes will definitely turn heads – so be prepared! While the colors are beautifully understated, the plaid really highlights the spectator style and you are sure to get some comments. This is not a bad thing! The 1920s were all about style exploration and pushing boundaries.
These shoes come in five different colorways, all with plaid as one of the tones, so there is sure to be a style that you can incorporate into your wardrobe. The best way to do this is to look at the colors you have the most of and choose a shoe that either coordinates or contrasts based on your preferences.
Enzo Romeo – Mens Modern Wingtips
This wouldn't be a Gatsby men's shoe list if it didn't include a solid and timeless pair of wingtips. In my opinion, these are essential whether you are planning on going to a Gatsby-themed party or not.
These shoes are a must-have for any men's wardrobe. Seriously, they are everywhere on red carpets and runways around the world to this day, and they can give everything from suits to jeans for a polished look.
If you are looking to impress a new lady in your life, this is certainly the shoe for you. After all, Gatsby threw his lavish parties to impress Daisy, so it's important to clean up nice when the time calls for it. These shoes will easily help you achieve the look of a man who knows what he wants and has his act together.
These shoes come in ten (so many!) colorways, including a few two-toned styles, so you can pick the style that is most suited to your taste.
I recommend taking a look at the suits and pants you will wear them with the most, and to contrast the color while matching the saturation. This will allow you to choose the color that will go best with most of your wardrobe. Or, you can always buy a few pairs as I would!
However, I do find that a light tan/brown color is an absolute staple, and looks amazing with grey and navy suits as well as dark dressy jeans with button-ups. If you're feeling lost in the color department, you really can't go wrong with these.
Bruno Marc – Wingtip Oxfords
These Wingtip Oxfords come in three classic shades and are a great option for those who want to integrate the styles of the 1920s into their everyday wardrobe.
The mixture of different finishes on the leather – matte and shiny – make these shoes interesting and original without being too flashy.
The classic brogue design also makes them a shoe that you will come back to time and time again. If you want to dip your toe into the waters of the roaring 20s fashion without going completely overboard, these shoes are a great place to start.
Bonus: Men's Shoe Accessories!
Forum Novelties – Gangster Spats
This wouldn't be a true roundup of the best 20s style shoes without including a set of Gangster Spats.
Spats, while originally more for workers, became something elegant during the 1920s. They are a perfect item to mirror the fashion world turning on its head during that period.
While you may be afraid to pull these off in your day to day clothing – I believe you can! These could be a great nighttime look with the proper cream or black wingtips and a cream or solid suit.
If you happened upon this post because you are looking to dress for a Gatsby-themed party, then these are a great way to make yourself stand out and show everyone you did your research on 1920s mens fashion.
Frequently Asked Questions
What kind of shoes did men wear in the 20s?
Many of the shoes that were popular for men in the 1920s were reminiscent of the shoe styles that women found popular during that time period, as well. Two-toned shoes, as well as tennis shoes, began to gain a foothold during this time.
Other shoes that were popular through the decade were cap-toe lace-up boots, shoe spats, oxfords, box toes, wingtips, nubucks, work boots, and house slippers.
What do you call two-tone shoes?
Two-toned shoes are called spectator shoes. They have also been called co-respondent shoes. They are typically a low-heeled oxford style shoe that can come in semi brogue or full brogue.
What are gangster spats?
Spats are a shoe accessory that people in the 1920s often associated with gangsters. They are made from linen or canvas typically and they fasten under the shoe with a string of buttons up the side. They eventually became on-trend and even considered elegant.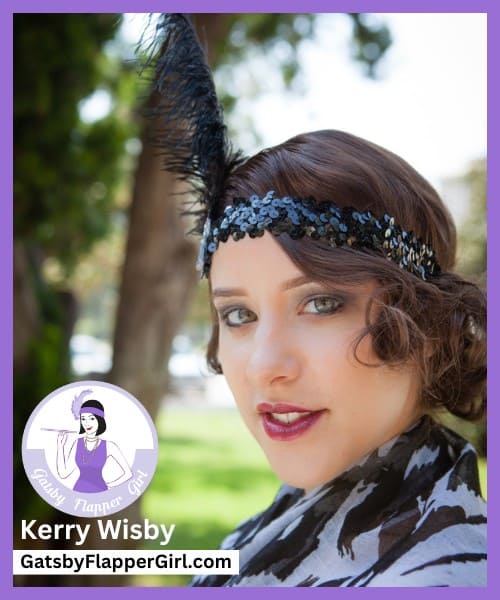 Written by Kerry Wisby – GatsbyFlapperGirl.com
Owner & Founder of GatsbyFlapperGirl.com
Kerry Wisby is the owner & founder of GatsbyFlapperGirl.com, your go-to source for all things 1920s & The Great Gatsby. With a passion for the era & a wealth of knowledge to share, Kerry is dedicated to providing you with everything you need to know about Roaring 20s fashion, 1920s history, & Great Gatsby-themed party ideas. Join Kerry in bringing the spirit of the Roaring 20s to life! Read more about Kerry here.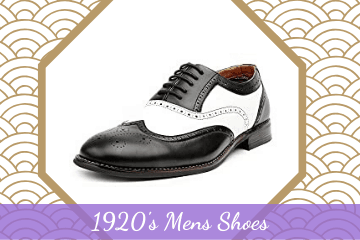 Popular Gatsby 1920's Mens Shoes Styles
The roaring 20s are back in full swing! Be ahead of the fashion curve by buying for yourself or your partner a pair of amazing 1920's Men's Shoes with art deco flair.