If you are dressing up for a 1920s themed party, you want to look formal and elegant. You probably won't have a problem picking shirts and pants, but how about spicing things up with suspenders and a beautiful vest?
A vest can add elegance to your appearance, and it was a very popular clothing item in the 20s. We could say the same for suspenders, which were the main way of keeping your trousers up at the time.
You have a wide variety of choices to emphasize your style and preference. Whether you are for a classic, gangster, or unique look, you will find something to meet your expectations.
Formal and Elegant
Some men don't want to experiment too much with their clothing. Even if they are getting ready for a costume party, they want to look elegant.
If you are looking for a classic formal vest, check out this amazing black combination. It offers the ultimate versatility and also ensures that you look classy.
The black color ensures timeless elegance and suitability for any occasion. You will easily combine this vest with almost any shirt out there.
The manufacturer added a couple of details that made many men love this vest. For starters, the top button is of a different color. Also, the back features an adjustable strap that comes with a buckle.
That is important for both aesthetics and functionality. First, it ensures that the vest is a comfortable fit for men of different body shapes. It is also a detail frequently worn in the 1920s, which will make sure you fit with the overall décor of the themed party.
Beige Pattern for an Added Twist
If you want to stick to the 1920s, look, and pursue an elegant appearance, how about choosing this vest with a unique beige pattern?
Beige shades were extremely popular at the time of Great Gatsby, and this pattern is great if you are going with a white shirt.
The usual V-neck design leaves you space to combine the vest with a tie or a bow, and the vest features six buttons and three pockets. Two of them are on the sides, and one is in the chest area, which adds to the convenience of wearing your small and valuable possessions.
And yes, you will find an adjustable strap on the back. If you gained a couple of pounds during the holiday, feel free to loosen the belt. And if you managed to stay slim, congratulations because you can tighten the strap.
Either way, you will look classy and fit with the timeline perfectly!
Wool Blend for Warmth and Comfort
VOBOOM prepared something different, but still classic and elegant. Their vest features a combination of wool and polyester, and this blend is great if you are aiming for the combination of comfort and warmth.
Comfort is unmatchable, and you can always use the back strap to adjust it to your liking. You can wear this vest for hours and still enjoy it. Additionally, it is perfect for cold weather since it acts as the extra layer that protects your back.
The quality of materials is also impressive, which means you will get a long-lasting vest you can wear on numerous occasions.
The buttons and the buckle on the strap are colored for an added twist to the combination. The manufacturer picked brown buttons that perfectly match the idea of the 1920s.
Although you can pick between multiple color choices, navy blue seems like a great choice, especially if you are wearing a shirt featuring light colors.
A Businessman That Traveled Through Time
Now, you might see yourself as a modern guy, and you might think vests are out of the question for you. But did you know that even successful businessmen wear vests these days?
They are a frequent part of business suits, such as in the example below.
Now, I will give you this – you might want to combine this with a shirt that says 1920s more. However, the vest is a timeless clothing piece, and it is equally popular today as it was 100 years ago.
This particular item might feature a modern design, but it is still a beautiful vest. You can use it for a themed party, and wear it later for other occasions. The V-neck is there, and the manufacturer picked the button color wisely to complement the style.
The pockets stand out on purpose, and the back strap is a classic addition to ensure optimal comfort.
Ultimately, this vest is a combination of classic and modern. Why not look like a businessman who traveled through time and didn't hesitate to set new 1920s trends?
Gangster Look
1920s fashion was a huge leap forward compared to only a decade before, but it is not the only thing that marked those years. From Bugsy Siegel to Al Capone, and the famous Bonnie and Clyde couple, we also remember many gangsters.
Now, they were on the wrong side of the law, but they did their fashion right. Furthermore, gangsters had a specific fashion direction. If you notice a particular choice of clothing on the street, as well as some notable accessories, you could make an educated guess that you are seeing a gangster.
If you watched movies featuring one of the tough guys like Al Capone, how about replicating his style for a 20s themed party?
You can do so with this unique gangster set offered by Jila!
Here is the kicker – you will receive a shirt and the tie with the vest. That means you don't have to worry about picking a shirt because you would already have a suitable one!
But let's get back to the vest. If you take a look, you will see that it is the black and white stripes that make it unique. These stripes were usually worn by tough and shady guys in the 1920s.
You've probably watched numerous movies where a gangster puts on his vest, grabs his rifle, and starts shooting. These guys wanted to look great while wreaking havoc, and nobody could deny that they did.
If you want to go for that gangster look, this set is an amazing investment and value for money. The only thing missing is a hat to round up your appearance!
All-in-One Gangster Combo
The previous set might have been missing a hat, but this one has everything you might need to look like your favorite bad guy from the 1920s.
You will receive a gold pocket watch, which is merely an accessory, which means it is not gold, and it doesn't even work. Regardless, it serves its purpose and adds to the style!
The set also includes a cigar (yes, also plastic), as well as a hat and a bow tie. The clothing items are all black to go in line with the vest.
If you like experimenting, you can pick various color choices. However, if you are going for a classy and stylish look, black should always be your pick.
The vest is classic, which fits great with the overall combinations. It is the accessories that make you stand out, and the vest is there to contribute to the style.
Time to Talk About Suspenders
Now that we've covered the vests extensively, let's switch to suspenders. These will make sure your trousers stay up, which is important if you are among other people.
It ultimately depends on your style, but black was the choice of most people during the 20s. Here is a basic combination that was extremely popular at the time.
Now, here is the important thing – these suspenders will clamp your pants firmly. That is crucial if you are too skinny, or the pants are not as snug as you would like.
The straps are stretchy, and you can adjust the clips to the desired position easily. The manufacturer didn't go with a cheap option, and the metal used is very durable. Additionally, the metal is not prone to fading, which means you can also wear it outside, and it will last for a long time.
The Y-back design is another characteristic of the 1920s. The company even included a bow tie to go with your suspenders.
The Luxury Feel of a Leather Strap
JAIFEI didn't settle for a completely classic look, which is why they added a brown strap to their suspenders to make them stand out from the crowd.
Now, I won't lie to you – these might be a bit difficult to combine with other clothing items. You can always go with a white shirt, and I believe that would be your best bet.
These suspenders are enough for you to look extraordinary. At first, everyone might think that it is a classic black color. But once they notice the brown leather strap, they will be thrilled. Apart from an elegant appearance, it also gives the luxury touch your combination might need.
The item is exceptionally strong, and the straps are very adjustable. That means they will fit both teenage boys and grown men well. At the same time, it means you can use them for years. Whether you gain or lose weight, or you grow taller won't matter because you can adjust the strap easily.
As you can see, this set also includes a classic black bow-tie. I leave that up to you, but if you want the 20s look, feel free to wear it for the occasion.
Unique Suspenders to Break the Monotony
I believe we talked about black suspenders enough, so let's switch things up a bit. Remember how we discussed gangster vests?
Well, I believe these suspenders are something that Bugsy Siegel himself would choose to wear!
The unique pattern features a combination of brown and gold. And if you think it looks tacky, think again. That is what those who had the courage wore in the 1920s.
The suspenders are the perfect way to emphasize the timeline you were aiming for, especially if you combine them with the bow tie and the pocket square.
I like the pocket square as it is a nice touch to ensure that the brown-gold combo complements the other clothing items well.
Finally, I would like to pinpoint that the suspenders are durable. Thanks to six strong clips, you can rest assured they will keep your pants up as long as necessary.
Cardigan Sweater in the 1920s?
Think of this item as a bonus since you can wear it over your shirt and vest.
The cardigan sweater has always been a messenger of elegance and class. This 100% acrylic product is cable-knitted and features a classic design.
Thanks to the color selection, you will fit that heritage look effortlessly. The sweater is also a great choice if it is cold, and you want to keep yourself warm.
Frequently Asked Questions
Q: What does a man wear to a Great Gatsby party?
A: Men loved to look elegant during the 1920s, and that is what the Great Gatsby novel showed us. That is why a shirt and pants are a necessity if you are attending a 20s party. The good news is that you can experiment and go with a different suit and shirt colors. Wearing vests, suspenders, and bow ties are also welcome as they are great accessories, but don't forget to get matching shoes!
Q: Are clips on suspenders acceptable?
A: It turns out that suspenders and clips are a timeless combo. Ever since the 1900s, when they were invented, you could have seen men wearing them. Clip-on suspenders can contribute to your retro style, which makes them great for 1920s parties.
Q: Is it OK to wear suspenders with a vest?
A: Yes, it is OK to wear suspenders with a vest. However, make sure to consider the type of event you are attending. If the occasion is informal, the suspenders can go over the west. But if the occasion is formal, you should always make sure that the vest goes over the suspenders. That being said, men during the 1920s picked the latter.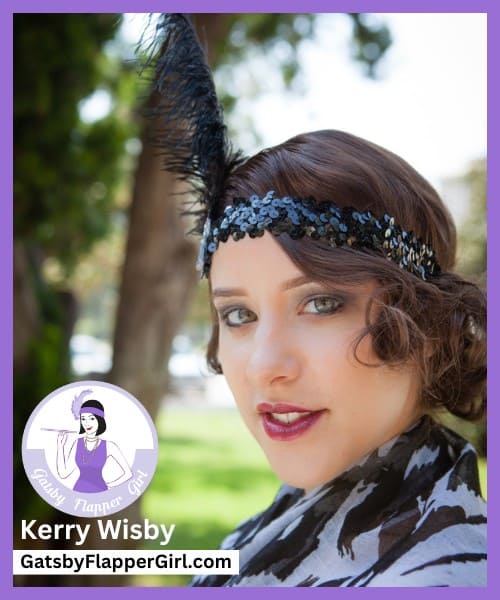 Written by Kerry Wisby – GatsbyFlapperGirl.com
Owner & Founder of GatsbyFlapperGirl.com
Kerry Wisby is the owner & founder of GatsbyFlapperGirl.com, your go-to source for all things 1920s & The Great Gatsby. With a passion for the era & a wealth of knowledge to share, Kerry is dedicated to providing you with everything you need to know about Roaring 20s fashion, 1920s history, & Great Gatsby-themed party ideas. Join Kerry in bringing the spirit of the Roaring 20s to life! Read more about Kerry here.
1920s Vest and Suspenders • Great Gatsby Outfits
If you are getting ready for a Great Gatsby themed party, take a look at the best selection of men's 1920s vest and suspenders for any event!