Are you wondering what the women in the 1920s wore to parties, weddings, or their local speakeasy?
Young women in the 1920s rejected their mother's (and grandmother's) ideas of modesty and simplicity by wearing flashy dresses that showed more skin. Flappers, as they were called, rocked and shocked the modern world at the time.
Get this Stunning 1920s Dress!
If you're looking for the perfect dress for a 1920s-themed party, a costume party, or Great Gatsby party, or even if you're looking for something a little bit different for a wedding or other event, we've got you covered.
Keep reading to take a short trip back in time when the Charleston ruled and women took to the dance floor!
Roaring 20's Inspired Dresses
If you want to stay true to the 1920s style of dress, keep in mind these three words—sassy, sexy, and stunning. Shimmering would be a good word, too, since all party and event dresses at the time were literally covered in sequins, beads, and shiny material that would really catch the eye.
When you think of a flapper dress, you might be thinking of something like this, and you would be spot on.
However, did you know that there are other styles of clothing from the 1920s besides flapper dresses?
Maxi Dresses for that Classic Look
Keep in mind that this was the beginning of the golden age in movies. Think of movie stars like Mae West, Greta Garbo, and Marlene Dietrich. If you're interested in looking like a glamourous movie star, you might want to consider a stunning dress such as this one.
Or you might have something like this in mind.
Or if you want to really go all out—how about this number?
Tea Party Dresses for Casual Elegance
It was very common in the 1920s for ladies to hold tea parties. Whether the tea was spiked with a little bootleg vodka remains unknown, but you would want to wear something with a little more coverage and fewer sequins than the flapper party dress.
If you're looking for something sassy without the flash, this would be the perfect example of a tea party dress.
Don't you just love the fluffy sleeves and dropped waist?
A soft, feminine look was the fashion in the Jazz Age, and this dress would fit the bill nicely.
While young women were rejecting their mother's ideas of floor-length dresses for anything but a formal occasion, tight-fitting dresses with fringe were for speakeasies and party life. A tea party calls for something a bit dressier but not close fitting, such as this beautiful dress and complete the look with a stunning 1920s fascinator.
Dusty rose, also called mauve, was a popular color for women in the 1920s. Everything about this beauty screams feminine, yet it retains a subtle sexiness to it.
If you're looking for a dress with classic style, you can't go wrong with any of the above.
Take Centerstage with These Sexy 1920's Dresses
Maybe you've got something a bit more revealing in mind.
While most flappers wore dresses that were knee-length, showgirls often wore quite scanty outfits.
Hot and Sexy Flapper Outfits
If you want to rock the house and show 'em what you've got, we've got some hot numbers that will make you the life of the party, such as this one.
We love the matching headband, and with all that fringe, you'll be ready to shake your shimmy all night long!
For the woman who wants to be centerstage, you'll need an outfit like this one to pull it off.
Get ready to rumble when you wear this exciting little number.
If you're out to be fun and flirtatious, we've got the perfect dress for you here.
You'll be as red-hot as your dress when you walk through the door wearing this outfit!
Don't forget to order ASAP since many of these beauties sell out fast!
Fringed & Flashy Dresses for Plus Sized Mamas!
You don't have to be petite to enjoy a Great Gatsby party! Flapper dresses come in a wide range of sizes, which means you don't have to be size 0 to get your shimmy shaking!
For all the beautiful plus-sized mamas out there who want to party hardy, how about this gorgeous dress?
We love the flashy sequins that are so shiny we have to squint! The fringed hem is everything a flapper could ask for!
Do you like your style to be just a little bit different? Check out this stunning outfit!
Get this 1920s Plus Size Dress!
We love the see-through sleeves and gold embellishments! You won't find many dresses that look this good for this price!
If you want a flapper dress that is super eye-catching, this pretty little number has it all.
Get this Fringed Plus Size Dress!
Don't you just love that incredible design?! No one will be able to take their eyes off of you!
All you need to complete these outfits are the right accessories!
It's All About the Accessories
Remember that women in the 1920s rarely had cash to spend on more than one or two dresses, so they needed to change accessories to make their outfits look different.
The perfect accessories can make or break your vintage look.
Headbands and Other Headpieces
Let's start with headpieces since these were crucial. No flapper would be seen dead without some type of headband or hat.
You might want to consider the classic feathered headband, such as this one.
If you'd like something a bit more demure, this headband is absolutely beautiful!
Headbands that had rhinestones and fake pearls were also hot items in the 1920s. This headband is a gorgeous example of the Jazz Age style.
Jewelry to Add More Glitter
Jewelry was also big during Prohibition, such as drop earrings.
Bangles and bracelets with pearls were the thing!
Even bracelets attached to a ring style was commonly worn. We love this beautiful style so much, we might wear it to the office!
Don't forget to add some fake pearl necklaces, the more layers the better.
Shawls, Faux Furs, and Feather Boas
If those sleeveless dresses leave you shivering a bit, keep the chill away with this beautiful shawl (check out all our 1920s shawls ).
And this piece is stunning!
Even fake furs, such as this will make you looking chic while keeping you warm.
Put Your Best Foot Forward with the Right Shoes
Flapper dresses need the right shoes to complete the look. If you want to be completely authentic with your vintage look, chunky T-straps are the shoes you want to choose.
Check out these Classic Shoes!
Also called Mary Janes, you can always go for these gorgeous two-toned shoes that are still authentic, but have a modern twist to them.
Mix & Match with these Accessories
If you're feeling overwhelmed and aren't sure which accessories to wear, you could opt to go for a complete set of accessories, such as this one.
You can't go wrong with this gorgeous gold number.
Check the Flapper Accessory Set!
Or how about this one?
Check the Peacock Accessory Set!
Or even this one, so you can mix and match as you like!
Get the Vintage Accessory Set!
The right accessories can take your flapper outfit from ho-hum to LA DEE DAH and OOH LA LA!
Final Thoughts
While most flappers chose dresses in bright colors, such as rose gold, peach, green, sand, and black with gold or silver, the truth is that you can wear any color you like as long as you give it lots of pizazz via accessories, beading, and the right shoes.
No matter what type of party you have plans for, you're sure to knock them dead when you choose one of the breathtaking styles mentioned above.
Have a great time and remember to shake your shimmy!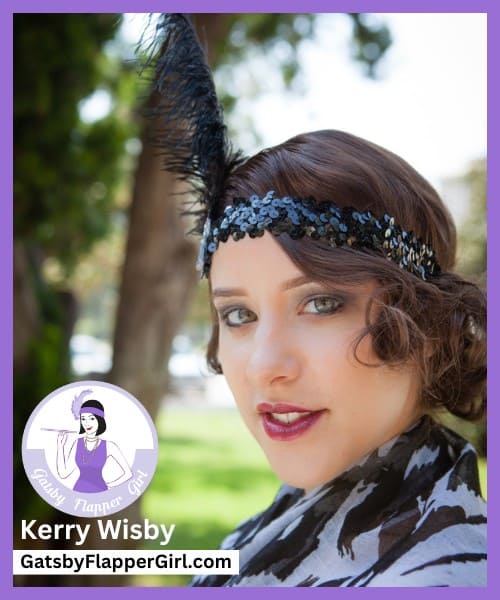 Written by Kerry Wisby – GatsbyFlapperGirl.com
Owner & Founder of GatsbyFlapperGirl.com
Kerry Wisby is the owner & founder of GatsbyFlapperGirl.com, your go-to source for all things 1920s & The Great Gatsby. With a passion for the era & a wealth of knowledge to share, Kerry is dedicated to providing you with everything you need to know about Roaring 20s fashion, 1920s history, & Great Gatsby-themed party ideas. Join Kerry in bringing the spirit of the Roaring 20s to life! Read more about Kerry here.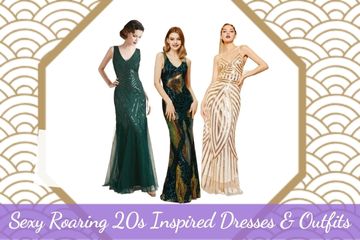 Sassy, Stunning, and Sexy Roaring 20s Inspired Dresses & Outfits
How to dress for a 1920s or Great Gatsby party? Keep flash and sass in mind when you pick your outfit! Find the perfect 1920s dress for your Halloween event or costume party here!