Welcome to GatsbyFlappergirl.com  
Welcome to GatsbyFlapperGirl.com, your go-to source for all things 1920s and The Great Gatsby.
Our Team
Kerry Wisby: Owner & Founder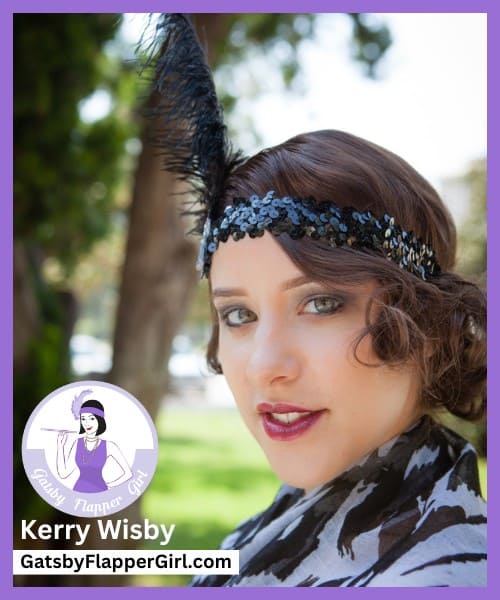 Kerry Wisby is the owner and founder of this website and is passionate about the 1920s and The Great Gatsby era. Kerry loves to share her knowledge and expertise with others.
Whether you're interested in Roaring 20s fashion, 1920s history, or just want to throw a Great Gatsby-themed party, you'll find everything you need here. 
Eric Sweigert: Qualified High School Teacher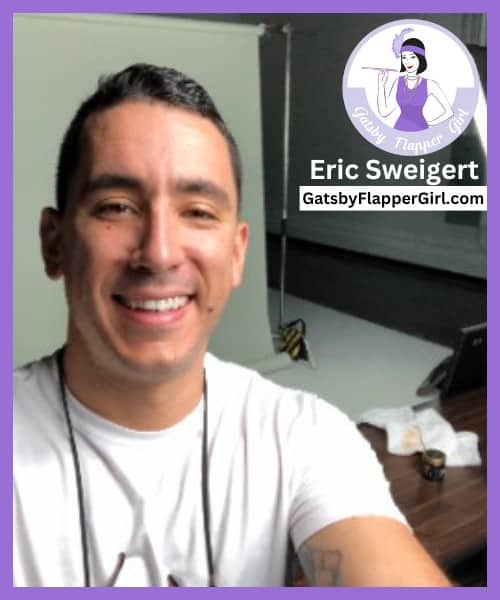 Eric Sweigert is a passionate high school teacher with over 5 years of experience in Californian classrooms. He knows how to keep lessons engaging and bring passion to a subject.
Eric's love for literature has led him to share his knowledge and insights on the iconic novel, The Great Gatsby and 1920s American History.
In addition to his teaching career, Eric also loves doing voiceovers as a side project. He is an experienced video and voiceover actor, bringing his skills in performance and education to create a dynamic and informative learning experience with his easy to learn Student Great Gatsby Videos or his Great Gatsby Teaching Guide for Teachers.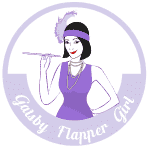 Learn More About Kerry Wisby


Owner of GatsbyFlapperGirl.com
Hi Everyone!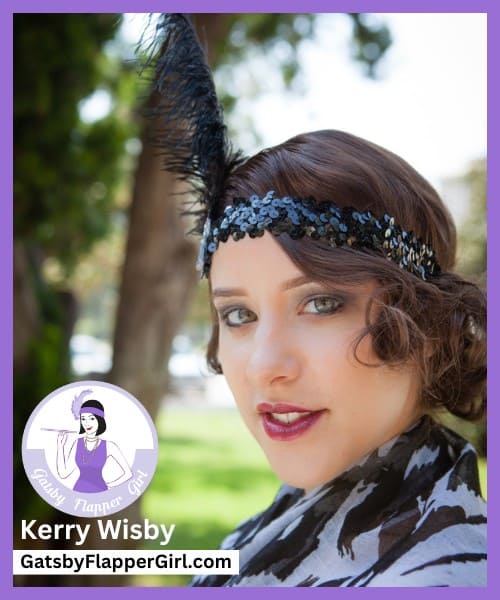 My name is Kerry Wisby and if you love history, specifically the Roaring 20s, this page is for you!
My Great Gatsby Obsession & Love of the 1920's
I've often felt like the ultimate nerd because I've had this nearly life-long love affair with all things 1920s (and a little bit 1930s).
The Book That Took Over My Life!
Just like many of you, I had to read The Great Gatsby in high school. But here's the thing, I'm a bit of a nerd (in the best possible way, of course!) Not only had I already read the book and watched the movie countless times with Robert Redford and Mia Farrow, but I had also written a book report about it!
Here's my copy of the book that took over my life! I was obsessed from the first chapter: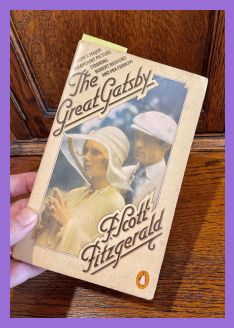 I know, it sounds crazy, but I used to write book reports for fun. I may have had a bit of a crush on Jay Gatsby, and I watched the movie over and over again, I was simply infatuated with all the glitz and glamour of the Roaring 20s!
Of course, when it came time to revamp my essay, I had something else in mind.
Naturally I Had to Produce My High School Great Gatsby Play
So, in high school, I had a brilliant idea to create a short play with some of my classmates, so I pitched it to our teacher and got the green light!
I was the writer and director, and I managed to transform my original "script" into a 30-minute masterpiece.
I played the part of Myrtle – let's be honest, she's just too much fun. The rest of my pals were vying for the part of Daisy, but they all had a blast regardless of who they played.
I even got to flex my creative muscles by choosing the perfect costumes for everyone, while my BFF worked her magic on our makeup. Needless to say, we all aced the project with flying colors and earned that sweet A+!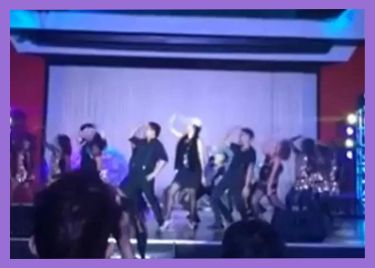 I Became the Talk of the Town
After the play, it seemed like everyone in school (oh heck, the whole town!) knew about my passion for the 1920s and The Great Gatsby. I've often wondered if reincarnation is a thing – at least that would explain my fascination with the Jazz Age! 😊
My Love for the 20s Led Me to Study English Literature & American History
In college, it seemed only natural to take American History and English Lit, I studied at the University of California, Santa Cruz and proudly graduated with a Bachelor of Arts (BA) in English Literature.
I loved my college days because I was able to dive very deeply into the lives of not just the rich and famous, but the everyday people, especially women, who worked at changing society for the better (Women got the right to vote in 1920!) and had fun doing it!
My Passion for Vintage Fashion, Dancing, and All Things 1920s Has Given Me A Reputation
I've found that my love of vintage clothing, hats (This is a fashion accessory I really wish would come back into style!), the outrageous parties, flappers drinking and dancing all night long, prohibition, the gangsters, and the incredible dances, have given me a reputation that I never imagined.
My friends, family, and even co-workers ask me for advice on everything from having authentic Bonnie and Clyde costumes to which shoes work best for an Gatsby flapper outfit,  what a 1920s-inspired wedding dress would look like, and even how to throw a Great Gatsby party!
And Then Baz Luhrmann Remade The Great Gatsby!!
Naturally, when Baz Luhrmann remade The Great Gatsby in 2013, I HAD to see it!
I have watched this movie countless times, over and over again! I think whoever was in charge of casting could not have made better choices than Leonardo DiCaprio as Jay Gatsby and Tobey Maguire as Nick Carraway.
I Was Born in the Wrong Century – I Wanna Be a Flapper Girl!
I always felt I was truly born in the wrong century, but that doesn't mean I can't revel in my passion and bring the spirit of the 20s to life in my own way!
Why I Created This Website
I created this website because, not only were my friends sick of hearing me talk about the Roaring 20s, but I was disappointed when I discovered that most sites are only dedicated to one thing (clothing styles or college papers).
I wanted to create something more in-depth, not only for high school and college students who need some help with The Great Gatsby, but for anyone interested in cosplay, costume parties, or for those who are just interested in the frivolity of the times!
Let's bring the spirit of the Roaring 20s to life together!
What You Will Find on GatsbyFlapperGirl.com
If you're looking for dried-up quotes and boring lectures, this isn't where you belong!
One of the things I love most about this era is the happiness that seemed to be everywhere. Whether you were a young flapper with a feather boa or a businessman exploring the stock market explosion, everyone seemed to be happy, joyous, and dancing their hearts out at the local speakeasy.
If you're looking for the perfect flapper dress for a costume party, want to be Al Capone at your next cosplay event, or you're reading the book and feeling lost, just keep reading.
This is where the 1920s and the 2020's come together, and it is going to be a party for the ages!
Thanks for dropping by!
Kerry x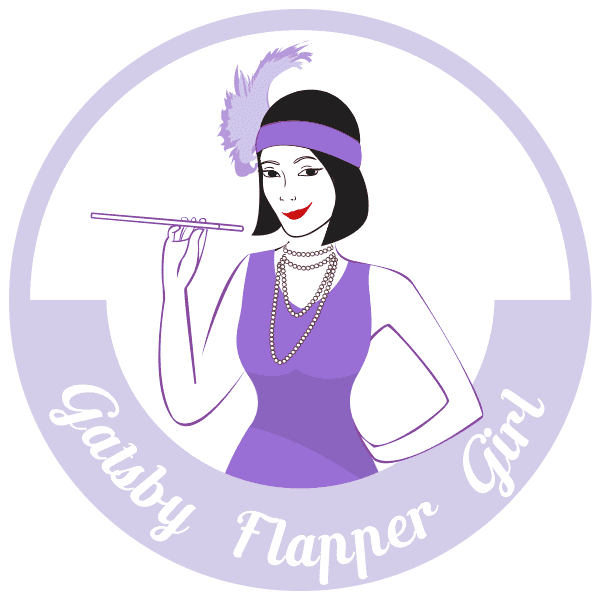 Contact Us:
We love to hear from our readers, so if you have any questions about anything you find on this site, please contact us on the below email address or via our Contact Form
All General Inquiries: 
Don't hesitate to contact us, we would love to hear from you:
All General Inquiries: 
For All Press, Advertising & Interview Inquiries:  
Address & Phone Number:
1099 E Champlain Dr
Ste A – 1395
Fresno, CA 93720
United States
Ph: +1 559 6060240  
Follow GatsbyFlapperGirl:

Affiliate Disclosure:
www.gatsbyflappergirl.com is a participant in the Amazon Services LLC Associates Program and other affiliate advertising programs.  It is designed to provide a means for sites to earn advertising fees by advertising and linking to amazon.com and other affiliate sites.
Our opinions and product recommendations are based on our own personal experiences and reviews, and we may earn a small commission from some selected products that we review. Please note that our editorial content is guided solely by our editors and contributors, and we strive to provide the best recommendations in the interest of our readers.