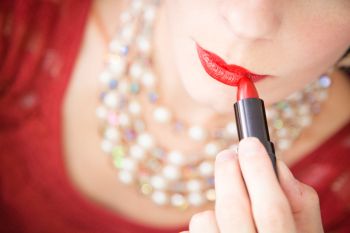 Yes, most definitely, the flappers wore red lipstick. Even later in the decade when more colors became available, lipsticks still came in variations of red. You'd see red heart-shaped lips everywhere—from gambling houses and speakeasies to the silver screen. Flappers used lipstick and rouge of all shades of red, from bright to dark, to exaggerate their features.
This was undoubtedly a way to get noticed, but not only that. The young women of the 1920s defied traditions and created this new look as a form of self-expression.
Did They Wear Red Lipstick in the 20s?
The red lipstick has a long history, and yes, it was worn in the 20s. Even before 1920, the suffragette movement used red lipstick as a symbol of women power.

At the turn of the 1920s, red lips on heavy makeup was a novelty look that only the flapper women embraced for their daily wear. Before the trend turned mainstream, only theater actors, movie stars, and prostitutes would wear cosmetics this way.
However, the wave of change introduced by the flappers was so strong that more and more women supported the new culture. It did not take long for the new fashion trend to take hold and spread throughout the country. This was true not only for red lipsticks but cosmetics in general.
What Did they Use for Makeup in the 1920s?
At the dawn of the 1920s, chemists came out with more makeup formulas to serve the expanding market. The 1920s woman had rouge paper, liquid rouge, kohl and eye shadow, face powder, mascara, lipstick, and nail polish at her disposal.
Still, the cosmetic industry was at its early stage during this time. For instance, mascara was in cake form. Flapper girls would use an eyelash curler, which was a 1920s invention, to curl their lashes. Then with a moistened brush dipped into the mascara cake, they'd thicken the eyelash for that long, dark, curly lash look.
For her cheeks, the flapper woman used rouge compact mostly, but by 1928, face powder in darker shades became the thing for highlighting the cheeks. As for the eyes, smudged kohl was the easiest way to achieve the flappers' smoky eyes.
What Were Popular Colors in the 1920s?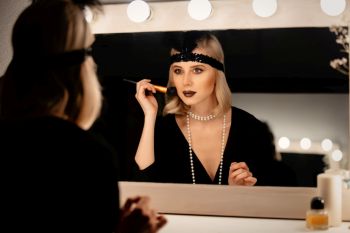 The available range of colors for makeup varied depending on their application. In the 1920s, color selection for cosmetics ran by the hundreds. Reds and its limitless variations filled the makeup palette for the cheeks and lips. Gray, black, and other dark colors were used to highlight the eyes.
LIPS
Lip color was bright red (almost pink) to its darkest tones (almost plum or brown). In the mid-20s, orange was added to the mix. As the years progressed, the flapper women learned to find the perfect shade for their skin tone. So you can see how the 1920s makeup trend laid the foundation of the modern woman's makeup.
EYES
For eye shadow, flappers mainly used smudged gray kohl, but creams in other colors were available. Again, they used eye color as their guide. For blue eyes, they'd use blue or green shadow and brown mascara and eyeliner. Green and gray went with green eyes, brown and plum for brown eyes, and just a tinge of red shadow was quite a fad for black eyes.
Eyeliners were mainly black and brown, with blue and violet coming later in the decade.
CHEEKS & KNEES
Rouge or blushers were in reddish pink at first, then raspberry, and later rosy.
What Brands Were Popular for Lipstick and Makeup in 1920?
There were only around a dozen cosmetic brands when the 1920s makeup industry took off. Some of the makeup pioneers in the 1920s were Helena Rubinstein, Elizabeth Arden, Max Factor, Maybelline, and Cutex. Of course, as the flappers trend exploded, more manufacturers dipped their toes into the water, with over a thousand beauty brands flooding the market throughout the decade.
Many of these makeup names are brands we know so well today, no wonder we have that special kinship with our flapper sisters. This century-old history shows how the flappers heavily influenced the way modern women use makeup today.
How Did Celebrity Flappers Popularize the 1920s Makeup Trend?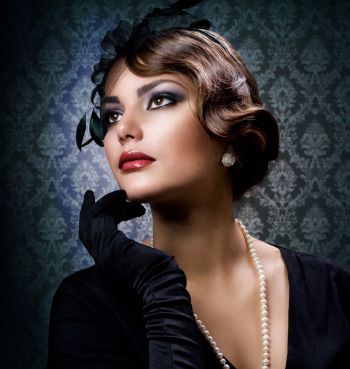 Celebrity flappers popularized the 1920s makeup and beauty trends through the easiest media – entertainment, the arts, and the silver screen. Jazz artist and women's rights activist Josephine Baker and the ultimate flapper Clara Bow were two such popular trend endorsers.
Josephine Baker sported slick hair, sultry eyes, and dark lips in many of her sorties, and you can't miss Clara Bow's thin eyebrows and punctuated upper lip.
What Was the Signature Clara Bow Makeup Look?
Bow's signature makeup look inspired flappers. Her eyebrows were thin arches sloping outward and drawn lower than the natural brow line. Her short curly hair framed her huge eyes and rosebud Cupid's bow lips. Thick, black eyeliner and smoky eye shadows made for deep, dark, dramatic eyes.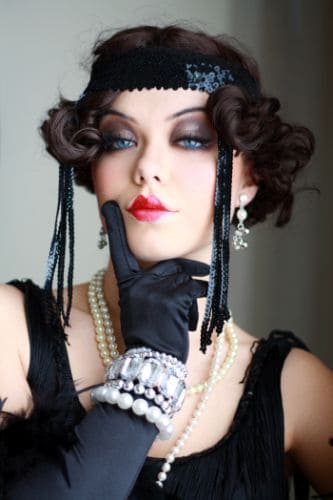 Bow used this look to her advantage as an actress. The 1920s era saw the last of silent films, for which Clara Bow was arguably the quintessential star. Expressive eyes were not only the vogue but a necessity to make quiet scenes effective on the silver screen.
Did Clara Bow Create the Cupid's Bow?
Clara Bow made the Cupid's bow lip makeup style a national sensation in the 1920s. The Cupid's bow refers to the two peaks on the upper lip, so Bow could not have created it. If you look in the mirror, it's that upturned curve just below your nostrils.
While Bow immortalized the makeup technique that emphasized that upturned curve on the upper lip and also exaggerated the lower lip, she did not create it. Some accounts point to Max Factor as the first makeup artist to do the Cupid's bow lip makeup on Clara Bow. Makeup entrepreneur Rubinstein also came out with a stencil and a self-shaping bow lipstick, which she released as Cupid's Bow.
What Did Flappers Really Wear?
Aside from raising the hemlines of their clothing, the flapper fashion was described as androgynous because of its shapeless or genderless silhouette, a far cry from the hourglass figure of the Edwardian Gibson Girl.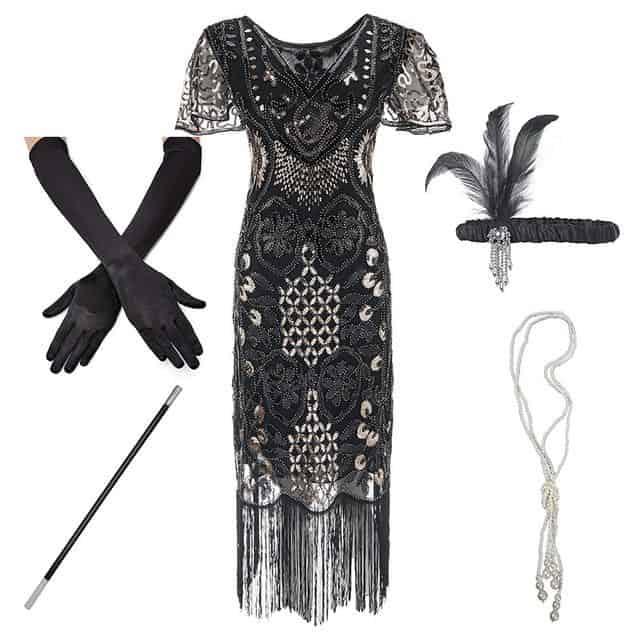 The flappers wore short, loose, free flowing, and drop-waist dresses that hid their curves. They completed this look with a cloche hat or accessorized head gear and neutral-colored shoes.
French designer Coco Chanel came out with famous pieces that contributed to this new fashion style.
What Colors Did Flappers Wear?
The 1920s dress used dark, solid colors because beads and fringes stood out in them. For evening dresses, black, dark blue, burgundy, emerald green, and plum are favorite colors. Day clothes would be in plaid, stripe, and other patterns. Pastel colors, such as jade and peach, entered the scene in the mid-20s.
Shoes were mostly in black, but brown and white pumps had their followers, too. Gold, silver, and crystals were usual embellishments on shoe straps and buckles. Day clothes were paired with black stockings while evening clothes were worn with nude or one-shade-darker tone. Much later in the decade, stockings were worn to match the dresses.
Conclusion
The 1920s makeup was not only a fashion statement, it was a social and political assertion as well. Red lipstick was one of the icons they used because red meant bold, and lipstick symbolized women.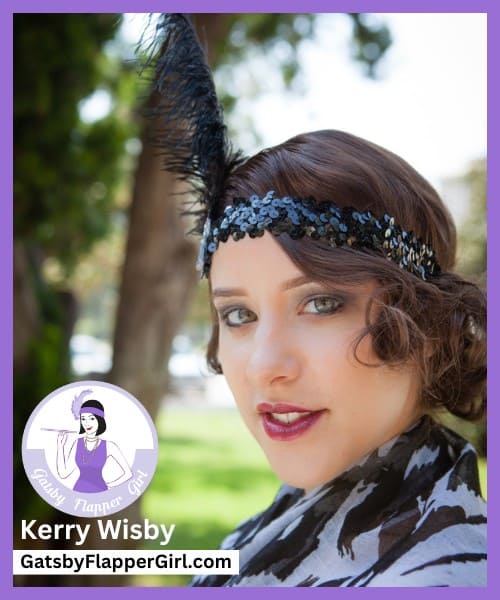 Written by Kerry Wisby – GatsbyFlapperGirl.com
Owner & Founder of GatsbyFlapperGirl.com
Kerry Wisby is the owner & founder of GatsbyFlapperGirl.com, your go-to source for all things 1920s & The Great Gatsby. With a passion for the era & a wealth of knowledge to share, Kerry is dedicated to providing you with everything you need to know about Roaring 20s fashion, 1920s history, & Great Gatsby-themed party ideas. Join Kerry in bringing the spirit of the Roaring 20s to life! Read more about Kerry here.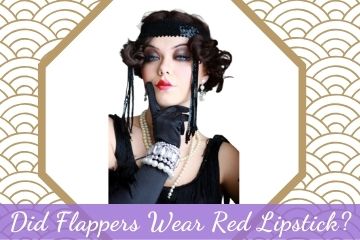 Did Flappers Wear Red Lipstick?
Find out here all the colors that the flapper women used not only for their lipsticks but their whole makeup and fashion ensemble as well!