• What dress to Wear to a Great Gatsby Themed Party?
Attending a Great Gatsby party means that you will need to find the perfect Gatsby Dress.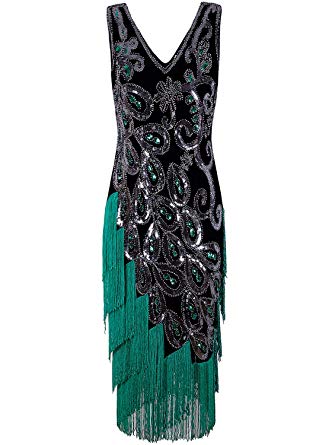 If you've never read or watched The Great Gatsby, you first need to understand that in the novel, Jay Gatsby is a wealthy bachelor who throws extravagant evening parties in the 1920s.
In the novel, there are wonderful descriptions of the clothing worn by the host and his guests, and it is easy to understand why so many people are eager to host their own Great Gatsby parties.
So, with this in mind, you need to find a dress that is similar to the styles worn by the guests at Gatsby's eloquent parties.
Most of the dresses described in the novel are Gatsby girl style dresses.
The Gatsby flapper girl style is typically a sleeveless bodice with a dropped waist, and a low rounded neckline.
The Great Gatsby dress also featured rows of tassels and beadwork, and were short hemmed, falling around the knee line.
Showing skin was considered scandalous in the previous era, and the flapper girl was anxious to break the rules.
Showing skin at the neckline, the bare arms and the legs (although they always wore nude or light-colored stockings) was the norm.
• The Best Gatsby Dresses Brands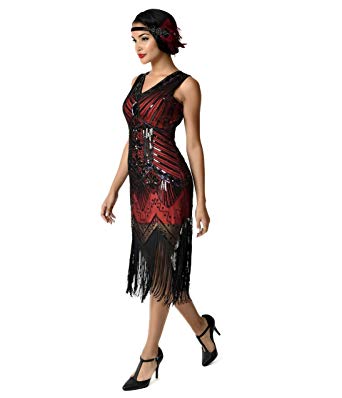 • Babeyond
• Vijiv
• Metme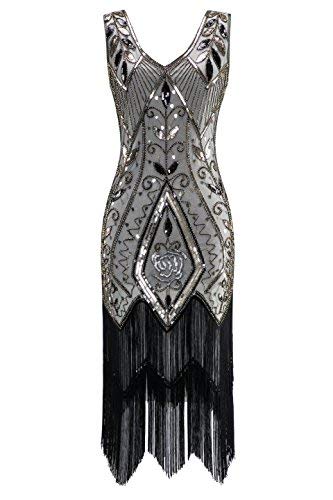 • How to Choose your Gatsby Dress ?
For a simple party such as a Great Gatsby party or a Halloween costume, you will want to make sure that you are looking for a costume grade dress, unless you want to spend the extra money for a more extravagant dress.
Costume grade Gatsby dresses will usually be constructed from a silk base with a soft tulle overdress and will feature sequins as opposed to beading.
Although they are costume grade, these dresses will look every bit as flashy and fun as a more expensive gown.
Look for fun colors and tons of tassels at the hemline to showcase your fun flapper style.
While it was true that the younger ladies sported the flapper girl style dresses, the more matronly women at Gatsby's parties opted for more of a capped sleeve and longer hemline that reached midcalf and showcased a scalloped or handkerchief style hemline.
The more matronly dresses often featured the beadwork of the Art Deco style.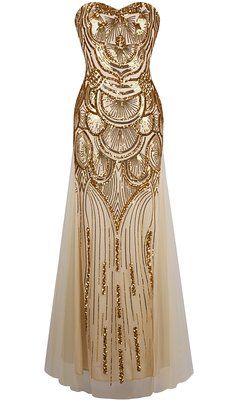 • Gatsby Dresses
The fringed flapper dress is the most iconic dress of the Roaring 20s.
When searching for your fringed Great Gatsby dress, look for the scooped neck and sleeveless bodice that has ornate beading or sequins on the bodice and a dropped waist.
You don't want the dress to be form fitting.
It should be rather shapeless like a tunic on top.
The beadwork or sequins should be quite intricate (especially if you are buying a quality dress and not just costume grade).
Many times, the bodice would feature the geometric patterns of the Art Deco style which was so popular in the 1920s.
Peacock motifs and Egyptian motifs were also popular patterns of the day.
The fringed flapper dress should have a skirt with a symmetrical hemline that is topped with at least one row of fringe at the bottom.
Multiple tiers of fringe add more "shimmy" when the flapper girl is dancing the Charleston or any of the more popular dances of the day.
Think color when searching for your fringed flapper dress.
While black and red were quite popular colors, there are many dresses available in a wide range of colors and color combinations.
The quintessential flapper girl wanted to stand out from the crowd, so you might consider opting for a unique color or color combination that will showcase your own flapper girl style.
• Plus Size Gatsby Dresses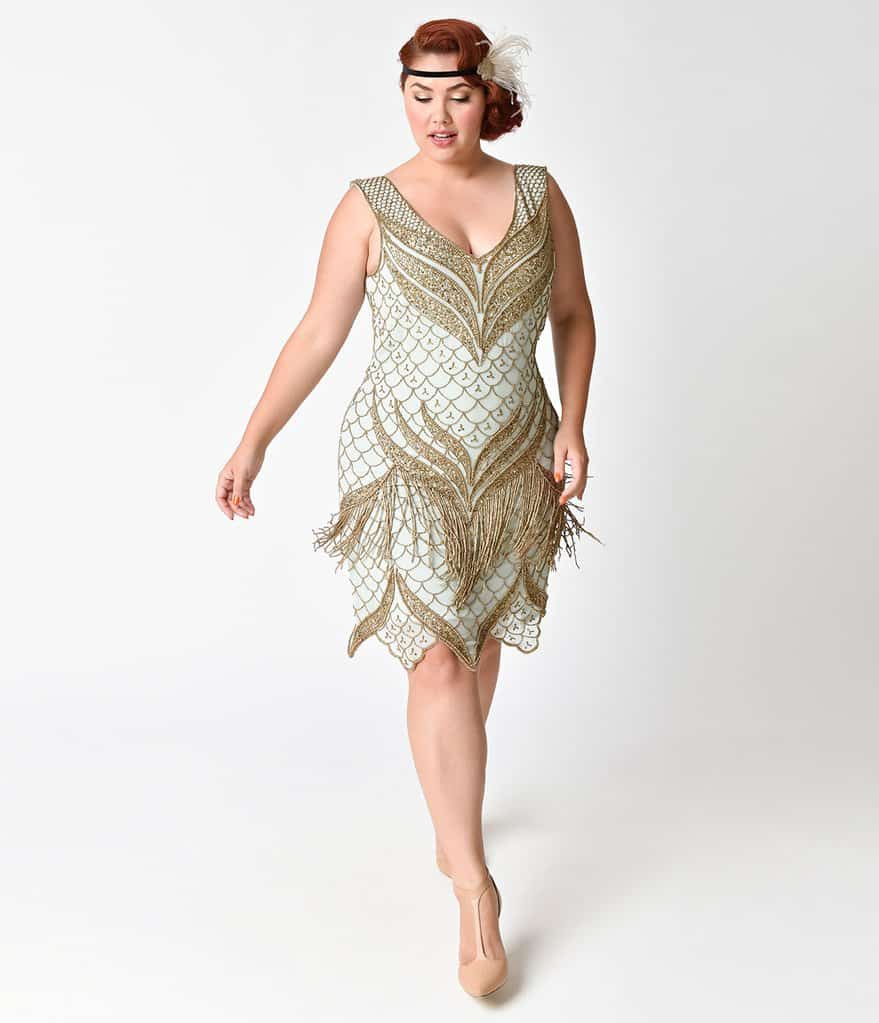 The Plus Size Flapper dresses come in different colors, fabrics and length.
They look absolutely amazing and your beautiful curvy body will feel great in it!
• Charleston Dresses
One of the most popular dances of the 1920s was the Charleston.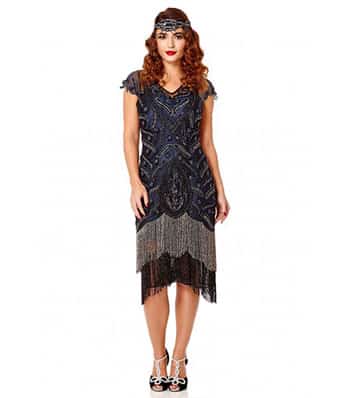 It is one of the few dances of the era that has survived to this day, and it is sure to be a feature at any Great Gatsby party.
The Charleston was a rigorous dance and required the dress to be free flowing for ease of movement.
This is where the loose bodice comes in.
The Charleston requires the dancer to fling the arms and legs out from the body in wild, abandoned fashion, and a form-fitting dress will not accommodate that style of dance.
Corsets were ditched before hitting the dance floor so that you could move freely.
If you plan on dancing the Charleston at your Gatsby party, look for a dress with a handkerchief hem (where the dress comes down in triangular points).
This type of hem allows for freedom of movement while giving the illusion of a longer hemline.
The best option for dancing the Charleston is a dress that has the handkerchief hemline covered with layers of tassels that will showcase that fabulous shimmy that is iconic of the flapper girl.
• Great Gatsby Dresses Prom
The glamorous look of the flapper girl makes for a fabulous prom look.
Elegant and flashy, you will be sure to wow the crowd if you choose a flapper girl dress for prom.
In contrast to the looser dress needed to dance the Charleston, a Great Gatsby dress for prom can be more form fitting and even have a longer skirt.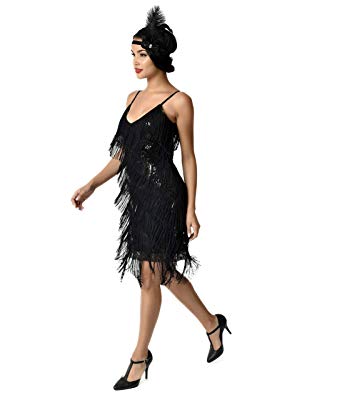 When looking for a flapper dress for prom, you want to first decide on length.
If you are going for a longer skirt, you might look for one that is mid shin length.
On the shorter side, you can opt for one that hits right at the knee, or if you're going for that scandalous look, find a thigh length skirt.
Flapper prom dresses with fringe are great, or if you want a little more subdued look, look for a scalloped hem with fringe or a handkerchief hem with fringe.
Another option is the sleeve.
While sleeveless flapper gowns are the iconic look, you also might want to consider a cap sleeve or a sheer sleeve with embroidery.
For the sleeveless gown, another great look is to add a sheer capelet with embroidered accents in the same color as the dress.
One important consideration in buying your Great Gatsby prom dress is to make sure that you are getting a quality dress and not a costume.
A costume will not be able to withstand an entire evening of dancing under the stars.
• Great Gatsby Flapper Wedding Dresses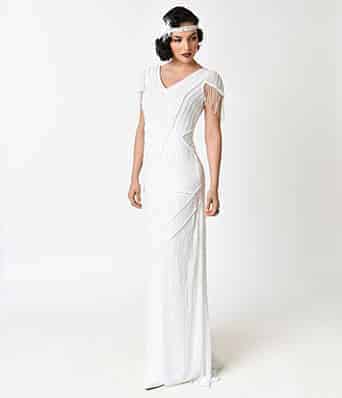 So, you want to have a 1920's flapper girl wedding?
The bridal dress is the most important piece in establishing the era.
When you are searching for a fabulous flapper wedding dress, you need to keep a few key things in mind.
First of all, you need to understand that although there are many flapper style dresses on the market, some of the dresses are costume quality, while others are well built dresses that will withstand the test of time.
Make sure that the dresses you are considering are not costume quality.
One way to determine this is by checking the material that the dress is constructed from.
Look for fabrics like satin, silk, lace and chiffon.
Hand beading will also be a hallmark of a quality dress.
Take note that flapper style dresses come in a wide variety of colors and styles.
Choose white for the classic bridal look, or a color that will complement the wedding colors.
(As a side note, white was worn often by people in the upper classes because it was difficult to keep clean, and it indicated that you had servants to clean the clothes for you).
Elegance is the word when choosing the flapper wedding dress.
Choose a skirt length appropriate to the occasion.
Knee length or longer is a good choice for the wedding dress.
A good choice for the elegant look is to choose a dress that has a bodice with the geometric designs of the Art Deco era.
Look for ornate beadwork and embroidery.
The sheer capelet over the sleeveless flapper dress adds another layer of elegance.
Choose a sheer capelet in the same color as the flapper wedding dress.
Look for ornate beadwork and embroidery to enhance the elegance of your perfect flapper wedding dress.
• Great Gatsby Bridesmaid Dresses
Now that you've chosen the perfect flapper wedding dress, what will your bridesmaids wear? 
Flapper bridesmaid dresses of course!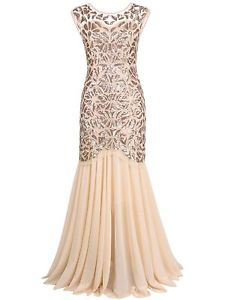 You have a few different options when it comes to outfitting your bridesmaids.
One idea is to take the same style dress as the bridal gown but order them in a different color that fits the colors of your wedding.
Another option is to pick a different style of flapper dress for the bridesmaids, perhaps one with a capped sleeve, or less fringe.
Another fabulous idea is to let each bridesmaid choose their own flapper dress that fits their style but keep the color scheme similar and have them all wear matching head pieces.
Regardless of the direction you go with your bridesmaid dresses, you'll want to follow the same advice as in choosing your flapper wedding dress.
Look for quality materials and elegance and you really can't go wrong.
• Great Gatsby Halloween Costumes
Because it is so iconic, the flapper girl is a great choice for a Halloween costume.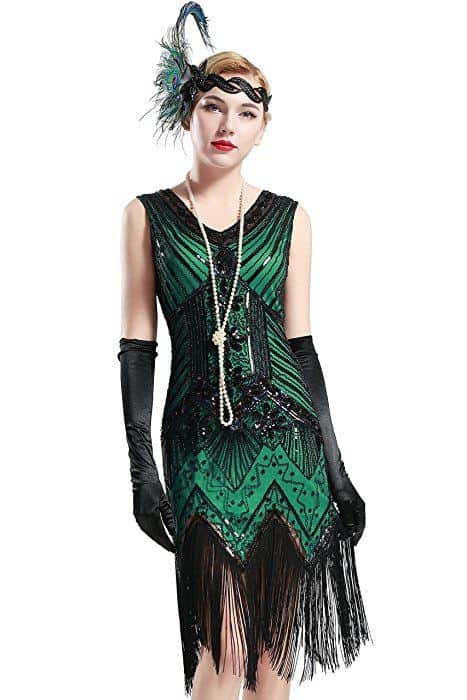 Fun and flirty, the flapper dress is easy to wear, and you can get a great costume grade flapper dress for a good price.
Costume grade flapper dresses will usually be made of a cheaper silk underdress with a soft tulle and sequins.
Choose a colorful dress with lots of fringe at the hemline.
Look for the scooped neckline and sleeveless bodice.
Lots of fringe helps make the dress so iconic.
• Gatsby Flapper Shoes
Another important part of your look is the Flapper shoes.
The strappy look heel was the best look for the flapper girl.
High thin heels helped show off those stocking clad calves.
The T-strap heel was great for dancing as the straps held the shoes tightly in place.
The Mary Jane heel was another great choice.
Shoes in colors matching the dress or in a metallic color are fabulous choices for the flapper girl look.
For those who cannot wear the higher heel, choose a kitten heel strappy shoe.
• Great Gatsby Accessories
No flapper girl would be seen without her accessories.
Perhaps the most important accessory for the flapper dress is the headpiece.
Headbands worn either across the forehead or over the top of the head were the quintessential accessory of the flapper girl look.
Headbands are typically made of ribbon with beadwork or sequins and may include feathers, pearls, or amulet style brooches.
Wedding headpieces also included cloche hats with veils and mitre style headbands embroidered with pearls or tiaras.
Choose a headband that either matches or complements the dress you've chosen.
Feathered headbands were usually worn with the feathers at the side of the head over the ear.
A great choice for headbands is something with Egyptian style to it, or peacock feathers.
The next accessory piece to consider is the strand of pearls.
A long string of pearls, tied in a knot or with tassels was a key accessory for flapper girls.
If you are attending prom or a wedding, you might consider going with real pearls.
For a Halloween costume or party, faux pearls work fine.
Some other accessories to look at are long gloves, fans and shawls or capelets.
The long glove look is quite elegant and would be appropriate for either the Gatsby themed party, prom or a wedding.
Fans made of ostrich, emu or peacock feathers were significant of the opulence of the day.
They make for an excellent accessory.
Sheer shawls or capelets with embroidered elements are a lovely accessory if you have a sleeveless flapper dress.
They help add elegance and a bit more coverage for the Gatsby party, prom or wedding look.
Of course, the final accessory you really must consider is your handbag.
Every lady needs a small handbag to throw in a lipstick, car keys and cell phone.
Choose a small beaded handbag or clutch that either matches or complements your flapper girl look.
• Gatsby Flapper Dresses Style
No matter the occasion, flapper Gatsby girl style is an excellent answer.
The Great Gatsby himself was enamored with the flapper girl look and you too will turn heads when you choose this elegant style as your own.
Attending a Gatsby themed party, choosing a Halloween costume, or choosing the perfect prom or wedding dress, you will certainly look amazing when you show up in your Great Gatsby dress and accessories.
Elegant, opulent, flashy and fun, the Great Gatsby dress will never go out of style.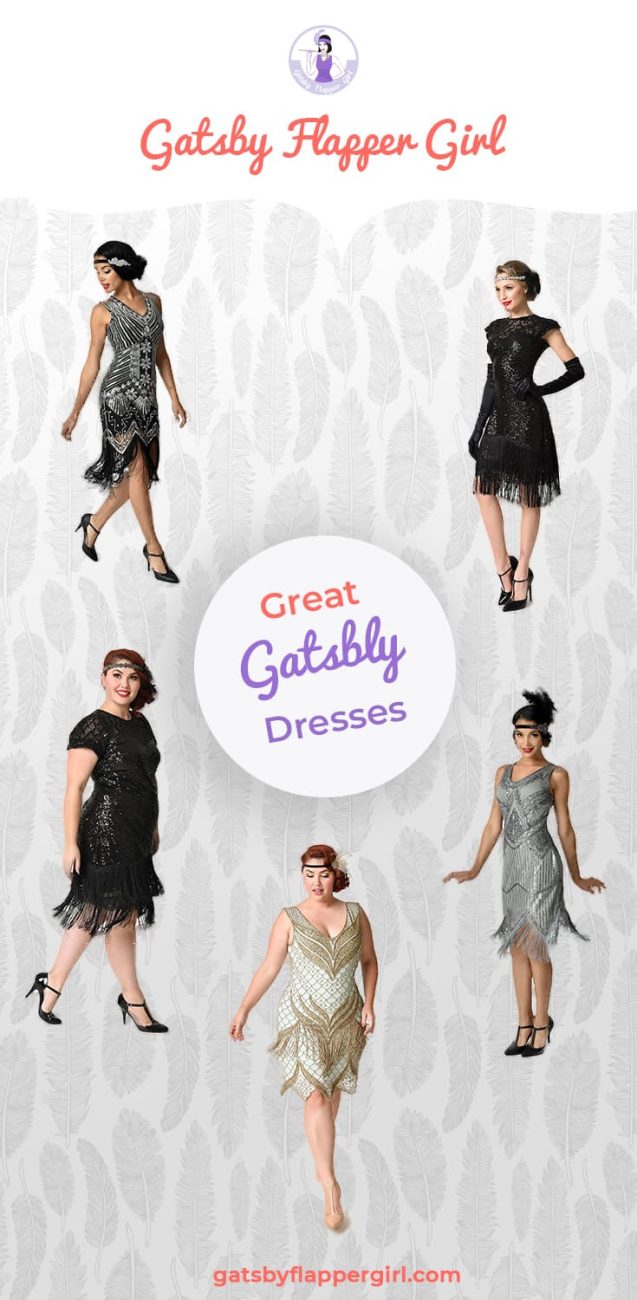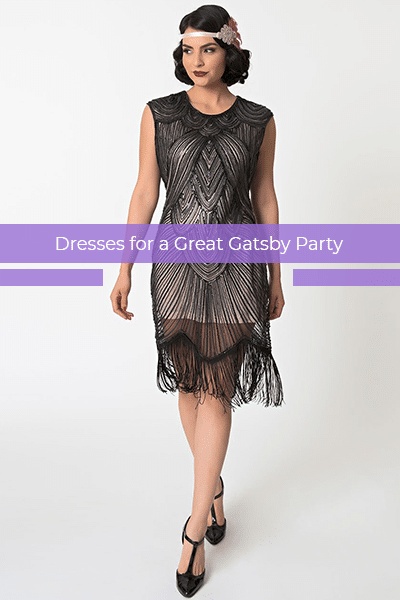 GatsbyFlapperGirl.com is a participant in the Amazon Services LLC Associates Program, an affiliate advertising program designed to provide a means for sites to earn advertising fees by advertising and linking to amazon.com.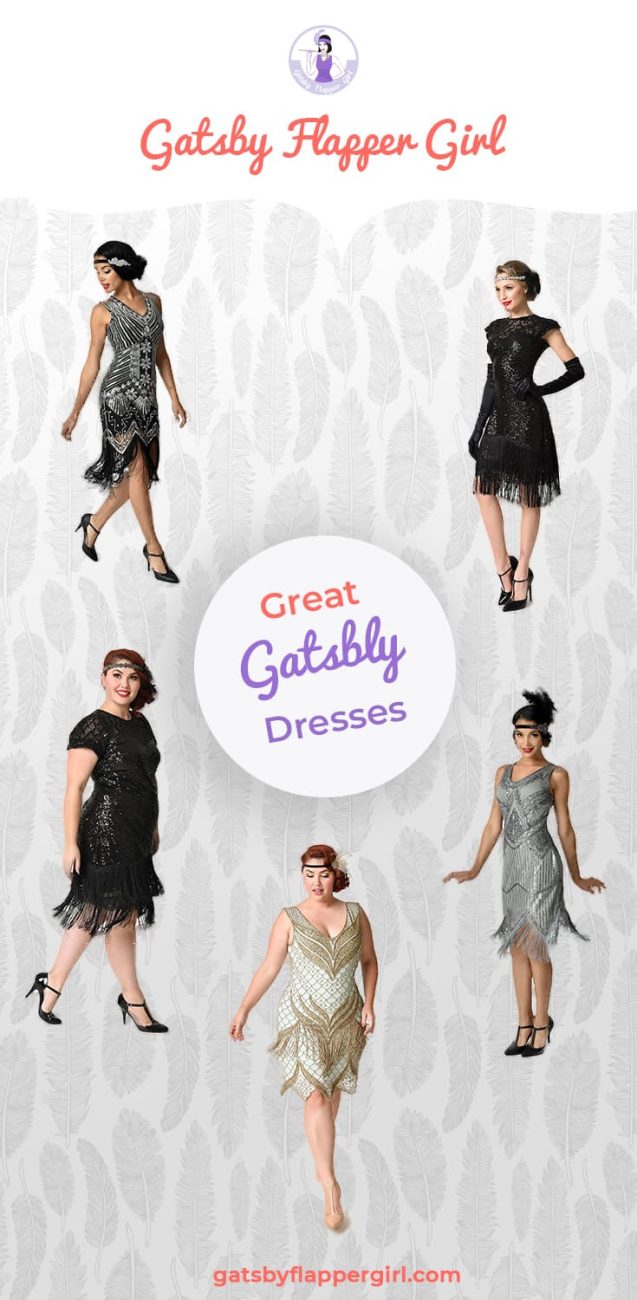 Stunning Gatsby Dresses Perfect for Any Great Gatsby Party!
The latest 1920s Dresses ideal for any Great Gatsby Party or themed events. Stunning Gatsby Dresses, Evening Dresses, Plus Size Gatsby Dresses & many more!