How to Choose A 1920s Ladies Gangster Costume
I love theme parties, especially if they are inspired by Great Gatsby and the 1920s! The entire process is incredibly fun – everything starts with choosing your clothes and how to wear your haircut. Depending on the costume, you can even work on your acting skills!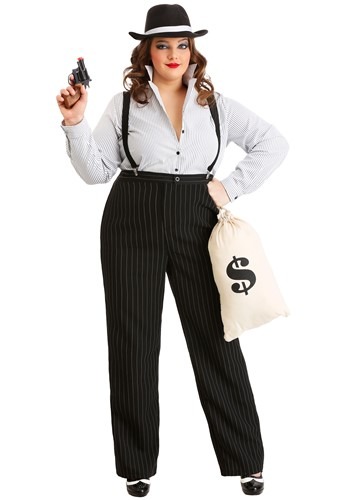 For example, the 1920s are an excellent opportunity to put yourself in the role of a gangster. If you need a female gangster costume, you've come to the right place! We will cover all details on how you should dress to fit into the timeline and be the star of the party.
Decide on the Gangster Costume
If you ask me, choosing a costume is the best part of preparing for a themed party. It is like having an imaginary wardrobe in your head and trying on potential combinations.
As for gangster outfits, you have several basic ideas to go with, so work your way from there.
The first option is to go with the classic criminal look for your female gangster costume. That would mean replicating the appearance of male criminals but adding a girly touch to it.
You have all-in-one women gangster costumes available online. The manufacturers designed the entire set for you, and you should only pick the one you like. And don't worry because a huge number of costumes are specially designed for plus-sized ladies, and there is no doubt you will look dazzling!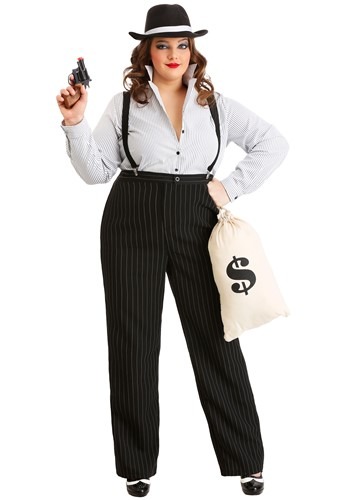 The alternative is to go with a gun moll variant. That could include wearing tight or flappy dresses and provocative combinations. Although you will look more like you belong to the entertainment industry, you will surely seem like a part of the vivid 1920s fashion!
You Can't Go Wrong with a Shirt for Your Gangster Costume
If you are going for classic gangster outfits, the first thing to discuss is your shirt. You can look classy by wearing only a pinstriped shirt. A modest cleavage can add that touch of provocativeness we all like!
Alternatively, you can go with a classic white or black single-color shirt, and combine that with a pinstriped jacket. Pinstripes were loved by criminals in the 1920s, and they send an evident signal you dressed for that era.
If you want something different, how about wearing a sleeveless shirt? It is great if you are attending an event during the summer. If you wear cuffs as a separate accessory, you can look like a true mob boss!
Pick Between Skirt or Pants for Your Costume
I will leave it up to you to decide which one to pick for your female gangster costume in your preferred sizing. But try to consider your body shape and strongest suits and pick accordingly. Black pants are the classic and elegant variant that never goes out of style. Pinstriped pants that match your shirt are also an option.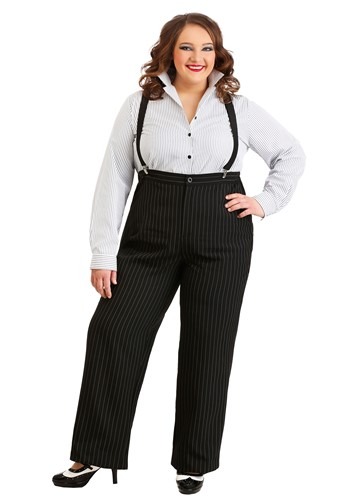 If you go with a skirt, make it knee-high as that adds classiness. Ultra-short items might look sexy, but they were not a major part of the 1920s fashion.
Click Here to See Our Men's Plus Size 1920s Costumes – You'll Match Perfectly!!
Go for a Flapper Dress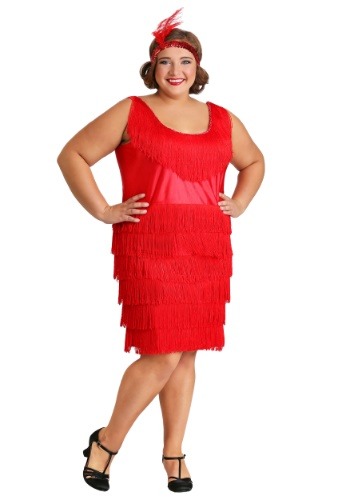 The third option is wearing a flapper dress. Although it might not be a classic costume, it will make you look great. If you are going with a partner, you can always talk about how you are their partner in crime, too. Don't forget to combine the flapper dress with accessories, such as a feather headband or lace gloves.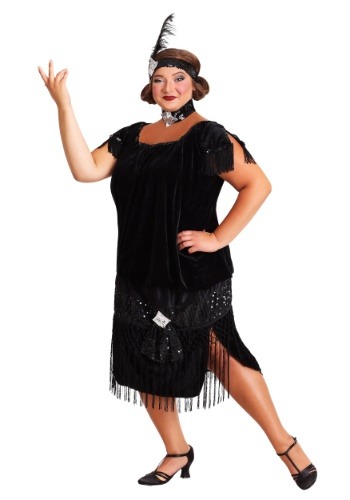 The Shoes Must Match Your Combination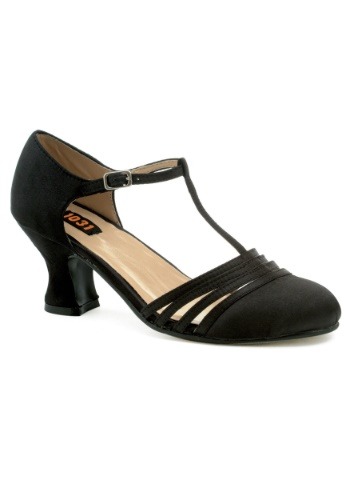 Shoes will probably be the easiest to pick for your female gangster costume. Any black-colored option will fit costumes from the 1920s.
Go with a simple combination, and don't hesitate to select heels. It makes you more elegant and higher, which might be crucial if you are a plus-size lady. If you have favorite black shoes, go with them. They will give you the comfort and confidence you need when entering the room!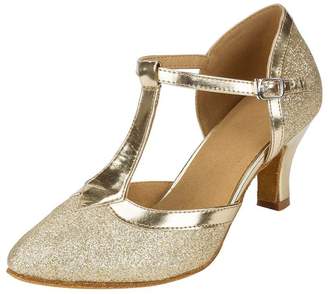 What Accessories Were Welcome in the 1920s?
Here are some ideas on accessories to consider:
Jewelry – it adds elegance to any costume and clothing combination. Go with dangle 1920s style earrings or even a forehead chain, and you can never make a mistake with pearls.
Tie – a part of many gangster costumes. It is perfect if you choose a shirt or a jacket.
Cloche hats – a classic fedora hat is a nice touch, but cloche variations can also fit your combination.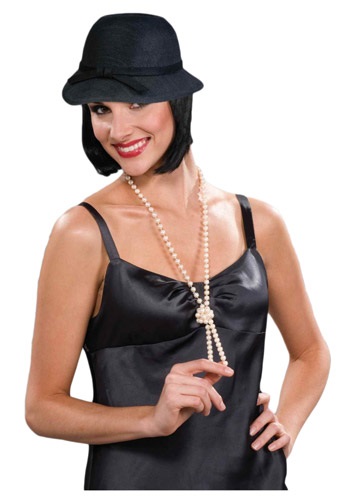 Looking for a gorgeous Head Piece – Click Here to read my full article!
Stockings – an absolute must if you are wearing a skirt and want to look fashionable.
Suspenders and Garters – they were a frequently worn accessory in the 1920s.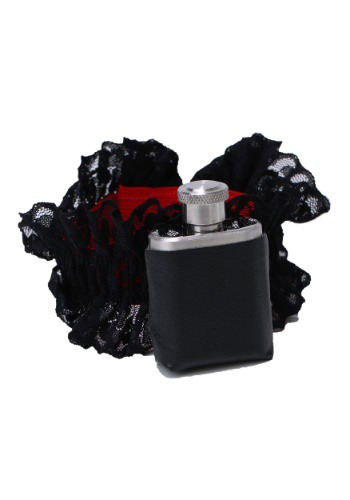 And for that extra gangster touch, how about getting a fake gun somewhere? Try to make it realistic because you are a serious mobster – no nerf guns allowed!
Who Is a Gangster or Gun Moll?
A gangster or fun moll has been the name used for women companions of male gangsters. These women could have been the criminal's wives, emotional partners, or girls spending time with them for money or another interest.
Although the term hasn't always been used positively, some exceptional women were known as gun malls. Mae Capone stayed with Al throughout his entire life, and Bonnie Parker died together with Clyde Barrow.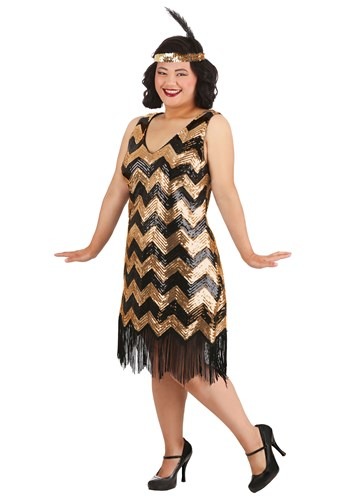 Being a gun moll provides you with many dressing up options for your theme party. You can play the role of a criminal's wife, but why settle for that? Seize the opportunity to look spectacular, and go with a high-class variant.
Pick a flappy dress that fits your body shape and matching shoes. Heels are an excellent move and don't forget to combine them with stockings. A cloche or fedora hat adds to the elegance, and jewelry can make any clothing combination classy!
Frequently Asked Questions:
What Did Female Gangsters Wear in the 1920s?
We all heard about Bonnie Parker, but women gangsters weren't that common in the 1920s. The ones that were active at the beginning of the 20th century, such as Stephanie St. Clair, dressed elegantly and luxuriously. Many of them wore classy dresses and looking for ways to stand out with their clothing combinations
Wives and female companions of gangsters wore flappy dresses and dressed like showgirls, dancers, or singers. Those women aimed to look like celebrities to match the luxurious style of their male partners. Tight dresses and even black pants accompanied by a hat were also popular (see more 1920s Women's Pants Outfits ).  For more ideas click here to read my article on how did gangsters dress in the 1920s.
What Did Gangster Molls Wear?
Gangster molls loved wearing flappy and other fancy dresses. They were modern during the 20s, and they didn't hesitate to look provocative. That is why dresses were often short, and some women even wore them tight. Their shoes often had high heels, and they loved wearing jewelry.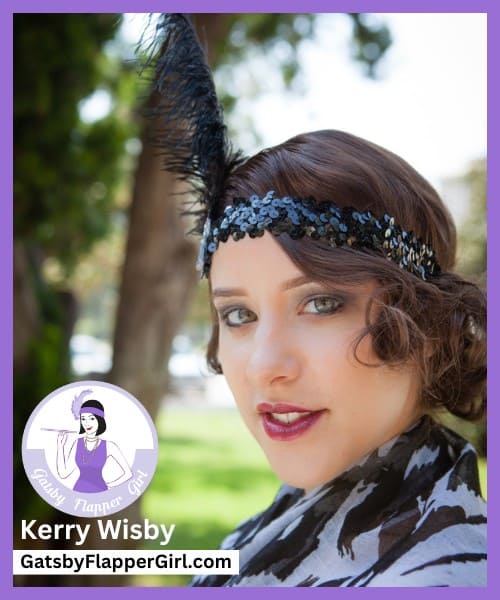 Written by Kerry Wisby – GatsbyFlapperGirl.com
Owner & Founder of GatsbyFlapperGirl.com
Kerry Wisby is the owner & founder of GatsbyFlapperGirl.com, your go-to source for all things 1920s & The Great Gatsby. With a passion for the era & a wealth of knowledge to share, Kerry is dedicated to providing you with everything you need to know about Roaring 20s fashion, 1920s history, & Great Gatsby-themed party ideas. Join Kerry in bringing the spirit of the Roaring 20s to life! Read more about Kerry here.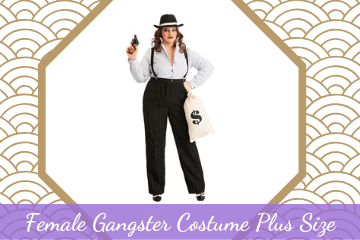 Great Female Gangster Costumes in Plus Size
Check out all our flattering female gangster costumes in plus size and our easy to read guide to ensure you look classy and elegant for your next themed party!