Easy Guide to Finding a Fun 1920s Halloween Costume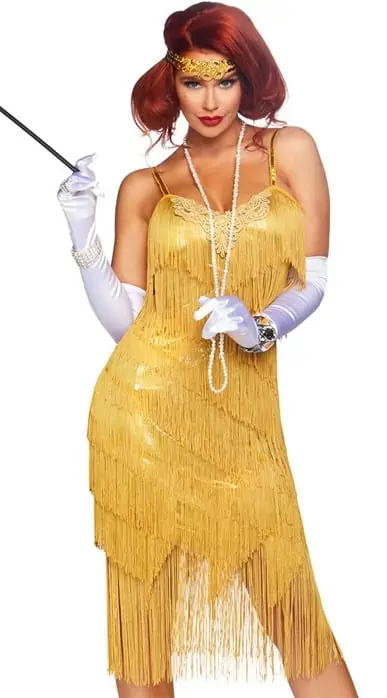 Children love Halloween for costumes, but there is no reason that trend should stop once you grow up! If you are getting ready for a party and looking for inspiration, how about turning to roaring 20s? That era marked liberation when it comes to fashion, and you could see that in flapper dresses.
Whether you want to look classic and elegant or you want all eyes on you at the party, our guide will help you to find a suitable flapper costume. If you are ready, let the search begin!
A Classic Flapper Costume
We will start with the classics, which will be a great choice for all ages and preferences. You can never go wrong with a black flapper costume. Black is a timeless trend, but you will still want to add some sparkles. That is why you should go with sequins, especially the silver ones around the trim and the V-neck.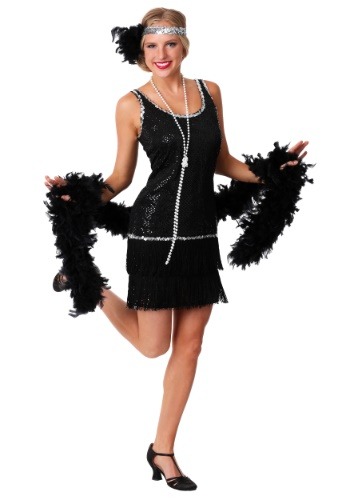 If you are going with a simple dress, top everything up by choosing the right accessories. You can wear any necklace, although a long one can be a smart pick. Also, go with a headpiece with feather details and a matching boa.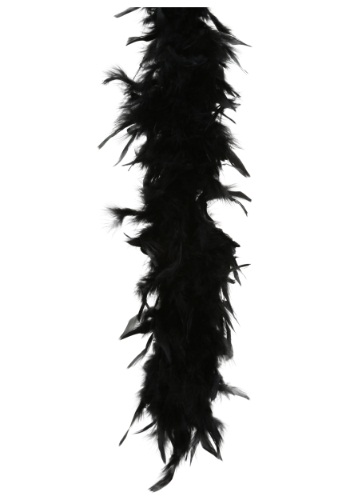 How About a Different Color?
You can stay true to the simplistic design of your flapper costume while experimenting with colors. If you are a fan of light-colored combinations, how about going with a white costume?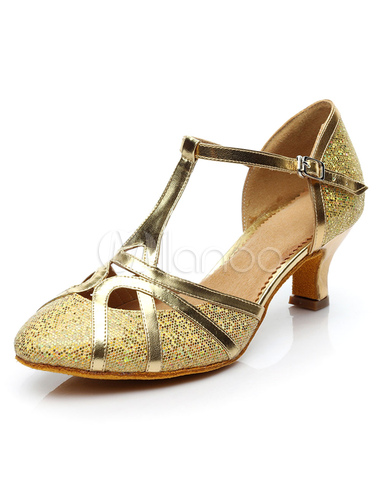 It would be perfect with white, gold, or beige shoes. If you have those in your closet, it will be a perfect match!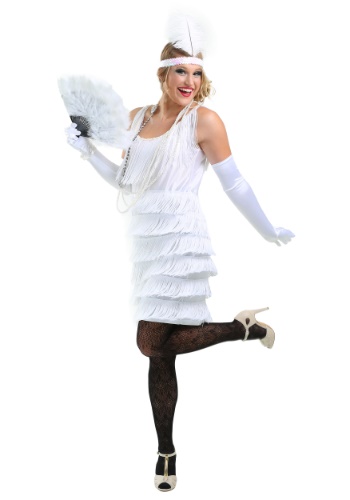 White can look innocent and pure, but also provocative, especially if you go with elbow-high gloves. If it is summer, you can go without stockings, but you can also consider adding them to the combination.
The red color is perfect if you feel passionate, or it is simply your favorite. If you are going for passion, I would suggest a sleeveless dress.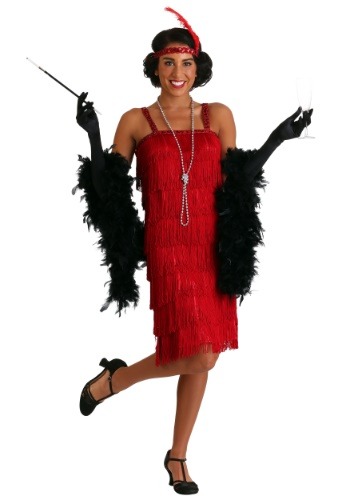 Get this Great Flapper Costume!
You can consider going knee-length and adding gloves or a cigarette holder as accessories.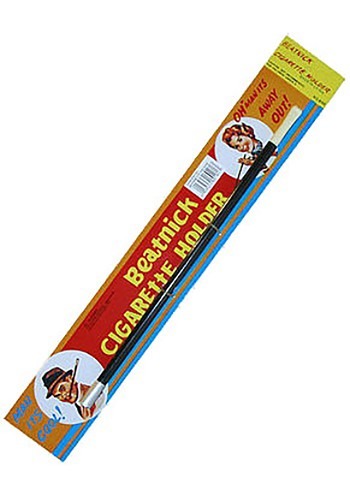 Complete Your Flapper Costume With Accessories!
It is a perfect way to remain elegant while ensuring that your flapper costume still looks attractive and matches the theme of your Halloween party. Side Note:  Check out my other article Adult 1920s Halloween Costumes
Luxurious Combinations Suitable for All Ages
Do you feel like your flapper dress should exhibit classiness and luxury? If that is the case, you will love a custom pattern that features a vintage style. The sequins and tassels will add to the overall style, which ensures that this type of costume is perfect for a bit more formal event.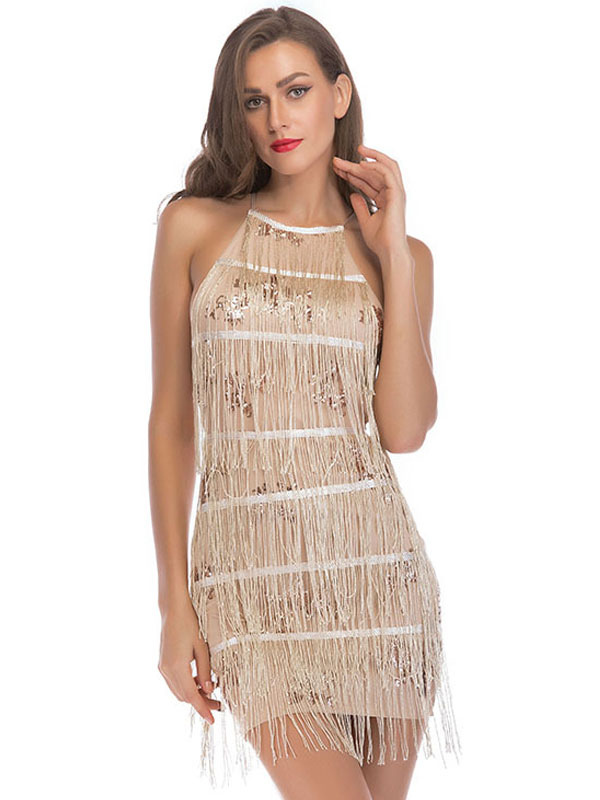 If you watched the Great Gatsby movie and you know a thing or two about the 1920s fashion, you know you can't imagine a flapper costume without spaghetti straps. They give elegance and emphasize freedom, as well as allow you to move freely.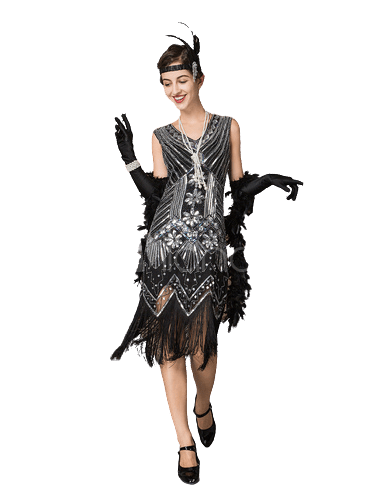 Get this Black Sequined Flapper Costume!
You won't feel restrained, but you will attract everyone's looks with a luxurious flapper costume. Make sure to combine the sequins with the right jewelry, and a headpiece featuring feathers.
A Teenage Flapper Girl Combination
If you are a teenage girl, you might be looking for something different. Whatever your age, going for an apricot flapper costume with sequins and spaghetti straps can be an excellent pick.
Get this Great 1920s Flapper Costume!
The best thing about this flapper dress is that you don't need any additional items, and you will still fit the theme. So, if you are a flapper girl that is not a fan of feathers, this can be the right choice for your Halloween costumes.
How about Swanky and Fringe Flapper Costumes?
It is time to spice things up a notch in our guide to the best flapper costume. If you want to look elegant, but you don't mind adding a bit of provocativeness, a fringe flapper can be a perfect pick.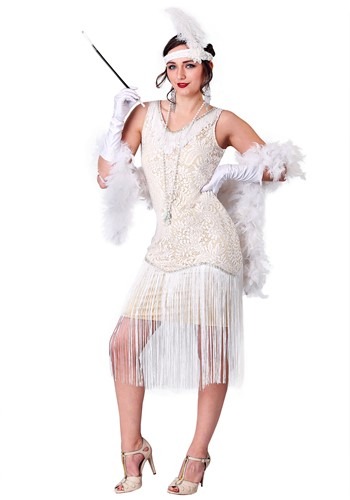 Get this Roaring 20s Flapper Costume!
As for the color, I would personally suggest white since it is my favorite, but you can feel free to experiment with other shades. For example, a swanky flapper dress could be a nice way to add a bit of refinement to your costumes.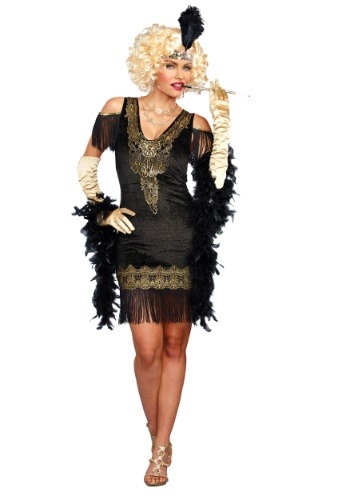 Get this Swanky Flapper Costume!
The length of the dress doesn't have a lot to do with elegance as long as you choose properly. For example, a short blue flapper dress with a zipper on the back can look luxurious. The spaghetti straps make the dress appear longer, but they can still show your long legs in their full glory.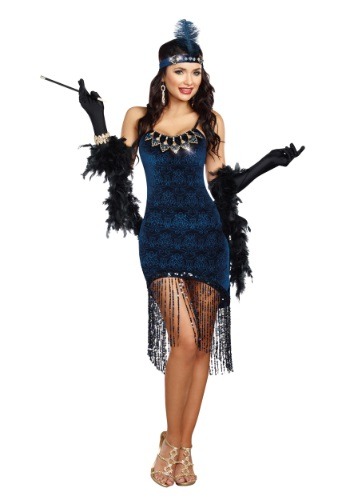 You might want a couple of details like a cigarette and a feather headpiece, as well as satin gloves. If you ask me, I will combine all that with beige or cream shoes!
It Is Time to Turn Up the Sexiness of Your Flapper Costume!
If you want to turn up the sexiness of your flapper dress, allow me to give you two tips. First, think about going sleeveless and keeping the dress length to a minimum. I am not talking about anything distasteful – remember that the roaring 20s were famous for liberal dressing. There is no need to worry because you will still look classy and tasteful if you choose right!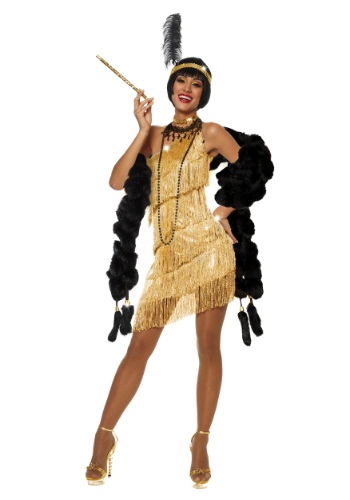 Get this Dazzling Flapper Costume!
The best pick you can make is going with a gold flapper costume. The exact style you will go with depends on your preference, but also the type of the party.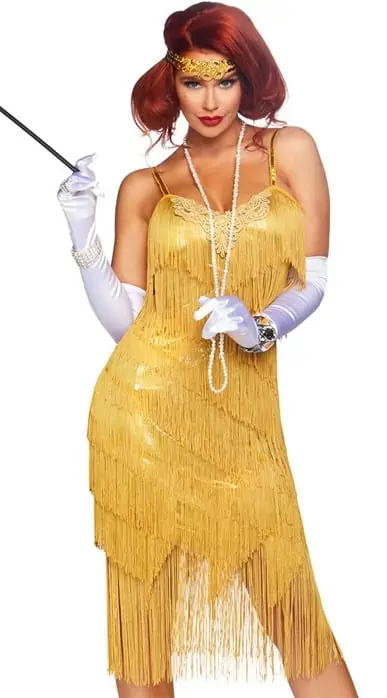 The crucial thing to note is that gold was extremely popular in the 1920s, and you certainly cannot go wrong with wearing these shades for your party.
And you know what will never go out of style, and it originates from the early 20th century? If you thought a little black dress, you got that one right!
A sleeves flapper costume with discreet sequins and spaghetti straps are perfect, especially if you want to show your graciousness to the world.
Would you like to dress as a performer? If that is your cup of tea, how about a boardwalk flapper costume that will put an accent on both your breasts and legs? If you feel brave enough to wear these combinations, this one will look perfect. You won't even need any other details apart from a headpiece.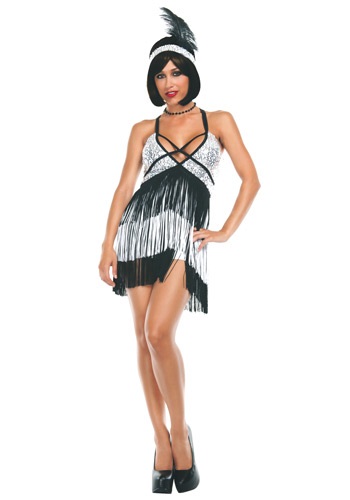 Get this Cute Flapper Costume!
Going with a Friend? Pick Duo Flapper Costumes!
If you are going with a friend, it is important that your flapper costumes match! But here is the trick – you don't want them to see identical. That would look like you weren't creative enough.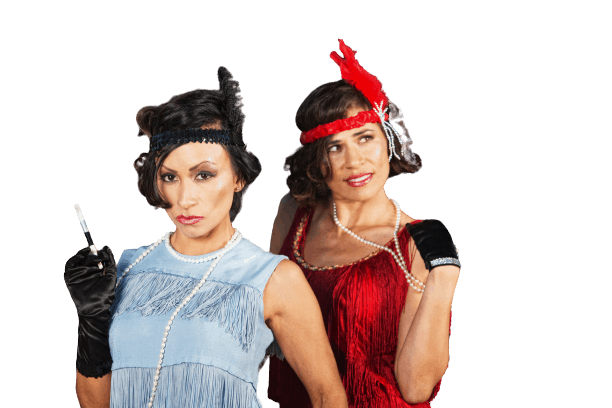 Fortunately, you can get a flirty flapper costume in different colors, or you can add different details to your outfit. You will look like a couple of performers ready to get on stage and show their flapper skills on the dance floor!
So there you go, that's my wrap on flapper costumes, I hope I have inspired you on what to wear to your next event!
Written by Kerry Wisby – GatsbyFlapperGirl.com
Owner & Founder of GatsbyFlapperGirl.com
Kerry Wisby is the owner & founder of GatsbyFlapperGirl.com, your go-to source for all things 1920s & The Great Gatsby. With a passion for the era & a wealth of knowledge to share, Kerry is dedicated to providing you with everything you need to know about Roaring 20s fashion, 1920s history, & Great Gatsby-themed party ideas. Join Kerry in bringing the spirit of the Roaring 20s to life! Read more about Kerry here.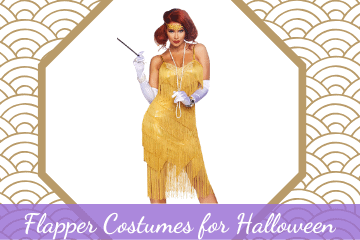 17 Gorgeous Flapper Costumes for Halloween
Confused about what to wear for Halloween? You will love these stunning flapper costumes and dresses that will guarantee to turn heads and get attention.