Find Perfect 1920s handbags & Clutches for Your Next Event
This article contains links where we may earn a small commission at no cost to you: Learn more here
Did you pick the costume for the upcoming 1920s theme party organized by your friends? If the answer is yes, you might think you are ready. However, there is one detail you might be missing!
Every woman needs a beautiful handbag that would match their outfit. But where to find a bag that fits the Gatsby style, and could you wear it to a roaring 20s party?
The good news is that you have a variety of choices available. Here are some fantastic picks and styles to consider!
Is It a Formal Handbag to Go with Evening Attire?
The first thing to clarify is what type of purse do you need. Now, it is only reasonable that it will depend on your costume. For example, a flapper girl and a gangster moll might not wear the same handbags. However, it ultimately comes to your attire choice.
Let me assume that you are going for evening attire and a formal combination. The odds are you might have picked the famous little black dress, which was initially designed and made famous by Coco Chanel.
If you are going for that hot and sexy look, you can pick a formal cocktail clutch purse perfect for special events. And if you ask me, a roaring 20s or Great Gatsby-themed party is always a formal and unique occasion!
Get the Bag
Even if you go for an alternative look, such as a ladies plus-size gangster costume, a handbag could still add to your combination. After all, the fact that you are a mobster doesn't mean you shouldn't look elegant, right?
What Size Do You Prefer?
Let me tell you something – you might like a big handbag that will have enough room for all your valuable items and possessions. It sounds great that you can pack your makeup, mobile phone, and other gadgets. But the truth is that women of the 1920s didn't like big handbags, especially when it comes to formal events.
These ladies might have lived a century ago, but they knew how to dress stylishly! They understood that large handbags wouldn't suit their sophisticated elegance, which is why they went with modern-sized purses.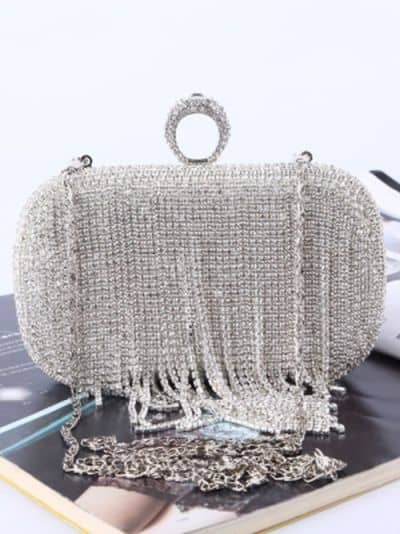 So, the question is not whether you will go big or small. It is how small you dare to go? You can choose a decent-size handbag that will look great and still store all your essentials. But remember, a small purse is a way to contribute to the elegance of the entire combination.
Don't forget to add a great headband to your outfit it looks so stylish – Check Out All My Fav Picks!
Which Handbag Shape Would Suit You the Most?
The shape might be a more crucial choice than the size itself. When it comes to the desired shape, be welcome to consider your personal preference. During the roaring 20s, women wore various forms of purses. You could go with a classic rectangular one, as long as you add tassels, rhinestones, or other details.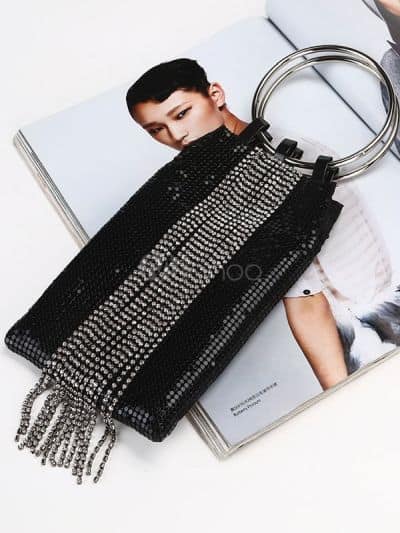 A rounded handbag might be an unusual choice. It could cost you some space of adding essentials to it. However, it might be worth it if you are looking for an appearance that fits that retro style.
You can also find some unusual shapes of handbags, such as ones that remind of earrings if you look at them from afar. Don't hesitate to pick the shape you think is the most fitting because it is crucial you feel comfortable when wearing the purse!
It Is Time to Pick the Style!
You can never go wrong with the classic antique style of a purse that fits the Gatsby era. The only remaining thing will be to choose the accessories added to the handbag. For example, an all-over sequin mesh is always an excellent addition. It adds to the style and can fit a flapper dress perfectly. These purses look sparkly and attract attention, which is the main idea of the flipper-like combination.
Need Roaring 20s Shoes to Match Your Outfit?  Check Out My Top Picks to Complete the Look!
Now, while sequin mesh is an excellent choice, you can also go with rhinestones. You could say rhinestones are a bit more classic, especially when not combined with sequins. The right color of rhinestones can complement the default color of your purse and fit the overall combination perfectly.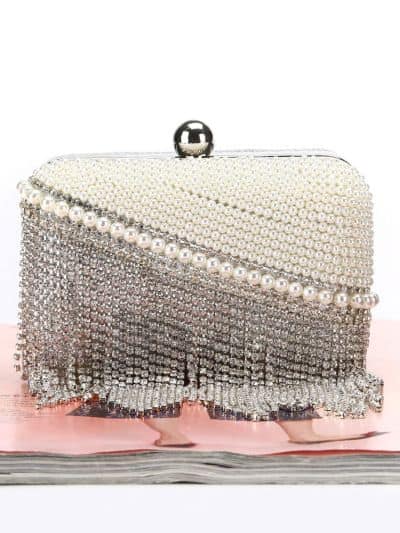 Get this Flapper Inspired Purse
A studded handbag with pearls is another way to go. You can even find purses that are designed to remind of a shell, which complements the beads ideally. The color is up to you, but if you ask me, pearls naturally go with white and light shades.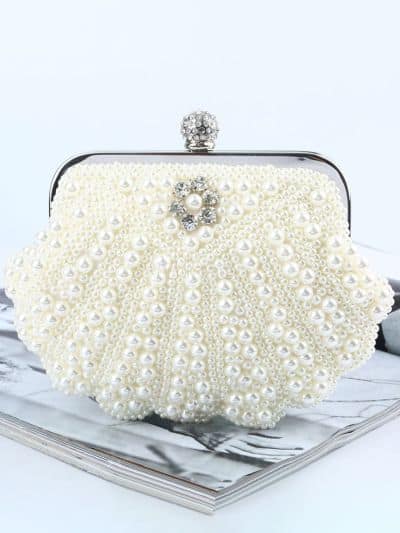 Tassels are another material that was a frequent addition to purses in the Gatsby era. Consider the default clothing combination you picked. If it accentuates the freedom of movement, adding tassels to your purse could contribute to that.
Interchangeable Chain Straps
Here is an excellent idea to consider when picking a 1920s Gatsby style handbag. How about going with a purse that allows you to change chain straps? Some manufacturers might even offer multiple variations to ensure you can experiment. Picking a different chain strap is an excellent way to refresh the purse and use it at various events. Go with a  purse that allows that.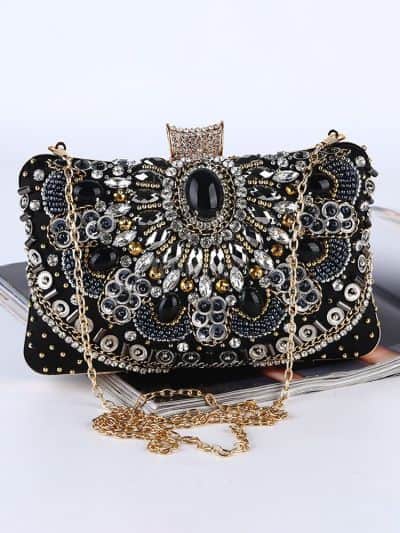 You can also consider a roaring 20s purse that comes with an adjustable or even removable chain strap. That gives you a choice to wear it on your shoulder, or remove the strap and carry it in your hands. It can be both elegant, versatile, and give you the option to mix and match as you see fit!
Looking for the perfect dress?  Check out these great articles:
Frequently Asked Questions
What type of handbags were worn in the 1920s?
Women wore both shoulder bags and classic clutch purses during the 1920s. You could say it depended on the outfit or the style of a particular female. When it comes to evening attire, you couldn't go wrong with a purse that would have beads or sequins.
What handbags did flappers wear during the roaring 20s?
Clutch purses were a popular choice for the flappers in the 1920s. Details like sequins, feathers, and even glass beads were popular. Flappers aimed to be expressive and liberated with everything they do and wear, and that included handbags. That is why purses had the goal of reflecting their open personality and liberated spirits.
What handbag colors were popular in the Gatsby era?
Even back then, it was a matter of style and a question of matching the purse with the rest of the clothing. However, the idea was to make a purse look attractive with various details. That is why classic single-color handbags weren't fashionable, and women preferred those with rhinestones and other accessories.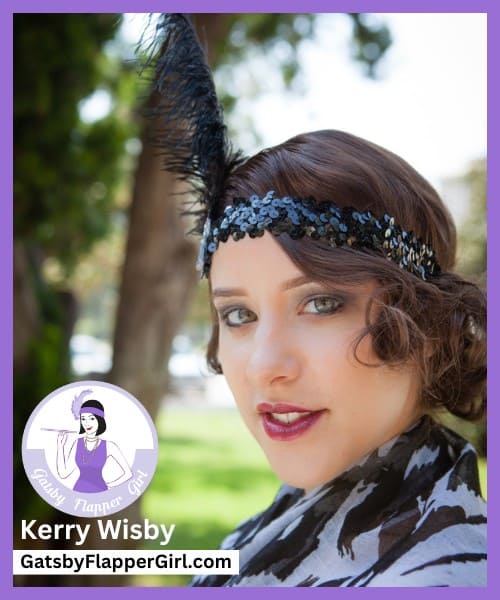 Written by Kerry Wisby – GatsbyFlapperGirl.com
Owner & Founder of GatsbyFlapperGirl.com
Kerry Wisby, a former teacher with a BA in English, is the founder of GatsbyFlapperGirl.com. With a passion for all things 1920s, including The Great Gatsby novel, her website is the ultimate source for Roaring Twenties fashion, history, and party ideas.  Read more about Kerry here.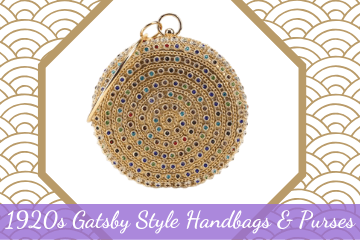 1920s Gatsby Style Handbags & Purses
A dazzling purse can add elegance and style to your beautiful roaring 20s theme party outfit. Check out our list of fantastic Gatsby style handbags!