Great Gatsby Costume Ideas for Womens
Do you need fabolous Great Gatsby Costume Ideas for your Gatsby themed party?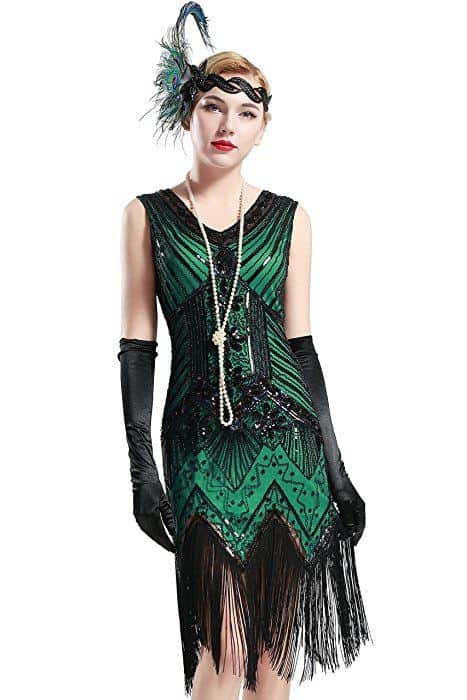 When it comes down to finding the perfect look for the 20's flapper girl costume, there are a few key elements to keep in mind.
• How to find the perfect Flapper Costume
After I share my tips with you, we will have you all decked out and ready to dance the night away in your Gatsby flapper girl costume!
When I'm looking for a gatsby girl costume, the first thing I look for is the dress.
When choosing my dress, I'm looking for something short!
You want something that hits just above the knees or shorter.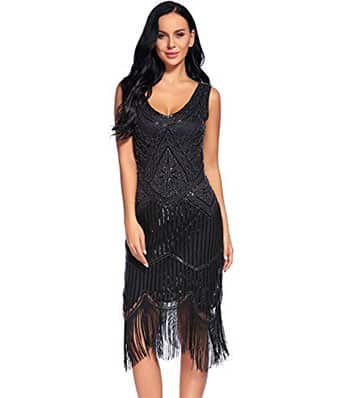 Keep in mind that in the 1920's the hemlines were shorter than ever before, and the stocking-clad leg was making its first public appearance.
I want my flapper dress to be short and sassy with a bit of fringe to draw attention to my legs!
The next consideration is the style of the dress.
Art Deco was a very popular style of the day and there was a huge fascination with Egyptian style.
I look for dresses that showcase those elements for a more authentic look.
Once you find your perfect Gatsby girl dress, you want to pair it with a dazzling flapper headpiece, some fancy flapper shoes and perhaps a long string of pearls or a fan, and you are ready to party!
• Great Gatsby Costume Ideas for Womens
Let's take a look at some of my favorite flapper girl costume looks:
• Flapper Girl Costume Look 1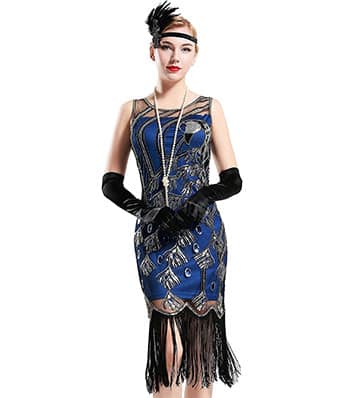 Just take a look at this amazing dress!
It's an excellent example of what flapper girls in the 1920's would wear!
As I said, Art Deco was all the rage in the 1920's and peacock feathers were definitely in style.
This dress features both elements.
Shimmy yourself into this amazing body con dress with an overlay of soft mesh fabric.
Not only does it look great, but it is comfortable as well!
It is available in sizes 0-14 and comes in the blue with black fringe, black with green fringe, or beige.
The bodice has a gorgeous beaded peacock in the Art Deco style and that flirty fringe at the bottom to swish around the legs while dancing the Charleston!
The sleeveless arms and scooped neck allow for freedom of movement, making this dress a fabulous flapper girl find!
Finish off this dress's peacock inspired theme with this gorgeous accessories set.
It includes, a ribbon headpiece that features a peacock feather, this tasseled faux pearl strand necklace and the sexy black gloves along with the famous cigarette holder. 
Also, you can add this amazing fan made of marabou and peacock feathers.
Don't forget to strap on these suede strappy dancing shoes!
• Flapper Girl Costume Look 2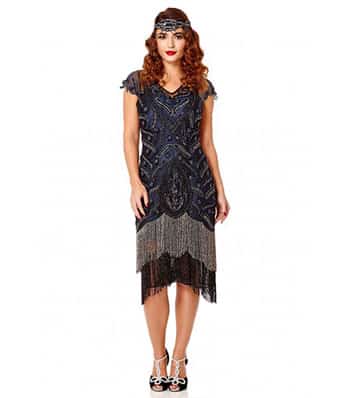 Here's another great look for any Great Gatsby party!
This is a dress that has a large range of sizes from 0-26.
This fabulous flapper dress has amazing Art Deco beadwork on a stretch mesh tulle and comes with a matching slip dress underneath.
The sweet little capped sleeves and embellished V-neck in front and back makes this dress demure but still flirty and fun.
I just adore the double fringed hemline in silver over black that looks amazing when you're dancing!
Whether you are dressing as a flapper girl for Halloween or attending a Gatsby themed wedding, this dress will be a hit!
Pair this gorgeous dress with this amazing vintage 1920's style headband with blue Navy and silver beading.
Throw this simply elegant string of pearls around your neck and grab this fabulous blue navy beaded clutch with rhinestone clasp for a classy, elegant 1920's Gatsby party look.
Finish off this classic look with these quintessential 1920's T-strap dancing shoes in a flirty flashy peep-toe pump and you will arrive at the party in true flapper girl style!
• Flapper Girl Costume Look 3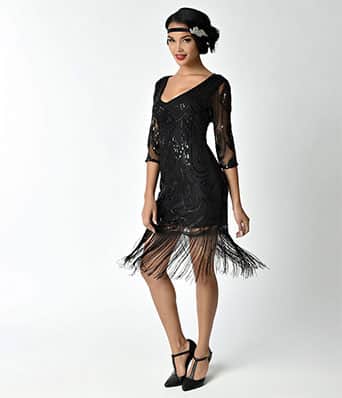 If you are feeling bold, try this sassy little number for your flapper girl costume!
It's a curve-hugging bodycon style dress with low cut scoop neckline and high cut hem that features extra-long fringe for some serious flapper girl dancing fun!
Swirling patterns of sequins in black add show-stopping sparkle to the bodice, and the sheer sleeves with sequin accents are simply alluring.
Show some skin and turn some heads when you show up to your Gatsby party in this flapper dress.
This fabulous dress comes in a variety of sizes from 2-18 and will make you look and feel fantastic as you swirl around the dance floor!
Finish out your look with some amazing accessories.
Slip on this gunmetal rhinestone deco headband ribbon with gorgeous ostrich feathers.
Grab yourself a pair of these killer patent leather T-strap pumps to create an overall look that will make everyone's jaw drop!
Complete the ensemble with this sassy little black beaded rose clutch purse.
Throw your phone, keys and lipstick inside and head off to party Great Gatsby style!
• Your turn!
Get ready to wow them with your fabulous flapper style!
Use these exact looks or create your very own look.
Find that perfect short hemline with fringe, throw in some Art Deco, or maybe some peacock or Egyptian motif, and you'll have an awesome flapper dress.
Create the perfect overall Gatsby party costume when you add in a fabulous ribbon headpiece with feather, or maybe a small tiara.
Throw a long strand of pearls around your neck and put on your heeled dancing shoes with either a Mary Jane or T-strap look.
Add in more details with a beaded clutch purse or fan and you will be the perfect Gatsby flapper girl!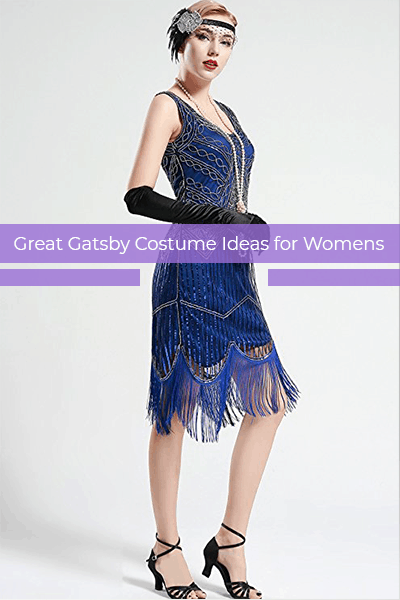 GatsbyFlapperGirl.com is a participant in the Amazon Services LLC Associates Program, an affiliate advertising program designed to provide a means for sites to earn advertising fees by advertising and linking to amazon.com and affiliate sites.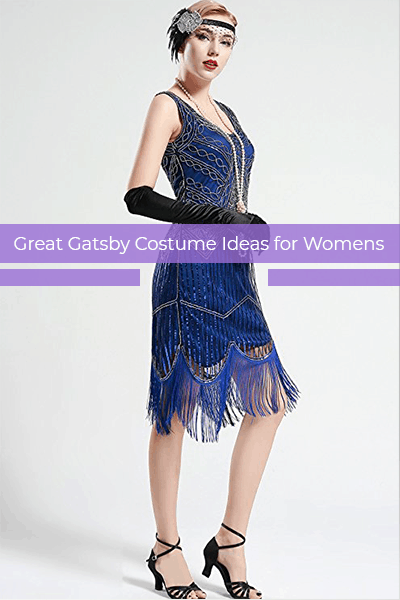 Great Gatsby Costume Ideas for Womens
Get inspired by +15 full Great Gatsby Dresses and accessories to wear or create you own 1920s Gatsby Flapper Girl style...