If you've decided to dress up as Daisy Buchanan for your next Halloween or costume party, you couldn't have made a more perfect choice.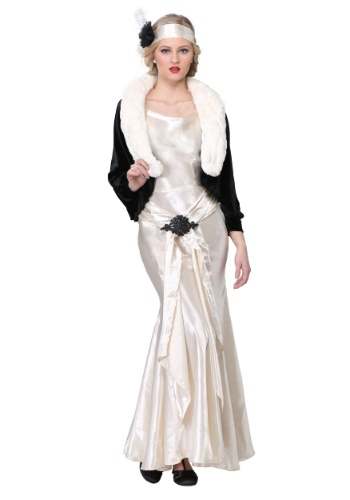 One thing is certain, flappers from the 1920s knew how to dress to impress! Daisy is always depicted as being elegant and classy with her choice of dresses.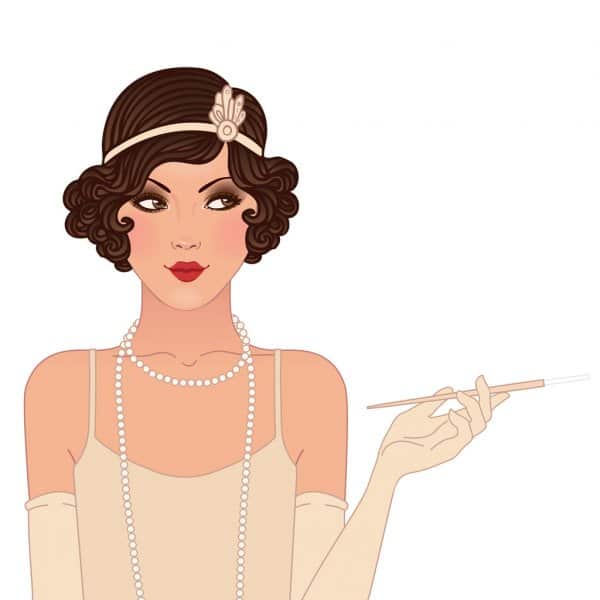 Remember that accessories are the flapper's mainstay! Everything from feathered, fancy headbands to elbow-length gloves, if you've got the extras, it's time to show them off!
You can find Great Gatsby costumes and dresses that would make Daisy swoon with jealousy right here.
How Does Daisy Dress in The Great Gatsby?
While Fitzgerald doesn't go into excessive detail regarding Daisy's clothing, he does mention that she wears white on several occasions.
Keep in mind that Daisy is a wealthy socialite, so she needs to dress the part. This dress, for example, reminds us of something Daisy might wear.
It will look fabulous combined with this adorable sequined cape.
Of course, white isn't the only color Daisy wears. This stunning dress is another example of something a modern-day flapper like Daisy Buchanan would wear.
For a more demure look, Daisy might wear something like this.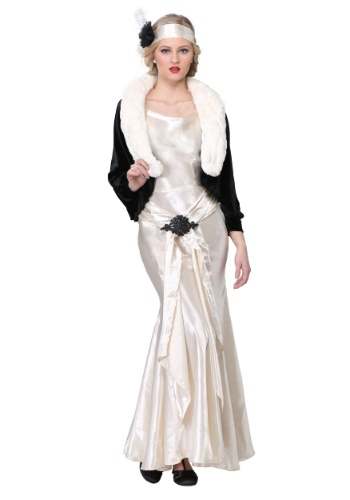 This is another elegant choice for a dinner party, although it is a bit low cut.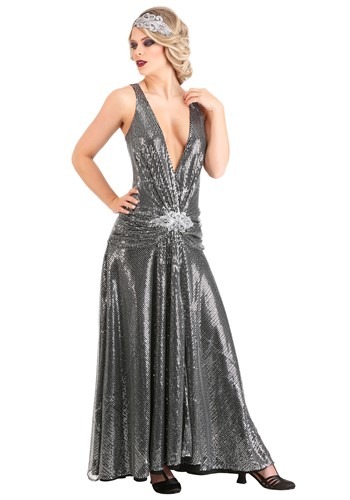 You can always add a bit of class to this outfit by adding a sequined cape.
Last, but not least, if you are in search of the most elegant dinner dress that Daisy would wear, you cannot go wrong with this number.
We especially love the elbow-length party gloves, which is a must-have accessory for the black dinner dress above.
It doesn't get much more 1920s-inspired than this!
What Does Daisy Wear to Gatsby's Party?
If you've seen the movie starring Leonardo DiCaprio, then you probably couldn't help but notice the jaw-dropping, stunning crystal dress that Daisy wore.
If you want to imitate that dress, this flapper dress is similar
While this dress might be a bit shorter than what Daisy might wear, it's only because she's married and tries to maintain some decorum.
This costume is super embellished while maintaining that vintage look. You can really imagine Daisy wearing this dress to a party.
Get the Elegant Flapper Dress!
This 1920s-inspired dress looks exactly like something Daisy would have worn to Gatsby's party, doesn't it?
No matter which of these dresses you choose, you are sure to look the part of that infamous character Daisy Buchanan.
What Is the Color of Daisy's Dress?
As we mentioned earlier, Fitzgerald didn't go into great detail about Daisy's clothing, other than to mention her white dress when meeting her cousin Nick.
The movie, however, gives us quite an eyeful. Whether you notice Daisy's purple tea party dress (when she meets Gatsby again) or her white feathered dress in the opening scene, you can't help but be enchanted by the elaborate clothing people wore in the 1920s.
Of course, not all women were able to dress like Daisy Buchanan, but for your costume party, you'll definitely want to look the part.
Popular colors in the 1920s were mauve, peach, grey, blue, rose, yellow, sand, nude, and black.
Black had previously been a forbidden color, worn only by those in mourning, but with added embellishments of silver and gold, black was suddenly in fashion.
For those on the lookout for a mauve-colored 1920s fashion, this beauty can be dressed up or down, depending on the look you want to create.
Who doesn't love peach? This color works well for all skin tones, and this dress is right on the money.
Rather than the standard, dowdy-looking grey, think bright silver for your Great Gatsby Dress! This one is a real head-turner!
While any shade of blue is fine, navy or medium blue seems to be the favored color of Great Gatsby dresses. We love the details on this one.
When you think of the color rose, think dusky pink, like this 1920s era dress.
The old saying of "Wear yella to catch a fella" might well be true if you're wearing this ethereal dress.
Sand, tan, or nude, whatever name you give this color, you are sure to be in the height of 1920s fashion.
One thing you could always count on was that a flapper girl wore clothes that she could dance in. This nude or champagne-colored dress is fun, flirty, and looks every bit like a match for a Gatsby party.
Black is the color that goes with everything, right? Whether you add pearls or beads, this beautiful black dress will definitely get you noticed.
Another terrific choice that should leave you feeling 1920s-inspired is this gorgeous black Great Gatsby Dress.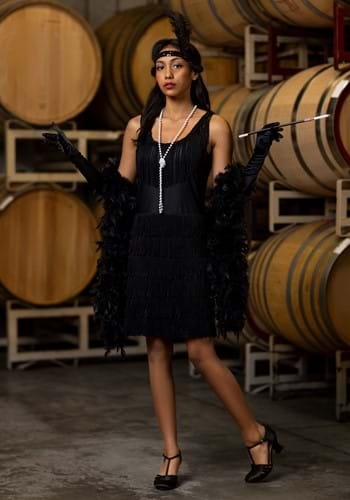 Even if you should decide to wear another color, that's fine! The best way to make your costume look authentic is to never forget the details!
The Proper Accessories
No flapper, and especially not Daisy, would be seen in public wearing anything that didn't have the proper accessories.
If you view images of flapper girls, you will see that they are wearing far more than just shoes and a purse.
The right headband can make or break the outfit. Think feathers, tassels, beads, and sequins! The headband can match the dress or simply complement it. Gold and silver, along with black and white go with just about anything.
This ensemble has everything you need to add life to any costume you can create.
We love this simple, yet very elegant headband that has both feathers and beads. No matter what color your dress is, this is the perfect headband for a party night.
While fur stoles were quite common, they are taboo today. No worries, though. You can enjoy a faux fur stole and literally steal the show!
Today, strappy little sandals are what most women wear, but flapper girls were a bit more practical, wearing chunky, T-strap shoes that really allowed you to kick up your heels!
Of course, no outfit is complete without the proper handbag. Like flapper-inspired dresses, your handbag should be small but covered with sequins or beads, like this one.
If you are looking for the perfect earrings, these silver drop earrings are a sign of both wealth and taste, so get your fashion sense on and check out this jewelry
Looking for Plus Size Great Gatsby Dresses?
No matter what size you are, you can still enjoy wearing Great Gatsby dresses and feel like Daisy Buchanan.
This dress looks like it came right from the Great Gatsby movie ( see more Great Gatsby Movie Costumes ideas ).
Or if you prefer something that really gives you freedom of movement so you can dance the Charleston, this dress is perfect.
Get the Plus Size 1920s Dress!
Nothing looks more vintage than a party dress that is dripping with beads, like this one.
Have fun with your Great Gatsby costumes and feel a little bit famous while you're at it!
Final Thoughts
Remember that Daisy wears dresses that are elegant and stylish. You can achieve the same results by choosing one of the outfits we've mentioned here.
Don't forget the details and accessories! No flapper girl would wear a dress that didn't have all the latest fashion accessories, such as a headband.
Have fun with these Great Gatsby costumes! We hope you feel inspired!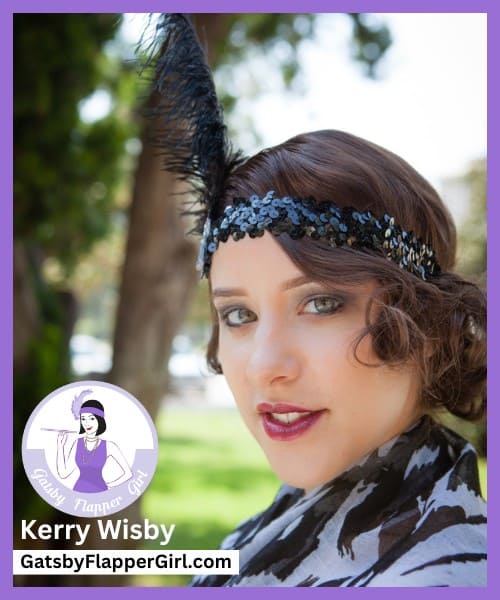 Written by Kerry Wisby – GatsbyFlapperGirl.com
Owner & Founder of GatsbyFlapperGirl.com
Kerry Wisby is the owner & founder of GatsbyFlapperGirl.com, your go-to source for all things 1920s & The Great Gatsby. With a passion for the era & a wealth of knowledge to share, Kerry is dedicated to providing you with everything you need to know about Roaring 20s fashion, 1920s history, & Great Gatsby-themed party ideas. Join Kerry in bringing the spirit of the Roaring 20s to life! Read more about Kerry here.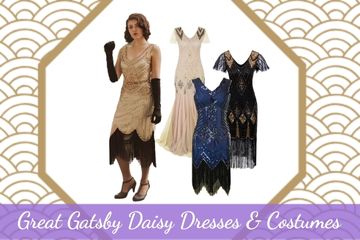 Stunning Great Gatsby Daisy Dresses & Costumes
Going to a Great Gatsby costume party? Want to dress like Daisy Buchanan? It's easy when you have the right outfit! Check out our 1920s Daisy Dresses here