You are getting outfit-ready for a Great Gatsby Party and need to choose one of these beautiful Great Gatsby style dresses you can find online but don't know which one to pick?
No worries…I'm here to help!
I am, what my friends call: a "Gatsby Era Obsessed"
Yes! That's me! And I proudly own that title!
So now my Lady, let's see how my obsession will help you rock the best Great Gatsby dress or outfit of the night!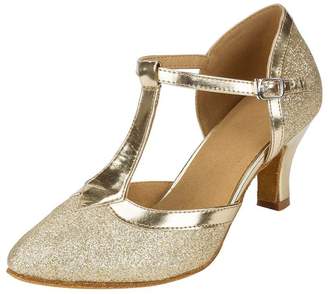 Before choosing your Gatsby Shoes & Accessories, you need first to find the perfect dress.
1920s Gatsby Style Dresses
Dresses from the Roaring 20's were lavish in design and flirty fun.
Art Deco design, as well as fringe and even Egyptian themes, are the most iconic design details to look for when you are looking for a Great Gatsby dress style.
Fringed 1920 Dress Flapper Style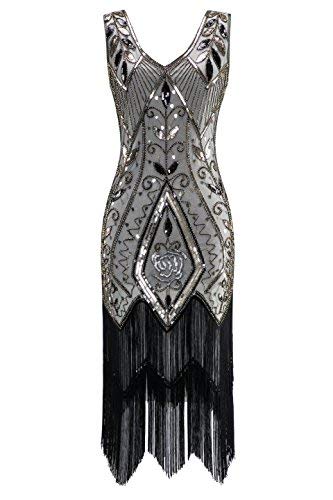 Here are the different Great Gatsby styles of dresses you can choose from!
Short Great Gatsby Dresses
The flapper girl dress is the best-known short style dress of the 1920s.
Short hemlines, knee-length or higher with lots of fringe and sequin work are essential to the Gatsby themed short dress.
Great Gatsby Dress Long Style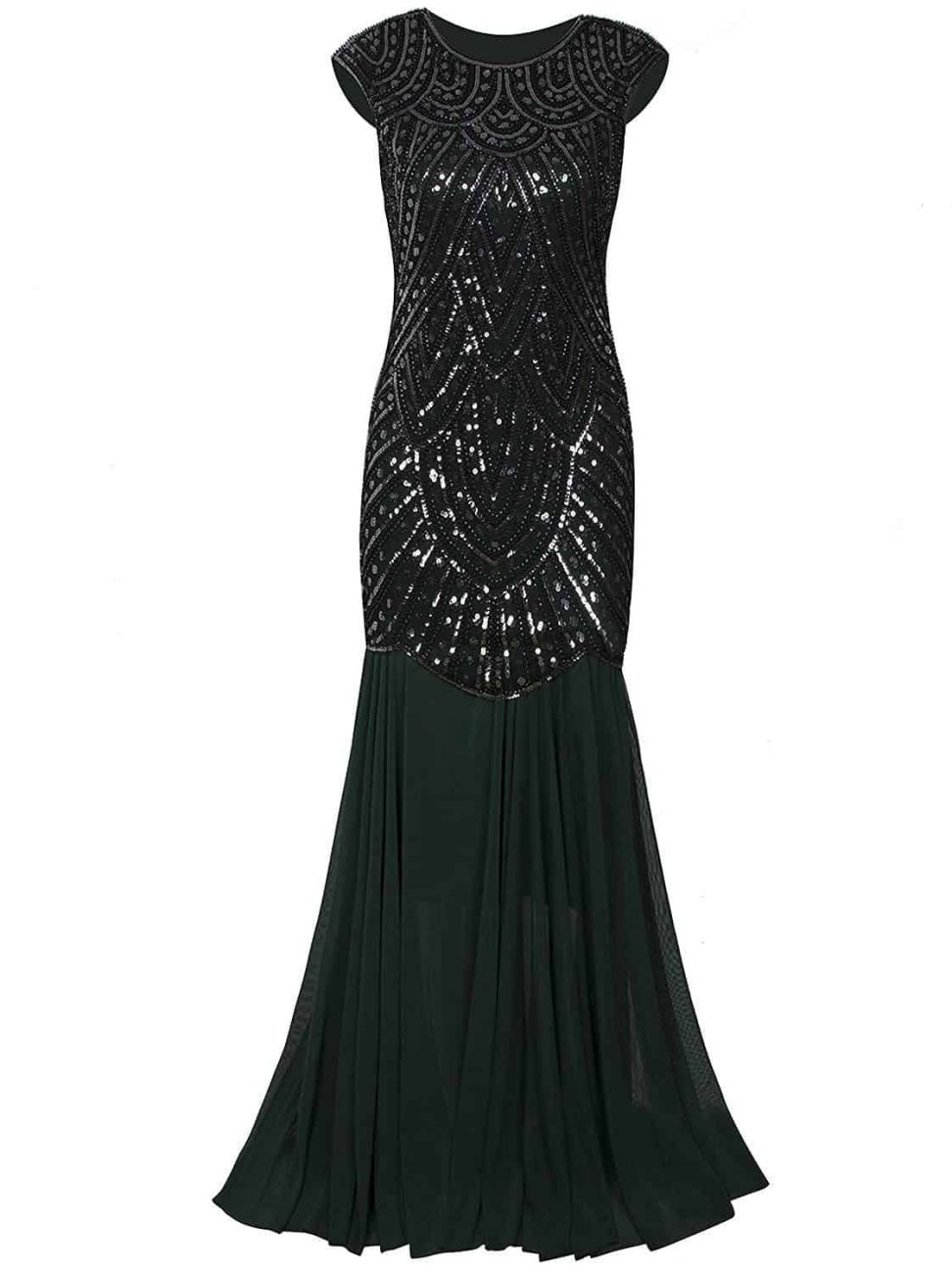 If you're looking for a long length Gatsby party dress, look for a drop-waisted sheath dress.
You can go with a sleeveless or sleeved design.
While longer than the flapper dress, even the long length dresses still showed a bit of ankle, so choose a gown that is going to end just below the shin.
Long Sleeve Gatsby Style Dress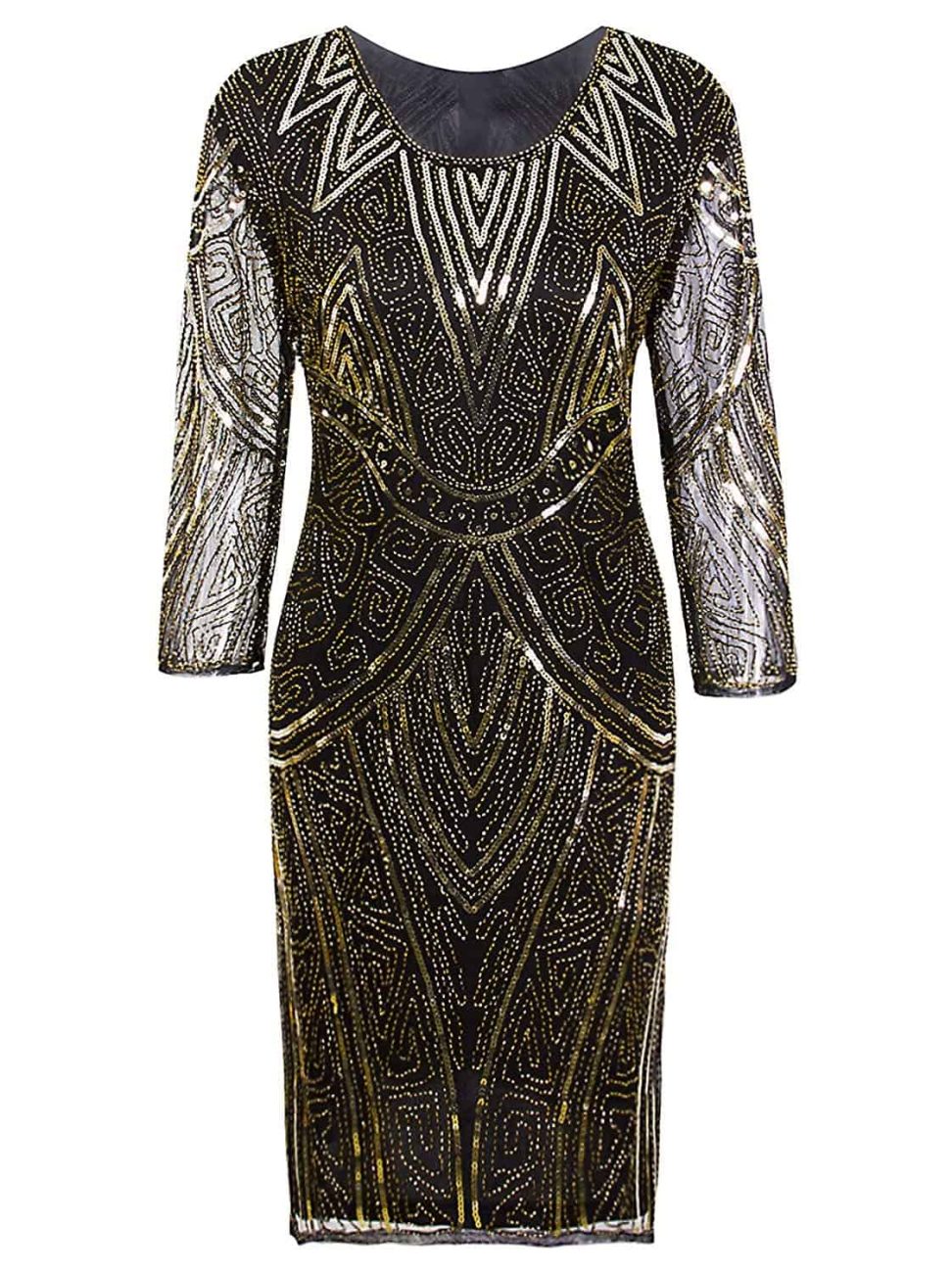 The long-sleeved dresses of the 1920's featured angel sleeves, puffed sleeves, and sheer sleeves.
Lace sleeves as well as chiffon or georgette sleeves are common choices on a long-sleeved Great Gatsby dress.
Formal Gatsby Dresses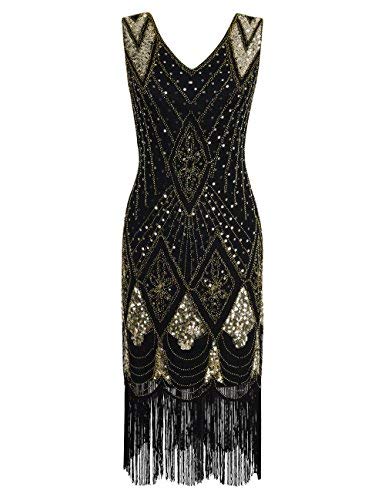 In the 1920s, the formal flapper dresses were a shapeless slip dress accented with beadwork, sequins, or feathers.
Rich jewel tones and soft pastel colors are wonderful choices in a formal Gatsby flapper dress.
Plus Size Gatsby Dresses

Women's Plus Size Swanky Flapper Costume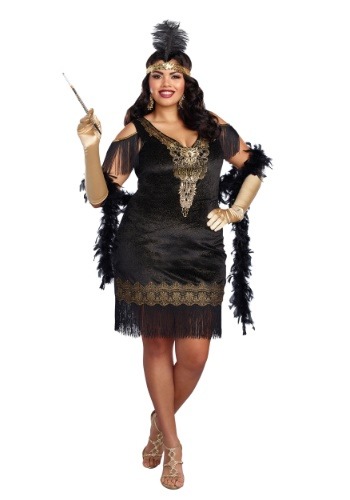 There are so many options out there for the plus-size lady, you simply can't go wrong.  The beautiful thing about dressing for a Roaring 20s theme is that it hides all the bumps and lumps so perfectly, that you will hold your head high with confidence when you walk into any room!  I simply love this dress it is so stunning and it comes as a set!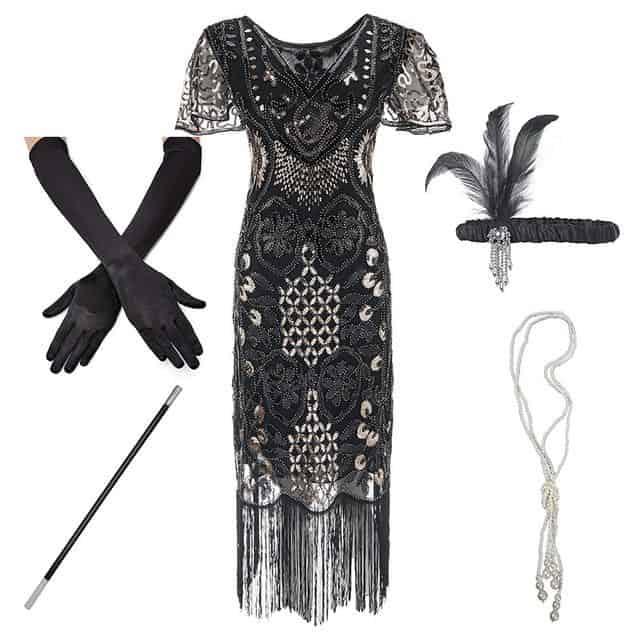 If these Plus-Size Dresses don't take your fancy? Check Out My Full List of Plus-Size Dresses – Click Here!
Where to buy Gatsby Style Dresses? 
You can sew one yourself using vintage patterns, or reproductions of vintage patterns, or you can buy one ready-made.
If you are looking for a costume grade dress, any costume shop will have many styles of flapper dresses for you to choose to suit your event theme.
One of the best and easiest ways to shop for Gatsby style dresses is online.
The best 1920s style dress brands to look for are:
• Unique Vintage ( They also have a store in Los Angeles )
Daisy Gatsby Style Dress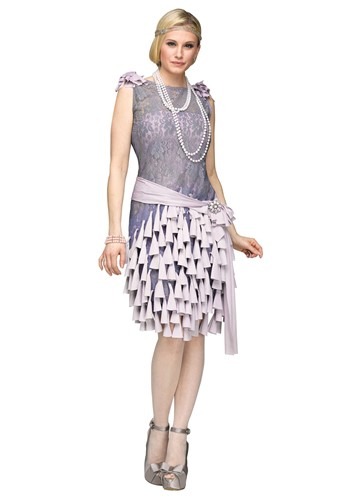 Daisy Buchanan Bluebells Dress
When you think of a Gatsby style dress, the style of Daisy (the focal female character) is what comes to mind.
Daisy Buchanan's flirty flapper girl style with short hemlines, sleeveless sequined bodices, and plenty of fringe is what you want to look for.
Flapper Dresses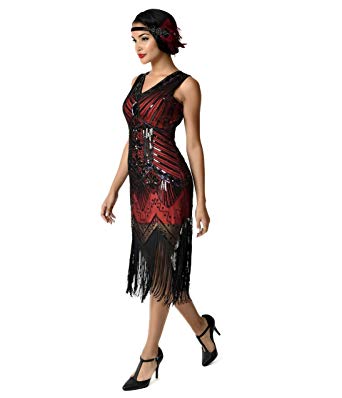 This gorgeous fancy red dress is a Unique Vintage signature, which is in my opinion the best brand when it comes to Gatsby Flapper dresses.
So if you want a unique, highly detailed dress with beautiful lines and designs, that's the way to go! 
Depending on the type of fancy event you are attending, you might choose a flapper dress (not costume grade) or a more formal slip dress with a drop waist.
Beads, sequins, and feathers are essential details for a fancy 1920s dress.
Gatsby Dresses for Prom
If you are looking for a unique but elegant look for prom, you should definitely consider a Gatsby-style dress!
From short and flirty flapper girl dresses to long elegant beaded gowns, you're sure to wow everyone in your 1920's dress!
Click Here to See Heaps of Beautiful 1920s Style Prom Dresses!
Gatsby Wedding Dresses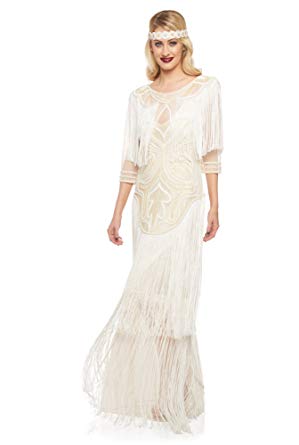 If you are seeking a truly elegant, yet fun look for your wedding gown, you really should consider going with a Gatsby theme.
Choose a fun, flirty white flapper girl dress with tassels and beads, or opt for a more elegant long length white dress with beadwork and drop waist to bring that 1920's look into your wedding.
Click Here to See My Full Range of Gorgeous Vintage Wedding Gowns!
Gatsby Bridesmaid Dresses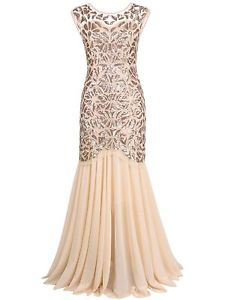 Nothing says opulence and elegance better than a Gatsby themed wedding.
When choosing your Gatsby Bridesmaid Dress, look for either short length flapper girl style or a long length drop-waist gown.
Keep your colors in line with the bride's specifications and your beadwork or sequin work understated for more elegance!
Gatsby Black Dresses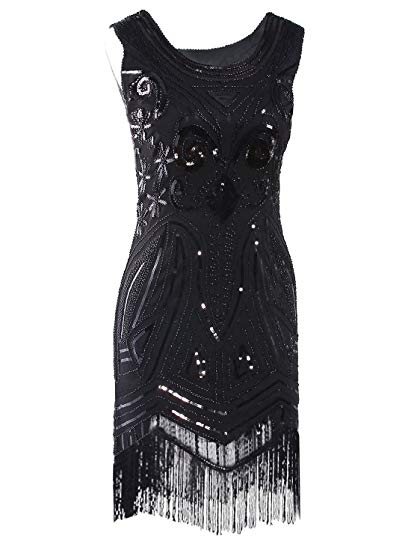 The Gatsby black dress is a common favorite for anyone choosing to wear flapper dresses or costumes to vintage style parties.
The simple elegance of black sequins or beads on a short flirty black dress makes this type of dress a perfect choice for any Gatsby party!
Gatsby Gold Dresses
Gold embellishments were a favorite detail on dresses in the Gatsby era.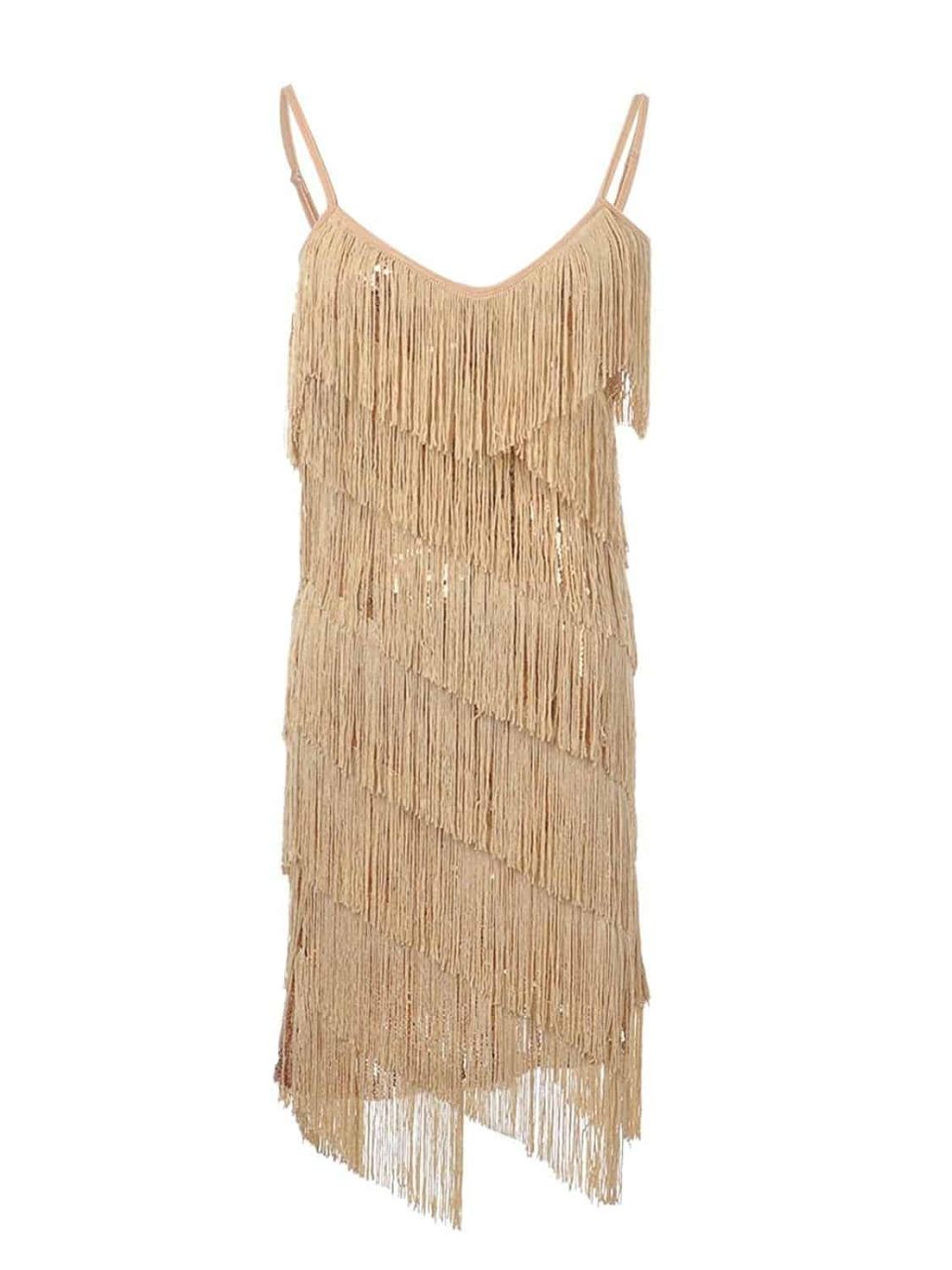 But consider a dress completely made of gold to add flash and sparkle to your Gatsby dress.
Be dazzling in your gold flapper 1920s style dress with lots of sequins and tassels!
Gatsby Red Dresses
These fabulous flapper dresses also look fabulous in bright flashy red, making it another favorite color for Gatsby themed dresses.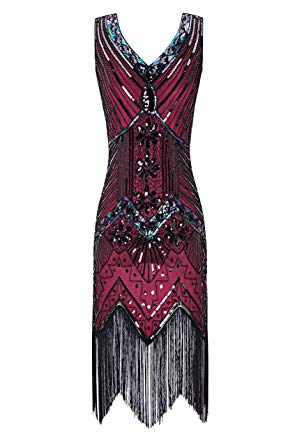 The jewel tones were very popular in the 1920s and it makes any Gatsby style dress look absolutely fabulous!
Great Gatsby Costume Dresses
If you're looking for a flapper girl costume or need a Gatsby 1920s dress that is less formal or only will be worn once, you might want to search for costume grade flapper dresses.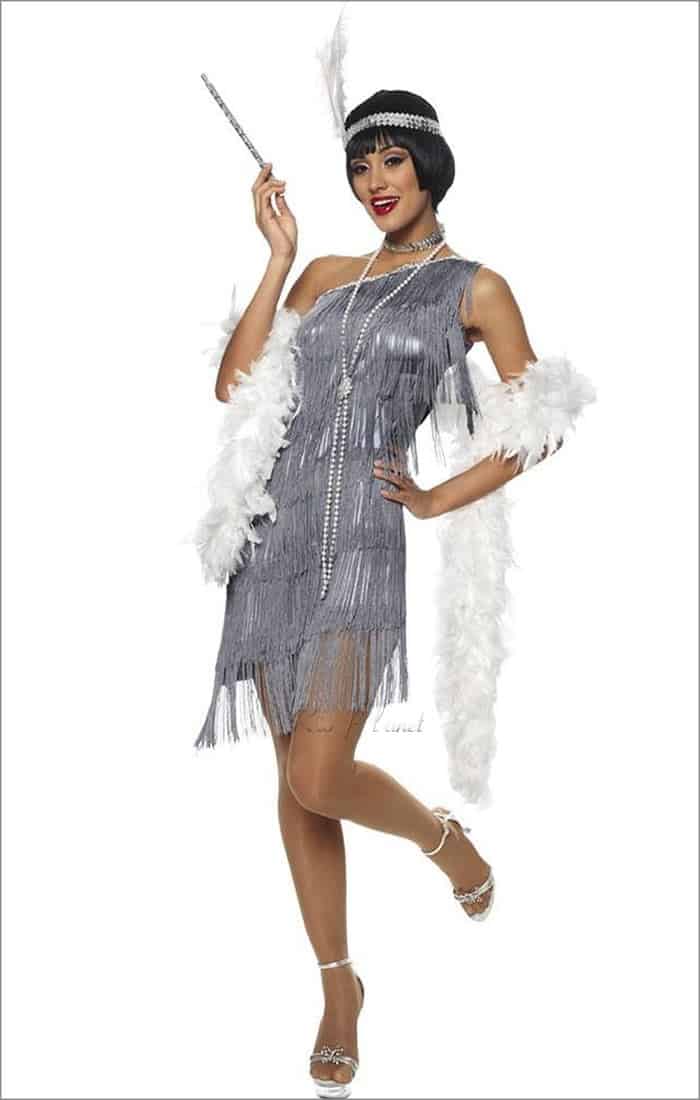 Many costume shops and online stores carry these less expensive options.
They look great, but will not last as long as a more expensive Gatsby style dress.  But hey they are so much fun!
This dress comes in a beautiful shade of blue! I was actually surprised how much detail went into the beaded appliqué and sequin fringe.  The dress is made of velvet and is quite stretchy so you can dance the night away. It's really great value as the beautiful beaded feathered headpiece is included!
Gatsby Fringe Flapper Girl Dresses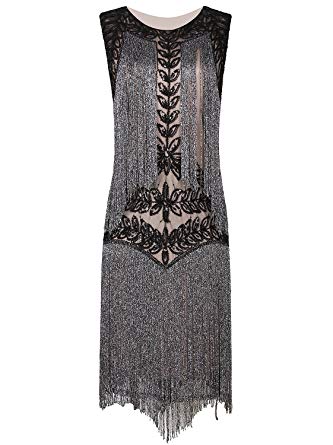 The iconic flapper girl dress is the "go-to" dress for anyone attending a Gatsby themed party.
With its short skirt and rows of fringe around the skirt, it's a fabulous dress for dancing or showing off your legs.
For a flashy look, choose a dress with a sequined bodice, or for a more elegant look, choose a bodice with beadwork.
Don't forget to throw in some feather accents!
So there you go, so many styles to help you dress Great Gatsby themed or Roaring 20s style, there is no way you can go wrong.
Now, it's time to party like Gatsby!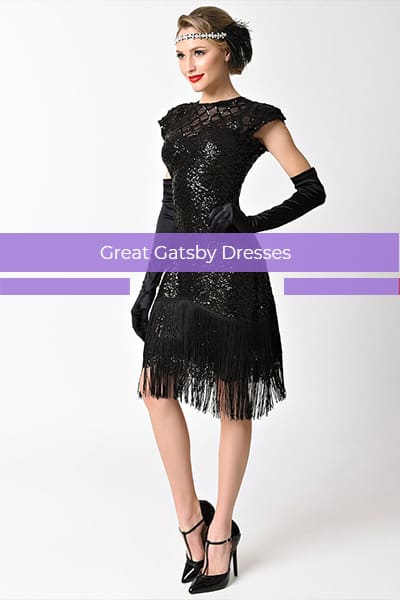 Related articles:
GatsbyFlapperGirl.com is a participant in the Amazon Services LLC Associates Program, an affiliate advertising program designed to provide a means for sites to earn advertising fees by advertising and linking to amazon.com affiliate sites.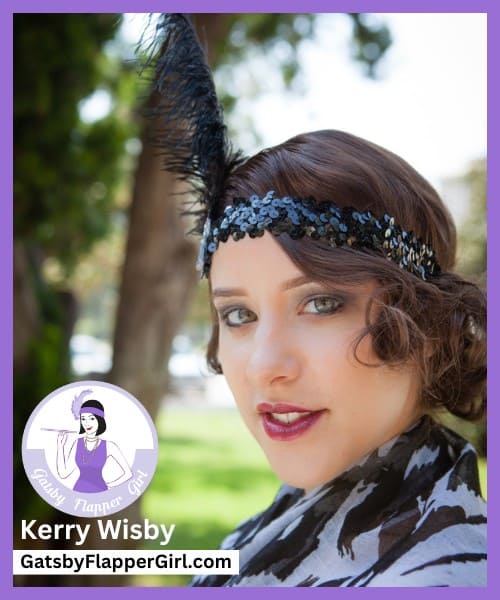 Written by Kerry Wisby – GatsbyFlapperGirl.com
Owner & Founder of GatsbyFlapperGirl.com
Kerry Wisby is the owner & founder of GatsbyFlapperGirl.com, your go-to source for all things 1920s & The Great Gatsby. With a passion for the era & a wealth of knowledge to share, Kerry is dedicated to providing you with everything you need to know about Roaring 20s fashion, 1920s history, & Great Gatsby-themed party ideas. Join Kerry in bringing the spirit of the Roaring 20s to life! Read more about Kerry here.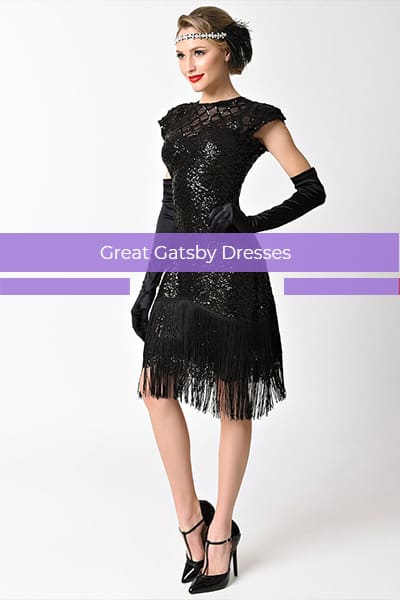 1920s Great Gatsby Dresses • Plus Size Great Gatsby Dresses [2023]
Looking for beautiful 1920s Great Gatsby Dresses to stand out at your next event? See all our long & short 1920s dress styles, Great Gatsby Prom Dresses & more!