I recently attended my fifth Gatsby party where everyone was decked out in fabulous fancy gowns and extravagant Great Gatsby headpieces.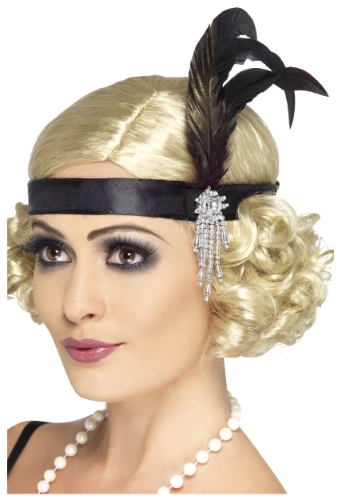 Get the 1920s Headband! 
As I looked around the room and saw everything from turbans to tiaras and even some peacock feathers, I realized how important the flapper headband is to create the perfect 1920's look for any Gatsby party, wedding, Halloween costume, or dance costume.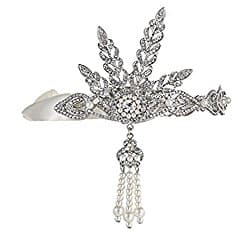 With that in mind, here is my advice on how to choose the perfect flapper headband.
When dressing the part of a flapper or a 1920's guest at Jay Gatsby's party, you first need to keep in mind that your look needs to have lots of flash and sparkle.
The roaring 20's style was a direct response to the conservative restraint of the war.
Skirts got shorter, hair got shorter and everything was flirty, fun, and fancy.
Women would choose their accessories such as headpieces for a specific reason.
Usually, it was matched to the color and style of the dress, but sometimes it matched other accessories or shoe color.  (Be sure to also check out our 1920s Shawls to add that extra touch to your outfit!)
Even the makeup color was chosen to accentuate the overall look.
• Headband Gatsby Style
Lots of different Colors & Styles
The flapper headband ( see popular feather headbands ) was also called by several other names such as the "headache band" or "brain binder" because of the way it wrapped around the skull and cut off the blood flow to the brain. 
The French called them "bandeaus" (although bandeaus also included wide scarves tied over the head and the ends hanging down the back or low to the side).
The look of the 1920's Gatsby headpieces was based on sequins, extravagant beading, and large gems.
Keeping those thoughts in mind when choosing your headpiece will help you to look truly authentic.
• Daisy Buchanan Headpiece replica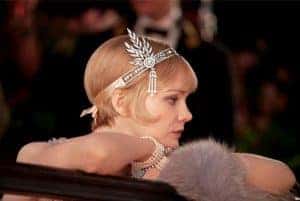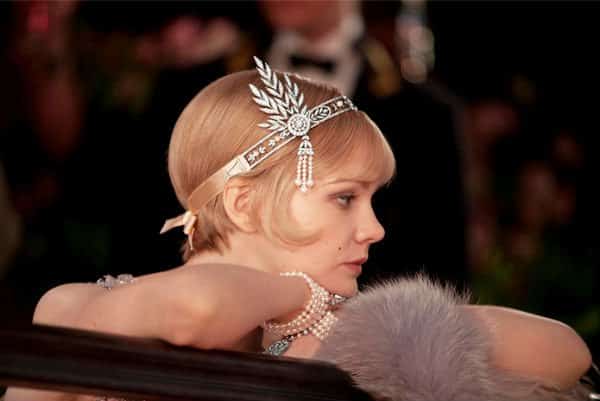 This 1920's headband/tiara combination is a replica of the one Daisy Buchanan wore in The Great Gatsby movie. 
Its tiara formed front is made from sculpted white gold metal alloy designed to look like leaves and features a three-strand pearl tassel.
The back of the headband is ribbon and designed to tie at the base of the skull so that you can wear the tiara lower on the head, resting upon the soft curls that framed the faces of that era.
This particular headband has interchangeable ribbons in gold and black so that you can either blend the ribbon in with your hair color or match the ribbon to the color of your dress or accessories.
Need a handbag to match?  Check Out My Full List of 1920s Handbags & Clutches!
• Gatsby and Flapper Style
This flapper headband features the sparkle and bling that you want in a flapper headband. 
The women of the 20's believed that the flashier the accessories were, the better.
This brain binder headband is made out of gold sequined elastic and will stretch to fit any head.
The glass crystal accent is designed to look at the design of the peacock feather (one of the biggest fads in the 1920s) and even has an elegant crystal tassel hanging below the plume of black feathers.
When you wear this headband with a black fringe dress, you will definitely look like the flappers of the '20s.
If black and gold are not working with your dress, check out the silver and blue combination or even the silver and white which would work wonderfully with a wedding gown or dress of another hue.
One of the unique elements of 1920s head pieces is their fascination with Egyptian style headwear.
This headpiece is a full headpiece that sits atop the crown of the head and drapes over the skull.
Made from gold or silver-toned metal alloy and crystal rhinestones, this headpiece is designed in the Art Deco style and even features rhinestone draped tassels to frame the face.
Pin this elegant piece into your hair with any formal gown or dress and you will be ready for your Great Gatsby party.
• Feather Great Gatsby Head Wear
If you're looking for a truly authentic 1920's looking headpiece, take a look at this beautiful blush colored brain binder headband.
The band is crafted from a blush pink-colored ribbon with a beautiful seed bead floral pattern stitched on it.
Featuring true peacock feathers in a cream color, the feather plume rises high above the head as well as swooping down beside the cheek for an elegant, masterful look.
The plumes of feathers are secured with crystal gem accents making this 1920's headpiece truly spectacular.
Great Gatsby's headwear comes in so many styles and shapes.
That it's never a problem to find one to match your dress style or color.
Perhaps you are seeking a cleaner, more elegant, subdued to compliment a simple but elegant gown.
Or maybe it's all about the clean elegant look but still a 1920's headband style.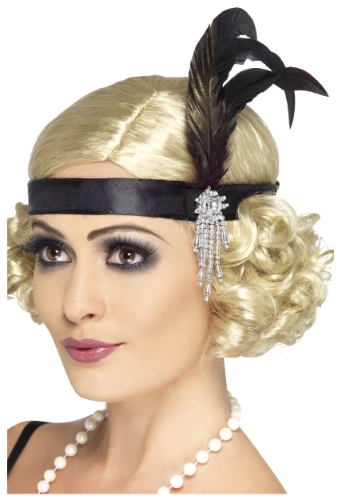 Look no further than this elegant headband.
This beautiful headpiece is made from gold ribbon covered with rows of imitation pearls and glass crystals and features a beautiful leaf accent made of crystal and silver metal alloy.
Simply elegant!
• Great Gatsby Head Wear Styles
Flapper headbands and other 1920's bands may come in all shapes and sizes and even different colors and styles, but one thing that they all have in common is that they are all about flashy style.
Whether you're looking for that flirty feathered headband to go with your fringed flapper dress, or an Egyptian princess style headpiece to accent your little black dress, or even a pearled headband with crystal accents to adorn your long evening gown, you really can't go wrong with a 1920's headband or headpiece.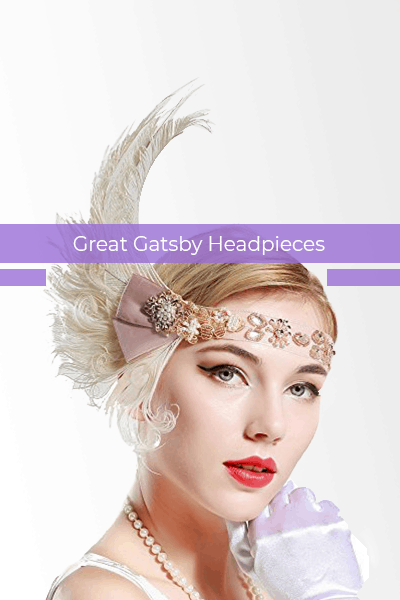 GatsbyFlapperGirl.com is a participant in the Amazon Services LLC Associates Program, an affiliate advertising program designed to provide a means for sites to earn advertising fees by advertising and linking to amazon.com and affiliate sites.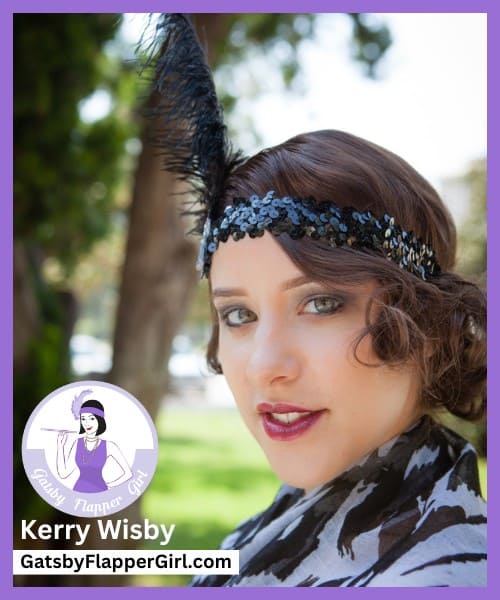 Written by Kerry Wisby – GatsbyFlapperGirl.com
Owner & Founder of GatsbyFlapperGirl.com
Kerry Wisby is the owner & founder of GatsbyFlapperGirl.com, your go-to source for all things 1920s & The Great Gatsby. With a passion for the era & a wealth of knowledge to share, Kerry is dedicated to providing you with everything you need to know about Roaring 20s fashion, 1920s history, & Great Gatsby-themed party ideas. Join Kerry in bringing the spirit of the Roaring 20s to life! Read more about Kerry here.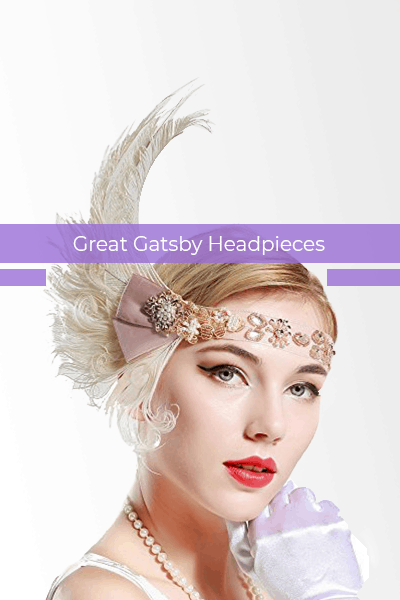 Great Gatsby Headpieces • 1920s Gatsby Headpieces
Great Gatsby Headpieces • 1920s Gatsby Headpieces • Daisy Buchanan Headpiece and Tiara • Peacock Great Gatsby Headpieces