This article contains links where we may earn a small commission at no cost to you: Learn more here
Are you looking for amazing great gatsby looks for ladies you can find online?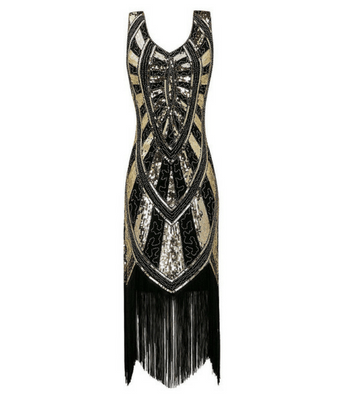 When I first started looking for Gatsby dresses for a gatsby themed party, I looked all over the internet to find the right place to tell me which looks would be the best for me.
When I finally found such a comprehensive guide to all things Gatsby costume related, I was SO excited!
Trust me, you are at the right place if you want to have a unique flapper style to look flawless for your evening out on the town.
• Great Gatsby Looks for Ladies – Getting Started
There are so many pieces that you can put together for the perfect Gatsby outfit!
To start, it's really about having the right dress for your body type.
I've tried many different styles of flapper dresses, and I'm sure you can find the one that fits you just perfectly!
Not only the dress, but a comfortable pair of Great Gatsby shoes to match, a headpiece and art deco jewelry along with a pan or gloves, cigarette holder, fur, turban, and flapper purse are all pieces of the puzzle to dazzle all evening long!
• Great Gatsby Dresses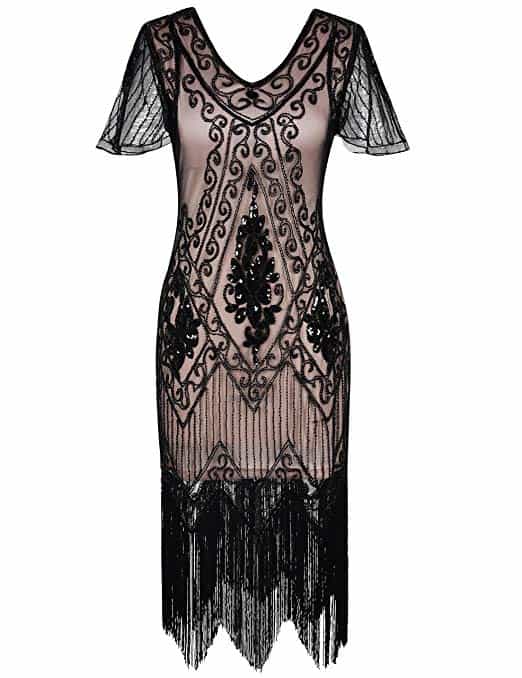 The Gatsby dress is an absolute must when it comes to dressing like a 20's flapper girl!
I absolutely love wearing a flapper dress.
It's beautiful, it is comfortable to wear, and it's so much fun to dance in.
My favorite thing about a flapper dress is the fringe.
It's the best part!
It looks adorable and swings to the roaring twenties music that I love.
You are going to love wearing a flapper dress on your evening out!
• 1920's Charleston Dress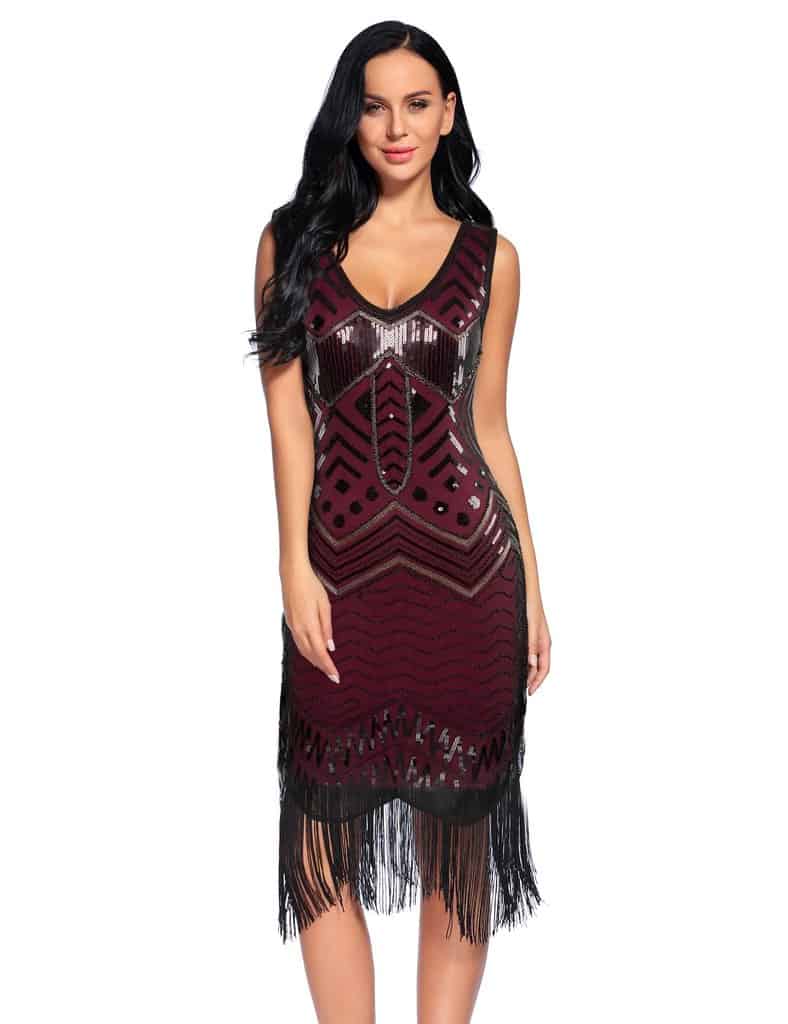 The Charleston Dress!
I absolutely adore sporting the Charleston dress on an evening out.
It's just like a flapper dress, but a bit more glitzy, a little more glamorous, and a ton of fun! I like to sport my Charleston dresses with lots of sequins, beads, and anything sparkly to really get me in the mood for dancing.
Another great dress for your Gatsby themed party!
• Long Art Deco Dresses
Do you have a fancy evening party to go too?
A long Art Deco dress is essential!
Perfect for a glitzy, fancy theme party, this dress will dazzle and be perfectly appropriate for a black-tie evening.
These dresses grace the floor elegantly and have beautiful designs that perfectly go along with the 1920's era.
I love the look of Art Deco, and when it's on a floor-length dress, I'm in love!
• Great Gatsby Shoes
Now you need shoes!
Many girls loved wearing mary janes, oxfords, and the like with a low heel to easily dance in.
Personally, I love my mary janes!
They are perfect for a formal occasion, are super comfortable to dance in.
I think I may have mary janes in 5 different colors.
They are amazing!
Click Here for more Great Gatsby shoes & Roaring 20s Shoes
• Great Gatsby Headpieces
Headpieces are a must for your Gatsby night out!
I have a few headpieces that are stylishly adorned with rhinestones, jewels, sequins, and super sparkly beads.
I love them!
Another great way to spice up a headpiece is to add in a few colorful feathers that match your dress.
Feathers can easily spice up any outfit, and create an even more fun look for your Gatsby party!
• Flapper Purses
Oh, how I love purses.
They are an amazing accessory, especially when you are choosing one for your Gatsby themed party.
For a perfect 1920's seamless look, I like choosing purses with Art Deco designs on them.
Don't forget the beads, sequins, and rhinestones!
The more lavish the better in my opinion!
I also really love choosing a purse that is in an envelope style.
This size is perfect for storing all the things you need for an evening out, but is not too heavy or bulky!
• Flapper Jewelry
Don't forget the jewelry!
Jewelry in the 1920s was so glamorous, I love wearing my costume jewelry for a Gatsby party even during the day time!
The glitzier the better, with tons of layers, sparkles, and a whole lot of fun! Which pieces go perfectly with your Gatsby costume you may ask?
Pearls: Pearls are a classic!
Flapper girls love wearing pearls in multiple layers around their neck. Don't worry, you don't need the real ones to look dazzling!
I own several strands of pearls that are amazing for layering and really spice up my Gatsby themed outfits.
Earrings: Chandelier earrings are an amazing accessory!
Gatsby parties are all about glamour, and Chandelier earrings are the perfect jewel to wear to add extra glamour to your outfit!
The more rhinestones and sparkles, the better in my opinion!
Bracelet: Adding a bracelet is really going to pull any outfit together.
Why not add lots of rhinestones to really make it sparkle!
Gloves: Long gloves that go just above your elbow are an amazing addition to a Gatsby costume!
Choose any color, white, black, red, and you will surely look elegant and glamorous!
Cigarette Holder: Any 1920's style outfit would not be complete without a cigarette holder!
I love having one that fits perfectly into my flapper bag. I keep it simple with this accessory, any black cigarette holder will do!
Capes: A cape adorned with beads is such a great accessory to have!
I love wearing ones in simple colors, or with beads in Art Deco patterns!
Whichever cape you choose, you are going to look fabulous!
Boa/Fur: For a flapper outfit, you have to wear a feather boa or fur!
I love playing with colors with my feathered boas. Find one that matches your outfit and rock it!
Fur is also great (I prefer to faux kind) for a cooler night.
Hat: Hats are such a fun accessory to add to your outfit.
I think they look great with any hairstyle and are so much fun to play with the designs.
Geometric lines with feathers and/or jewels are great additions on flapper hats.
Color coordination with your outfit is also so much fun to do!
Another great accessory for your head is a turban.
These were very popular during the 1920s, and add an exotic flair to any outfit!
There you have it! The Perfect Great Gatsby Look
The perfect flapper attire for a gatsby night out!
This look is a great way to rock an authentic 20's Gatsby flapper style with a modern twist.
I know you are going to look fabulous!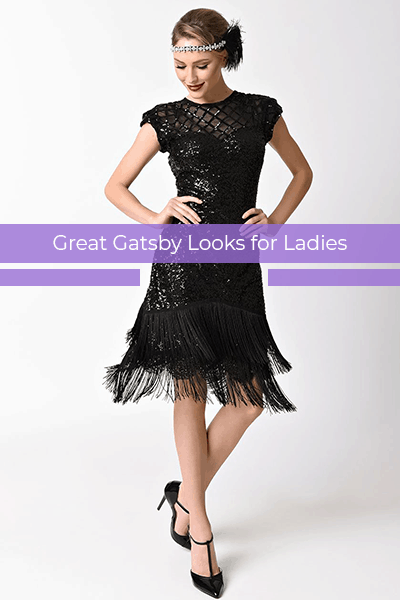 GatsbyFlapperGirl.com is a participant in the Amazon Services LLC Associates Program, an affiliate advertising program designed to provide a means for sites to earn advertising fees by advertising and linking to amazon.com.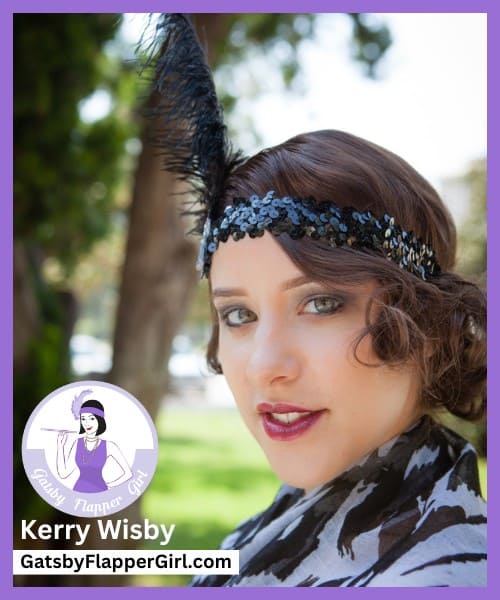 Written by Kerry Wisby – GatsbyFlapperGirl.com
Owner & Founder of GatsbyFlapperGirl.com
Kerry Wisby, a former teacher with a BA in English, is the founder of GatsbyFlapperGirl.com. With a passion for all things 1920s, including The Great Gatsby novel, her website is the ultimate source for Roaring Twenties fashion, history, and party ideas.  Read more about Kerry here.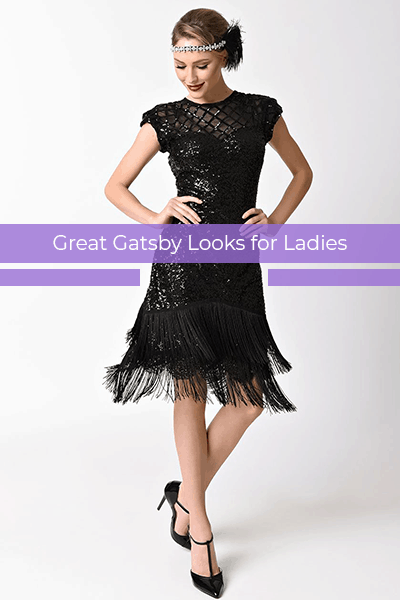 Great Gatsby Looks for Ladies • 1920s Gatsby Dresses [ 2023 ]
The latest 1920s Great Gatsby Looks for Ladies • 2023 Great Gatsby Dresses • Plus Size Gatsby Dresses & Flapper Shoes