GATSBY ATTIRE FOR MEN

 
This article contains links where we may earn a small commission at no cost to you: Learn more here
A man dressed as the fabulously wealthy Great Gatsby is incredibly appealing.  When searching for a man's Great Gatsby costume, you only need to keep a few key things in mind. 
Get the Suit
Most of the clothing is easy to find online, but make sure you pay attention to details because they will make or break the authenticity of your 1920's Great Gatsby look.
A great way to understand the Great Gatsby "look" is by looking at photos from the movies.  Leonardo DiCaprio shows you exactly how the wealthy Jay Gatsby looked.  Even Tobey Maguire is a great look to emulate although his character is not as wealthy as the Great Gatsby.
GREAT GATSBY SUITS & ROARING 20S MENS CLOTHING
The style of the Great Gatsby himself is best showcased in the suits he wore.  Epitomizing the wealth and opulence of the era, the dress suit is the quintessential Great Gatsby outfit. 
Choose a three-piece suit in lighter colors like gray, light blue, or a medium brown with a 4 to 6 button coat and notched or peak lapel.   Plaids, cross-hatching, window panes, and checks were very popular.  Tweeds are another great choice.
For more of a mobster look, choose a dark suit with vertical stripes in a light color.  Suits should fit snug to the body.
Get the Suit
Looking for a Great Gatsby Dress?  Check out my full article on Great Gatsby Dresses
GREAT GATSBY PANTS
If you purchase a three-piece suit, the pants will be included, but should you purchase pants separately, you will want to choose a flat front pant with a single crease down the leg.  Choose a suit pant in a classic cut with a higher waist or golf pants.  Do not wear a belt.  Men in the 1920's used suspenders. You want to match the pants color to the jacket color or go one shade darker than the jacket.  Pants should have a 2-inch folded cuff.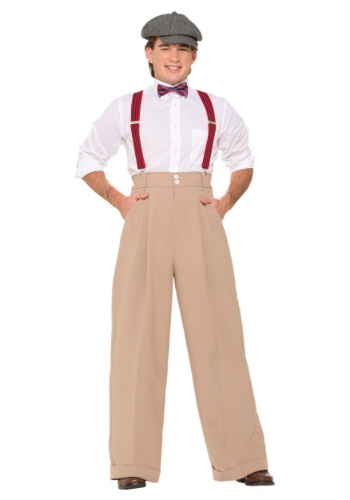 Get the Pants
GREAT GATSBY SHIRTS
The best look for the 1920's men's shirt is the French Cuff Shirt worn with cuff links.  You can go with a pointed or rounded collar.  One of the best looks is a medium blue shirt with a white collar and white cuffs.  If you are wearing a full suit, a solid color shirt in pastels or white looks great.  Vertical stripes and subtle checked patterns were also in style.
GREAT GATSBY 1920s MENS FASHION VESTS
One of the great things about having wealth in the 1920s was that the Great Gatsby could afford coordinated outfits ( see Leonardo Dicaprio Great Gatsby Outfits ).  Nothing shows this better than the vest worn either with the suit jacket or without.  A single or double-breasted V vest works great.  It should have no less than 5 buttons and should be in the same hues as the pants or suit. Patterned vests were often worn with plaids, checks, and window panes being the top choices.  A nice sweater vest in a cream or white color paired with golf pants is a great look if you're wanting to go more casual.
GREAT GATSBY SHOES
The Great Gatsby himself was quite fond of the newest styles, so his two-tone wingtip oxfords are a great choice in footwear.  Depending on your suit color, you should choose either a gray and white wingtip oxford or a brown and white wingtip oxford shoe.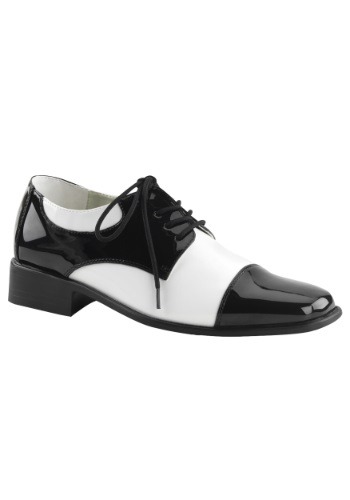 Get the 1920s Shoes
Another good choice is the more classic look of the cap-toe lace-up oxford boot.  A nice orange-brown color was in vogue during the 1920s.  Another classic is the brown fancy wingtip brogue.  Shoes were worn with a tall argyle, stripe, or dark-colored solid sock.  For extremely formal events, spats were worn with tuxedos.
GREAT GATSBY TIES
Dressing as the Great Gatsby, you always want to keep "coordination" in mind.  Match your tie to the outfit.  Bow ties, as well as neckties, were popular during this era.  Wide diagonal stripes, deco patterns, polka dots, and paisley were all popular choices.
GREAT GATSBY HATS
Hats were essential to men's outfits in the 1920s, so the Great Gatsby himself definitely would have been spotted in a hat.  The fedora or bowler hat was the typical hat worn by businessmen.  A straw fedora in the summer months or a felt fedora or bowler in the winter would have been standard attire for Jay Gatsby.  For the tuxedo formal look, a top hat was worn.  The casual outfit of pants and shirt with suspenders or the golf pants and sweater vest look would look best when topped off with the newest trend, the linen newsboy cap.  Another casual choice would be a straw boater.
1920s Straw Boater Hat
Get the Hat
GREAT GATSBY ACCESSORIES
When dressing like the Great Gatsby, you want to make sure to pay as much attention to details as the Great Gatsby would have done.  The accessories are the fine details that authenticate your costume as a true 1920's wealthy man.
The suit would never be worn without having a matching pocket square. The pocket square should match or coordinate with the tie.  Choose a silk pocket square to show off the wealth of the Great Gatsby!
Suspenders
Suspenders, not belts were used in the 1920s to hold pants up.  When choosing suspenders, avoid ones that are overly stretchy because they will move too much and destroy the look you are trying to achieve. Leather or striped suspenders were popular.
Cuff Links
Cuff links are another tiny detail that can easily be overlooked, but when worn, it just shows that extra bit of excess that was so prevalent in the 1920s.  The Great Gatsby would have had cuff links that flashed just enough to show off. Mother of Pearl or round gold monogram cuff links is perfect.
Collars on shirts were changing during the 1920s to make them more comfortable, but that also meant that they would roll, so another overlooked detail was vital.  The collar bar or collar pin would have been worn by the Great Gatsby on his shirt collar.
Spats
Spats, in white or gray wool, were worn by gangsters and by men in formal attire like tuxedos.
Walking Canes and Gloves
Walking canes, especially ones that showcased precious metals like gold or silver were quite popular at more formal events.
Gloves are another detail that can make your Great Gatsby look come together.  White gloves for formal events were almost always worn.  Colored cotton or leather gloves were common for day use.
The Great Gatsby and his guests would likely have been seen sporting a pocket watch with a chain.  It's another great accessory to showcase his wealth.
It's not difficult to dress the part of the Great Gatsby.  With a little attention to detail, you too can be as impressive as the Great Jay Gatsby!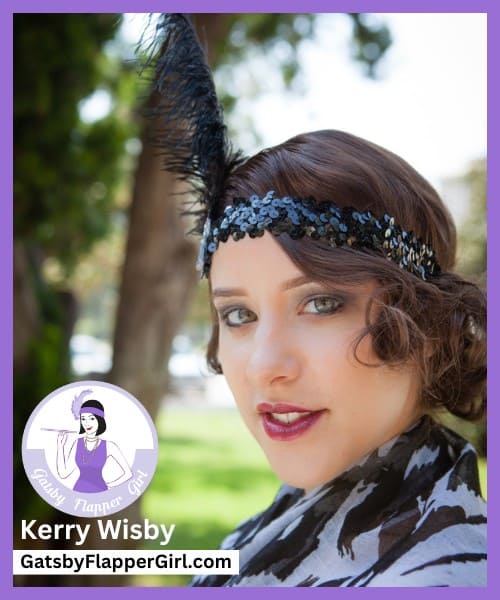 Written by Kerry Wisby – GatsbyFlapperGirl.com
Owner & Founder of GatsbyFlapperGirl.com
Kerry Wisby, a former teacher with a BA in English, is the founder of GatsbyFlapperGirl.com. With a passion for all things 1920s, including The Great Gatsby novel, her website is the ultimate source for Roaring Twenties fashion, history, and party ideas.  Read more about Kerry here.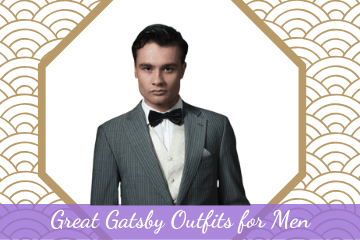 Great Gatsby Outfits For Men • 1920s Great Gatsby Outfits
Great Gatsby Outfits for Men. The latest 1920s Great Gatsby Outfits: Roaring 20s Suits, 1920s High Waisted Men's trousers, hats, shoes & accessories.