They say the greenish color has a soothing effect and symbolizes nature. But when it comes to clothing, it all depends on how you wear it. And if you get an invitation for a roaring 20s party, you want to find the best clothing item possible.
Find the Best Flapper Dress to Wear to a Party
In this article, we focused on the cocktail, mermaid, and flapper dresses that fit the 1920s era. Whether you want to follow your Great Gatsby or stand out from other women at the party, you'll find a suitable vintage clothing combination below.
The Unique Opportunity for a Flapper Dress Style
Flapper dresses aren't something women wear every day. You need a unique opportunity for this style, so how about using that roaring 20s party to put on a flapper dress?
20s Fringe Outfits
If you feel daring and inspired, a fringe outfit might be the right choice.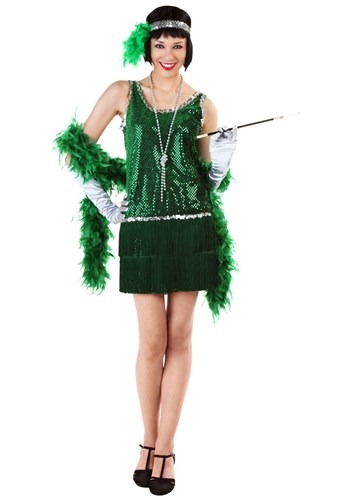 These will ensure you look as if you are getting on stage at any moment. If you have the right shoes, flapper dresses are excellent for the dance floor. Don't forget the importance of accessories with these vintage combinations. Women often wore feather boas and gloves in the 1920s, and headbands can also be a vital part of your overall appearance.
Now, if you prefer an alternative color, how about choosing a mint variation?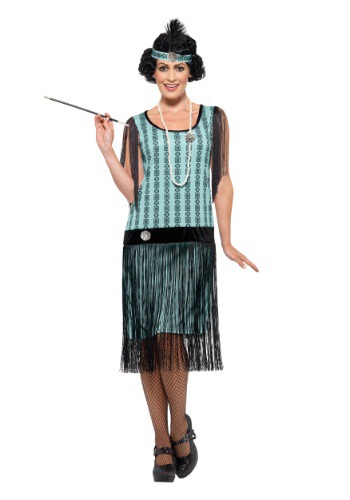 The combination of blue and black is unique, and you'll get a cigarette holder and necklace for free. It's a vintage flapper dress that tells people you are elegant and drink nothing but top-class champagne.
It's All About the Glitter
In the roaring 20s, women didn't hesitate to wear glitter, which is why beaded flapper dresses were popular.
Even if you don't appreciate glitter, this beaded vintage flapper dress will ensure you look gorgeous. The mermaid style pinpoints your every curve, and the patterns fit with the 1920s.
You can also get flapper dresses featuring a crossover between the roaring 20s and modern days. The net pattern on the neckline is in line with today's fashion, while the spaghetti straps and glitter fit the vintage style.
A Beautiful Long Dress for any Event
Do you need a new dress for the 1920s party, but you also want a clothing item to wear on other occasions? A long mermaid dress never goes out of style. However, make sure to look for a pattern inspired by the 20s era.
Sequined Art Deco Style
A sequined art deco dress is a perfect choice, especially if you are heading with a partner. If he goes as Great Gatsby, the mermaid dress will ensure you are the most elegant Daisy Buchanan ever.
The choice is up to you – do you want a V-shaped neckline for people to see your cleavage? You can still make the dress long, but if you want to pick the cleavage as the featured attribute, this is the combination for you.
Flattering Sleeve Combinations
Alternatively, you can choose a fringe flapper dress with sleeves. You'll still shop for the mermaid shape that conforms to your body, and the pattern will fit the 1920s style.
These flapper dresses add to the overall elegance of your appearance. You can also shop for similar clothing items in vintage flapper sets.
The great thing about these flapper sets is that the manufacturers see you receive all the accessories you need. They add gloves, a necklace, a feather headband, and even fishnet stockings. Although the extra items aren't free, they don't increase the price significantly.
Finally, you can go with long flapper dresses that will ensure you are ready for the ballroom. If your 1920s party is formal, these will be suitable combinations.
A Cocktail Dress Ready for the Dance Floor
It's not easy to find flapper dresses that go with a formal event, but also have you ready to hit the dance floor once you hear the Charleston tunes. That's why you can search for stunning cocktail dresses that add a touch of modern fashion to your clothing.
For example, a fringe party dress in teal can be the ideal choice.
It's technically a blue shade, and it also has black spaghetti straps. You want to combine it with a top-quality bag, and adding a necklace is an option, too. Don't forget to pick shoes that match the outfit, and you can't go wrong with black ones.
If you love cocktail dresses, you can also go for a lighter teal variation.
Those who read the information on the label will confirm the superb quality of the material. It implies you can wear these cocktail dresses on multiple occasions, which gives them excellent value for money.
Unusual Clothing Combinations Inspired by the 1920s
Would you prefer something different to classic flapper dresses with sequins? Perhaps you don't fancy the 1920s fashion but want to fit the era and looking for a combination close to that time and your preference.
That's where a simple and elegant dress with gold hand-work comes into play.
If you ask us, it's ideal for summer outdoor parties. The label information will tell you about the material's breathability, and you will feel comfortable wearing the outfit for hours.
Get this Stunning 1920s Dress!
A long Cleopatra gown is another way to go. Although it's a step away from what a 1920s flapper might wear, it still looks vintage. Ultimately, you are free to wear whatever you like. These combinations are close to the theme, and they still ensure you feel confident wearing the gown.
We won't hide that we love the teal color. That's why our search includes several items in this shade that fit the 20s timeline.
The secret often lies in simplicity, but we'd still suggest adding a bag to go with this outfit. And while we are talking about simplicity, who says that flapper dresses can't look simple?
Get this Sexy Roaring 20s Dress!
Unlike similar outfits, this beaded flapper option will ensure it seems as if you achieved the desired look with minimal effort. The sequins add to the overall style, and the light materials are suitable for the summer.
That rounds up our selection of flapper dresses and other 1920s-inspired items for your upcoming party. Make sure to shop in an adequate size, and remember that confidence comes from being satisfied with your outfit.
Whether you choose a fringe flapper item or any other alternative, it's important it meets your expectations!
Couldn't Find What You Need?
Don't despair we have many other stunning dresses available! Check out these other great articles for more outfits and options: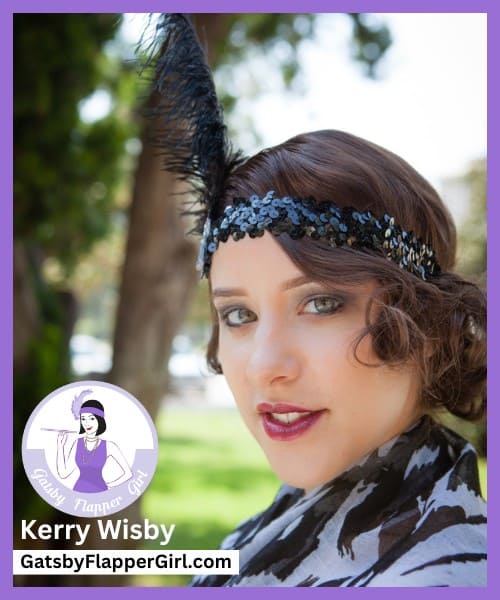 Written by Kerry Wisby – GatsbyFlapperGirl.com
Owner & Founder of GatsbyFlapperGirl.com
Kerry Wisby is the owner & founder of GatsbyFlapperGirl.com, your go-to source for all things 1920s & The Great Gatsby. With a passion for the era & a wealth of knowledge to share, Kerry is dedicated to providing you with everything you need to know about Roaring 20s fashion, 1920s history, & Great Gatsby-themed party ideas. Join Kerry in bringing the spirit of the Roaring 20s to life! Read more about Kerry here.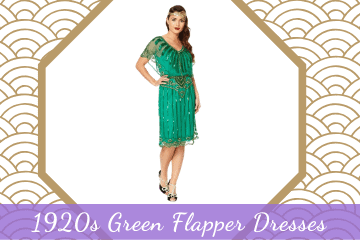 Dazzling 1920s Green Flapper Dresses - Great Gatsby Style
Looking for a stunning 1920s flapper dress? Why not go with a green option and really dazzle! You'll love all our dresses & costumes guaranteed to turn heads!