Stunning 1920s Long Flapper & Great Gatsby Dress Styles
This article contains links where we may earn a small commission at no cost to you: Learn more here
Not a lot of things say elegant as a beautiful long dress. Women of all eras understood that which is why these dresses became a popular choice for formal events.
Are you going to a Great Gatsby themed party, and you need a 1920s long dress? If you are in the mood for shopping, we have some fantastic suggestions for you in this article!
Is There Such Thing As a Long Flapper Dress?
What is the first thing that comes to mind when you say a flapper? You probably thought of fashion or freedom, and you envied those women for the approach they took when it comes to dressing for various events. Flappers knew a thing or two about fashion, which is why they inspired many 1920s long dresses.
You can consider going with a long sequin flapper dress that looks like it came out from a fashion history blog.
It is a classic, and you will notice there is an extension at the bottom. The actual length is knee-long, but the extension expands it all the way to the floor. Additionally, it adds elegance to the unique vintage material. The pattern will make you glow, and if you combine everything with black satin gloves and a cool handbag, you will look like you really came from the 1920s.
Stunning Great Gatsby Long Dress Style
If you want to add a bit more graciousness and luxury to the combination, you can consider a beaded 1920s long flapper gown that looks like a formal evening dress for any special occasion. The dress features a mermaid style that accommodates your body shape, but you will see additional material at the bottom. You can also pick between a plus size or any other variation to ensure you find one that fits you perfectly.
Classic Long 1920s Dress
Those women who prefer a more classic variation might consider trying a unique vintage pattern on a black dress.
Get the 1920s Style V Neck Dress!
The bottom extension will be black, but you will also want to add a twist to the costume. That is why the boat neck is a nice touch, and a gold pattern will secure just enough glitters to complement the 1920s era. These long dresses come in unique vintage patterns, which means you are free to choose the combination that suits your preference.
How About a Tea-Length Dress?
Who says that 1920s long dresses expanded all the way to the floor? You can also consider a tea-length sequin mermaid formal dress, which is excellent if you plan on dancing during the evening. The costume pinpoints and adds graciousness to every move your make, including those on the dance floor.
The spaghetti straps are perfect for dancers and those who want to enjoy the tunes of Charleston and other songs from the roaring 20s. You will impress everyone with this unique vintage style combination, and even women will love how you move with elegance!
Why Can't You Go Wrong with Mermaid Style 1920s Long Dresses?
Have you ever tried wearing a sequin mermaid bridesmaid formal dress? It is perfect if you are attending a wedding, but you can also take it to any other event, such as proms, cocktail parties, etc. Even if you are attending a roaring 20s Great Gatsby themed party, mermaid long dresses play to your advantage.
Their biggest benefit is that they follow the body shape and all the curves. Thanks to that, they can show off your biggest qualities and ensure head-turning as soon as you walk into the room.
It is up to you to choose the desired 1920s long dress, and pick its exact length. For example, a sequined costume inspired by art deco style can never look bad if the dominating color is black. Furthermore, you will ensure you look elegant and luxurious. The beaded flapper dress will demonstrate class, and the mermaid style will ensure that you look like you are Daisy Buchanan herself.
If you like to use the black color, you can combine it with gold in other 1920s long dresses.
Get these Stunning Long Maxi Prom Gowns!
For example, the mixture of black and gold will ensure you can experiment with accessories. While the best choice is wearing black satin gloves, you can also put on a cape, or choose to wear a petticoat over the dress. You have a variety of details available while ensuring you are still in line with the 1920s theme. A sequined flapper dress is best combined with a headband that features flowers or feathers. After all, that was the accessory of choice of many flappers during the roaring 20s.
Don't Hesitate to Experiment with Colors
If you are going mermaid-style, there is no reason why you can't experiment with colors. You can choose gowns with a sequin mermaid bridesmaid style that will fit right in with, such as the elegant dark green color.
The exquisite and unique vintage beads fit perfectly with an attractive-looking cleavage and a sleeveless costume that can be perfect for summer events.
You can't blame us for liking green, teal, and similar shades. After all, if you take a look at the evening dress 1920s flapper would wear, the odds are you will find at least one outfit in this color.
Get this 1920s style Flapper Dress!
The experts suggest going with a teal party dress whose length will be extended by spaghetti straps. It is not exactly a long dress, but it is great for formal style clothing items for special occasions. You stay in line with the vintage 1920s style while ensuring your moves aren't limited. That can be crucial when spending hours at the same event, especially if it involves a lot of dancing.
Can a Maxi Prom Dress Be Suitable for the 1920s!
Our answer is yes – maxi prom gowns sequin dresses can feature the unique vintage pattern style you always wanted. You should avoid going all-black or white (unless you are a bride). Instead, a maxi dress should be in gentle blue or similar shades. It is a mixture of lattice and floral beading that will make this formal evening dress look beautiful.
Tulle 1920 Long Dresses
If you are looking for something different, how about going with a long 1920s tulle dress? It is another excellent choice, especially if you are a boat-neck fan.
Get this 1920s Long Maxi Prom Dress!
You can experiment with colors, but silver speaks class and will ensure you look dazzling. Additionally, it is versatile, and you can wear it on different occasions.
Girls during the 1920s were huge fans of chiffon as their long dress material. That is understandable if you check out how chiffon made any dress formal.

The navy color will ensure you make that balance between retro and modern. Everyone will know that you were inspired by the 1920s, but your outfit will still look modern.
Here is the best advice I can give you – follow your intuition and desires! If you feel like wearing a flapper dress with glitter, that is the way you should go. But if you prefer chiffon instead of a sparkly pattern, that is perfectly fine, too.
I hope that my article has provided enough suggestions so that you can easily shop for the most suitable outfit for your upcoming party!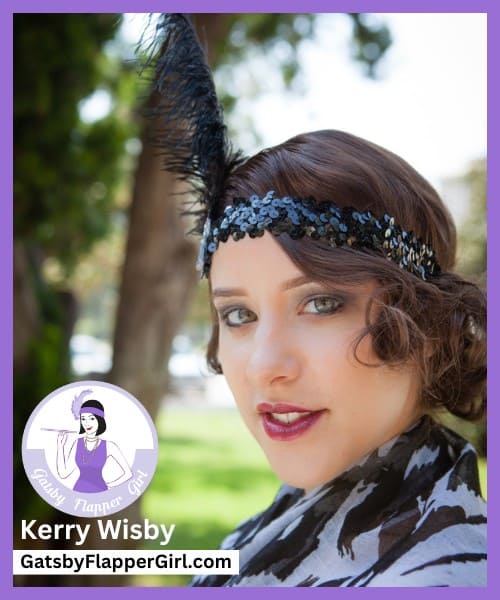 Written by Kerry Wisby – GatsbyFlapperGirl.com
Owner & Founder of GatsbyFlapperGirl.com
Kerry Wisby, a former teacher with a BA in English, is the founder of GatsbyFlapperGirl.com. With a passion for all things 1920s, including The Great Gatsby novel, her website is the ultimate source for Roaring Twenties fashion, history, and party ideas.  Read more about Kerry here.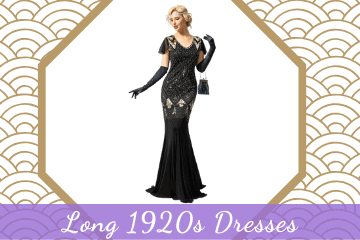 Stunning Long 1920s Dresses, Great Gatsby & Flapper Styles
Do you need a formal or mermaid style evening gown for a retro party? Check out our guide on long 1920s dresses, and learn how to choose the perfect costume!