Roaring 20's Plus Size Costume Ideas
This article contains links where we may earn a small commission at no cost to you: Learn more here
As a plus size man, you always want to look attractive and appear strong and confident. That is why you don't like costume parties – you are afraid that dressing up will make you look funny. On top of that, you added extra pounds, which comes to haunt you whenever a mirror is nearby.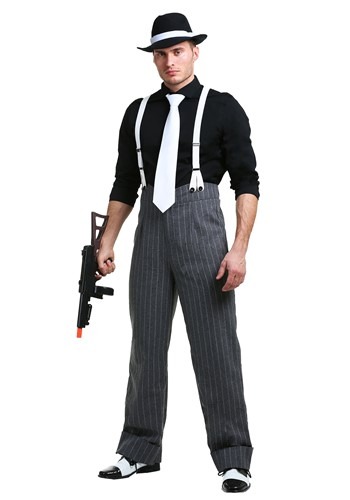 Fortunately, the roaring 20s were times of liberation and dedication to style. Men cared about looking nice, which is why they often wore suits, and shirts were almost mandatory. That is why a roaring 20s party could be an opportunity to jump into a beautiful classic suit and impress everyone at the event. The crucial thing is to pick a suitable men's plus size 1920's costume, and here is how to do that!
Roaring 20s Costume Ideas
Since roaring 20s are a themed party, everything starts by choosing your character. You have several ways to go, and those include:
Gangster Costume Ideas & 20's Costumes 
Mobsters were popular back in the day, so why not try to replicate the style of your favorite criminal for the costume party?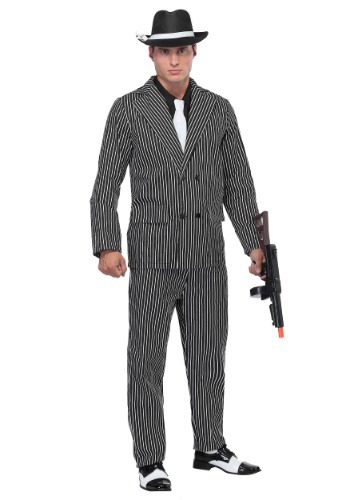 Men's Plus Size Formal and Classic Suit Costumes
These combinations usually include classic three-piece pin stripe suits without experimenting too much. You could portray a businessman or an ordinary man from society in most costumes. Alternatively, you could add some sequins to mix things up.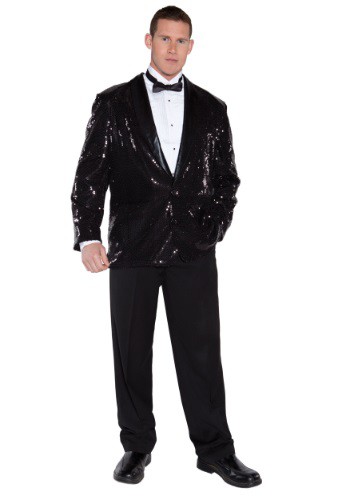 Get this Sequin Jacket Costume 
A Plus Size Newsboy 20s Costume
It features a different style with shorter pants, a patterned shirt, a cap, and a bag. It might be fitting for a younger crowd or even great for Halloween costumes!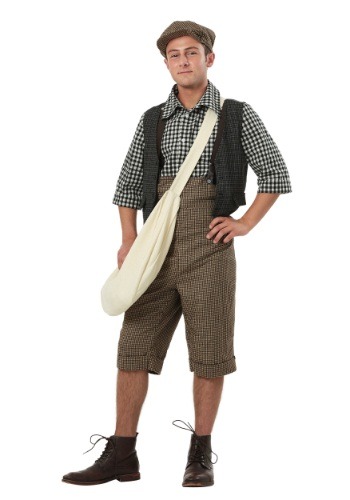 If you are going with a partner, they might need a matching costume, like a flapper girl. Going dressed as a mobster yourself could inspire your female partner to pick a female gangster costume, too.
A Shirt Is a Mandatory Addition for Any Gangster Costume
The majority of males wore shirts in the 1920s, which is why this clothing item is mandatory when choosing a man's plus size 20's costume. The good news is that you have a wide choice of shirts to pick from for your costume.
Click Here – To see all our 1920s Vests & Suspenders!
The first question to consider is how much you want to put an accent on the shirt. Some combinations allow you to skip wearing jackets, and that's where shirts become extremely important. For example, a fancy black shirt, which might be combined with suspenders, can be an exquisite 1920s plus-size costume.
Get this Mafia Underboss Costume
If you plan to wear a vest and jacket, go with a single-colored shirt. A simple white or black shirt will be enough since the main focus of the costume will be on the other clothing items. If you are going for a newsie's costume, you can consider a shirt that has a specific pattern.
Plus Size Roaring Twenties Jackets, Pants, and Suits
During the 1920s, men didn't deviate much when it comes to matching colors of their pants and jacket. That is because suits were among the favorite clothing items back then. That is why it might be easiest to go with a suit where pants and jacket are made of matching fabrics and colors. The classic black-colored suit will never go out of style.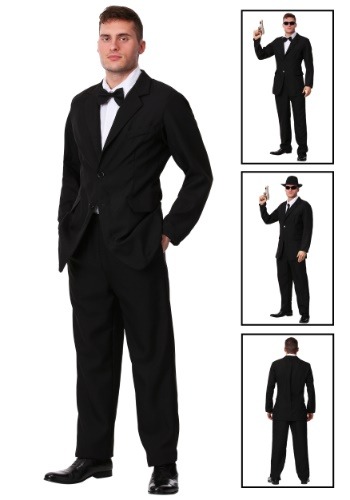 However, there is no reason why you wouldn't play around with the color and the design. For example, a striped jacket and pants, or at least a jacket with a pattern, could be a welcome addition. You can also be unique at the party by choosing vivid colors like red for your costume.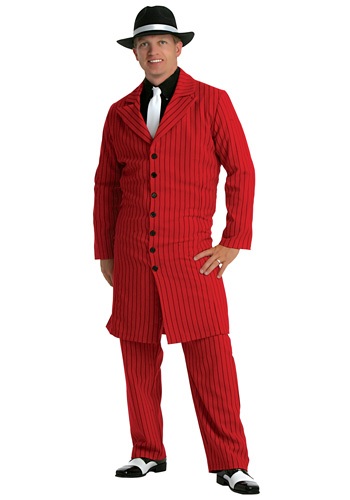 Get this Gangster Zoot Suit Costume 
Do You Need a Plus Size 20s Gangster Costume Jacket?
Most people would say yes, and they would be right when it comes to suitability for the 1920s. However, you can still consider pulling off an outfit or costume without a jacket. In that case, you should consider accessories to go with the shirt and pants.
Suspenders could be an excellent idea, and how about combining them with a tie? It is vital to give the impression you put some effort into the costume.
Plus Size Costume Ideas: 20s Hats and Other Accessories
Here is the list of accessories that you can consider for your 1920s men's plus-size costume:
A tie – all gangster costumes need a white tie, ideal to match with a black or red suit or shirt.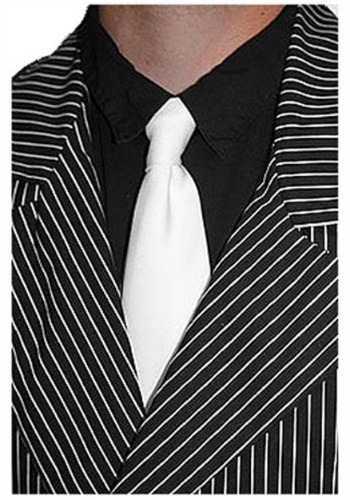 Get the White Gangster Tie
A bow – it is an excellent alternative for those who don't appreciate ties.
Vests – Any gangster costume looks great with a vest. Vests were a standard part of three-piece suits back then, which is why they fit well with the 1920s.  A must for all 20's costumes & ideal for the plus size man!
Hats – a wide range of hats were worn by the gentlemen back in the roaring 20s. Newsboys and the younger crowd loved caps, too.
Get the Cap
Click Here to see our full range of Peaky Blinders Hats!
Suspenders – another popular item of the 1920s.
Gun if you are going for a gangster (read more on 1920s Gangsters ) look, get yourself a gun. And yes, I do mean a fake one!
Shoes Complete the Look For Any Gangster Costume
The last thing to considering for your costume is the shoes. That shouldn't be a difficult choice because any classic and modern shoes should do. It is crucial to match them with your suit. Those who are wearing a brown costume can consider their shoes to be of the same color.
Shiny black shoes are a timeless piece for a good reason. Males usually have at least one pair in their wardrobe. If you think they are too modern, find more classic black shoes that fit the 1920s timeline. If you believe it is suitable for the costume, even boots are an item to consider.
Click Here to See Our Full Range of 1920s Men's Shoe Styles!
Frequently Asked Questions
What did men wear in the 20s?
During the roaring 20s, males dressed formally and sophisticated. However, there was a noticeable trend that clothing has become more casual and modern than before. Striped shirts were a frequent choice, as well as three-piece suits. Men also loved wearing sweaters as a casual outfit ( see more Casual 20s Outfits for Men ), and coats when it's cold outside. Caps and hats were popular, and there were also accessories like scarves, gloves, and pocket watches.
What should men wear to a Great Gatsby party?
If you want to dress like Jay Gatsby himself, go with a suit in classic brown color. A six-button button-up vest with a V-notch, jacket made of brown wool, a tie, and even a cane are all excellent choices. Alternatively, you can go for a mobster look from the 1920s and choose striped shirts and pants. Hats, pocket watches, and other accessories are welcome, but try to keep everything formal.
How did men feel about flappers?
Flappers were trying to even the playing field for men and women. They wanted sexual, economic, and other freedom for females, which is why they acted like men. Some males loved flappers who behaved liberated. Men loved coming to cabarets and theaters to watch them dance in provocative clothes, and enjoyed spending time with them. Other males, however, were disgusted with flappers as they didn't think women should behave that way.
Click Here to See More Costumes: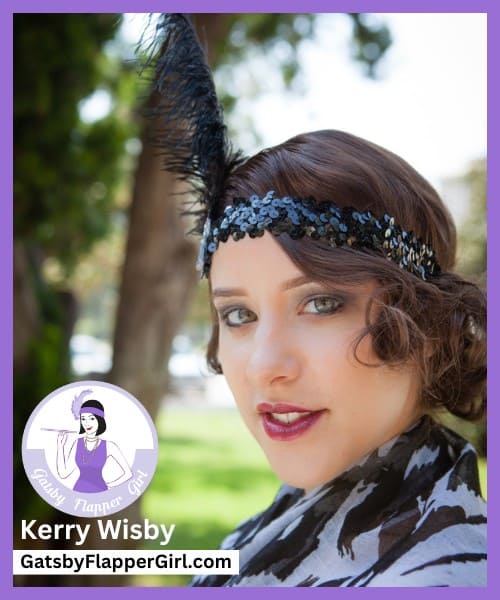 Written by Kerry Wisby – GatsbyFlapperGirl.com
Owner & Founder of GatsbyFlapperGirl.com
Kerry Wisby, a former teacher with a BA in English, is the founder of GatsbyFlapperGirl.com. With a passion for all things 1920s, including The Great Gatsby novel, her website is the ultimate source for Roaring Twenties fashion, history, and party ideas.  Read more about Kerry here.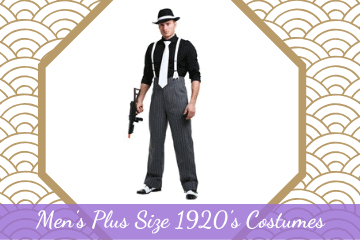 Men's Plus Size 1920's Costumes
Are you going to a 1920s party and looking for the perfect men's plus-size 1920s costume? Check out our picks to find your favorite!