Are you a fan of Bonnie and Clyde? Are you fascinated by this outlaw couple and the short but exciting life that they lived?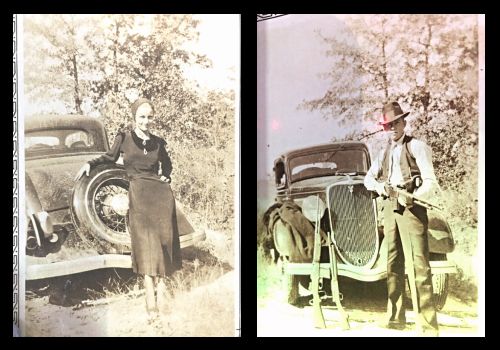 I know, I certainly am!
In fact, I was thrilled to have a chance earlier this summer to take a short trip to Las Vegas, Nevada for a weekend getaway.
Being so close to where Bonnie and Clyde's death car was stored, I just had to drive down to see it once more, and I'm so glad that I did!
The death car is still there in Primm, Nevada, but they've added a bunch of real life photos and even some items that belonged to the couple!
OK, there were also some cheesy slot machines featuring Bonnie and Clyde, but it's Las Vegas, so you can't expect anything else!
In today's article, I want to share some of the photos I took, as well as a real life video showing the reenactment by Texas Ranger Frank Hamer and Benjamin Maney Gault of how they ambushed the couple, and then the car, the bodies, and everything they found in the vehicle.
Come join me on this exciting little adventure through time.
Is There Real Footage of Bonnie and Clyde?
The answer here is kinda, sorta.
There is no live footage of this pair of criminal love birds, but there is video showing a reenactment by police officers and Texas Rangers Frank Hamer and Maney Gault, as well as a video of Bonnie and Clyde shot to death in their stolen vehicle.
I found this reenactment chilling. I hope in the near future I can take a trip out to Louisiana and see the Bonnie and Clyde Museum, as well as the road that they were traveling on when they were ambushed.
Did Bonnie and Clyde Actually Love One Another?
Only Bonnie Parker and Clyde Barrow know the answer to this question; however, from the photographs left behind, it certainly does appear that way.
There are quite a few photos of Bonnie and Clyde together, kissing, playing around, and one with Clyde posing with Bonnie in his arms.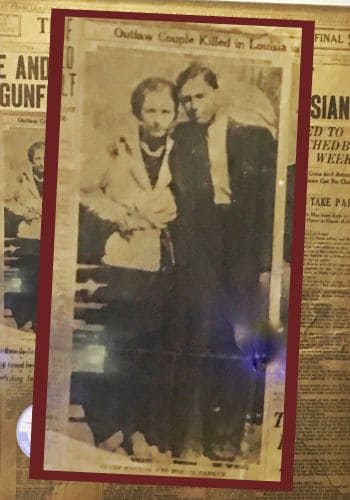 It was these photographs, taken while the couple were hiding in Joplin, Missouri, that made them famous among working-class folks.
Let's also take into consideration that, after Clyde crashed their vehicle and Bonnie's leg was severely burned, he took great care to make sure that she got any medication and pain relief she needed, and it's said that Clyde would carry her upstairs and other places that she found too painful to walk by herself.
Are There Any Pictures of the Real Bonnie and Clyde in Color?
There aren't many photos in color, but I do believe that some photos were colorized decades after they were taken.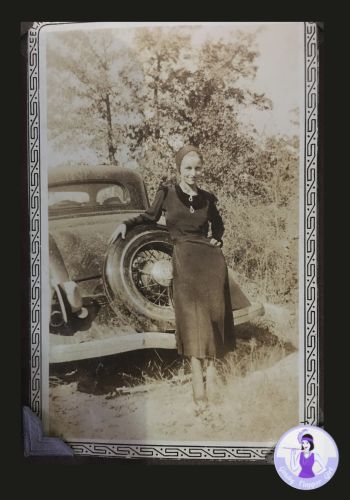 Remember that in the early 1930s, color photos were almost unheard of unless it was in newsprint. I believe there are some color photos from newspapers about Bonnie's funeral, but these were not available at the casino.
The Primm Resort and Casino had many photographs, some of which I had not seen before, including one of Bonnie and Clyde laid out on the coroner's table. That was in full color, but I'm guessing that photo was digitally colorized at a later date.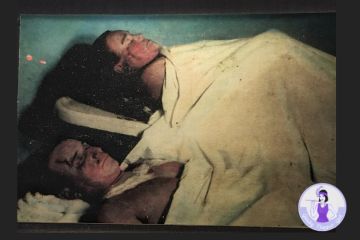 Their criminal exploits were extensively covered by newspapers and law enforcement at the time, resulting in a collection of black-and-white images that have since become iconic.
While some enthusiasts and artists have attempted to colorize these historical photos using modern digital techniques, these renditions are interpretations rather than true color photographs.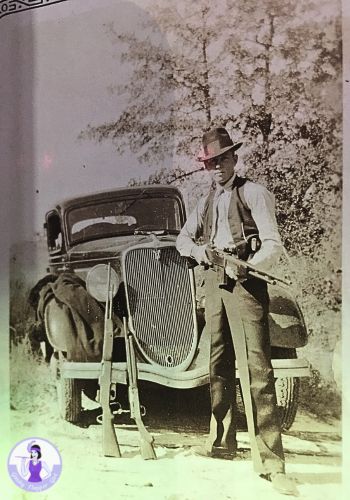 So, Bonnie and Clyde's visual legacy is primarily composed of black-and-white images, adding to the mystique and nostalgia surrounding their criminal escapades in the Depression-era United States.
What Happened to Bonnie and Clyde's Personal Items?
After their deaths, the families kept most of their items.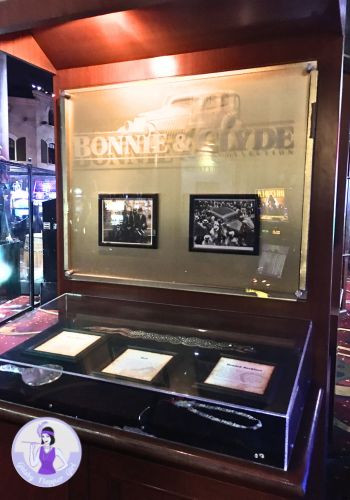 Some relatives gave away some personal items while others, especially Bonnie's family, auctioned off a few items, and a few were literally taken off of their corpses, but it's not known what happened to those items.
The majority of this couple's personal items are spread out between collectors, the Bonnie and Clyde museum in Louisiana, and somehow, a few ended up at the casino.
Held in glass cases, you can see a necklace that Bonnie wore, which looks very much like some Native American beadwork.
There is also her hairbrush on display, as well as a rhinestone belt which was so tiny, I honestly thought it was a necklace!
You can also see quite a few photographs that I had not seen previously, as well as newspaper clippings.
These pictures of Bonnie Parker, Clyde Barrow, and a few members of the Barrow gang (Buck Barrow, Henry Methvin, and others) help to keep their infamous story fresh and more vivid than newsprint alone.
Are There Real Pictures of Bonnie and Clyde's Death Car?
Oh yes! There are plenty of those!
Not only can you see old photographs taken soon after the couple was killed but also photos that I took of the car.
If you have a few minutes, I also made a short video of my experience.
Here's My Video of Bonnie & Clyde's Car Now – I Personally Discovered the Location!
After their violent demise in a police ambush on May 23, 1934, their bullet-riddled 1934 Ford V8 sedan became a grim attraction. Law enforcement authorities and the media captured photographs of the car, which clearly showed the extensive damage it sustained during the deadly encounter.
These photographs have been widely circulated in books, documentaries, and online resources, serving as a haunting reminder of the couple's infamous criminal career and violent end.
The images not only showcase the numerous bullet holes but also provide a visual record of the weapons and ammunition found inside the vehicle and on the crime scene.
The Bonnie and Clyde death car, with its historical significance and grisly appearance, has become an enduring artifact in the annals of American crime history, with the real photos of the vehicle serving as a chilling testament to their violent demise.
Where Is Bonnie and Clyde's Car Now?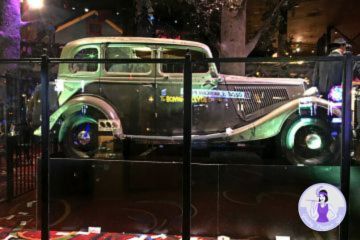 As of this writing, the infamous death car is located inside the Buffalo Bill Casino in Primm, Nevada.
The 1934 Ford V8 sedan in which Bonnie and Clyde met their violent end, has had an intriguing journey since the 1930s.
After the ambush that claimed their lives in 1934, the car was initially impounded by law enforcement authorities for evidence. It later went through several private owners and found itself displayed at various attractions and museums.
Read more from our website about where Bonnie and Clyde's car went over the years and other facts about this most notorious crime couple.
In 1988, Primm Resort and Casino purchased the car for $250,000. It's been on display at one of the three casinos sitting on the border of California and Nevada since that time.
It was loaned out to the FBI for a short period of time, where they used it as part of their display on terrorism at the Ronald Reagan Presidential Museum.
Does the Bonnie And Clyde Death Car Still Have Blood on It?
You won't find any bright red stains on the Bonnie and Clyde death car since exposure to air and the vehicle's travel over the past 90-plus years have faded the color, but you can still see some stains, even if they look more like ink than blood.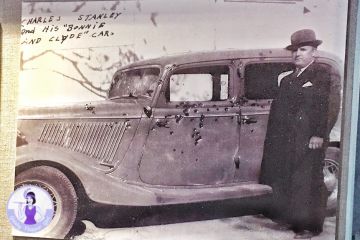 The 1934 Ford V8 sedan they were ambushed in on May 23, 1934, is a relic of American criminal history.
Over the years, the car has passed through various hands and been displayed in museums. However, regarding whether it still bears traces of blood from that fateful day, the answer is somewhat elusive.
The car is now stored behind glass partitions at Buffalo Bill's Casino, making it difficult to take clear photographs, but in the same way that the car's paint has faded over the years, so have the blood stains.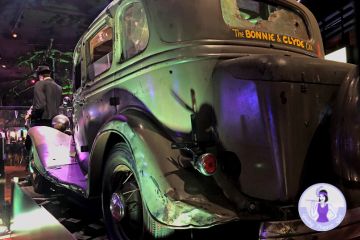 Look carefully at the photos and you can see what looks like black ink stains or black paint. One thing is certain, the bullet holes are easily seen, even with the reflection of the glass.
One Last Detail
These real-life pictures of Bonnie and Clyde are a grim reminder of their last days on earth.
I hope you've found the real-life photos of Bonnie and Clyde as captivating as I did when I saw them.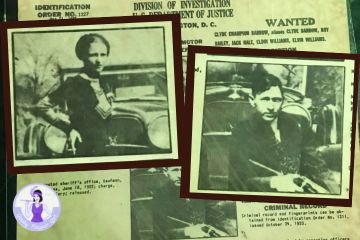 These photos are a visual history of the notorious criminal duo, Bonnie Parker and Clyde Barrow, and they offer a rare glimpse into their tumultuous lives.
These images transport readers back to the Great Depression-era America, where Bonnie and Clyde's crime spree captured the nation's imagination.
I not only wanted to show you these iconic black-and-white photographs of the infamous couple but also explore the context behind each image, shedding light on the circumstances, locations, and people involved.
Through this visual journey, readers gain a deeper understanding of the challenges and hardships faced by Bonnie and Clyde, as well as other gang members from a similarly destitute Dallas family, as they navigated a life of crime.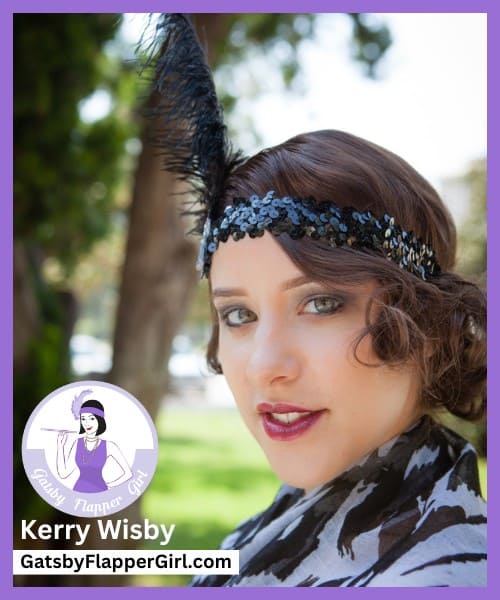 Written by Kerry Wisby – GatsbyFlapperGirl.com
Owner & Founder of GatsbyFlapperGirl.com
Kerry Wisby, a former teacher with a BA in English, is the founder of GatsbyFlapperGirl.com. With a passion for all things 1920s, including The Great Gatsby novel, her website is the ultimate source for Roaring Twenties fashion, history, and party ideas.  Read more about Kerry here.
Real Pictures Of Bonnie And Clyde: Faces Of The Infamous Duo
Step into history with authentic, captivating snapshots! Explore the real photos of Bonnie and Clyde's infamous journey in our revealing article