Costume parties with a 1920s theme are SO much fun!
If you love pink or coral and want to look the part, rest assured you can be a pretty flapper in pink with the 1920s dresses we're featuring in this article.
Take this stylishly demure pink party stopper.
Are you concerned about how the dress will fit because you wear a plus-size? Perhaps you're a petite who can't find anything that fits right.
Rest assured that you'll find the absolutely perfect dress for your flapper costume party right here. Side Note: You might also like to see our list of Great Gatsby Movie Costumes.
The Perfect Fitting Pink Great Gatsby Dress
First, let's look at some of the prettiest and best fitting pink 1920s dresses for your Great Gatsby party.
We love this dress because it looks like a satin slip or nightgown, but check out the fuzzy pink shrug! This is one of the hottest looks we've seen lately, and we bet you are going to rock this dress!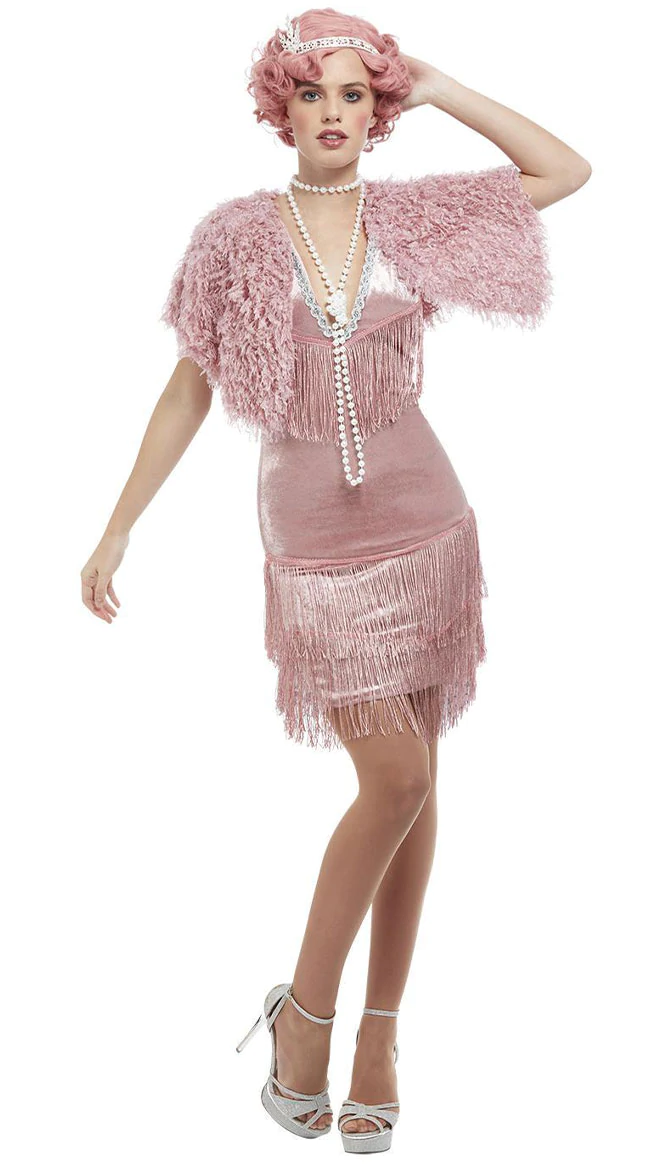 Looking for something soft and romantic? We absolutely love this divine dress because it flows like Daisy Buchanan's! Dress it up with a long string of pearls and a feathered headband or leave it as is for a tea party, you can't go wrong with this beauty.
If you want something that reminds you of old Hollywood movies, this pink fringe dress is exactly what you asked for. This perfect flapper costume dress has plenty of leg coverage and fringe, but it's the beading that will catch everyone's breath.
Don't forget the matching bucket bag to set off this dress like a true Hollywood star.
If it's your party, then you'll want to sparkle and shine like the stars. This elegant yet sparkly roaring 20s pink sequin dress is everything you could ask for and more.
Tons of fringe and sequins galore, everyone in the room is going to notice you when you make an entrance!
Plus-Size Pink Flapper Dresses
In order to pull off a flapper dress, it needs to fit just right. When it comes to plus-sizes, it can be hard to get the right fit, but we've done all the work for you.
One look at this stunning dress and you'll know that the fit will be perfect. It's more of a coral color than a bubblegum pink, but you'll love the way it looks and feels. The black lacy overlay and fringes emphasize your curves, too!
We can't get enough of that peacock fan and head band! This dress is going to look fantastic on you!
If you're leaning towards the classy, not trashy look, we've found the perfect fitting plus-sized dress!
Get the Plus Size 1920s Dress!
If you're thinking of mermaids when you see this dress, you aren't alone! What a beauty! We bet you wear this dress to more than just costume parties!
While this dress isn't completely pink, the pink-colored peacock feathered ( match with Peacock Feather Fan ) look is nothing short of stunning. We are in love with the asymmetrical hem that is sure to be a real head-turner.
Get this Feather Flapper Dress!
If you want a 1920s vintage garb that fits like a dream, you can't go wrong with any of the dresses listed here.
Hot Pink Flapper Dresses
Why be dull when you can stand out from the crowd?
Hot pink is always an attention getter, and you are sure to get plenty of attention.
Check out this little beautiful pink Gatsby dress! You can shake and shimmy the night away with tons of fringe to help you keep the beat!
Get this Sexy Roaring 20s Dress!
We really like this simple design that can convey either a super vintage dress or go all out modern-day party madness! Add a feathered headband and you're good to go!
Hot pink never looked so elegant! The extensive beading on this dress is what gives it the classic flapper look. Check out all the accessories that come with this outfit! All you need to add is your beautiful body, and you are ready for a night on the town.
We can't stop staring at this hot pink number, and we doubt anyone else will be able to turn away either! While it looks tight and slim-fitting, this pink sequin dress is actually made from a stretchy mesh fabric, so you know it will cling to you in all the right places.
If you are interested in style but not quite the hot pink, bubblegum look, this lightly hot pink dress might be what you're after.
With all the sequins that a flapper could ever ask for, this dress has it all. A stunning hot pink color that isn't too bright, glittery sequins that show off your figure, and a modest look that will make you feel beautiful yet comfortable.  Side Note: check out my other article on stunning purple flapper dresses for inspiration!
Petite-Sized Pink Roaring 20s Flapper Dresses
If you've been shopping for a beautiful pink flapper dress, but you wear size 2-6, you know how difficult it can be to find costumes in these sizes.
Search no more! We've found some truly stunning dresses that are guaranteed to fit you like a charm.
This soft, pink dress is simply dripping with elegance and vintage style (see more 1920s Pink Flapper Dresses here). Look at the beading and sequins! We love the see-through sleeves that add just the right touch of graceful sophistication.
Are you looking for beading and fringe galore? This champagne-colored dress has all that and more. Check out the dropped waist that was so popular in the 1920s. Add a feathered headband and a string of pearls for extra authenticity.
This pink dress looks like something Rose would have worn on the Titanic! We can't get enough of the heavy beading on this stunning dress. if you want a pink flapper dress that comes with all the accessories so you don't have to think about it, this one has it all! Everyone will be asking you where you got your costume when you wear this!
Are you less interested in flashy looks, but you still want to look authentic? This apricot/pink dress is exactly that. Beading and embellishments in the same color add authenticity without the glitter. You'll find this flapper costume is totally vintage but not loud or cheap looking. We love the twisted fringe that makes this dress stand out from the crowd.
Accessories for Perfection
Fans of flapper dresses should keep in mind that accessories can make or break your look.
All the best looking roaring 20s girls knew that by adding a headband, perhaps a fan or gloves, along with lots of long necklaces, they could change their looks in an instant.
Don't forget to add the right accessories to your outfit, such as:
Feathered headbands like this one
More demure, this headband still has vintage style
Perfect headband to match your hot pink dress
If you're not into feathers, a jeweled or beaded headband is another terrific look
Don't forget those strings of fake pearls
You can get both a string of pearls and matching earrings with this set
Get the Gatsby Necklace and Earrings!
We love this set that has everything for your pink flapper outfit
No matter which dress you choose, add the perfect accessories to pull off a smashing look that will make you the envy of the party.
Final Thoughts
We know that you want to look authentic as you dance the night away.
We've searched the internet so you don't have to. For a high-quality product that is going to give you many years of use, any of the above flapper dresses are sure to please.
We hope you find the perfect selection for your costume party. Be sure to order early because supplies often run out quickly the closer you get to Halloween.
You might also want to consider shipping times, which can hit delays.
Have a terrific party and happy days!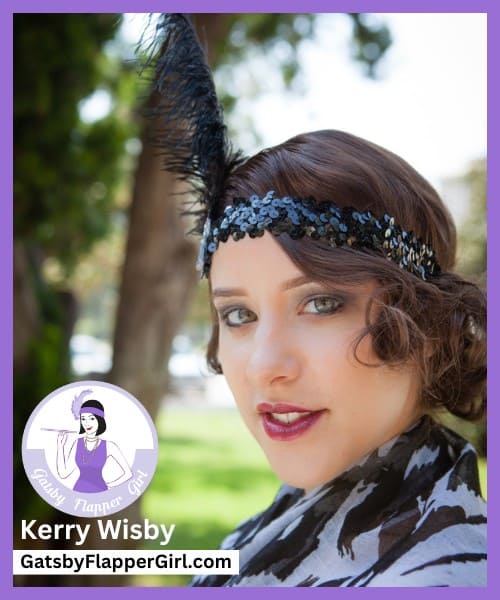 Written by Kerry Wisby – GatsbyFlapperGirl.com
Owner & Founder of GatsbyFlapperGirl.com
Kerry Wisby is the owner & founder of GatsbyFlapperGirl.com, your go-to source for all things 1920s & The Great Gatsby. With a passion for the era & a wealth of knowledge to share, Kerry is dedicated to providing you with everything you need to know about Roaring 20s fashion, 1920s history, & Great Gatsby-themed party ideas. Join Kerry in bringing the spirit of the Roaring 20s to life! Read more about Kerry here.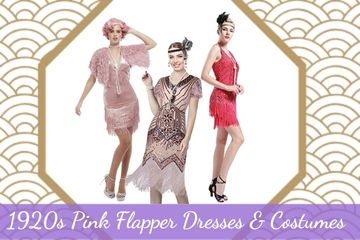 1920s Pink Flapper Dresses & Costumes for All Shapes and Sizes
Got a Great Gatsby party to attend? You're in luck! We've got the best pink flapper dresses to make you look perfect in your petite or plus sized costume!