If you've been invited to a Great Gatsby party, or you're thinking of throwing a costume party, the 1920s is a super fun theme that everyone loves and enjoys.
Whether you want to dress as a gangster or a flapper, you want a costume that fits you well.
Plus size flapper dresses can be hard to find, but not to worry, we've found a terrific selection of beautiful and authentic flapper costumes for your party or cosplay event.
You don't want to go to a Great Gatsby party or the local speakeasy cosplay event and not look the part!
Drop waist dresses with lots of beading, sequins, and fringe for a hem were the hot look in the 1920s, and we've found a big selection of plus-sized dresses to add to your dress collection.
Look the part and have fun at the same time!
Authentic 1920s Flapper Costumes
One thing that every flapper girl wore were dresses with a dropped waist that hit either the lower or upper hip region. Hemlines were often fringed to make a dress appear longer.
The benefits of fringe meant that you could look discreet while walking about, but you could flash some leg while doing the Charleston!
Many dresses used fringe as a part of the hem, but you can't shake and shimmy if you don't have fringe on the bodice as well!
Some women ask if all flapper dresses were sleeveless. You can choose a drop waist dress with or without sleeves, just make sure it has plenty of beading to keep the look authentic.
Flappers from the 1920s wanted to break free from their mother's traditional high-neck, long-sleeved dresses. In the 1910s, women were still wearing corsets, bustles, floor-length dresses and big, broad-rimmed hats adorned with feathers, birds, and even fruits.
It's no wonder that "modern" young women of the 1920s wanted to break free from those styles. They were ready to show a little skin and dance with complete strangers (something their mother's never would have approved of!)
You will see lots of flapper costumes with V-necks or deep scoop necks. Pick the look that you like best, and you can't go wrong!
Last, remember that a couple of accessories will take your costume from boring to beautiful. 
Any drop waist dress can go from the ordinary to the extraordinary with a few simple accessories.
What Accessories Go Well with Plus Size Flapper Dresses?
Glad you asked!
When it comes to Great Gatsby dresses or everyday flapper costumes, it's all about the accessories!
Start with the perfect plus-size dress then add accessories from head to toe. If your event is more casual, you might want to add a cloche hat. However, most flapper outfits are designed for parties or speakeasy visits, dancing, and drinking, so unless you are going to a tea party with your aunt, consider other headwear options.
Bob haircuts were popular, and if you have very long hair, you can wear a wig, but this isn't needed to look the part.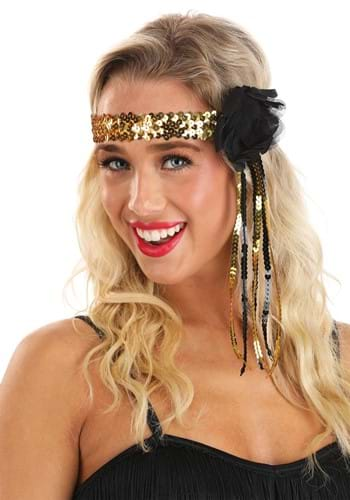 Otherwise, most flappers would wear feathered headbands or beaded headbands or both! This feathered gold headband shows what a flapper girl really loved to wear!
Don't forget makeup. You don't have to go wild, but most flappers began to wear more flamboyant makeup than their mother's ever thought was suitable.
This means red lipstick, perhaps some false eyelashes, eyeliner, and blush. You can draw some cat eyes with the eyeliner along with some dark-colored eye shadow for a super sexy flapper vixen look.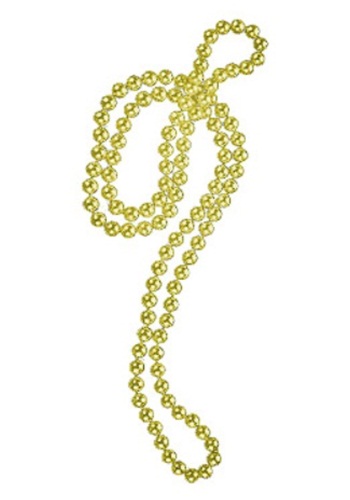 No flapper costume would be complete without costume jewelry. You will see photos from speakeasies and parties showing women wearing several layers of fake pearl necklaces, or big gold or silver-colored necklaces.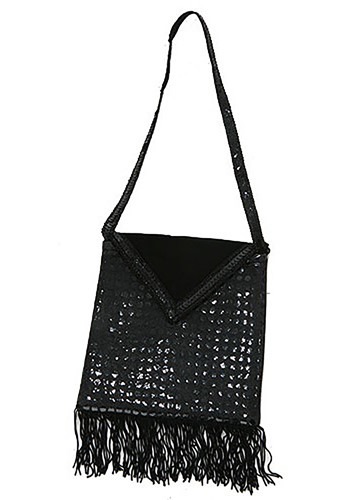 Depending on the look you want to create, you can accessorize with elbow-length gloves, cigarette holders, and small, beaded purses or clutches.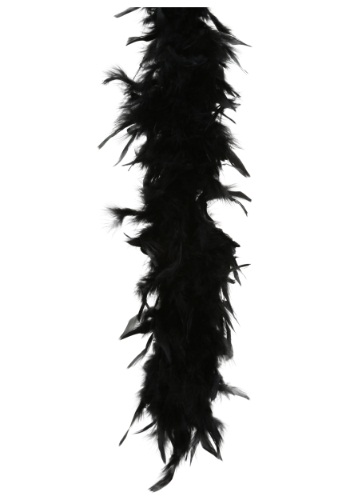 In case you were wondering, yes, feather boas were a thing. You can pick any color you like since the boa can either match or contrast your dress color. Of course, black goes with anything, right?
Don't ruin your outfit by wearing modern-day shoes! Flappers were fond of T-strap, low-heeled shoes for dancing the night away!
What Drop-Waist Dresses Are Best for Plus Size Girls?
Even when you are attending a costume party, everyone wants to look their best, right?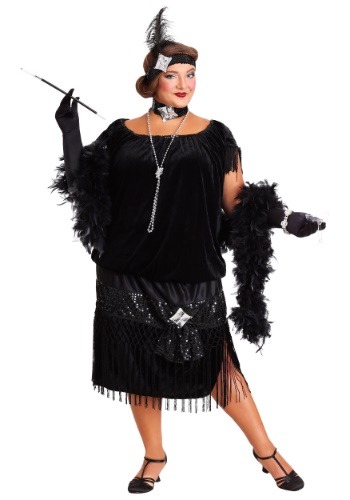 Get the Plus Size 1920s Dress!
Black is always a slimming color and, best of all, it goes with everything. A black flapper plus-size dress paired with bright silver accessories is always a winning combination!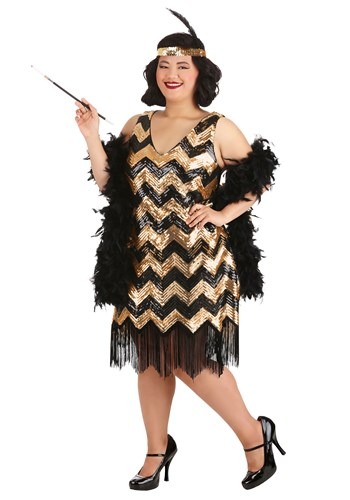 If you're the kind that likes to make a dramatic statement, try one of the gold-and-black sequined plus-size flapper dresses for a beautiful show stopper. You will look 100 percent authentic while rocking the house with your outfit!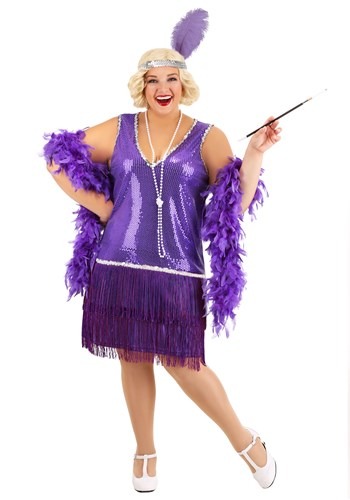 Get the Purple Flapper Costume!
What if you don't want to wear the demure and quiet black dresses that most women wear? For those wild girls who just wanna have fun, this purple flapper costume is right up your alley! Add a feather boa and cigarette holder, and you will be the talk of the party!
Get this Stunning Vintage Dress!
If you want to wear bright colors but aren't ready to flash that purple dress above, then white and black plus-size Gatsby dresses might be what you have in mind. With tons of gold beads and sequins, this dress is one of the true vintage designs that, frankly, never went out of style!
If you want something that is dance-ready but still looks like one of those elegant vintage designs that were so popular in the 1920s, this beautiful line of Gatsby dresses is sure to match your style.
Choose your favorite color, like coral, blue over white, or classic black. Whatever the color, you can't go wrong with this heavily sequined and beaded plus-size dress.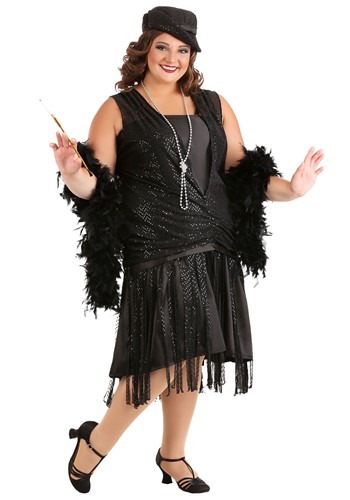 To all the women who want to look good but don't want to look like everyone else, this drop-waist, vest dress is the answer. This dress comes with a fabulous hat that makes this entire outfit stand out from the others.
Can Plus Size Women Wear Gangster Outfits?
You bet they can!
We usually think of gangsters like Al Capone or Baby Face Nelson, but all these gangsters had female companions called Molls.
You can dress like a 1920s gangster and look sexy as you hit up a local speakeasy for casual drinks with friends.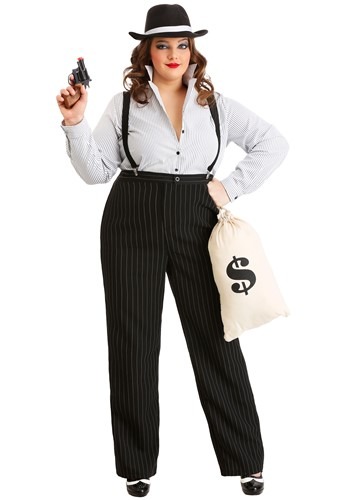 Get the Plus Size Gangster Outfit!
This gangster outfit is perfect for your 1920s collection. Create your own look by adding a money bag or stuffing some fake cash in your brassiere! Add a fake pistol or maybe a cigarette holder and let your plus-size outfit light up the room!
Do you love the pinstripes that gangsters wore in the 1920s? Wear one and make other party-goers gasp in disbelief! You can make every girl at the party jealous with your good looks and sense of style.
Go all-out flapper girl or hit the streets with your gangster style. Whatever plus-size style you choose, you're going to look outstanding!
My Final Thoughts on 20s Drop Waist Plus Size Dresses
Remember that a plus-size flapper dress makes only half of the story. It's your accessories that will complete your fashion statement.
Flapper costumes should include a headband, and several layers of costume jewelry (pearls were especially popular), and don't forget those T-strap shoes!
More than anything else, have fun!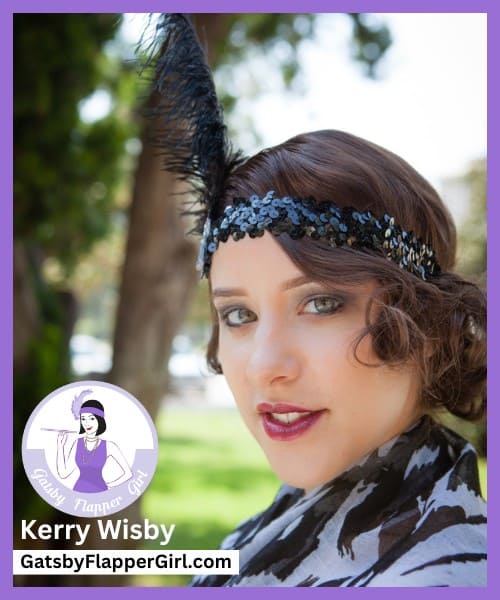 Written by Kerry Wisby – GatsbyFlapperGirl.com
Owner & Founder of GatsbyFlapperGirl.com
Kerry Wisby is the owner & founder of GatsbyFlapperGirl.com, your go-to source for all things 1920s & The Great Gatsby. With a passion for the era & a wealth of knowledge to share, Kerry is dedicated to providing you with everything you need to know about Roaring 20s fashion, 1920s history, & Great Gatsby-themed party ideas. Join Kerry in bringing the spirit of the Roaring 20s to life! Read more about Kerry here.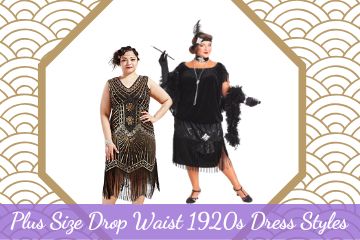 Plus Size Drop Waist 1920s Dress Styles Guaranteed to Impress!
Got a costume party or maybe a Great Gatsby cosplay event? If you can't find the perfect drop waist in a plus size, look no further, we've got what you want!