Stunning Vintage Evening Gowns in Plus Size
This article contains links where we may earn a small commission at no cost to you: Learn more here
Did you get an invitation to a roaring 20s party, but you are worried about finding the right outfit? Allow us to let you in on a little secret – online stores offer vintage plus size formal dresses of various sizes! That means you can relax and focus on discovering the perfect costume for the upcoming event.
In this article, we will show some plus size vintage formal dresses that fit the 1920s era. Our goal is to help you pick a suitable outfit, impress everyone with your appearance, and feel great while wearing the dress!
What Are the Best Vintage Formal Dresses Plus Size Women Can Wear?
The good news is that you can pick from a wide variety of clothing combinations. It all depends on how you want to look, but if you want a mixture of elegance and classiness, you can't go wrong with a lace outfit collection.
That's why our first item on the menu is a vintage style formal dress where the black color dominates.
You can search for a knee-length vintage formal dress inspired by the 1920s. The lace was a preferred material in that era, which means you will fit the timeline properly. It's possible to shop for different colors, but black is always a smart choice for plus-size women. (Also check out all our plus size drop waist 1920s dresses here)
If you insist on colors, the experts suggest sticking to dark shades. For example, you might love a vintage plus size formal dress in navy color.
It is every bit as elegant as black, especially because of the lace used as the preferred material. The medium dress length and short sleeves will ensure you look ready for a formal 1920s-themed event organized by your company or friends.
You can also consider a classic flapper style 1920s plus size dress with tassels. It's possible to mix different colors in this category, but you can't go wrong with a mixture of black and gold.
The tassels will ensure you look dazzling and like an artisan from the roaring 20s. The round neckline and the fringe hem fit the timeline perfectly, and the embroidery work will impress you.
Add Some Sexiness to Your Vintage Lace Plus Size Dress
If you are looking to turn up the sexiness, you want to look for plus size vintage formal dresses with a V-neckline. Apart from that, it's always fun to pick a provocative material like lace and combine it with an attractive color like burgundy.
Although this is semi-formal wear, many girls choose these as plus size prom dresses for their big events. Make sure to find a dress that follows your body shape in the upper part while it's free-forming in the lower part.
Is It Time to Wear A Fringe Flapper Dress?
Not many women have the opportunity to wear a flapper-style costume in their lives. If the time has come for that now and you received an invitation for a 1920s party, you want to get the best fringe flapper outfit out there.
Now, you have two options, and it all depends on how sparkly and glittery you'd like to look. If you want to go with the classic roaring 20s style, how about a glitter flapper dress?
These are plus size formal dresses that flappers loved wearing at the time. The combination of black and red will ensure you look dazzling and fiery at that party. Thanks to the spaghetti straps, you will look brilliant on the dance floor. As an extra, we suggest getting black satin gloves and a headpiece that a flapper would wear.
If you don't plan on spending time on the dance floor, you can consider a fringe sequin flapper dress with a V-neckline.
You want to find a cute little dress that will secure you receive compliments from everyone at the party. The sequins will ensure you fit the 1920s, and the great thing about these dresses is that they are comfortable. Thanks to that, you can wear them for hours.
Combine Vintage and Modern Styles 
If you are worried about looking too vintage in your formal dress, how about trying something new and mixing it with a modern style? You can go with a standard mermaid style dress that would feature an intriguing primary color like navy.
Although it features vintage-inspired sequins and spaghetti straps, this dress looks like something women would wear today. That means you follow the fashion guidelines for the 1920s while ensuring that the style fits your preference, too.
You can also go with a tulle plus size vintage formal dresses. These offer a mixture of elegance and a bit of provocativeness that every woman likes in their clothing. The V-neckline and the see-through lower section that shows the knee is an excellent choice for formal events.
Black is a sign of elegance in all eras, which is why a fringe plus size vintage party dress can be a smart selection.
Thanks to the spaghetti straps, this dress follows your every move. That ensures you look dazzling on the dance floor and remind you of a true flapper from the 1920s.
Maximize Elegance –
Vintage Evening Gowns Plus Size
Are you dreaming about wearing a beautiful long plus size dress for a formal event? If you need help finding the right clothing outfits inspired by the 1920s, you can go with an A-line clothing combination.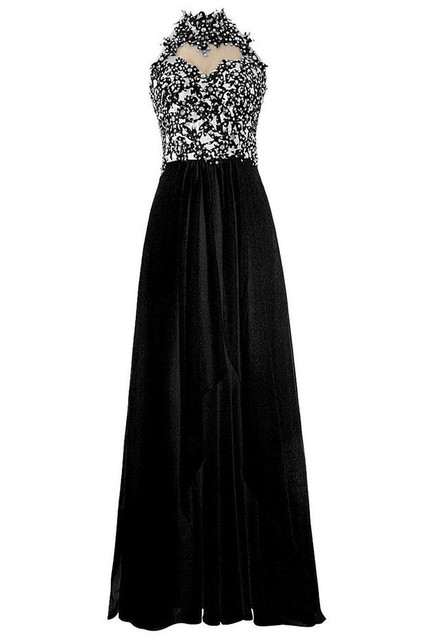 You can pick a high-neck dress with beadings that will add to the elegance. The lower section can be from satin and go all the way to the floor. The A-line design will deliver results that hide your imperfections, and you will look confident wearing the outfit. Another suggestion might be a classic sequin flapper long dress.
These combinations are right out of the 1920s, and you will receive compliments for how elegant you look.
That rounds up our suggestions, so now is the right time to head back and find your favorite. We hope that you loved our vintage plus size formal dress selection. Take your time to pick the right combination, and we are confident you will impress everyone at the upcoming roaring 20s party!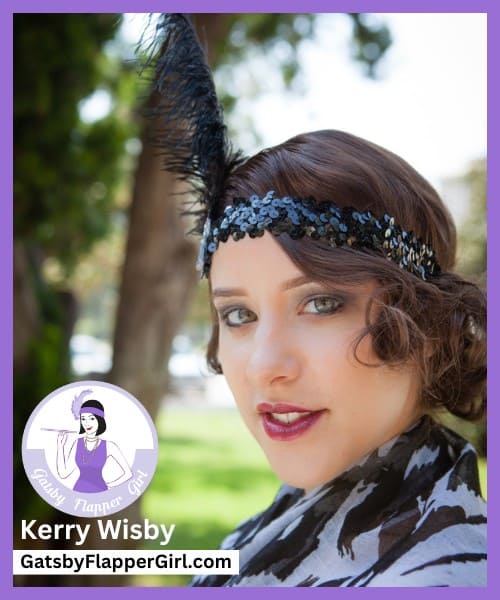 Written by Kerry Wisby – GatsbyFlapperGirl.com
Owner & Founder of GatsbyFlapperGirl.com
Kerry Wisby, a former teacher with a BA in English, is the founder of GatsbyFlapperGirl.com. With a passion for all things 1920s, including The Great Gatsby novel, her website is the ultimate source for Roaring Twenties fashion, history, and party ideas.  Read more about Kerry here.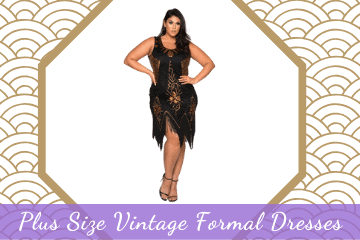 Plus Size Vintage Formal Dresses
Have you received an invitation to a 1920s party? Check out all our flattering plus size vintage formal dresses. Click here to find the perfect roaring 20s outfit!