The Best 1920s Red Dresses to Wear to a Great Gatsby Party!
This article contains links where we may earn a small commission at no cost to you: Learn more here
Did you get that invitation to a 1920s event, but you are unsure what to wear? If you are aiming for that dazzling and provocative appearance, can you imagine a better choice than a red flapper dress? 
We all know that red is a symbol of passion and fire, so how about finding a costume that will attract everyone's attention? Here is our choice of roaring 20s red flapper dresses to wear to the upcoming event!
Be the Most Elegant Person at the Event
Is the event you are attending formal, and you need to look elegant? If that's the case, it's time to find a stylish dress that fits the 1920s fashion.
If you like glitter, a fringe red flapper costume could be a wise choice.
The combination mixes sequins and beads, and this embellished costume that's art deco inspired also has spaghetti straps at the knees. That will ensure your dress moves with you while you dance to those jazz tunes at the party.
Women who are in the mood for spaghetti straps might consider a different red and black combination dresses.
If you go with a sleeveless dress, a V-neck combination may point out your shoulders and cleavage. That's why gloves and a necklace could be the most important accessories if you want to keep things elegant. A headpiece and matching black shoes are all you need to make your 1920s costume perfect.
Women who have long legs can't go wrong with a sequin long tulle vintage red flapper dresses.
The see-through material that goes all the way to the ground will help to maintain the combination elegant. However, it will also show your figure proudly while you are walking or dancing.
What Dresses to Wear If You Are Going with a Partner?
Do you have a Great Gatsby to take to a party? If you want to find the right dress to match your partner's costume, an elegant tea-length fringe red flapper dress could be a perfect pick.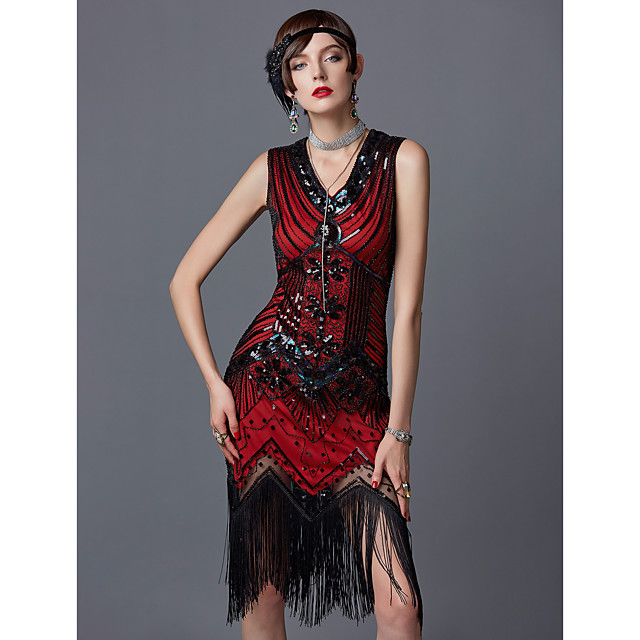 Don't hesitate to go for a V-neck style and the overall asymmetrical look of the dress. Make sure to get the matching but comfortable shoes because you don't want your legs to hurt once you come back home.
If you agree to go with more provocative costumes, you can search for fringed red flapper dresses that point out the cleavage a bit more.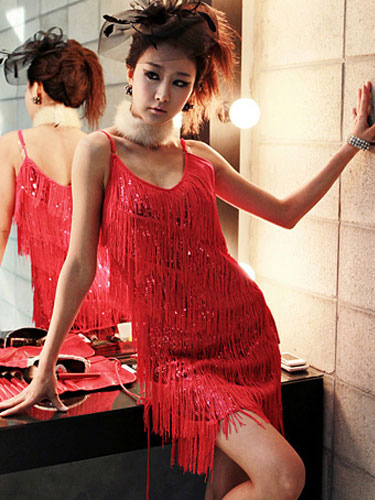 These dresses often feature glitter, which is something you could embrace if you search for inspiration in the roaring 20s vintage clothing.
Dresses Looking Sexy Was the New Trend
In the 1920s, it was a new trend for women to dress more provocatively. It was all a part of the desire to pinpoint females were free from any constraints, and they could wear whatever they find suitable.
Do you want to get the best sexy red flapper dress inspired by the 1920s? How about looking like a performer in the 20s and even adding a feather headpiece to your fringe costume?
If you shop for a sequin flapper red dress with spaghetti straps and fringed hem, it will exceed all your expectations. Use the information available to pick the right size, and don't forget that matching red and black has always been a sexy color combination.
Women who prefer classic single-color red flapper dresses can go with a provocative sleeveless combination.
While it's not exactly red, the burgundy features fits well with the vintage gold features. These items also resemble the 1920s fashion perfectly, and you can combine it with a vintage product from the 20s like feather boa for added elegance.
You Can't Go Wrong with Sticking to Classics
Women who don't appreciate experimenting might like a style that mixes vintage and modern. That's why the perfect red flapper dress can be of the length up to your knees.
The beaded overlay will ensure that you follow the 20s era, and the costume will follow all your curves. As for the price, you can go for an affordable option to wear a couple of times or shop for a dress that will last longer, and you could wear it more often.
If you like scarlet red shades, you can look for art deco items in this color.
The see-through sleeves will give that touch of graciousness, while the fringed hems will ensure that you follow the era. These costumes can also be the perfect fit for a Great Gatsby date if you are going with a partner.
You can also consider a costume with sequin-trimmed shoulder straps and neckline.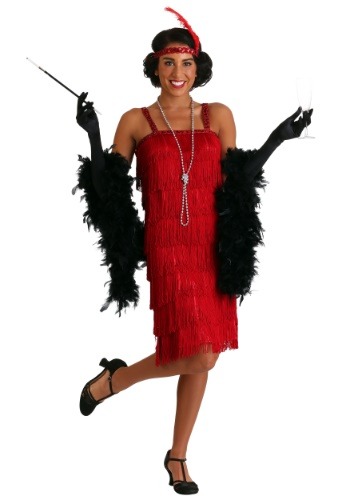 The pullover sheath dress could look even better if you find multiple tiers of fringe covers. These red flapper dresses will remind of those who danced in clubs in Chicago during the 1920s.
Are There Plus Size Red Dresses Available?
If you have a couple of extra pounds, that shouldn't stop you from looking dazzling! You want to look for a dress that will follow your body's curves, so how about placing an order for a sequin flapper dress?
This plus size vintage dress in a maroon shade, combined with a fitted silhouette, will ensure you look elegant. The tassel details and pattern sequins will complete the 1920s era. It's easy to put the dress on since it has a zipper on the side.
If you want to take provocativeness to the next level, you can go for a short plus-size stretch red flapper dress. You'll go sleeveless, which makes this combination perfect for summer parties.
Get the 20s Plus Size Flapper Outfit!
And the best part is you don't have to look for any accessories. If you find a product that includes gloves, a headpiece, and a cigarette holder, you'll be ready to go!
Finally, it's also possible to go with a classic 1920 red dress.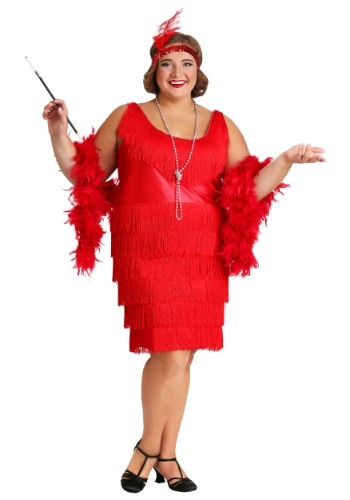 These feature a standard red color, and they are a perfect replica of the roaring 20s clothing and fashion. Don't forget that the devil lies in the details, so go ahead and pick matching shoes to round-up your appearance.
Final Thoughts on a Red Gatsby Dress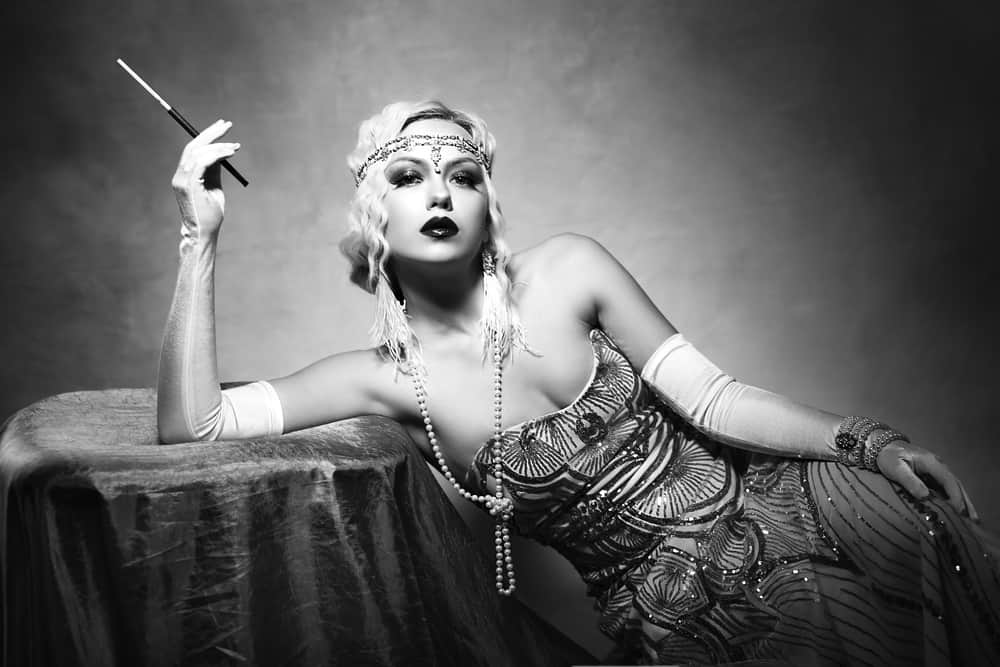 As you can see, there is a wide choice of 1920s red flapper dresses available. It shouldn't be a problem to find one that suits your needs. Apart from ensuring the dress matches your style, don't forget that you should feel comfortable in it, and the price should fit your budget. The result will be an inspiring costume that everyone at the event will love!
After a different color? Click below to see: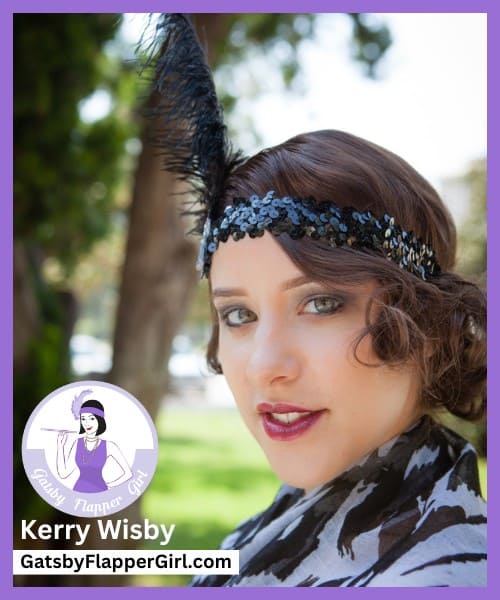 Written by Kerry Wisby – GatsbyFlapperGirl.com
Owner & Founder of GatsbyFlapperGirl.com
Kerry Wisby, a former teacher with a BA in English, is the founder of GatsbyFlapperGirl.com. With a passion for all things 1920s, including The Great Gatsby novel, her website is the ultimate source for Roaring Twenties fashion, history, and party ideas.  Read more about Kerry here.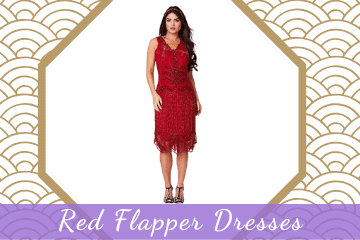 1920s Red Flapper Dresses & Costumes - Stunning Designs & Styles!
If you are dreaming about achieving that dazzling flapper look, finding the right dress is imperative. Check out our selection of red flapper dresses!