1920s Mens Suits – A Top List and a Detailed Guide
Call me old-fashioned, but I would love that I can get into a time-travel machine and head to the 1920s.
It was a post-war time where everyone seemed to enjoy themselves. You could also call the 20s the era of fashion beginnings. People didn't hesitate to experiment with colors, and you always knew how to dress up stylish. For men, that required a stunning suit that exudes elegance and class.
Get the Suit!
Today, we have costume parties and themed events where you can dress up as if you've come from the roaring 20s. Depending on the suit you purchase, it is possible to wear it for work or other formal occasions.
If you ask me, men whose dress code is inspired by the roaring 20s are elegant and sexy. After all, Buster Keaton, Duke Ellington, and even Lucky Luciano all dressed well, and women loved them for that.
If you could ask Bonnie Parker, I am sure she would tell you that Clyde Barrow's style is among the reasons she stayed by him until the end.
Are you a fan of 1920s fashion? Or you are only preparing for a themed event, and you want to look great? Either way, here is a selection of amazing suits inspired by that time. Take a look at the guide and find your favorite!
You Can Never Go Wrong with Grey
You want to look fantastic, and you need the look to fit into the 1920s theme. Whether you plan to wear it on single or multiple occasions, you don't want to overspend. In that case, you can't go wrong with the YFFUSHI brand, which designs impressive roaring 20's suits that look modern.
If you are not a fan of experimenting, or you want the most frequently worn color from the 1920s, you cannot go wrong with grey.
Now, you can choose between different variants of grey. For example, take a look at this beautiful dark gray combination.
The color is a timeless classic, which means it will fit all events. Yes, you can wear it to a costume party to look you are coming in the 1920s. However, you might want to combine with a cool hat or other accessories. And who's to say you can't wear it to proms, weddings, and other formal events?
The suit is of exceptional quality, especially if you consider the price. The manufacturer used a mixture of viscose and polyester to ensure optimal breathability and sweat-resistance. Although the suit features a slim-fit design, it is only a bit tighter than regular clothing. The only item that stands out is the vest, which is quite tight. However, you can always mix and match it with other vests to secure a proper fit!
The Light Variant of the Grey Suit
If you would like a lighter color combination, how about going with the light grey?
The manufacturer pinpoints that the photos aren't 100% true to the actual suit color. They might seem a bit more purple, depending on the camera quality. But I say that it doesn't matter because this suit is amazing!
So, what if it is a mixture of light grey and purple shades? It gives that dose of elegance and class, and makes you look like a confident man! I am sure nobody will have anything against looking that way, right?
You can breathe and move freely in this suit, and it is worth noting that you get the trousers, jacket, and vest. That will round up everything you need to head to a 1920s party. The only thing missing is the shoes, and you can consider a classic necktie.
The suit doesn't come with inside pockets, and you can't remove the pocket square on the lining. However, I don't see that as a problem because it makes the entire combination unique.
If you don't like the grey shade and you would like to experiment, YFFUSHI has other colors available for you. From navy and yellow to pink and red wine, it is up to you to choose a favorite shade. However, I don't think you will find one matching roaring 20s more than grey.
Are You in the Mood for a Checked Suit?
If you've watched vintage movies, and I am sure that you have, you noticed at least a single cool dude wearing a checked suit. Checked and striped suits might have been connected to gangsters at the time, but that doesn't mean the good guys didn't wear them. On the contrary, stylish males of the roaring 20s loved nothing better than a cool checked suit!
Here is an amazing suggestion for a checked outfit in the blue and black combination.
You get three pieces here, including trousers, a jacket, and a vest. In other words, a complete 1920s suit! The trousers have an adjustable waist, which means you can find a comfortable position easily.
The two-button closure is a modern touch, but the overall design is vintage, and that is what's important. The cotton-blended material is very comfortable and breathable. You will be able to wear the suit the entire day and still feel great!
The clothing combination also has enough pockets for your valuables. Pressed creases are a nice touch on the pants, and I also noticed the two side pockets on the waistcoat. That is both convenient and modern, and also a sign that the manufacturer tried about the product.
The suit will last for a long time since it is made of durable materials. However, make sure not to put too much pressure on it when ironing, and don't forget to unbutton the jacket before you sit!
Go Full Vintage 1920s!
Take a close look at the previous suit presented and notice that it is single-breasted. Those suits are extremely popular now, and they have been since World War II. However, if you want to replicate the 1920s faithfully, you can also consider this double-breasted variation.
According to experts, double-breasted suits are somewhat more formal. If yu ever want to wear the jaket with jeans, it is much better to go with a single-breasted variant. But ultimately, this is all a matter of preference.
Nobody can neglect that both suits from Cloudstyle look impressive. This double-breasted variant has the navy design to make you look like a businessman. The jacket features the two-button fastening, as well as button cuffs that are non-functioning. It is worth noting that you have two pockets on the front and two on the inside. The vest matches the suit to complement the overall vintage appearance.
Both suit sets are slim fit, but the manufacturer includes recommendations based on your height. If you take a look at the size chart, you shouldn't have a problem finding a suitable size!
Stand Out at the Theme Party with a Purple Suit!
I mentioned that people loved using colors in the 1920s, and that is a fashion fact you can use to your advantage. Suits are the trademark of men fashion in the roaring 20s, but not many males dared to wear purple!
Today, the situation is a bit different, but you can still stand out at a 1920s event with a purple suit. Take a look at this wonderful combination designed by Hanayome!
I have a friend who purchased this suit, and oh my God, he looked stunning in it! That being said, you can choose from 18 color variations ranging from classic to more daring designs. Every man will find something he likes, but if you want to impress everyone, purple is the way to go.
The suit itself is of excellent quality, and it contains a mixture of cotton and polyester (80/20 ratio), the classic two-button closure and a matching vest under the jacket.
Do You Like Wearing Linen Suits?
Linen is the favorite material for many men, at least when it comes to suits and shirts. In that case, I have good news for you. Yunclos designed this amazing linen suit to fit the vintage style.
The devil lies in the details, but with this suit, the amazing design lies in the details. Look at those retro accessories, such as the four sleeve buttons. Their brown color perfectly complements the beige suit and vest. Multiple pockets and the adjustable back strap for the vest are convenient.
As for the pants, you will find that they have a flat front. The zipper and the button allow you to find the perfect fit easily.
The linen material is perfect for summer events held out in the open. If you ask me, the beige color is ideal for the 1920s-themed occasions. But it is worth noting that you can also go with modern light-blue or green.
Gangsta Style 1920s
When will you get an opportunity to dress up like a gangster if not at a roaring 20s party? And what better way for people to understand your costume than going for stripes?
YFFUSHI is the most reputable brand in the vintage suit industry, and they are behind this striped gangsta-like set.
I love the yellow-green combination since it screams, "look at me; I'm a mobster!" If you can add an amazing hat with this suit and vest set ( see more 1920s Men's hats ), you will look like you are planning to start a crime network.
The suit utilizes a one-button closure, and it has a vent at the back center. You will also find a notch lapel and patch-style pockets. The cuffs come with four sleeve buttons for additional elegance.
You will look great, but your comfort won't suffer either. YFFUSHI uses high-quality materials, and this suit offers a mixture of polyester and viscose. The materials are comfortable, skin-friendly, and long-lasting.
BONUS: Fancy a Vintage Parsley Vest?
You might have a 1920s suit already, and you don't feel like investing in another one. However, you would like an extra touch of vintage for the upcoming party. Perhaps people already saw your suit, and you are looking for ways to spice up the combination. If that is the case, you need a paisley vest from ZEROYAA!
Check out the vest and notice the unique design. The gold pattern will go fine with black suits and white shirts. If you are not a fashion freak, you can't go wrong with that. Alternatively, don't be afraid to get creative and match it the way you want!
Gold reminds me of roaring 20s, but you can add a personal touch by going with burgundy or light blue. Either way, this paisley vest is affordable, but of high-quality. The microfiber material will last for a long time, which means you will wear the vest for a long time.
Frequently Asked Questions
1. What Is a Roaring 20s Attire?
The '20s was the time when the fashion got modern and liberal. However, formal occasions still required wearing a suit, which means a shirt, pants, and a jacket. Many men followed all that with a vest, as well as accessories like neckties.
2. Why Did Everyone Wear Suits in the 20s?
It seems like all men were wearing suits in the 1920s. And while it is true that pictures were not as commonly taken as today, there is more to it than that.
First of all, a suit was an excellent way to show that a man cares about his appearance and elegance. Apart from the style, it also showed class. It wasn't common for men to have numerous suits, and most had only several in their wardrobe. However, if you were invited to a business or formal event, it was given that you will dress up in a suit.
3. What Is The Great Gatsby Dress Code?
If we are talking about formal events and costume parties, it is all about elegance. You cannot go wrong with a medium brown, light or dark grey, and even a blue suit. A beautiful vest that matches the other clothing items, as well as classic shoes will round up your appearance. The Great Gatsby loved to portray himself as a rich, successful, and confident man. That is the look you are going for with your outfit.
4. Why Did Gangsters Favor the 1920s Pinstripe Suit?
Pinstripes symbolized power and money. In the Victorian era, the unofficial uniform of English bankers were pinstripe suits. In the 1920s, pinstripe suit or chalk-stripe patterns became the favorite of gangsters like Al Capone. It still symbolized money and power, but this time, it has taken a whole new level. It was the gangsters' way of power dressing, making sure to convey bravado and strike fear into people's hearts.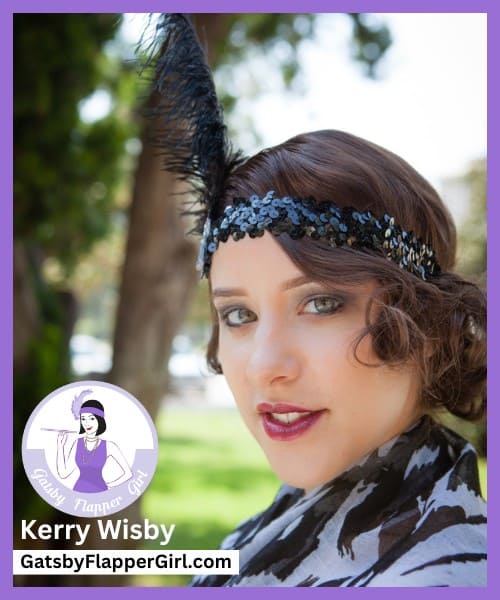 Written by Kerry Wisby – GatsbyFlapperGirl.com
Owner & Founder of GatsbyFlapperGirl.com
Kerry Wisby is the owner & founder of GatsbyFlapperGirl.com, your go-to source for all things 1920s & The Great Gatsby. With a passion for the era & a wealth of knowledge to share, Kerry is dedicated to providing you with everything you need to know about Roaring 20s fashion, 1920s history, & Great Gatsby-themed party ideas. Join Kerry in bringing the spirit of the Roaring 20s to life! Read more about Kerry here.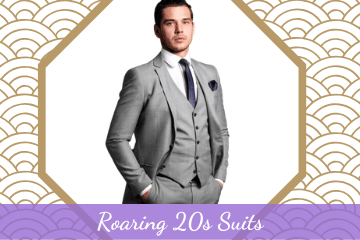 Best Roaring 20s Suits & Mens Clothing For All Occasions
Whether you have a themed party coming or you want to look classy and elegant, check out this selection of top roaring 20s suits and pick your favorite!