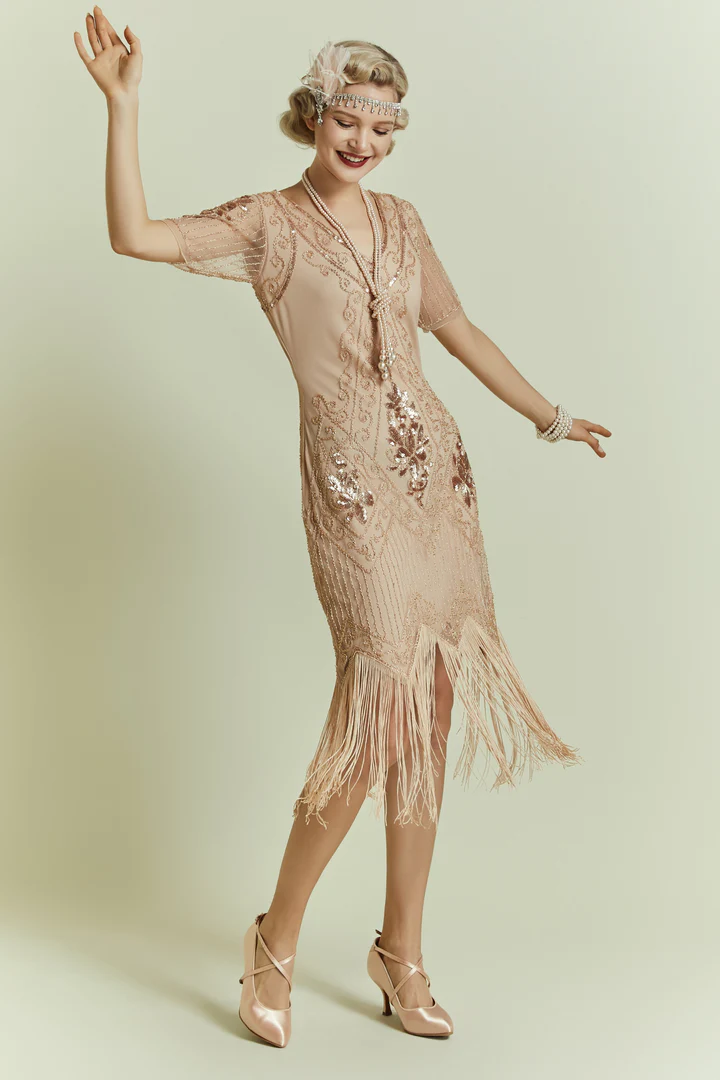 If you're going to attend a Great Gatsby party this year, or maybe just a Halloween party, and you want to go as a 1920s flapper, you've got some really great choices when it comes to outfits.
Rose gold dresses were one of the most favored colors of this era. Women wanted to look sexy, but they always wanted to come across as stylish and feminine.
Wearing a knee-length flapper dress in rose gold is one of the best ways to pull off a vintage look ( see more Great Gatsby Movie Costumes ).
Check out the following 1920s dresses in rose gold. Whether you wear it to a Halloween party, as a costume for a cosplay event, or as a wedding cocktail dress, you'll be sure to impress everyone.
What Is a Gatsby Flapper?
The novel The Great Gatsby was set in 1922, right at the start of the popularity of women who were known as flappers.
Flappers were young women who were saying NO to their mother's traditions of marriage, home, and children, and saying YES to parties, shorter skirts, and living away from home.
Of course, in all the movies depicting 1920s, you'd see flappers wearing ornate, beaded, fringe dresses but not on regular days.
Dresses such as this one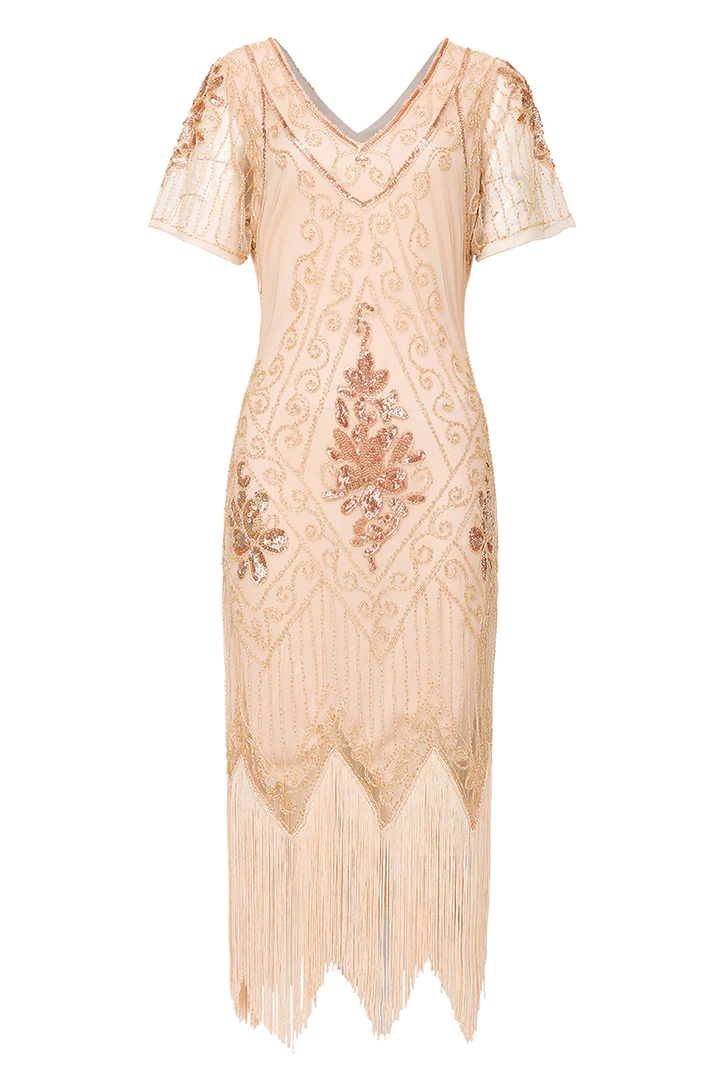 were designed for nightlife. They were flashy, shiny, and shimmering, yet they weren't so tight that a woman couldn't dance in them.
Rose or Pink Gold Dress Options for Gatsby-Themed Parties
If you're hosting or going to a Great Gatsby party or even a Halloween party, you'll definitely want to dress flapper-style and look the part. A drop-waist dress in rose gold, such as this one, and you're halfway there!
While you can choose from a shorter skirt, such as this one,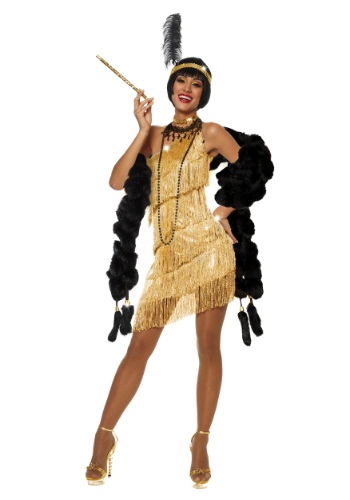 these were often reserved for showgirls or dancing girls who would entertain at mansions.
That doesn't mean that you can't go all out and enjoy your classic dress, knee length, or ball gown length!
Get this Sequin Mermaid Dress! 
Yes, keep in mind that a Gatsby Flapper girl wanted to show off the fringe (see more fringe flapper dresses here) and a bit of leg, but Hollywood glamour was in high style during these years. Think Mae West, and you'll have the right idea.
How to Accessorize a Rose Gold Sequin Dress
When it comes to dressing the part, flappers were all about accessories!
After all, not every flapper had the funds to buy several of these beautiful dresses, so they would change their accessories to make the dress look different (you also might like to see 1920's Casual Dresses ).
For example, no self-respecting flapper would go to a party without the proper headdress. You might find her wearing one like this at a speakeasy one night.
And then next day, she'd wear a different one that looked like this. 
Not all headbands had feathers. If you prefer, you can go all out rhinestone gorgeous with this lightweight headpiece.
Or you might choose this look.
Get this Crystal Leaf Headband! 
Last, but not least, if you don't think you'll be doing much dancing, you can wow all the guests with this choice of headpiece.
Check this Flapper Tassel Cap! 
You'll look like a mermaid that just came out of the water!
To show off your beautiful arms, you might also want to consider wearing gloves such as these for an added sense of style
or perhaps a feather boa
For the ultimate in sophistication and a completely different look, you could add a see-through shawl (see more 1920s shawls wrap & coats ) such as one of these.
Did Flappers Wear Jewelry with a Rose Gold Sequin Dress?
Oh yes! Jewelry was quite important to the overall look.
The good news here is that fashion jewelry, such as fake pearls or fake sapphires, was all the rage.
That means you can wear only a set of drop earrings, such as these beauties,
or you could wear some stunning bracelets
or go all out and wear everything at once.
Choosing the Perfect Handbag to Go with the Evening Gown
Of course, let's not forget the perfect handbag! No outfit would be complete without a small, beaded handbag to hold that bright red lipstick! We love this adorable heart-shaped bag.
But perhaps your taste goes for a more timeless look, such as this.
We love the accessory kits that come with everything, such as this one
so you can pick and choose what you like, no matter the occasion.
Can I Wear a Flapper Dress If I'm Plus-Sized?
Why not? You absolutely can! Having fun is not a size-dependent sport!
If you want to look genuine and get tons of compliments, you might want to check out this eye-popping gold rose dress.
We love the fringe, fringe, and the fringe on this dress that will let you shake and shimmy all night long!
The 1920s was when rose gold really hit its height of popularity. It symbolized wealth and femininity. Just like this outstanding number, it exudes femininity but also screams wealth and elegance.
Get the Sequin Gatsby Plus Dress! 
If you've got an urge to get up and do the Charleston all night long, the last thing you want is a tight-fitting, long-sleeved dress! We love the simple elegant way this dress hugs your curves but isn't overly tight.
Sequins on a dress are absolutely essential, and a fringe dress made it all the more attractive. If you want to rock your curves but still look vintage, this dress is just what you've been looking for.
See the Plus Size Sequin Dress! 
Don't forget that a modern flapper girl always wore accessories, so be sure to add a flower to your hair or a light-colored, festive string of pearls to highlight your evening.
What Shoes Are Best to Wear with a Rose Gold Flapper Dress?
Oh, yes! Shoes! What outfit would be complete without shoes!
In the 1920s, shoes were still thought of as something practical. Even flappers wore what would be considered today as chunky and clunky T-strap types of low-heeled shoes.
If you'd like to stay vintage but want some shoes that look a little bit more modern, you can always go with an upgraded "Mary Jane" type of shoe, such as these-
Another good choice of shoes for your flapper costume that will lend a more modern look to them without sacrificing authenticity, would be these adorable cut-out ankle strap shoes.
If you can't bear the look of those chunky heels, here is a beautiful pair of ankle straps that have a two-toned color, which was a common color combination in the Jazz Age.
We love the more fashionable, thin heels on these shoes! They stay true to the T-strap style but ditch the chunky heel.
Final Thoughts
Regardless of the occasion, you want to have fun with your rose gold flapper dress.
Whether you pick something fun and flirtatious, like this number
or an evening gown that has both elegance and timeless appeal like this beauty
you are sure to find everything you want.
Don't forget that no proper flapper would be seen wearing a dress that didn't have a plunging neckline, beaded and with lots of fringe, such as this dress
Whether you're petite
or plus size
See the Plus Size Sequin Dress!

you are going to love the way you look and feel!
Now you're ready to be the life of the party in your beautiful rose gold retro 1920s dress!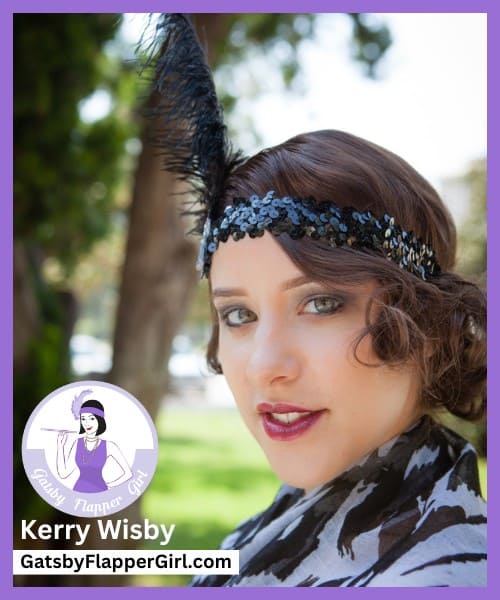 Written by Kerry Wisby – GatsbyFlapperGirl.com
Owner & Founder of GatsbyFlapperGirl.com
Kerry Wisby is the owner & founder of GatsbyFlapperGirl.com, your go-to source for all things 1920s & The Great Gatsby. With a passion for the era & a wealth of knowledge to share, Kerry is dedicated to providing you with everything you need to know about Roaring 20s fashion, 1920s history, & Great Gatsby-themed party ideas. Join Kerry in bringing the spirit of the Roaring 20s to life! Read more about Kerry here.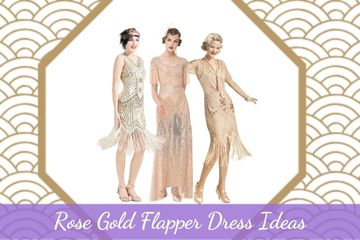 Rose Gold Flapper Dress Ideas: Stunning 1920s Great Gatsby Styles
Women's clothing style in the 1920s was both luxurious and feminine, and rose gold was one of the most popular colors of the time. If you're looking for a rose gold flapper dress, check this out!