The dapper, and quite frankly rather suave, gangsters in the T.V. series Peaky Blinders wear an abundance of different suits and styles that are still very fashionable even though they are inspired by early 1900 and late 1890s fashion.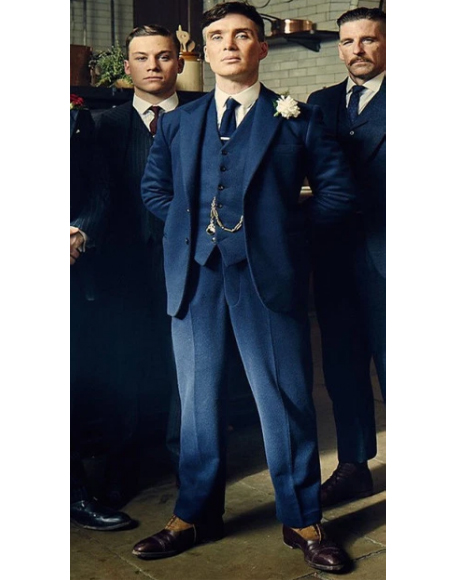 So what types of suits do they wear in the show, and where can they be found in shops?
Never fear! This is where I can give you a hand!
When you are looking for a suit (see more Peaky Blinder Suit styles )that perfectly captures the confidence and control of Tommy Shelby, or simply a fantastic three-piece suit for all those fancy brunch parties you have to go to, or formal work events where you need to impress a corporate manager, I have you covered.
The Peaky Blinders style is one of functionality and formality, which are both things you should have no problem channeling into your life. If your aim is to dress like the Peaky Blinders, you can skip to the next section, but if you want to exude the power and self-confidence that Cillian Murphy gets each time he dons his suit, keep reading.
The Peaky Blinders might be a gang, and you might be working in finance, or marketing, or plumbing, but you can still get that same energy by buttoning up a fancy suit and hitting the town or your nephews 4th birthday. (Maybe you could get him a matching suit? No? Just an idea!)
A good suit should last you several years and be made of quality materials. You can also get a suit tailored to make sure that it flatters you from every angle and fits you properly.
You want to make sure that your suit (Peaky Blinder inspired or not,) is not baggy or too tight since that takes away from the crisp, cool, and classy appearance that the Peaky Blinders have in their suits that fit properly.
Let's get into it then!
What kind of suit does Thomas Shelby wear?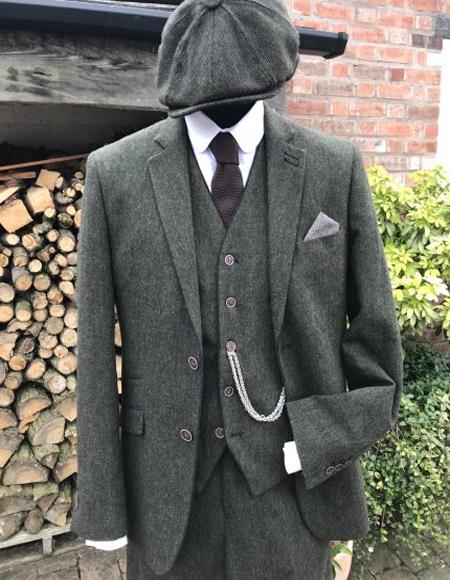 For starters, let us look at good old Tommy Shelby. Be honest with yourself. You know that he is an absolute fashion icon and any of us would be blessed to make eye contact with him on the street, even if it was while he committed auto theft or arson or something.
Anyone who has seen the show is well versed in the fact that Tommy Shelby would probably rather get put in jail than wear anything other than the dapper-est of suits.
His most common suit? Well, that would be a single-breasted black overcoat made from wool. His suit features peaked lapels and black velvet collar.
Although this type of jacket or suit is not usually paired with tweed, Tommy Shelby often matches the two styles together. He does not care about this fashion law (just like he does not care about any legal laws) and he pulls it off really, really well.
He would be the type to wear white past Labor Day or tell people that navy blue is a spring color and he could still look fantastic.
How do You Dress Like a Modern Peaky Blinder?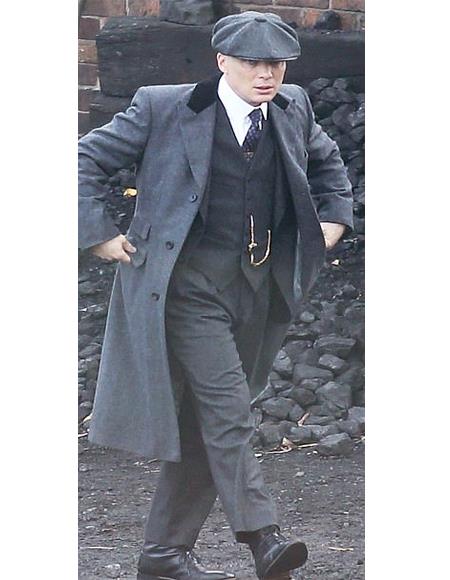 When attempting to bring Peaky Blinders suits or fashion into modern society and applying it to your life, whether that be for a costume or for an event, you need to make sure that you have all the pieces for your perfect suit.
If you pull it off correctly, you will look just as dashing and embody the attitude and confidence of the rough, tough, and clever Peaky Blinders.
(You could try to convince people that you are a cast member on break if you get super-duper bored. Let me know how that goes!)
Since the show is a modern production, most of the suits and styles are based on modern fashion and popular designs. That being said, you do not exactly see too many people going to get their morning cup of coffee in a 3 piece tweed suit.
When you start to look for your Peaky Blinders inspired suit, you need to know what style or pieces you want to include when you try to dress like them.
Three-Piece Suits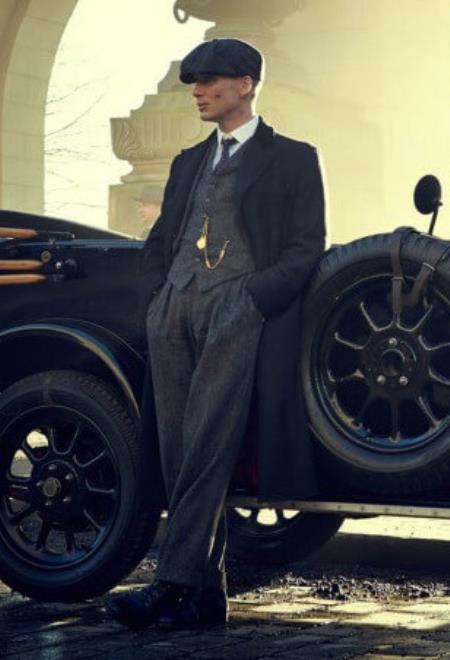 The classic three-piece tweed suit is a great route to follow for those who want something simple and easy to put together. This is a great suit option for people who would rather not put together their whole suit and would prefer to have a suit that is already all put together and complete when they buy it.
For these styles and packages, you are going to be shelling out quite a bit more money than if you were just getting a suit jacket and trousers. 
You can get them in several different material styles, such as tweed, wool, solid-colored, or pinstriped.
This suit is a set, so it comes with a matching vested suit, overcoat, and hat. Check this one out!
Thomas Shelby Wedding Suit

Get the Peaky Blinders Wedding Suit
The beautiful, blue, wedding suit that Tommy Shelby wears in the T.V. series is a crowd favorite.
Not only is it a great color that stands out from the rest of the suits, but it is also very spiffy. It is not a classic Peaky Blinders look, but it is fairly iconic.
You will definitely catch attention in this Peaky Blinders outfit, whether people know that you are trying to dress like a gang member (pardon, a leader,) from England in the 1920s or not. You will draw in attention.
The single chest pocket is functional which is fantastic, so you can stash money or snacks into the next corporate meeting with a formal dress code.
Overcoat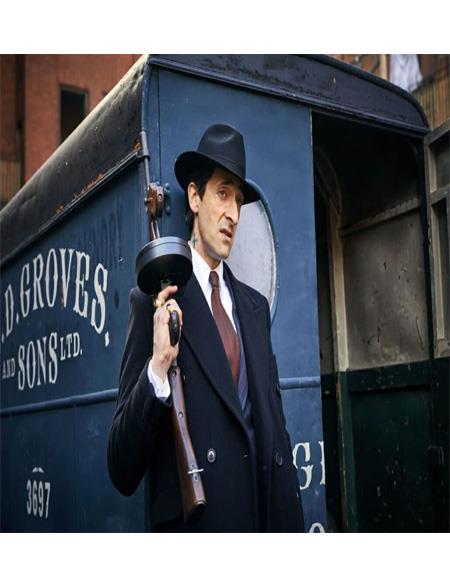 An overcoat is quite possibly the item that will seal the deal on the legitimacy of your suit and make you a style icon in your office building or local coffee shop.
It is snazzy, functional, and really cool. If I saw someone wearing an overcoat billowing down the street a la Severus Snape I would probably turn around very quickly. (Snape is from Harry Potter but just imagine the damage the gang of Peaky Blinders could do with Snape on their side? Wow.)
You can toss an overcoat over any suit or collar shirt with formal trousers for added pizzazz. You could also style it with a nice hat to complete the look of a Peaky Blinders outfit.
Check out this overcoat and hat combo for your Peaky Blinders style!
Peaky Blinder Style Suits Combos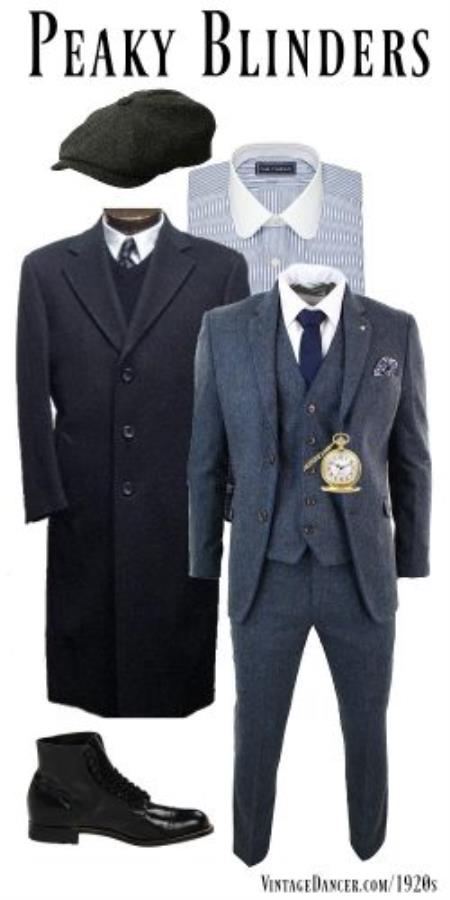 Unlike the Peaky Blinders who had to pick out each feature of their suits, you could purchase a combo package of a style of suits!
That is the bliss of trying to style your suit after a T.V. show. Packages of suits are readily available for purchase and use. These packages are made up of all the different components of the Peaky Blinders look.
The style packages can usually include several different aspects, like a collared shirt, a suit, (could be a tweed suit or solid color style suit,) hat, vest, tie, and so on.
Some of these combo style packages have different styles of combo packages to appeal to different crowds of customers. Some Peaky Blinder looks involve tweed suits, while others have different patterns. Some are 3 piece suits, some have boots, cuff links, and other accessories and so on.
Check this Gangster Suit Combo out here!
No two Peaky Blinder look packages will be the same, but the majority of them have the same basic pieces. Those would be a collared shirt, a 3 piece, or normal suit with an overcoat that matches.
These are the basic pieces of a Peaky Blinders outfit that most Peaky Blinders Outfit packages will have in them.
Brown Tweed Suits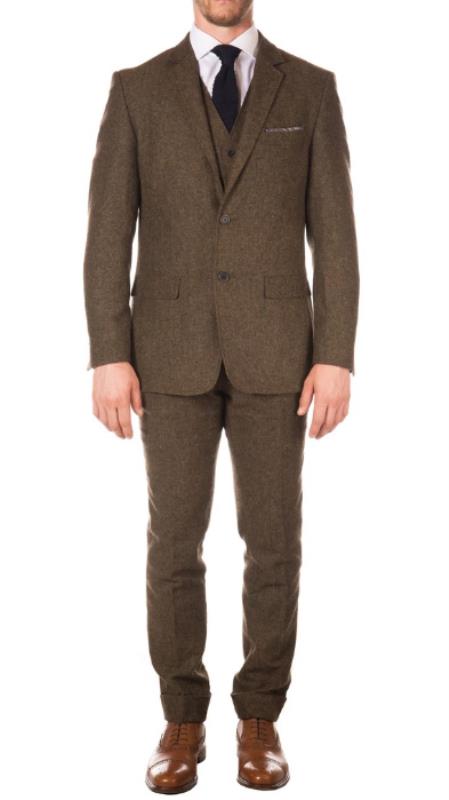 Who has ever gone wrong with a brown tweed suit? In the show, blue and grey are worn a lot, but if you are more into earth-toned clothing that can be used with other pieces in your closet, then maybe you should check out a brown tweed suit look.
Even though Tommy Shelby does not wear brown tweed does not mean that you cant make it your own and adapt it for your life and fashion preferences. A nice tweed 3 piece or normal suit jacket and trousers can be paired with any of your white-collar shirts for a sleek look.
Any material made into a suit can be paired with one of your nice collar shirts for a classy look a la Peaky Blinders!
Good luck on your hunt for the perfect Peaky Blinders suit! I hope that you find the perfect suit for you that will last you a long time!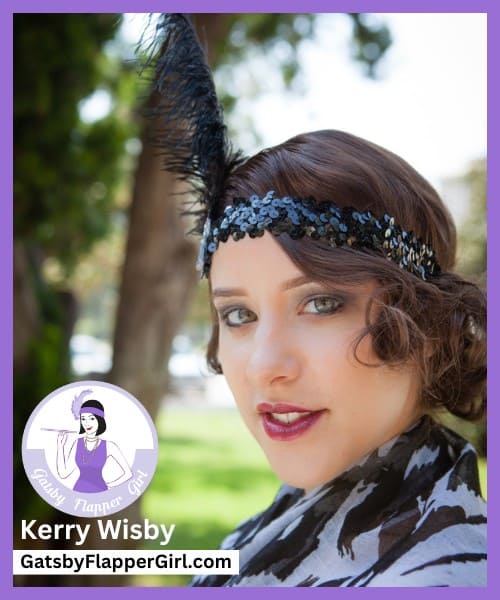 Written by Kerry Wisby – GatsbyFlapperGirl.com
Owner & Founder of GatsbyFlapperGirl.com
Kerry Wisby is the owner & founder of GatsbyFlapperGirl.com, your go-to source for all things 1920s & The Great Gatsby. With a passion for the era & a wealth of knowledge to share, Kerry is dedicated to providing you with everything you need to know about Roaring 20s fashion, 1920s history, & Great Gatsby-themed party ideas. Join Kerry in bringing the spirit of the Roaring 20s to life! Read more about Kerry here.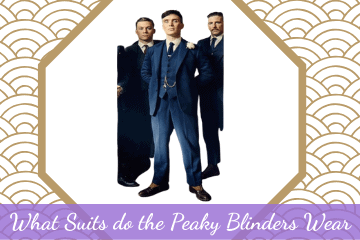 What Suits do the Peaky Blinders Wear
Are you looking for a suit like the Peaky Blinders then you have come to the right place! Check out these styles of suits based on the Peaky Blinders T.V. show!