This article contains links where we may earn a small commission at no cost to you: Learn more here
You love themed parties, and your friend is hosting one inspired by the Great Gatsby soon. Now, you like the 1920s style, and you have several dresses that could be a great choice in your closet. The problem is that you can't wear any of them because you now need a maternity dress!
First, relax because there is no need to panic. You've come to the right place because I can help you pick a suitable dress for your upcoming party.
I remember the first time I was invited to a themed party. At first, the excitement was the dominant feeling, but then I started worrying about whether I will dress appropriately. Even spending hours trying to find the right attire and getting ready to the point of perfection didn't calm me down. I was so nervous ahead of the party that I got into a fight with everyone in the house.
But once I arrived, people loved my attire and commended my choice. Over time, I become somewhat an expert on themed parties, especially the ones inspired by the 1920s.
If you are looking for a roaring 20s maternity dress, the good news is that you have plenty of choices. That is also the bad news because it is hard to pick one. So, let's take a look at some solutions that I singled out for various preferences.
Aim for a Chic and Sexy Look?
You might need a maternity dress, but that doesn't mean you don't want to look sexy and elegant. If anything, you want to feel good in your attire. And if you catch someone taking a glimpse at you, that will be great for boosting your confidence.
If you ask me, you can't go wrong with choosing beige as your chic color. The material to go with is definitely lace since it is not only extremely comfortable, but it also looks elegant and sexy.
Let's be honest and say that you want the people's focus away from your belly. That is why a V-neck can be an excellent choice and combined with short sleeves; these will show that beautiful neckline and emphasize clavicles.
A beautiful long beige dress that is stretchy enough for your belly is a fantastic pick. And, as you can see for yourself, it looks great in the photos, too!
A Floral Design Never Gets Old
Floral design was popular in the 1920s, and it is popular a century later. It is safe to say these clothing pieces are timeless, which makes them a safe bet for your Gatsby party.
If you are pregnant, you want a dress that is complementing. At the same time, you also want it to be comfortable so that it doesn't make you nervous. You will probably be spending hours in it, which means that you don't want anything too tight or otherwise problematic.
Take a look at the denim blue floral dress in the photo. It is made of stretchable lace for ultimate comfort, and the floral lace pattern gives you that innocent and cute look. The knee-length will fit that description, too. So, if your goal is an appearance that won't attract everyone's attention immediately, but also a dress that makes you look and feel beautiful, you can't go wrong with this one.
A Floral Pink Dress
Now, you might not like the blue color. If you think that it is too boyish or it doesn't compliment your skin well, how about going for the pink dress in the same pattern?
The same details are there, which means you can expect a beautiful and retro pattern, and plenty of lace to ensure comfort.
The stretchiness is great, and that guarantees you can wear it for a long time during your pregnancy. You might be worried that the dress might be small in a month when the time for the event arrives, but the designers thought about that. It doesn't matter how big your belly gets because the stretchiness of this dress will impress you.
Pregnant women are often afraid that they will have difficulties putting on their dresses. That is not the case with the Hello MIZ products. The zipper closure on the back allows the necessary maneuvering space. Additionally, it ensures that the dress is easy to close.
The only problem is the non-removable satin belt. Don't get me wrong – it is a beautiful accessory to the dress, but might not fit everyone's preference.
Forget the Bow!
You don't like the satin belt on the previous dresses, but you like their design?
Forget the bow, but stick with the floral pattern and comfy fabric. If you don't like to overcomplicate things, at least when it comes to appearance, this is the perfect dress for you.
If you pick the burgundy shade, the color will speak instead of you. You will look chic and sexy, while the lace material takes care of taking the classiness to the next level. It is the perfect combo of that cute look that also fits with formal events and themed parties.
Those who tried the dress report that the lace is a bit shiny, which is great if you want to move away from a totally classic look to the one that will attract the attention just the right way.
Or Consider a Belt in a Different Color?
A belt is a fine way of pinpointing that you are pregnant, but you still have a figure anyone would envy. If belts are your favorite accessories, you might want to check out a dress like this.
The taupe color dominates the clothing piece, but it is not see-through because of the black lining. The belt is also black to complement the dress, but also to be a detail that stands out.
You can tie the belt like a bow in the back to get that roaring 20s feeling. Even without it, the lace will take care of that. You don't have to wear a belt because it is completely removable. Thanks to that, you get a dress perfect for any occasion.
Are You in the Mood for Flapping?
If anything was a clear sign of roaring 1920s, it is the amazing flapper dresses. Who would say that a single clothing piece will shake up the transatlantic culture so much? Although conservatives didn't think well of flapper girls, they marked an entire decade.
Check out this amazing beaded flapper dress in beige color. The fact that you are pregnant shouldn't stop you from dancing, as long as you are in a good mood. Now, imagine yourself dancing in this dress! The bottom section will ensure to boost the effect of every move you make.
The dress itself is of the ideal length so that you can move your legs comfortably and enjoy the party. The stretchiness could be better, which is why you might have a problem putting the dress on before you head to the event.
Be aware that the sizes run a bit small, which is why you might consider picking a size bigger than usual. Take a look at the size chart to help you, and forget the psychological effect of choosing a bigger size. Remember, it is all about looking amazing and having fun!
And this dress is made for having fun. The beading and the sequins look amazing and add to that classy effect. The dress might remind you of a costume, which is good. If you are heading to a themed party, you want your appearance to be fitting. A combination of this dress and the right haircut will ensure that it's like you've traveled through time and arrived at a roaring 20s party!
Looking for some great shoes to match your beautiful new 1920s dress – click on this link to read my full article!
The Beauty of Crochet Lace
While I was looking for suitable 20s maternity dresses, I also came across this amazing piece. The biggest advantage of this fabric is that it is understandably thick but extremely soft and comfy.
That is important for two reasons. The first one is that you don't have to worry that anything is see-through. Additionally, the dress will ensure to keep you warm during the winter, but also cool during the summer.
The secret lies in the unique design. Notice the crochet lace detail on the top of the dress. It is almost as if you are sleeves, which guarantees that you won't be hot during the event.
Additionally, the lace adds elegance to this classic dress. You could say that the design is simplistic, but who says that cannot be elegant? If you ask me, this is a clothing piece that makes you look gracious. At the same time, it sends a message that you put minimal effort and achieved a classy appearance nonetheless.
The ruched detail ensures that you have enough room for your belly. Don't worry if there are several weeks until your party – there will be plenty of room to feel comfortable when wearing the dress.
The knee-length also ensures that you can move your legs effortlessly. You can choose between three colors, but if you are going for that classic and elegant look, you can't go wrong with black.
Additionally, it is a timeless color that fits all periods. It means you can wear it on a roaring 20s party, but also other types of events!
Plus Size Elegance
Do you need a dress with the ultimate stretching capabilities? Chicwe thought about plus size ladies and designed this wonderful black dress perfect for all occasions.
 Get the Dress – Lots of Colors
The fabric is of high-quality, which is important for a pregnant girl to ensure maximum comfort. The lace dress comes with a matching knit lining for elegance.
The round neck design contributes to a classic and classy look, and if you look at the back, you will find a button closure with the back keyhole. If a zipper is a bother, buttons are an excellent alternative.
The knee-length dress ensures effortless movement, and the scalloped hem adds to the charm of the dress and your overall appearance. The sleeves are also filled with lace, and their ¾ length and scalloped cuff perfectly complement any shape.
Go Formal and Elegant
Did you receive an invitation to a wedding with a 1920s theme? If the occasion is formal, you need to make sure you look elegant.
If you ask me, lace has always been a synonym for elegance. If you combine it with navy color, such as in the dress below, you can't go wrong.
The dress features a lace lining, and it is the lining that covers your knees. That ensures you look elegant, but still provocative enough that you feel great in your skin.
The ¾ sleeves also feature lace, and the scoop neckline fits well. The ruched side ensures that mothers-to-be will fit comfortably into this dress, and feel fantastic wearing it.
Frequently Asked Questions
Q: What do you wear to a Great Gatsby themed party?
A: You want to look for a touch of glamour and glitz that was characteristic of the 1920s. If you are attending a party, consider ruffled skirts, sequins, beading, crochet, velvet, and similar combinations. Even if the occasion is formal, you can go sleeveless, or pick a light jacket to go over your arms. And if you are bringing a man, make sure he wears a tux.
Q: What is a Gatsby theme?
A: The Great Gatsby was first published in 1925. The novel presents the lifestyle of the 1920s, including glamour, champagne towers, flapper dresses, etc. If someone invited you to a Gatsby-themed party or event, it is inspired by that period.
Q: What did ladies wear in the 1920s?
A: A flapper is the first association that comes to mind when you mention the 1920s. However, the truth is that skirts of other lengths were equally popular. Depending on the occasion, women wore formal evening and work attires, as well as sportswear that prioritized comfort. Some of the popular choices included work suits, skirts to the knees, and sweater and shirt combos.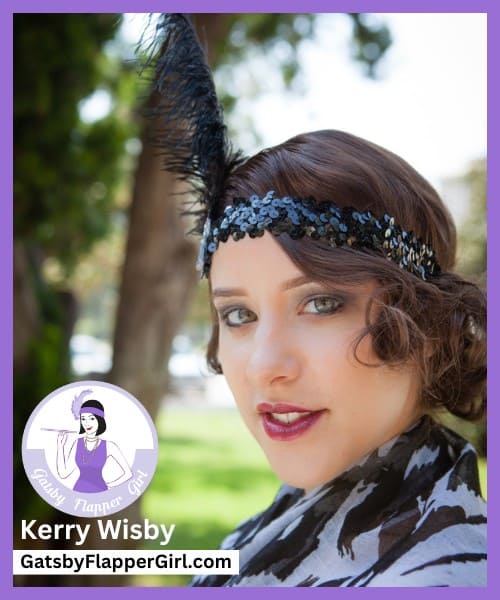 Written by Kerry Wisby – GatsbyFlapperGirl.com
Owner & Founder of GatsbyFlapperGirl.com
Kerry Wisby, a former teacher with a BA in English, is the founder of GatsbyFlapperGirl.com. With a passion for all things 1920s, including The Great Gatsby novel, her website is the ultimate source for Roaring Twenties fashion, history, and party ideas.  Read more about Kerry here.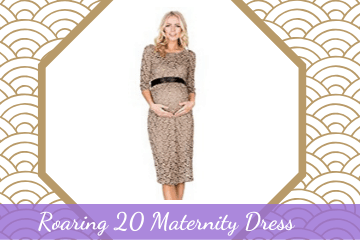 Roaring 20 Maternity Dress • 1920s Great Gatsby Outfits
If you are looking for a roaring 20s maternity dress, the good news is that you have plenty of choices. A 1920s maternity dress will make you look beautiful for