Perfect Prom Dresses for Great Gatsby Theme 
Are you looking for a Great Gatsby themed prom dress?
Here are some wonderful Great Gatsby prom dress looks for you to consider!
The elegant style of the 1920's flapper girl is a fun, flirty look that makes for a great prom dress.
The Great Gatsby novel described that era of clothing in detail and is a very popular theme for parties and proms.
Although the flapper girl dress with its many tassels and short hemline are the first images that come to mind when you think of the Great Gatsby dress, there are also other styles that showcase intricate beadwork and bold patterns that are also great choices for a prom gown.
Gowns with art deco designs were very popular during the 1920s and several guests at the Gatsby parties were seen sporting art deco dresses.
• Great Gatsby Prom Dresses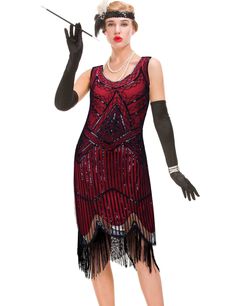 This art deco flapper dress is an excellent example of what to look for in a Great Gatsby prom dress.
Art deco design on the bodice in fancy beadwork is paired with the tasseled fringe of the flapper girl look.
Another great look is the Egyptian inspired gowns.
Cleopatra, queen of the Nile, was a big inspiration for the women of the 1920s and many women wore Egyptian style gowns.
Egyptian Prom Dresses Gatsby Style
The neckline on this Great Gatsby dress is inspired by the collared jewels of the Egyptian queen.
Pair this with an Egyptian inspired headpiece and you will have an excellent Great Gatsby prom look!
Of course, you don't want to ignore the importance of the peacock in 1920's flapper girl fashion!
A headpiece with a peacock plume attached to the side of your head is not the only peacock accessory.
Why not consider a peacock themed Great Gatsby dress for prom as well!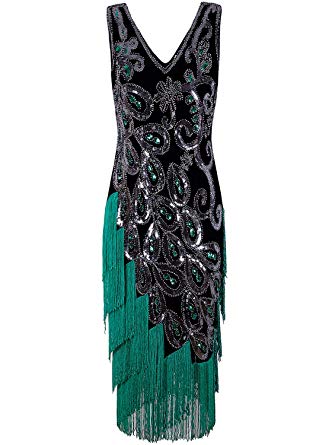 This fabulous dress has intricate beadwork that showcases the beautiful peacock feather motif ( see Gatsby Peacock Feather Fans ).
Pair this with a gorgeous peacock feather hand fan, and you have a chic prom look.
Speaking of accessories, the Great Gatsby prom dress must-have accessories to complete the look.
One thing you absolutely must wear is the headpiece.
A sequined or beaded headband is worn around the brim of the head with or without a feather is the quintessential look of the Great Gatsby flapper girl.
Long strands of pearls worn around the neck were another fashion trend of the era.
Just make sure that if you wear long strands of pearls, keep the earrings minimal.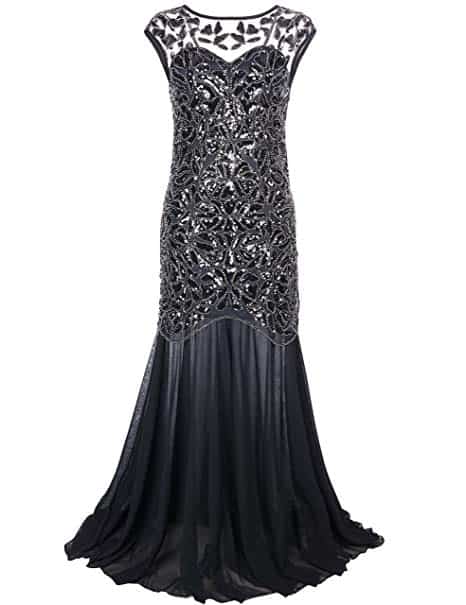 Other accessories such as gloves, fans, and handbags will help finish out the look.
Another piece of the fashion puzzle for your Great Gatsby prom look is stockings and shoes.
Women in the 1920s always wore stockings, and heeled shoes helped emphasize the women's legs.
Pay close attention to the details, and you'll look fabulous as the women at Jay Gatsby's famous parties!
When choosing your prom gown, there are several things to keep in mind. Perhaps the biggest one is to shop for your body type.
Here are a few guidelines for buying a prom dress that will flatter your body shape and make you look like a goddess!
• How to choose a Great Gatsby Prom Dress?
To find your body type, you need to look at the silhouette of your body or measure your body to find which areas are the largest.
Your body type will either be apple, hourglass, pear, busty, petite, or slender.
Apple Body:
For the apple body type, you will typically have slender legs and a larger torso and mid-body.
Short, cocktail-length dresses will showcase those fabulous legs, so the short flapper dress will be perfect on you.
Look for a defined waist and a plunging or sweetheart neckline to look amazing.
This prom dress for the Great Gatsby theme is fantastic for an apple body type.
Great Gatsby Dresses for Prom to Suit Apple Body Type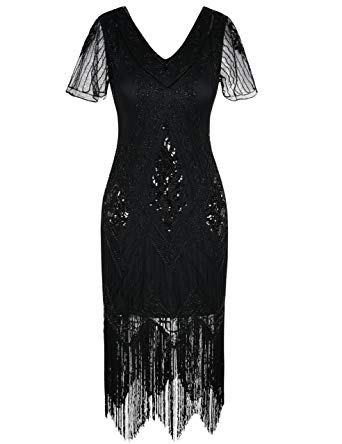 The short length is accentuated by tassels that draw your eye to those slender legs.
The bodice features a tapered design at the waistline to create the illusion of a drawn-in waist, and the plunging neckline adds to the elongated, elegant look.
Hourglass Body:
For the hourglass body type, you will have a narrow waist and a bust to waist ratio that is similar.
Because you have such an asymmetrical body, you should choose a dress that hugs those curves closely, like a bodycon dress.
Avoid oversized dresses that mask those curves.
A high neckline will accentuate the curves, and solid color or black will also look fabulous.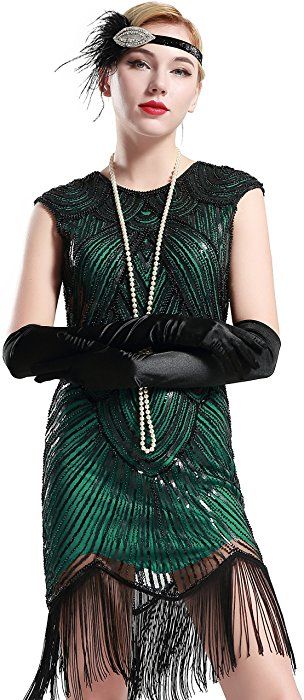 This sassy little bodycon flapper dress will make an excellent Great Gatsby prom dress for the hourglass figure.
With its short length and fitted bodice, it will hug your curves in all the right places, and the high neckline draws more attention to that beautiful symmetry of curves!
Pear Body:
The pear body shape has a smaller upper body and a thicker lower body.
For this body shape, you want to choose a skirt that does not hug your curves but lays loosely over your hips, and a bodice with some pretty details to even out your body.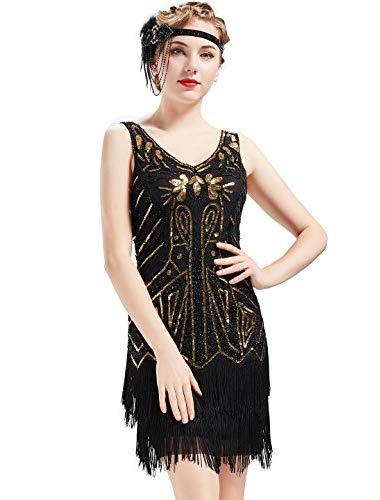 This sassy little blue number is a great dress for a pear-shaped body because it's a sheath style dress with intricate beadwork on the bodice and it will balance the body well.
Busty Body:
The busty body type has a larger bust measurement than the lower body measurement.
Dresses that flatter a busty body type are A-line skirts, mermaid skirts, and plunging necklines.
Avoid high neck gowns, as they will overemphasize the upper torso.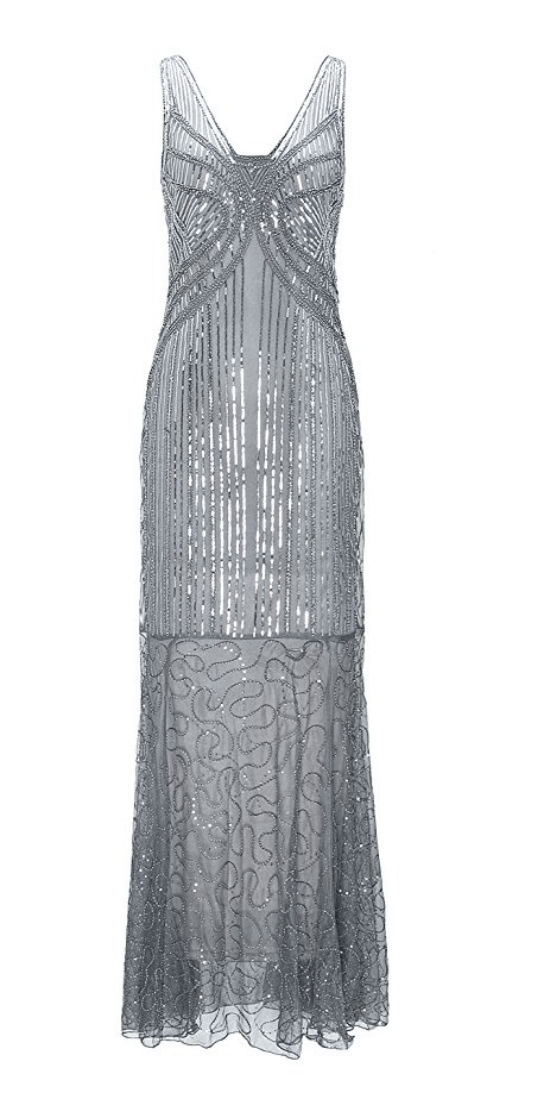 This beautiful mermaid gown has all the elements of beadwork and tassels for a Great Gatsby prom dress, but with its low plunging neckline and fitted bodice, it will make a busty bodied gal look amazing.
Petite Body:
The petite body type is shorter in stature with a slim, shorter upper body.
The best type of dress for this body type is either a long line dress in a single color to give the illusion of height or a short dress that ends at the knee.
Try a dress with a raised beltline to give the illusion of longer legs.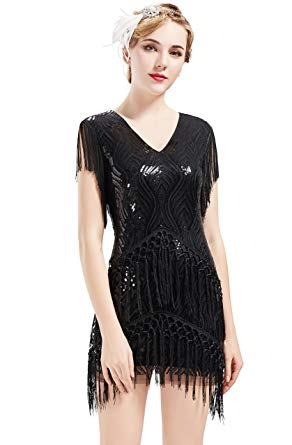 This little dress is a perfect choice for the petite lady.
A flirty Great Gatsby prom dress with a super short skirt that shows more leg and plenty of beads and tassels for flapper girl fun!
Slender Body:
The slender or athletic body type is a rectangle-shaped body with few curves.
To add the illusion of curves, a mermaid style gown, or a cinched waistline is an excellent choice.
A sweetheart neckline also adds curves to the overall look.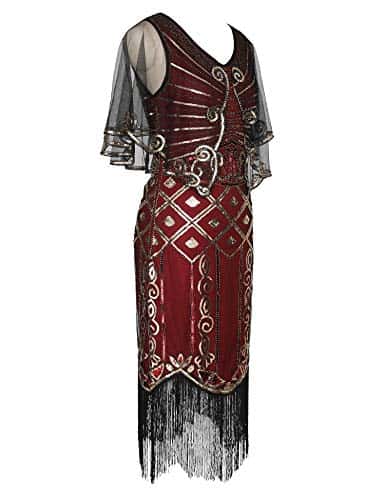 This fabulous flapper prom dress in burgundy and black has beautiful beadwork that creates an illusion of a drawn-in waistline, perfect for the slender-bodied woman!
So, now that you've figured out the perfect dress, shoes, and accessories for your Great Gatsby prom or party, you are ready to dance the night away!
Make sure the decorations in the room are elegant and extravagant as the wealthy women and men were at the original Gatsby parties.
Gold and jewels were definitely in abundance. Opulence was the word of the day, so dress it up, and have a great time at your own Great Gatsby party!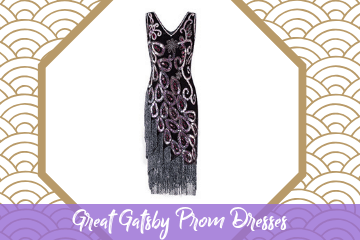 GatsbyFlapperGirl.com is a participant in the Amazon Services LLC Associates Program, an affiliate advertising program designed to provide a means for sites to earn advertising fees by advertising and linking to amazon.com.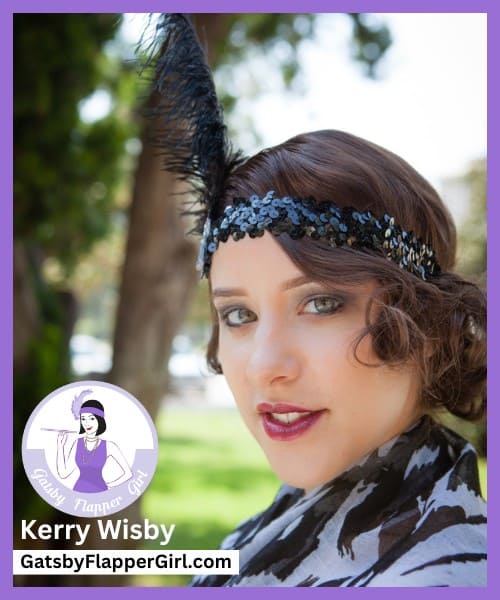 Written by Kerry Wisby – GatsbyFlapperGirl.com
Owner & Founder of GatsbyFlapperGirl.com
Kerry Wisby is the owner & founder of GatsbyFlapperGirl.com, your go-to source for all things 1920s & The Great Gatsby. With a passion for the era & a wealth of knowledge to share, Kerry is dedicated to providing you with everything you need to know about Roaring 20s fashion, 1920s history, & Great Gatsby-themed party ideas. Join Kerry in bringing the spirit of the Roaring 20s to life! Read more about Kerry here.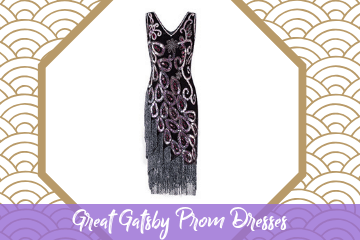 Great Gatsby Themed Prom Dresses
The latest Great Gatsby dresses for Prom, Plus Size Great Gatsby Prom Dresses, Shoes & Accessories to suit any 1920s theme party or event.