How to Find The Perfect Gold Gatsby Dress to Glow at Your Next 1920s Event
This article contains links where we may earn a small commission at no cost to you: Learn more here
Have you ever watched a movie set in the 1920s? The odds are you've seen flappers or someone wearing stylish gold flapper dresses. Since you are reading this, you were probably delighted with how they looked. That's why you want to search for gold flapper dresses for your next upcoming party.
It's where our guide comes into play. We tried to prepare vital suggestions on choosing a gold 1920s flapper dress that will fit your style. Check out our tips below and find a vintage outfit that meets your expectations. 
A No-Risk Tactic – Classic Flapper Costumes & Dresses
Here is the deal – if you don't want to take a risk, the best way to go is to order a classic gold flapper costume. These vintage costumes come in a single-color variant.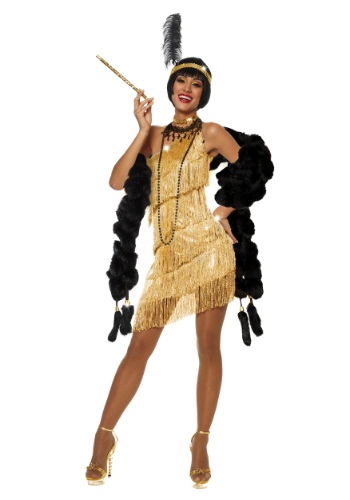 If you go with this product, our suggestion is to combine it with a feather boa or black headpiece. These will ensure that the flapper outfit doesn't look monotonous. If the boa doesn't come in the set, the good news is its price shouldn't be high.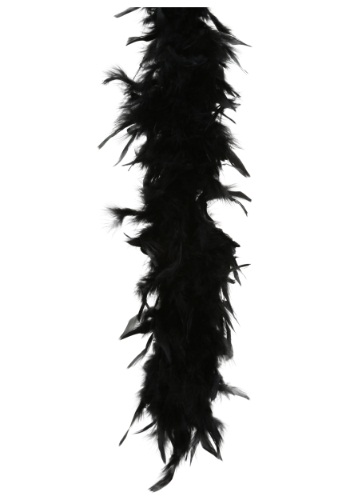 Women who'd like an additional color added to their gold flapper dress should consider including black in the vintage pattern.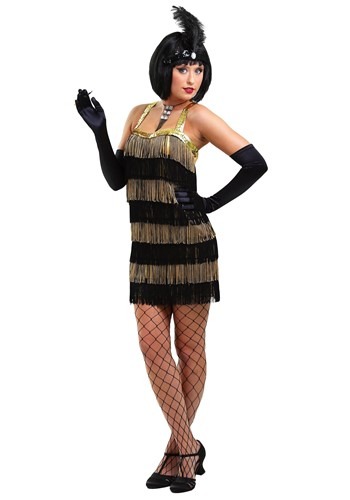 This item type has everything to ensure you follow the roaring 20s fashion. You can go with alternative black and gold fringes, the sequin neckline trim, and even round everything up with a feather headband.  After a rose gold flapper dress? – click here to read our other article!
A Vintage Flapper Dresses with a Sexy Twist!
Here is another way to go – how about finding a gold 1920s dress with a sexy twist? The combination is ideal for jazz clubs and music parties inspired by the Great Gatsby era. The golden vintage flapper dress will ensure that you look amazing.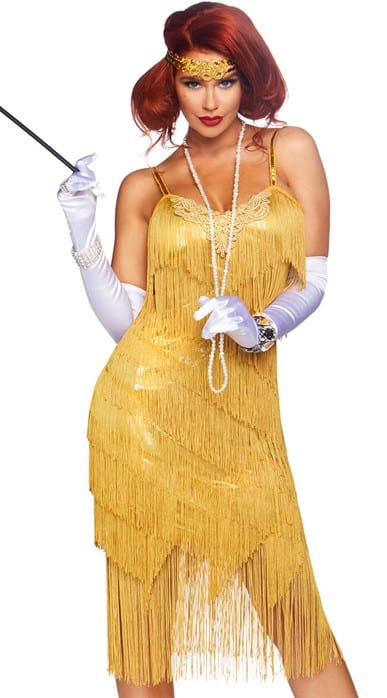 As soon as people see you, it will be a sign that you are ready to rock the dance floor. Oh, but don't forget to mix it with a headpiece and spaghetti straps, although you could also go with white gloves.
Would You Like to Be the Best-Looking Woman at the Party?
Before you search for gold flapper dresses, consider which ones do you want to buy. Is it vital to be elegant, or you want to aim for the hottest appearance possible? If the second is your goal, a provocative vintage combination could help.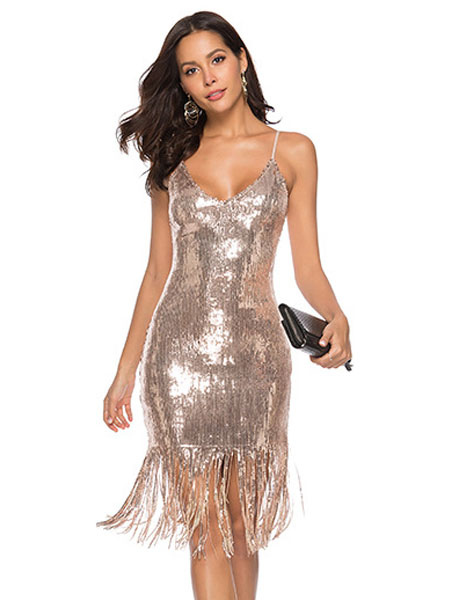 Get this Stunning Glitter Dress!
Your first approach is to sort through items and look for one that is a mixture of classic and modern. A champagne gold mixture with glitter or sequin style is perfect for formal events. The spaghetti straps will be a sign that you fit the era, but you will still add a unique personal touch to the mixture.
1920s Dream Girl Outfits
There are some combinations women like to call dream girl outfits. If you go with these gold flapper dresses, you will love how they follow your curves.
The sequin fringe trim is a true vintage Great Gatsby addition. If you want to mix and match, you can always do that with a velvet ostrich feather or a feather boa.
Raunchy Adult Vintage Outfits
If you don't mind wearing an adult vintage outfit, you can also mix gold and black with a double fringe hem.  There are many styles of flapper costumes and these flapper dresses are so much fun!
Nobody is indifferent toward these gold flapper dresses. If you love them, you will add them to the cart and ask the company to ship them right away.
A Combination of Modern and Vintage Flapper Dresses
We understand – the roaring 20s fashion might not be your cup of tea. Despite that, you want to honor that era, but also pick the gold flapper dress that fits your style.
A simple combination could be a 1920s gold dress with a vintage pattern and the addition of spaghetti straps.
These dresses could be perfect for the skinny woman or for those looking for a summer outfit that don't mind going sleeveless. The good news is that you can choose between multiple vintage patterns while staying in the same price range.
It's even better that you don't need any accessories apart from a small black handbag. Don't forget to find shoes that will match your outfit – a classic black color is our recommendation.
How About Mermaid Gold Flapper Dresses?
Here is another road you could take – if you like mermaid dresses, you could go for a sequin style flapper dress like this beautiful long style dress.
It might be the best move to choose a unique vintage pattern that would meet the Great Gatsby era. If your partner goes dressed as Gatsby, you can easily match the styles.
You can mix gold and black, but you can also look for a combination where gold will be more dominating.
If you like spaghetti straps, that could also be an option.
Maxi Evening Flapper Dresses Inspired by the Roaring 20s
Women who want to tune up the elegance won't find a better way to do it than to go with a maxi evening dress. Their standard length is to the floor or long style, and many females find these combinations the most stylish.
A gold sequin dress might be perfect if the event is more formal. Ultimately, it all depends on which vintage patterns fit your taste.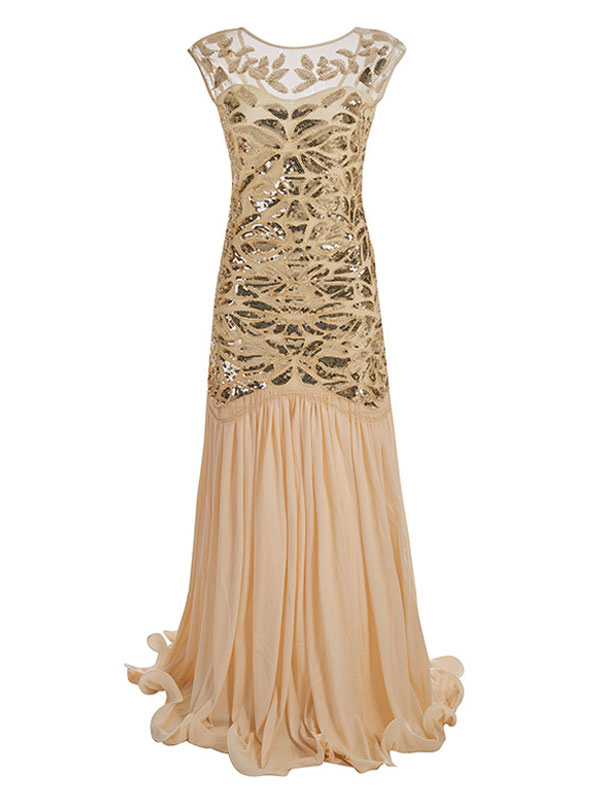 The good news is that the price of these products isn't high, and you can choose from a variety of long dresses.
You can even go with a classic mermaid gold flapper dress with an extension to the floor. These are intriguing combinations since they feature different color shades.
Find Your Perfect Plus Size Gold Flapper Dress & Fringe Flapper Costumes 
Here is the great thing – gold flapper dresses are available in all sizes. The only thing to do is to find the one that fits you, and you can order it right away so you have it in time for your party that is coming up soon!
Plus Size Gold and Black 20s Oufits
If you ask us, you can't go wrong with clothing that combines gold and black. That item perfectly fits the 1920s style and will fit the Great Gatsby theme perfectly.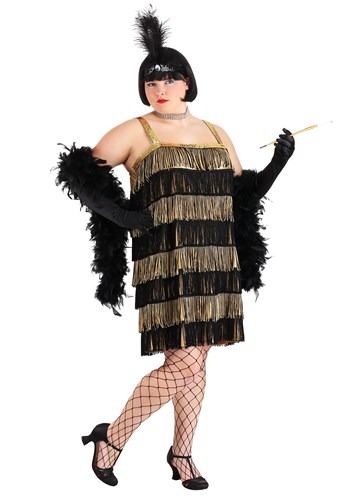 This dress usually features polyester tricot fabric. The experts suggest going with alternative gold and black fringe covers, but round things up with a golden neckline edging. Make sure to find the right accessories – apart from black shoes, a feather headpiece and even faux jewels could be the right addition.
If you prefer a different pattern, look for a gold flapper dress with a unique vintage design.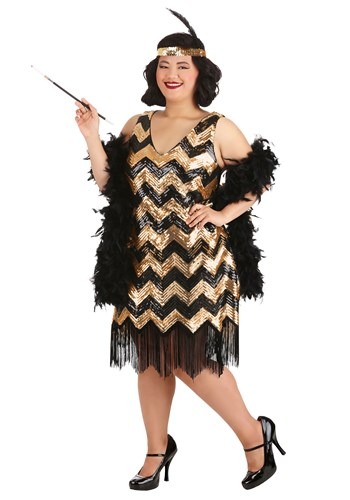 Don't underestimate the importance of feeling comfortable. If you need to spend hours in the outfit, it's imperative that you find it comfortable.
Final Thoughts
The market has a wide range of gold flapper dresses to pick from, so it shouldn't be a problem to find your favorite. Once you buy the ideal costume, you will love how you look and feel in the dress. Additionally, your taste for 1920s fashion will impress everyone at the party and ensure you are the biggest star out there!
To see more dresses 20s styles & Clothing Ideas: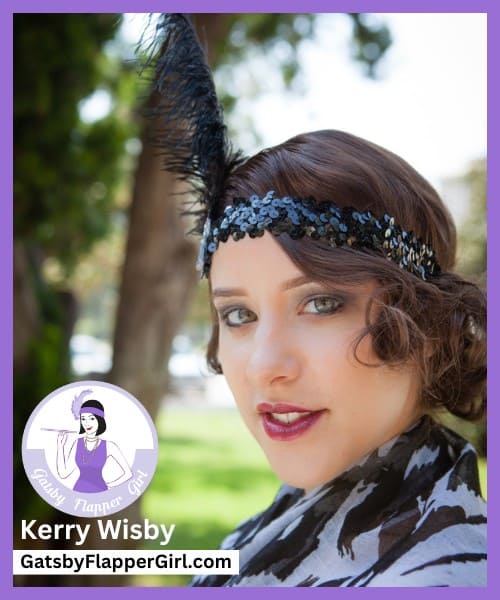 Written by Kerry Wisby – GatsbyFlapperGirl.com
Owner & Founder of GatsbyFlapperGirl.com
Kerry Wisby, a former teacher with a BA in English, is the founder of GatsbyFlapperGirl.com. With a passion for all things 1920s, including The Great Gatsby novel, her website is the ultimate source for Roaring Twenties fashion, history, and party ideas.  Read more about Kerry here.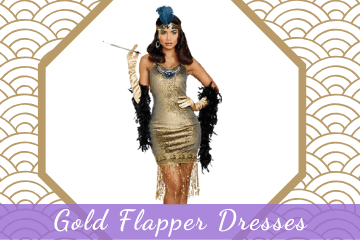 Stunning Gold Flapper Dresses & Costumes 1920s Great Gatsby Style
If you want to shine at an upcoming roaring 20s event, it's time to check out gold flapper dresses. Our experts designed a guide to help you find your favorite!