Great Gatsby Shoes Womens
Finding the Perfect Flapper Shoes
Are you looking for the best women's Great Gatsby shoes to dance the night away at your next Great Gatsby themed party?
Whenever I'm heading to a Great Gatsby party dressed in my fabulous flapper dress, the one thing I really think about is my shoes.
As a flapper, it's all about the look, but also, the shoe has to be comfortable enough to dance all night long.
The most popular style of flapper shoe in the 1920's was a Mary Jane pump with a strap over the ankle or a T strap pump.
The more straps, the better!
This was the first time that women were showing off their feet with the short dresses, and those shoes were a fashion statement!
Here are my top choices for women's flapper heels that will match your flapper dress perfectly and will keep you on the dance floor all party long!
Brinley Co – Nelson Dress Pump:
What says 1920's flapper better than this gorgeous 4-inch stiletto heel? The rubber sole and T strap will keep these flapper heels doing the Charleston all night long. These beauties come in the high gloss patent leather look or a matte leather. There's also a fabulous brown suede pump. With 12 different color and style choices, this women's flapper shoe is perfect!
Ellie Shoes – Lucille Dress Pump: 
Looking for a little less heel? This beautiful Lucille pump is it! With its 2.5-inch sculpted heel, this shoe is awesome for dancing. The rubber sole will keep you from slipping and the T-strap will keep it snug and in place. I just adore the extra strap detail on the rounded toe of the shoe! This Gatsby shoe only comes in black satin, but is so lovely it can be worn for any occasion.
Chase & Chloe Kimmy – Teardrop Cut Out T-Strap Pumps:
This amazing beauty by Chase and Chloe may very well be the perfect shoe for any costume or dress. This mid-heel pump has the iconic T-strap design of the 1920's but actually has a little additional strap detail at the ankle. The 2.75-inch heel is just right in creating that Gatsby flapper look. The rounded toe has wonderful little tear drop cutouts that make this shoe flirty and feminine. The best part? It comes in about thirty-six color variants in leather and patent leather. There's even a silver glitter version! If you happen to be looking for a shoe to match your dress perfectly, or to match your handbag, definitely take a look at this pump!
 T-strap Glitter Synthetic  Dance Shoes : 
This has to be one of the fanciest women's Great Gatsby shoes out there. This shoe definitely could have made an appearance at Jay Gatsby's famous parties! Just look at all those straps! The iconic T-strap of the 1920's is taken to a whole new level with all the fancy strap work around the rounded toe. Even better? You can choose from a variety of heel heights between 3.5 cm to 10 cm. The sole is made from suede leather for dancing or there's the option of changing it to a rubber sole if you will be wearing them outdoors. Both soles are perfect for dancing. This pretty pump comes in over 20 color varieties, both woven look and printed look. Pair it with your favorite flapper dress and get ready to party like it's 1920!
Chase & Chloe Dora- Round Toe Two Tone Mary Jane Pumps: 
What I really adore about Chase and Chloe's Dora-2 pump is that it combines the Mary Jane strap pump with the sportier Oxford look. This round-toed beauty features the iconic Oxford coloring on the toe and heel. It's 2.75-inch heel and synthetic sole make this shoe perfect for dancing or for any occasion. It is available in an array of eye-pleasing color combinations like Navy/white, Tan/white, Grey/white and Red/white. This 1920's women's shoe works perfectly with the more subdued, elegant dresses of the era.

If you love the Oxford style pump, but want to avoid the multicolor look, Funtasma's Spectator Mary Jane pump is a perfect choice. Made of leather, this classic shoe features the iconic Oxford toe and heel with a tone on tone look. The available colors are also the classic white, cream and black matte. It features 3-inch kitten heels that provide sturdy support whether dancing or just making the rounds at your Great Gatsby party. Classic design with comfort too!
Susanny – Round Toe T-Strap Mary Janes Dress Pumps: 
When you think of flapper girls, you think of flirty fun. That's exactly what these shoes are! Susanny took the iconic T-strap pump and adorned it with a sassy bow on the rounded toe. Pair these girly pumps with your flapper fringe dress and you are sure to turn heads! A 3-inch cone heel and rubber sole allow you to dance the night away at your Great Gatsby party. Perhaps these were the shoes Daisy wore to turn Jay Gatsby's head! Available in black, beige, blush pink and sage green, you really need a pair of these adorable pumps!
The shoes of the 1920's were perhaps the most important embellishment for the flapper girls.
As the skirts got shorter, the feet began to show and the shoes got sassier as well.
The strapped heels of generations past turned into rounded toe Mary Janes and T-straps that showed off as much stocking as possible.
The higher heels emphasized the flapper girl's stocking-clad legs and details such as cutouts and bows made the shoes as much a part of the outfit as the dress.
As you choose your outfit for your Gatsby themed party, take some time in selecting your shoes, just like the flapper girls of the 1920's would!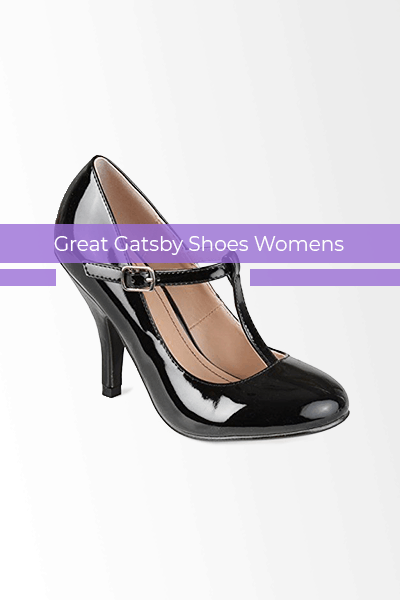 GatsbyFlapperGirl.com is a participant in the Amazon Services LLC Associates Program, an affiliate advertising program designed to provide a means for sites to earn advertising fees by advertising and linking to amazon.com and affiliate sites.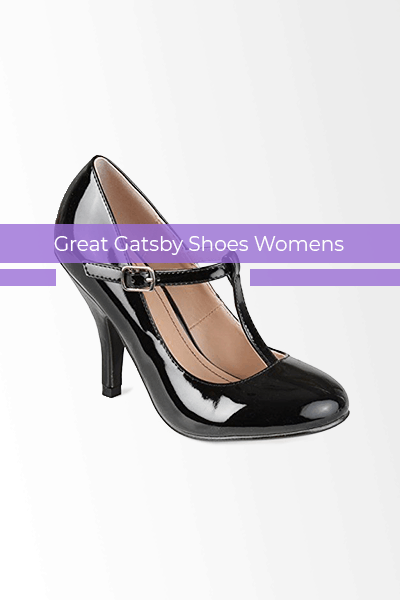 Great Gatsby Shoes Womens (2018) • Flapper Shoes 1920s • Gatsby Style Shoes
Find the best Great Gatsby Styles Shoes to match perfectly your roaring 20s Flapper Costume.