This article contains links where we may earn a small commission at no cost to you: Learn more here
Plus-size women who are more ample than other women often have a tough time finding clothes in general, much fewer costumes or dresses fitting a theme.
1920s Women's Dress Plus Size
The Flapper look represented the 1920s women, including generously endowed ladies. The drop-waist fashion popularized by Coco Chanel works for any sizes, and you can easily recreate that style.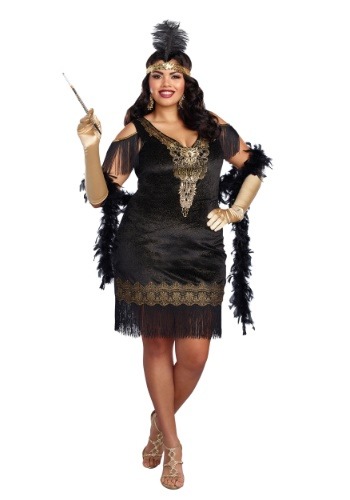 Plus-sized women can find fabulous plus size Great Gatsby dresses if they know what to look for and where to look.
Choosing your Vintage Plus Size 1920s Dress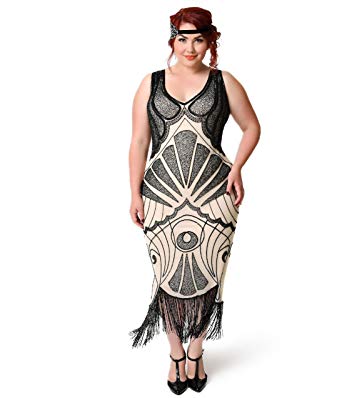 One of the best things about the fashions of the 1920's is that there is a wide range of dress styles that fit pretty much any body type.
Short dresses, sleeveless dresses, full-length dresses, and mini dresses were all part and parcel of the fabulous Roaring Twenties.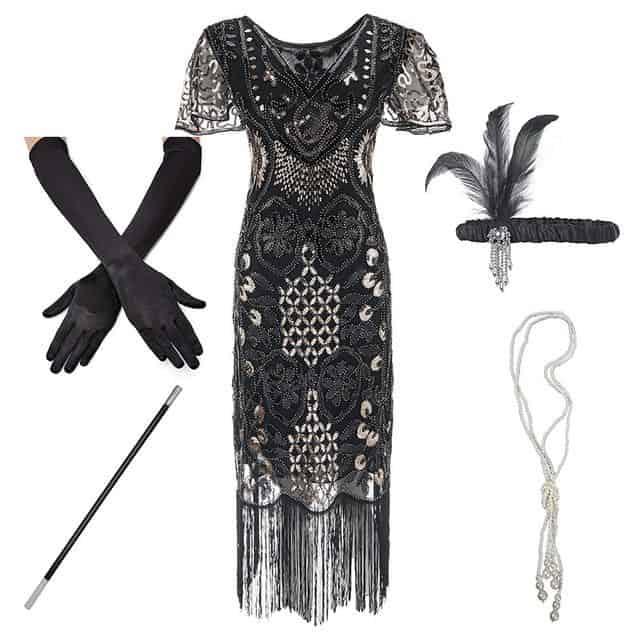 Best Brands of Plus Size Roaring 20s Dresses
If you ask me, the best Plus size 1920 dresses brand is Babeyond. 
They offer so many choices that it will blow your mind!
Look at these beautiful 1920s plus size dresses!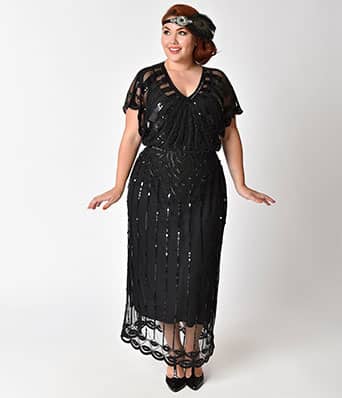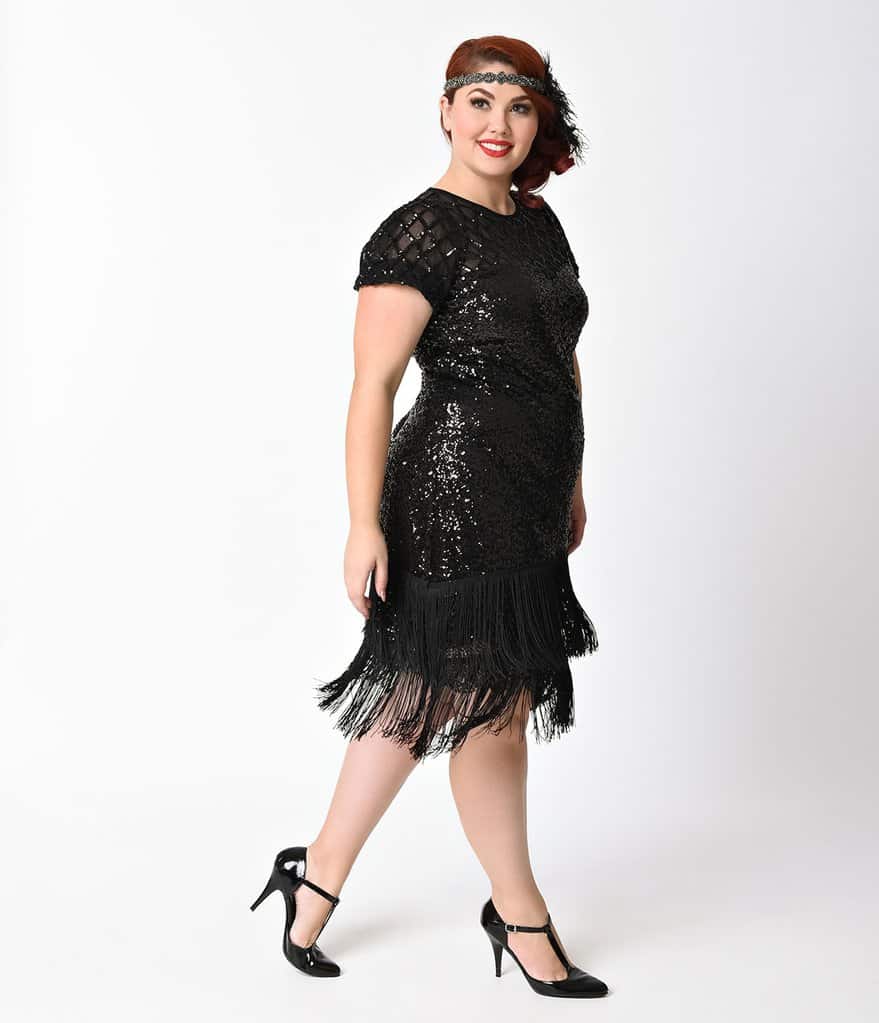 There are tons of great choices for the plus-sized woman in 1920's fashion, but first knowing your body shape and how to dress for your body shape will help you to pick a fabulous dress that will look amazing on you!
CurveGirl for Plus-Sized Girls
CurveGirl is another amazing brand of dresses for girls who want to look dazzling and elegant.
Their selection is phenomenal, but my personal favorite is this plus size roaring 20s dress.
If you are a fan of ornate designs, I'm sure you will love it, too. The dress features an ornate bean and sequins combination both on the front and the back. The neckline is round, and the fringe hem is hand-woven.
The great thing about this dress is that the artisans do the embroidery work. That is why it might take a day or two more for delivery, but it will be worth it!
A glamorous alternative variant is this 1920s plus-size dress that sends that party vibe. I have a friend who is crazy about theme parties, and she loves this dress. She also looks amazing wearing it, and I love how energized and glamorous she appears in it.
As you can see, the dominating color on the dress is white. However, it also has a sequins pattern and tassel details to make it elegant. The fitted silhouette guarantees you will look great. The zipper on the back ensures that the dress remains comfortable at all times. Just like other CurveGirl dresses, this one is of exceptional quality and easy to maintain.
And here is another dress from CurveGirl. If you like maroon color, you will love this clothing item!
Is there anything better than a flapper dress to reflect the 1920s style? Yes, there is, and that's a flapper dress in maroon!
The fully lined poly crepe and net fabric combined with sequins and tassel details look fantastic. The zipper is on the side, and the silhouette follows all the curves on the body.
You can pick between default sizes or customize chest, waist, and hip to fit your measurements. Additionally, you can even pick the length of the dress. That means you can tailor any of the CurveGirl dresses to your preference!
Here are the basic body shapes and my best suggestions on how to dress for that body shape so that you can have fabulous flapper girl fashion!
A Gatsby Dress for your Body Type
Apple Shape
If you carry more of your weight in the upper torso and are more rounded with slimmer legs and arms, you are apple-shaped.
Your body is overbalanced on the top half and you will want to divert attention away from your upper torso.
You likely have a larger bust size as well.
Scooped necklines and V-necklines will look great on you.
Get this fun and flirty 1920s Dress! 
Knee-length skirts and geometric prints will accentuate the slender legs and break up the line of the torso.
This flapper girl dress available from Babeyond, is a perfect choice for an apple-shaped body type.
The sheer sleeved, knee-length cut showcases the arms and legs, while the geometric patterns break up the vivid green of the gown and draw the eye downward toward the hips.
The rounded V-neckline draws your focus upward to the face and away from the torso.
An amazing gown for the apple-shaped flapper and a very lovely color too!
Check Out Our Gangster Girl Plus Size Costumes – Click Here!
Pear Shape
If you carry more of your weight in your lower torso, hips, and thighs and are slimmer in the upper torso, you are pear-shaped.
Your bust is likely on the small to average size and you will want to create symmetry by showcasing your waistline and playing up your upper torso.
Wide necklines such as a boat, ballet, or square neck will help accentuate your upper body.
Empire waistlines and asymmetrical hems help draw the eye upward and detract from the lower body.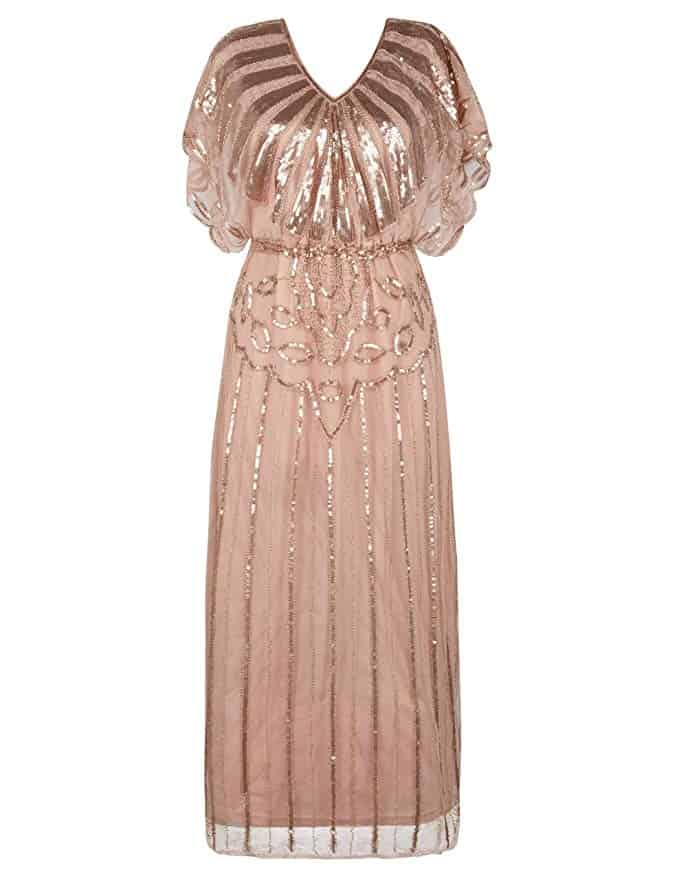 Get this Beautiful 1920s Dress! 
Here's a great choice for a pear-shaped body also from Prettyguide.
The embellished neckline design draws the eye upward.
The defined line of the beaded waistline divides the body symmetrically between the upper and lower torso.
The monochromatic color of this dress avoids drawing attention to the lower body making for a fabulous art deco Gatsby flapper girl style!
Click Here to Check Out Our Men's Plus Size Roaring 20's Costumes – You'll Match Perfectly!
Straight or Rectangle Shape
If you are balanced between the upper and lower body and have little to no waistline, then you are most likely a straight shaped body.
Your body shape looks just like a rectangle with straight lines.
Much like the apple body shape, you want to create the illusion of a waistline.
Deep scooped necks or V-necks with a defined high waistline will help cinch you in the midsection. Fit and flare dresses are a wonderful look for this body type.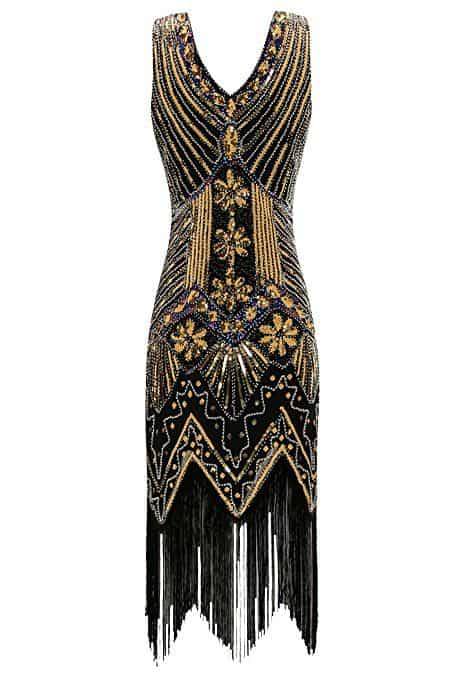 Available in a variety of Plus Sizes! 
This lovely gown by Metme is a perfect choice for the straight body.
With its deep V-neckline and visually cinched waist design, the illusion of a beautiful waistline is perfect.
The V-neckline is balanced with the V of the hemline creating awesome symmetry.
Hourglass Shape
The evenly balanced lady with a defined waistline is the hourglass shape.
If you happen to be this shape, congratulations!
Get the Gorgeous Roaring 20s Dress 
You have the quintessential feminine look that so many others strive to achieve!
Look for a gown that follows those natural curves of yours and try to minimize any trouble spots.
Avoid shapeless, oversized gowns and you'll look great!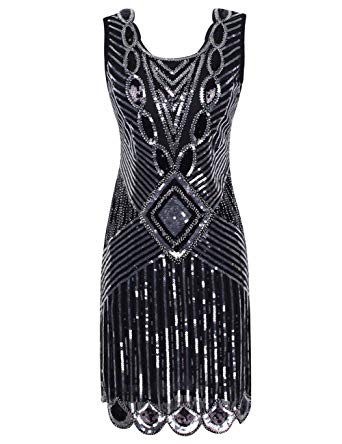 This fabulous little dress by Kayamiya is a great little dress for the hourglass shape.
The scooped neck and sleeveless design with the geometric beading defining the waistline will look fabulous on the hourglass-shaped woman!
Fun and flirty, this dress is perfection!
Inverted Triangle Shape
If you happen to have broad shoulders and narrow hips, your body shape is an inverted triangle.
This makes the torso appear larger than the lower half.
Your goal is to draw attention to the lower body and away from the shoulders.
Avoid boatneck collars and square necklines.
Instead, opt for low scooped necks or V-necklines.
This gown is an excellent Great Gatsby dress for the inverted triangle shape.
Its low scooped neckline and sleeveless design draw attention away from the shoulders.
The beadwork on this dress draws the eye to the hipline and helps create symmetry for the body.
The sheer scalloped hemline is a beautiful, unique take on the standard flapper girl dress.
Great Gatsby Dresses Plus Size Choices
In addition to body shape, you might find that your body has specific problem areas.
Get the Dress! 
For example, if you have a small bust, you might want to look for a dress that has a higher neckline that helps to emphasize the bust like this gown by Babeyond.
Babeyond Plus Size Great Gatsby Costume
Available in a variety of Plus Sizes & Colors! 
With the diamond geometric shape right at the bustline, the eye is drawn to that area, and gives emphasis where it is most needed!
Of course, the opposite is true if you have a larger bust. You will want to avoid high necklines and go for the plunging neckline.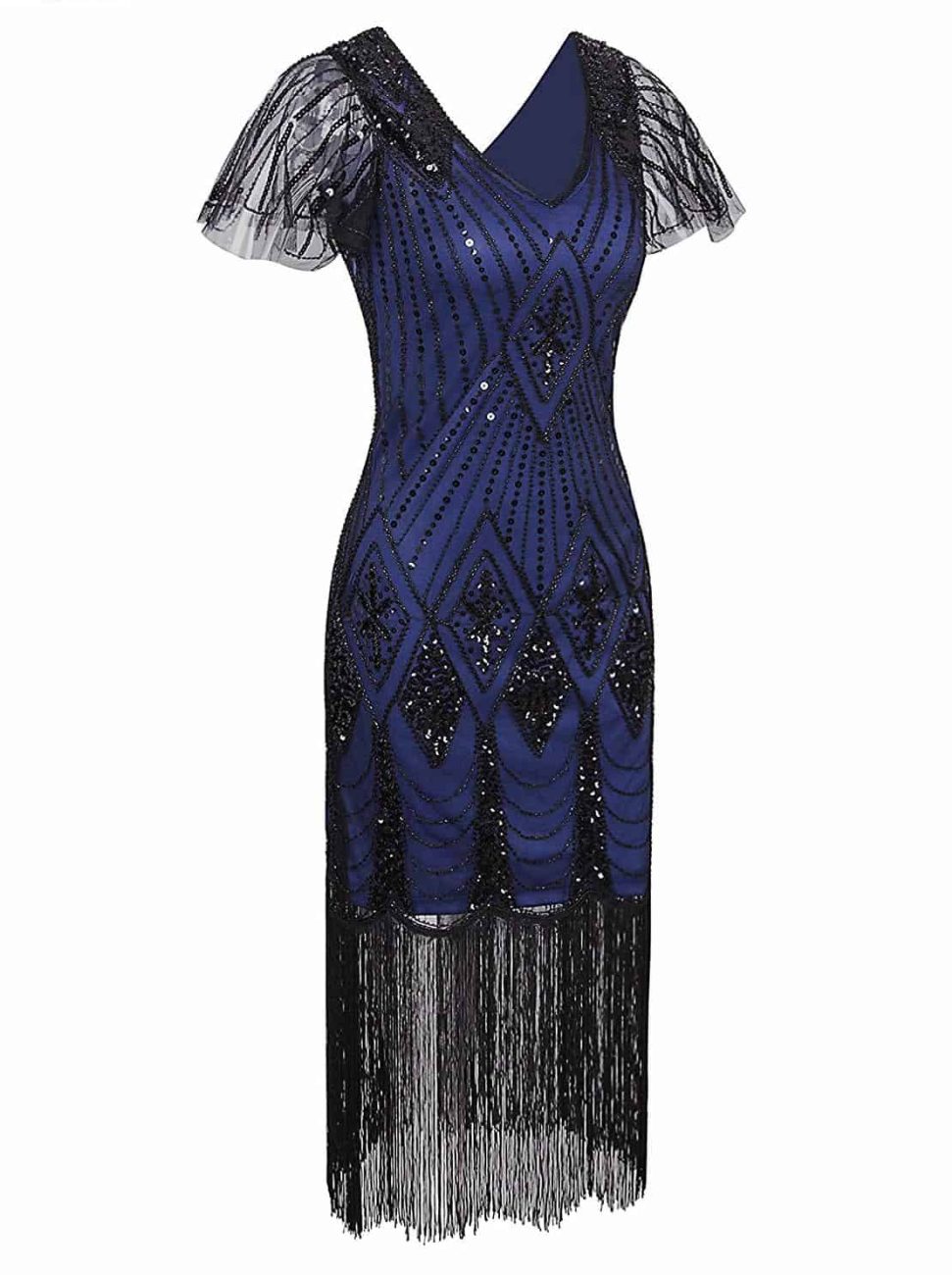 Get this CUte 1920s Tassell Dress! 
Vijiv
This beautiful cobalt blue dress by Vijiv is a perfect example.
This elegant black on blue gown is classy and feminine.
If your upper arms are a bit heavy, look for a sleeved dress that will disguise those arms.
Neemee
Check out Neemee, they have a dress with a nice lace look longer length fitted sleeve.
Just look at all that intricate beadwork!
The black beadwork on champagne color is elegant and striking.
Or you could opt for a cape-like dress that offers a bit of coverage but is not as fitted, like this dress from Kayamiya.
Kayamiya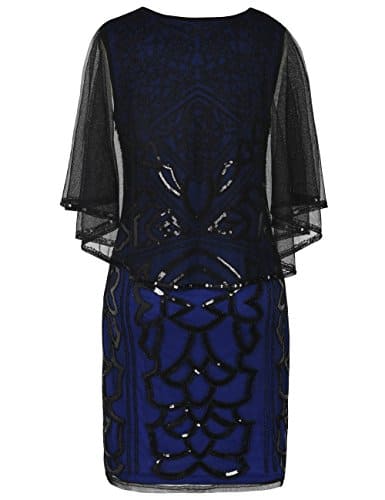 The cape offers a butterfly sleeve option and adds a bit of flair to this classy black over a blue dress.  After a plus size rose gold flapper dress? – click here to read our other article!
Plus Size Great Gatsby Prom Dresses
Do you have a Prom or formal event coming up?  Or perhaps you have heavy calves? You can find amazingly gorgeous maxi length gowns that will disguise those legs and still have you looking fabulous in Great Gatsby style!
Check out this amazing gown!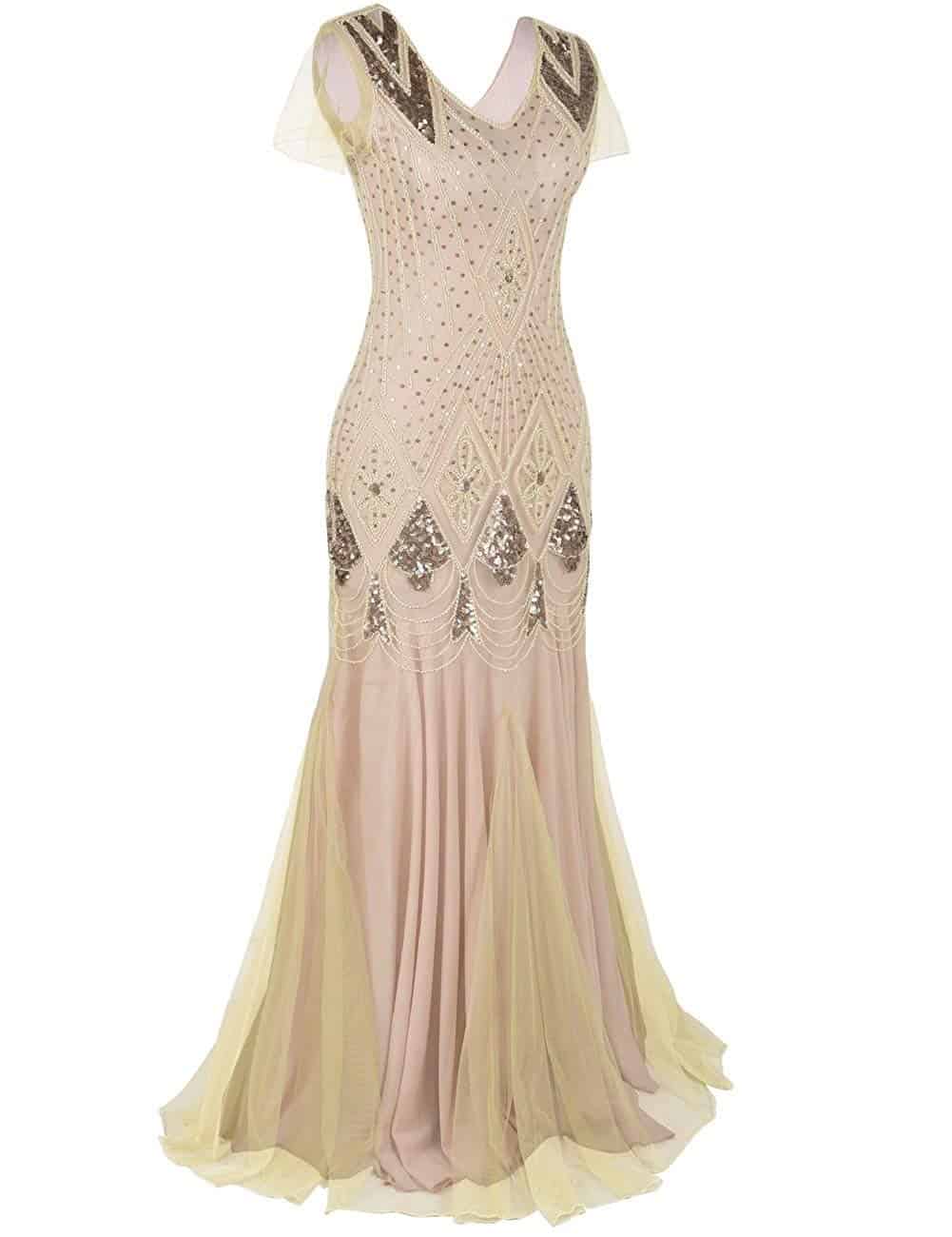 The fit and flare style is beautiful and the geometric beadwork is simple and lovely. 
Formal Plus Size Gowns
There are so many stunning options out there that you could look great in for any formal event.  I have personally worn this dress several times at formal events and I always get so many lovely comments on how nice I look – I regret that I forgot to take a photo of myself in it! (A job for next time as I am sure I will wear it again!)
Where to buy Plus Size Gatsby Dresses
Many online shops carry plus size vintage gowns from the 1920s.
Some names to look for are Babeyond, Unique Vintage, Vijiv, Prettyguide, Kayamiya, and Metme.  You can also buy great sets with everything included like this plus size art deco dress and accessories set:
Make sure that you choose dresses that are gown grade, not costume grade.
Plus Size Flapper Dresses for Parties
Costume-grade flapper dresses can be great fun too!  Let your imagination run wild and get into the fun of the roaring 20s party theme.  You will be doing the Charleston in this sexy costume all night long, ok well maybe you don't know how to do the Charleston but you'll be the most gorgeous gal there!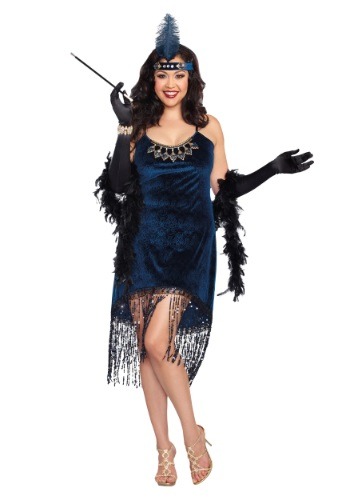 Get this Stunning Plus Size Flapper Dress! 
Some great deals are available on vintage Great Gatsby dresses if you just take a little time and search.
One more thing…
Obviously, you don't want to forget to finish out your Great Gatsby flapper girl look with a fabulous headpiece with a beaded headband and feather.
Stockings were still worn by all women in the 1920s and the flapper shoes had to be flirty with ankle or t-straps and a bit of a heel for dancing.
Many times, flapper girls wore a feather stole or boa and long beaded necklace!
You might even consider a pair of long white gloves or a feather fan.
When you put it all together, you are certain to love the way you look.
You will feel beautifully feminine and flirty in your Great Gatsby dress from the fabulous era of the flapper girl.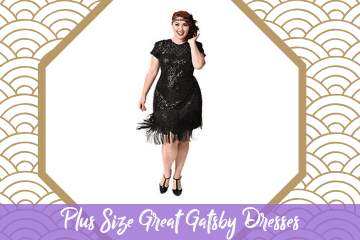 After a different certain color? Click below to see:
GatsbyFlapperGirl.com is a participant in the Amazon Services LLC Associates Program, an affiliate advertising program designed to provide a means for sites to earn advertising fees by advertising and linking to amazon.com.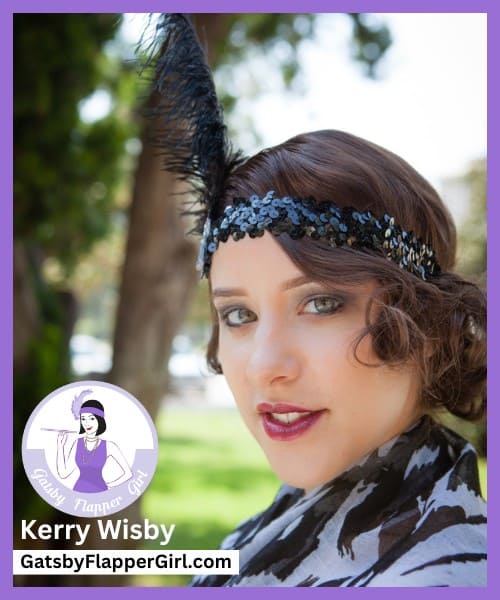 Written by Kerry Wisby – GatsbyFlapperGirl.com
Owner & Founder of GatsbyFlapperGirl.com
Kerry Wisby, a former teacher with a BA in English, is the founder of GatsbyFlapperGirl.com. With a passion for all things 1920s, including The Great Gatsby novel, her website is the ultimate source for Roaring Twenties fashion, history, and party ideas.  Read more about Kerry here.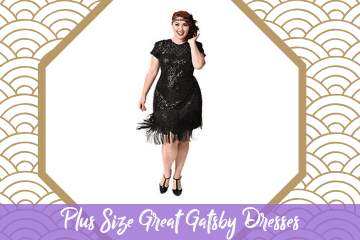 Plus Size Great Gatsby Dresses & Prom Dresses [ 2023 ]
The latest 1920s Plus Size Great Gatsby Dresses and Plus Size Great Gatsby Prom Dresses for 2023. Stunning & flattering roaring 20s styles guaranteed to impress