Roaring Twenties came quickly after World War I ended. Everyone was happy that they could shift their focus away from the war, and freedom and liberty became the most popular words throughout the world. You can see that in fashion combinations since the 1920s, clothing had freedom of movement as one of the main priorities.
Children's 1920's Flapper Dresses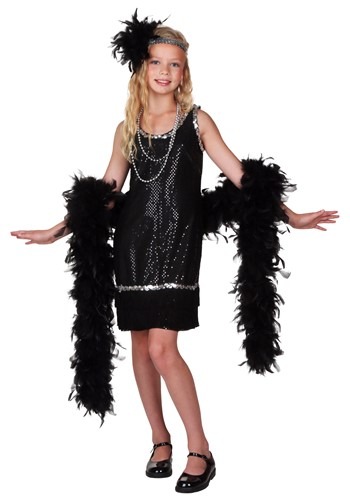 Get the Dress
Did you know that the changes that were characteristic of 1920s fashion were first implemented in children's clothing? It is intriguing to reveal that little girls wore drop-waist dresses in the second part of the 1910s.
Today, people throughout the world are inspired by 1920s fashion. I have a friend who dressed the entire family in vintage clothing for a photo session. And I can't deny, they all looked so cute and beautiful. (I wish I had taken a photo of them!)
Whether you would like to create memories or your little girl has a 1920s costume party, you might be looking for 1920s little girl dresses. I went on a search for some most suitable models, so let's check out what I discovered!
Cute Costume-Like Dresses
Are you getting your daughter ready for a costume party thrown by her school? Would you like her to look cute and dashing in an amazing costume?
Take a look at this amazing pink dress that won't leave anyone doubting your daughter got dressed for a Roaring Twenties theme party.
Kids Flapper Dress
The tasseled dress looks great, and the pink color is the best possible fit for a little girl. It is made of polyester, and it is quite durable and comfortable. If there are suitable occasions, you can use the dress multiple types. Suitable events might be costume parties, but also stage performances. And don't forget that this can also be an amazing Halloween costume!
Little girls feel confident in flapper dresses because they don't restrict the movement, and they also look nice. And don't worry about the size because there are three available, and the size chart explains all the details well.
Oh, and did I mention that the dress comes with a feather headband that matches the outfit? It is the perfect addition to the little miss flapper. The only thing you need to find suitable shoes, but try not to stick out too much with the color. Purple is a great choice, and you can never go wrong with black!
Do You Prefer Pink or Purple?
Here is a similar dress to the one I mentioned above:
 Get the Dress
The approach is the same, and the costumes look similar, but only until you look closely. This satin dress is a bit longer than the previous one, and the tassels show their true potential as your child moves.
That makes the dress a perfect choice for events that involve dancing and movement. The dress is obviously a costume, especially since you also receive a headpiece with it. The feather headband is beautiful and of high quality, and it truly shows the manufacturer made an effort.
The same could be said about the dress, which can be a costume perfect for carnivals, themed parties, and playing dress-up with friends. Three different heights ensure you will find a suitable one for your daughter, but it's the colors that attracted me the most.
The purple and pink dresses are both designed with shades of the respective colors. That enables the dress to leave an impression, which fits perfectly with the idea of Roaring Twenties. And you can never neglect that your child will feel great every time she sees the tassel moving!
Tassel Here, Tassel There, Tassel Everywhere
Let's stay with tassel dresses for a bit more since they were the favorites of females of all ages in the 1920s. Take a look at this classic pink dress with accessories:
The crucial thing to note that the only thing you do not get here is the shoes. That means the dress comes with sleevelets, which were an important accessory in the Roaring Twenties, as well as the neckerchief, which is another beautiful detail. And if that is not enough, the headband with a feather will round up the entire 20s appearance.
As for the dress itself, it is a classic polyester dress. It might not be a premium material, but no one can deny that it looks beautiful and captures the winter fashion properly. The tassels move along with every motion your daughter makes, and that will make any little girl smile like the one in the photo.
It might not be that easy for you to clean the dress, since you should wash it in cold water and line dry. However, that will all be worth it once you see how cute your daughter is in her amazing 1920s dress!
A Sequin Flapper? Why Not!
The next in the line of dresses that I loved is this beautiful sequin flapper:
Does your daughter like sequins and other shiny pieces and decorative materials? In that case, she will love this dress. The manufacturer tried hard to add an extra twist to the classic flapper, and it seems that they succeeded.
The dress is fairly short, and you have a belt-like item to round up the drop-waist design. If your little girl is a dancer or dreaming of becoming one, she will love this dress. The clothing piece will accentuate her every move, which will look even more stylish and gracious.
The dress features amazing sequins embellished dots and a round-neck design. It is easy to put the dress on and take it off since it utilizes a zipper closure. It is worth noting that you will get a feather headband to ensure your girl looks fabulous!
Thanks to the shiny sequins, the dress is also great for Great Gatsby and other formal-themed parties. Since it is breathable and comfortable, your daughter can effortlessly wear it for hours. You can find the dress in yellow and blue colors, although I love how yellow works with the sequins and other accessories.
Need Shoes? Click Here to See More Roaring 20s Shoes
A Little 1920s Flapper Girl Special
If your little girl is truly little, and I am talking about a 4-5-year-old wearing size six, you will love this dress:
It is a flapper, but the manufacturer tried not to push things too far. That is why they controlled themselves when adding tassels to the dress. The result is a fine, non-imposing dress, that has a bit of Indian touch to it.
The clothing piece features a combination of pink and silver in an attractive and unusual design. Now, check out the jewelry traces on the top part of the dress. Allow me to let you in on a little secret – the jewelry is printed!
It is an excellent way to ensure that wearing the jewelry won't bother your little girl, but still add to the overall appearance. The flower headpiece is also very elegant and makes the entire combination look stylish.
Looking for Formal Attire?
Women in the 1920s wore the flappers I already presented to evening events, too. However, you might be looking to take things to the next level when it takes to formality and elegance.
That is why I invite you to check out this dress: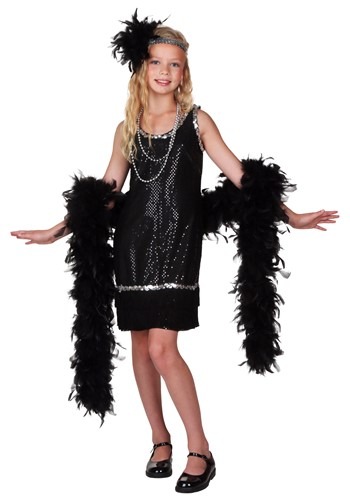 Get the Dress
This combination is a perfect choice if your little girl wants to look like fashion icons of the 1920s. Wherever they showed up, movie stars and royalty members attracted attention, and this dress replicates the attires they loved wearing.
The first thing you notice is that this pullover dress is sleeveless, which only starts the entire throwback and homage to the 1920s. The manufacturer was generous at using fringe to secure authentic details for the dress. I didn't count, but the description indicates there are right fringe tiers alternating gold and black colors.
The tank style straps combined with a scoop neck and amazing silver sequins make this dress fascinating. The drop-waist design of the skirt features a base layer of sequin and a couple of fringe tiers.
The jewelry and feather accessories only add to the overall appearance. Everyone loved dancing the Charleston in the 1920s, and this is the perfect outfit for doing so. If somebody plays that music, your daughter will look like a movie star of the Roaring Twenties while dancing. It will be dazzling and beautiful!
Finally, allow me to mention that I was delighted with the quality of the dress. The manufacturer used premium materials, and it is only a shame that there are no other colors offered. However, I have to admit black is the most logical fit for this type of dress!
Your Little Girl Can Look Like a Ballerina!
Does your little girl like dancing? If the answer is yes, this is the dress you have to check out:
You will probably see ballet dancers wearing this type of dress today, too. The flapper clothing piece is perfect for dancing. The upper body part is tight, and the high neck only adds to the elegant appearance. It is a classic and vintage, but also look ideal for performances!
That is because of the sequin fringe design that is a trademark of the Whitewed brand. Not only is it a perfect choice for dancing and formal attires, but it is also a classic mark of the 1920s.
Red is always a stunning color and it is always popular.  However, make sure to check out other colors too, since you can choose blue, black (a timeless color), and color combos, as well.  The mixture of red and gold looks great. It is what makes the dress tempting to both little girls, but also teenagers!
Dress it us with a stunning headpiece – Read More
How About Matching Outfits for Mom and Her Little Girl?
I saved a special surprise for the end! Now,  what if you and your little girl are attending the same 1920s-themed party?
If you want to dazzle everyone, the best way to do that is to wear matching dresses! These are not easy to find in today's market, but AMJM was kind enough to design a clothing item that might fit your needs:
The designers picked an elegant purple color with a lot of detail. The chest features sequins on the front, and they give the dress a luxury and high-class look.
The lower part of the dress stretches down to your knees, and the irregular hem emphasizes your every move, whether it is walking or dancing. The flapper design will put you both in the 1920s mood right away. You will want to start dancing and enjoy a beautiful evening!
The dress is great since it is cute enough for little girls, but also attractive enough for moms who want to look classy and elegant. It is also great if your daughter wants to dress up like you more.
You can also find the dress in apricot, blue, gold, and black, but if you ask me, light purple is the most elegant choice. The only thing to note is that you buy dresses separately, and there are two size charts for adults and children. Now, go ahead and choose the sizes to dazzle everyone at that Gatsby party!
Frequently Asked Questions
Q: How did little girls dress in the 1920s?
A: You could say that the main characteristic of the Roaring Twenties was liberation, and we can see that in children's clothing. Little girls started wearing cotton and fabric-made dresses that were loose and relatively short. The idea was to allow them to play, but also ensure maximum comfort.
Q: What were the main girl fashion trends in the 1920s?
A: Females loved to wear flapper-style clothes that were short of ensuring maximum movement. Flapper dresses with beads and other details were also quite popular, as well as feather headbands and other headpieces.
Q: What were the most popular girl fashion icons in the 1920s?
A: Movie stars like Marlene Dietrich, Joan Crawford, Norma Shearer, and Gloria Swanson enjoyed the status of fashion icons. The same is true for members of royalty and celebrities like Josephine Baker and Zelda Fitzgerald. The most popular designers included Jeanne Lanvin, Coco Chanel, Jean Patou, etc.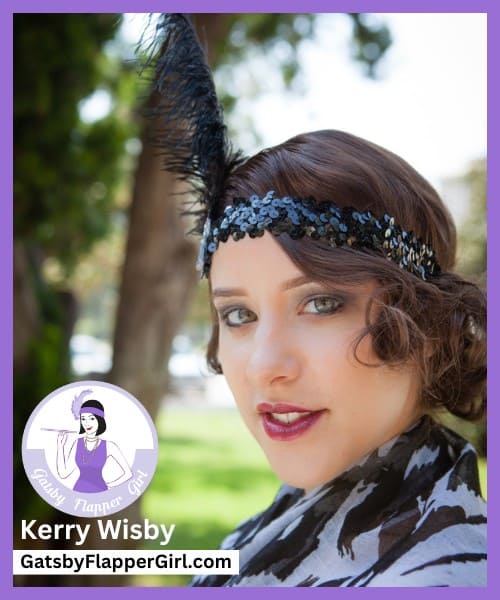 Written by Kerry Wisby – GatsbyFlapperGirl.com
Owner & Founder of GatsbyFlapperGirl.com
Kerry Wisby is the owner & founder of GatsbyFlapperGirl.com, your go-to source for all things 1920s & The Great Gatsby. With a passion for the era & a wealth of knowledge to share, Kerry is dedicated to providing you with everything you need to know about Roaring 20s fashion, 1920s history, & Great Gatsby-themed party ideas. Join Kerry in bringing the spirit of the Roaring 20s to life! Read more about Kerry here.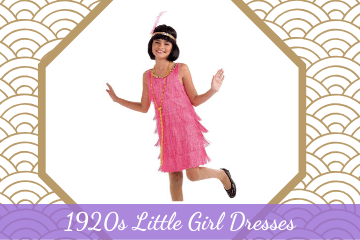 1920s Little Girl Dresses
Are you getting your daughter ready for a costume party or Halloween? She will look cute and dashing in these 1920s little girl dresses!