Top 6 1920s High-Waisted Men's Trousers for any Occasion
If you had a chance to choose, what era of human history would you go back to experience? Although it might be fun to see ancient times, my favorite would be the 1920s! It was a time of liberation, and not only because the war ended.
The people started thinking forward in all areas of life, and that included fashion. We could see beautiful women in flapper dresses, and men were looking stunning in amazing clothing combinations. Both business and casual attire seemed elegant and classy. So, if you have a 1920s themed party soon, you should be happy about it!
Unfortunately, I don't get called to a lot of costume parties. However, I love preparing for them, and I know that many of my male friends do, too. If you think about it, theme parties are great. They allow you to experiment and dress up as you never did before. Additionally, you can turn on your acting skills, and be a movie star or even a gangster from the roaring 20s.
Did that boost your motivation? I hope so because you have a wide choice of high-waisted men's trousers to pick for on the market. I am not only talking about costume parties but weddings and other formal and informal occasions.
Here is the top selection of the trousers on the market.
You Can't Go Wrong with Classics
We will start with a couple of versatile models that are suitable for many events. Some would say these are classics, and they wouldn't be wrong. For example, take a look at these navy-colored trousers designed by ThePirateDressing.
These are standard single-colored trousers that go with a white shirt and a pair of suspenders you choose. Please note that you don't get the suspenders with the pants, but they are required because belts are not supported. You can use the buckle on the back to adjust the size, but the trousers look better with suspenders.
The entire clothing combination will make you look stylish and vintage, and like you've come from the 1920s. The zipper closure with a button on top makes it easy to put the pants on and take them off when necessary.
The manufacturer used a mixture of viscose and polyester to ensure breathability and guarantee that you will feel comfortable even when wearing them for hours. The pockets are a nice touch since they are both convenient and stylish.
The manufacturer pinpoints that you shouldn't go with the standard size chart, but follow their body measurement table. If you don't do that, you might end up with pants that are too short or too long!
Brown Check for an Added Vintage Touch
While navy trousers are stylish, you might be looking to go full-on vintage. That especially applies if you are heading for a 1920s-themed party. You will notice that many boys and adult males of the time wore brown pants. Those who particularly cared about their appearance made sure that their trousers are not single-colored, but feature a pattern.
That is why I was delighted when I came across this brown check pants.
They belong to the same series as the navy ones mentioned above, but they look completely different. If brown is your color and you love wearing it, you have to try these trousers.
The high-waist is famous for the late 19th and early 20th century, and you also have buttons for attaching suspenders on the waistband. Alternatively, you can keep the pants tight with the back buckle.
Unlike the previous model, this one is made from 100% cotton. That means the material is of the highest quality, and the trousers will last for a long time. Although there are more than a dozen designs available, it's not hard to determine these are the best fit for the 1920s.
Go Elegant with Chino Pants
It might be a costume party, but you would never give up your elegance and manhood. I can understand that men always need to feel manly, and that will be possible in these amazing pants.
Chino pants seem to be back in style these days. This particular model is affordable but made of durable and comfortable materials. The manufacturer combined cotton and polyester to design chino trousers perfect for any occasion.
Are you heading on an outdoor roaring 20s event? If it is summer and hot outside, that means it's time for you to shine in bright colors!
The unique stone combination is perfect to combine with a variety of shirts and shoes. I love how the designer made enough space through the thigh, and it's that bagginess that slightly reminds of knickers.
The zipper with a button closure looks nice, and the pockets on the front and the back are convenient. Many stylish men in the 1920s loved wearing this color and other beige shades, which means you will fit in the timeline immediately. And if you need to fast forward the time and visit a formal event like a wedding, these chino pants will still be your best friend.
Add a Gangster Touch with Stripes
I don't approve what mobsters do, but when it comes to 1920s gangsters, they cared about appearance and understood that style contributed to their overall image.
Do you know what the trademark of tough guys in the roaring 20s was? The answer is stripes!
Check out these amazing trousers designed by the Historical Emporium. They are 100% cotton, which is both comfortable and premium material. It is also genuine since it was used back in the 1920s.
The high-waist design also fits the timeline, and the stripes look amazing. You will turn into Al Capone, Lucky Luciano, or other famous gangsters in no time!
These iconic trousers also have other details of the 1920s. You can place suspenders on the buttons on the waist, and the adjustment strap adds to the v-notched back design.
And here is a great idea – if you are visiting a party with your partner, how about getting some inspiration from Bonnie and Clyde? You could act to be a mobster couple, and I am sure everyone will love that!
A Themed Party Requires a Costume
I will end up the 1920s high-waisted men's trousers selection with two suggestions that are more costumes than versatile pants. However, if you are going for the 1920s look, you want to wear something that fits the timeline completely.
That is why you cannot go wrong with these tweed knickers designed by Historical Emporium!
Knickerbockers were a massive hit in the 1920s, and these trousers are a fantastic replicate of the ones worn at the time. A single look at the knickers and their brown design will be enough to realize how unique they are.
The design is eye-catching and attractive, but the trousers are also comfortable. The secret lies in the satin lining that goes to the knees. The other materials used include polyester, acrylic, and wool for an authentic look.
The bottom of the pants comes with cuffs that are secured by an elastic band. The pockets offer a lot of room for your valuable items, and you can both wear suspenders and belts with the trousers.
Extra-Large Pants for Roaring '20s
Finally, here are trousers that will make you look like you entered a time-traveling machine and headed for the 1920s. But isn't that the point of heading to a themed party?
Forum Novelties designed these trousers to ensure you look unique, but also fit the roaring 20's décor. Add to that the affordability, and you get amazing pants that are a real bargain.
Keep in mind that these pants are truly large since they are 16-inch high. I love the fact that they are one-inch wide, which means there will be enough room everywhere. And that baggy design is what characterized the first half of the 20th century.
Although the trousers feature a pull-on closure, you can add a belt through the loops or attach suspenders. The pants are made of polyester, which means their comfort might not be at the highest level. Regardless, they are a great opportunity to look dazzling at the Great Gatsby's themed party!
Frequently Asked Questions:
Q: When did knickers go out of style?
A: Knickers were extremely popular in the first part of the 20th century. You could see both adult males and boys wearing them. According to historical data, even skiers wore these pants. However, they went out of style in the 1930s and were virtually gone by the start of WWII. Today, you can only see some golfers and walking enthusiasts wearing them.
Q: Why are knickers called plus fours?
A: These are the three terms to explain – knickers or knickerbockers, breeches, and plus fours. Knickers are trousers baggy at the knees, and they are worn by men and boys. Breeches are clothing items that cover people from the waist down and are considered a subtype of knickers. Each leg has a separate covering, and breeches go to the angles or stop right under the knees. Plus fours go under the knee for about ten centimeters (four inches) and belong to breeches, which puts them in the category of knickers, too.
Written by Kerry Wisby – GatsbyFlapperGirl.com
Owner & Founder of GatsbyFlapperGirl.com
Kerry Wisby is the owner & founder of GatsbyFlapperGirl.com, your go-to source for all things 1920s & The Great Gatsby. With a passion for the era & a wealth of knowledge to share, Kerry is dedicated to providing you with everything you need to know about Roaring 20s fashion, 1920s history, & Great Gatsby-themed party ideas. Join Kerry in bringing the spirit of the Roaring 20s to life! Read more about Kerry here.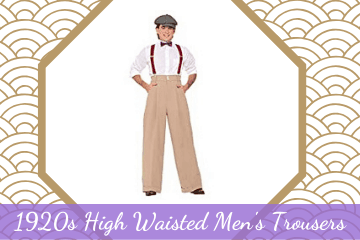 1920s High-Waisted Men's Trousers
If you are looking for high-waisted men's trousers inspired by the 1920s, but suitable for any occasion, check out this unique selection!