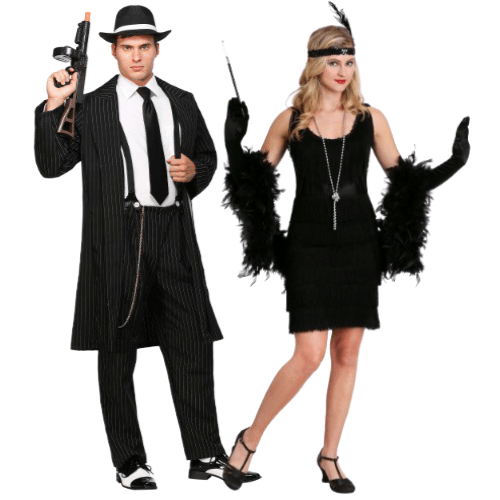 If you ask me, theme parties are an exciting occasion. You get to wear something you might have never worn before. It is also an
opportunity to dazzle everyone with your appearance. What if you are invited to the roaring 20s party together with your partner?
That is another reason to try and find the best possible outfit for the costume party. My partner and I, love heading to this type of party, it is so much fun! If it is your first time to dress for a 1920s occasion, here are some suggestions on what to wear!
Mob Boss and Gangster Gal
You probably know that some of the biggest mobsters ever come from the 1920s, such as Al Capone and Bugsy Siegel. If you are looking for a Halloween costume themed by this era, you can't go wrong by dressing up as a gangster and his girlfriend.
It will give you the opportunity to look hot and attractive while fitting the theme perfectly. Stripes should be the main motif of your flapper costumes since mobsters loved wearing them at the time.
Males can go with a leisure combination that would combine the classic black and white color. Here is what I like – finding white-striped pants and jacket, but going for a black shirt. If you want to add another touch of the era, make sure to include suspenders.
When it comes to costume accessories, you don't need too much, but a matching necktie and hat could be the way to go. As for the female combination, if your mob boss looks hot and attractive, you should aim for nothing less. That is why you cannot go wrong with a romper with an attached red tie.
The romper should be stripped, and the necktie should be red or another passionate color. I also recommend wearing high heels, hats, and other accessories. That could be the perfect combination for anyone who hates the idea of wearing a flapper dress. It is an alternative that will ensure you have the sexiest costume at the party.
Gangster & Flapper Girl
If you feel like the previous combination is a bit too much, and you would prefer something more classic, how about trying a different style For example, women can go with an elegant black flapper costume. That could be perfect if you are heading to a birthday party that is a bit formal, and you don't have that much freedom when choosing the outfit.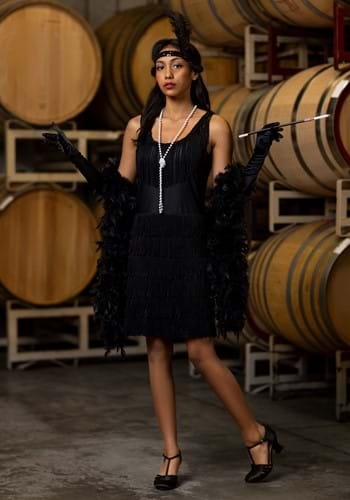 Black color never goes out of style, but you should consider adding the right accessories to your flapper dress. That could include a headband, feather boas, a cigarette, and even stockings.
As for the flapper costume itself, try to find a dress that has sequins or fringes since that was the main characteristic of that era. You want to aim for a knee-high or shorter outfit so that you have the freedom of movement. If some jazz music starts playing, you will be ready to impress everyone with your dance moves!
If you want to find a male Halloween costume that fits that theme and your flapper dress, I suggest keeping the word "elegant" in mind. For example, choosing stripes that are not that visible and picking black color as the dominant one will be the perfect match.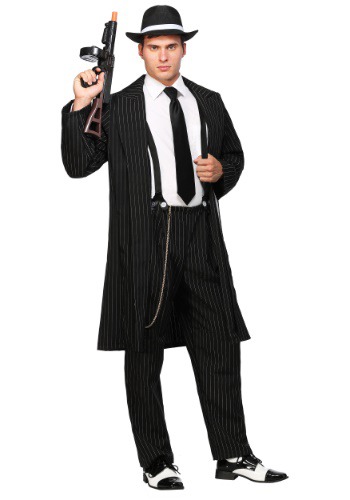 Suspenders, hats, and even gun costume accessories could be a perfect fit. They will ensure that the man has enough freedom to move and spend hours in the outfit while maintaining elegance throughout the night. If you need a combination for a murder mystery dinner, this will ensure you feel comfortable during the entire event.
Gatsby & Daisy
Can you think of a better connection to the 1920s than The Great Gatsby? The entire United States is inspired by this character, and any male will be delighted to resemble his clothing style. It is why you should consider going to the party in a Gatsby & Daisy combination (see all our Great Gatsby party dresses).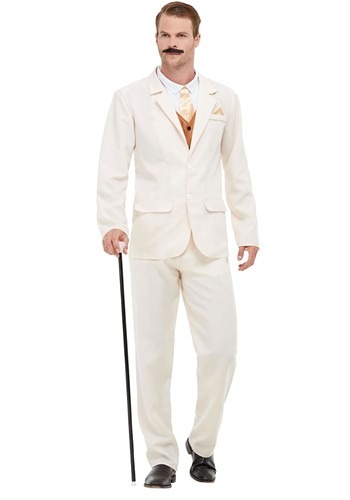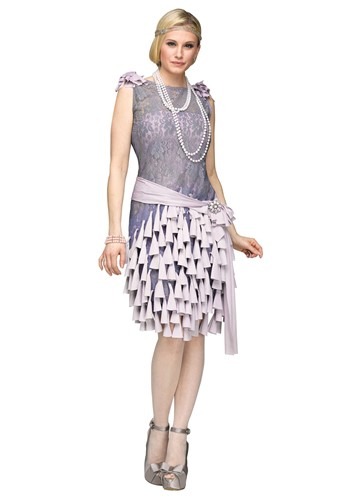 Your Halloween costumes could vary in colors, but Gatsby was never afraid to stand out from the crowd. That is why a cream white jacket is an excellent way to be different from the rest. As for colors, cream white might be the dominant one, but consider going with a beige necktie, and mix and match with black shoes and even a cane.
Women will love the opportunity to experiment with colors. While a bluebell costume won't remind you of flapper dresses that much, it will resemble Daisy Buchanan perfectly. Those who watched the movie or read the book will hardly find one outfit that resembles her style better. And the best part is that it shouldn't be a problem to find a plus-size option if you need it!
Good Time Charlie & 1920s Gal
Are you the couple that always dances regardless of what music they play at a birthday party? If that is true, you will love the chance to jump into Halloween costumes featuring a good time Charlie and a flapper girl from the 1920s (you might also like to read our article on 1920s Halloween costumes for adults).
Here are some recommendations for men – go for classic black pants that allow you to move. When it comes to the jacket, combine colors, such as red, gray, and white.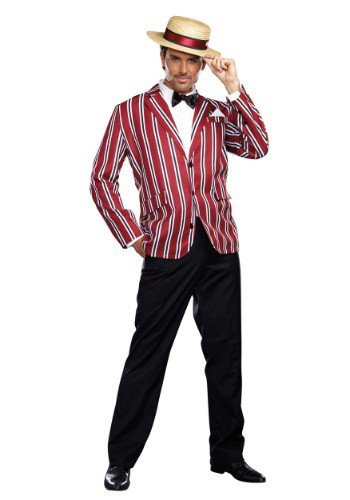 The devil always lies in the details, but many combinations will come with accessories like a hat and bowtie. And yes, females can match this outfit by choosing flapper dresses. You don't have to experiment too much because a tank dress combined with a lace shirt will do.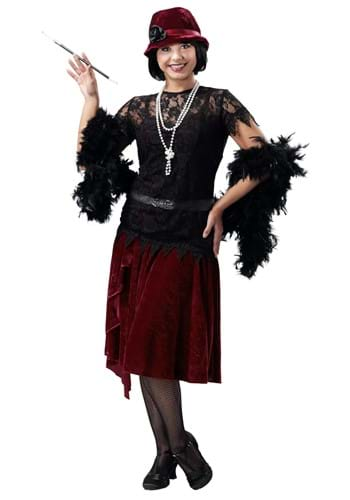 Get this Great 1920s Ladies Outfit!
You want a beautiful belt, especially if you would like to point out your beautiful figure. Add a bit of makeup, and choose amazing shoes, and you will be ready for the party!
Charlie Chaplin and Beachside Betty
The roaring 20 theme is great because it allows you to experiment with your clothing. If you ever dreamed of being an actor, what about jumping in costumes of Charlie Chaplin and Beachside Betty?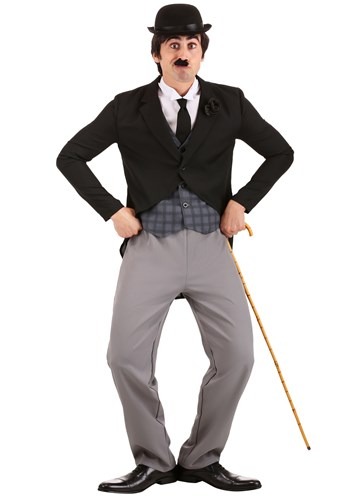 Get the Charlie Chaplin Outfit!
Charlie Chaplin loved wearing a mixture of jackets and vests. He wasn't afraid of mixing different colors, which is why pants could be gray. The important thing is not to forget the hat and the cane, which were trademarks of the famous comedian. And one shouldn't worry about the mustache because you can find them as part of the included accessories with many combinations. Can you imagine anyone better to accompany Charlie Chaplin to a murder mystery dinner than Beachside Betty?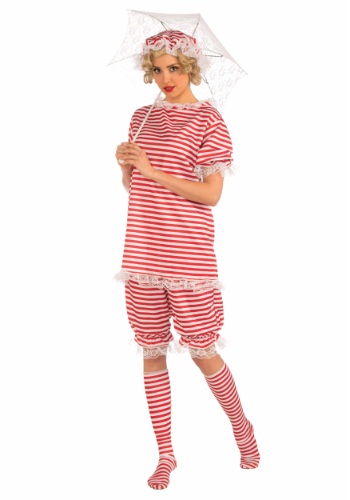 A tunic with bloomers, socks, and a matching hat and you are ready to go. It shouldn't be a problem to find it in plus size, but these costumes are more fitting for the summer.
Whatever the season, I am sure that these suggestions of couple costumes for a 20s theme party will help you get an idea of what you should wear!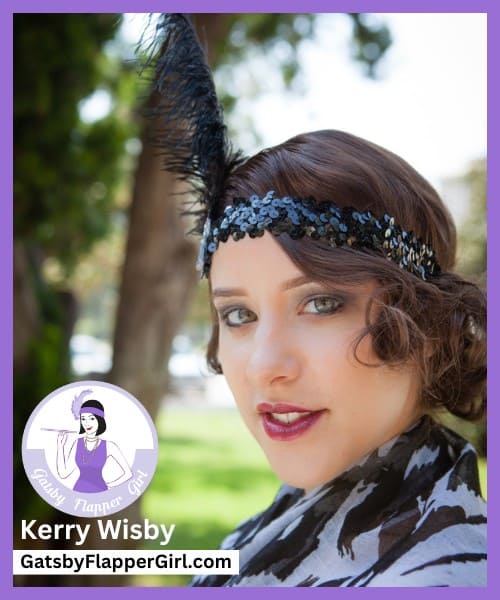 Written by Kerry Wisby – GatsbyFlapperGirl.com
Owner & Founder of GatsbyFlapperGirl.com
Kerry Wisby is the owner & founder of GatsbyFlapperGirl.com, your go-to source for all things 1920s & The Great Gatsby. With a passion for the era & a wealth of knowledge to share, Kerry is dedicated to providing you with everything you need to know about Roaring 20s fashion, 1920s history, & Great Gatsby-themed party ideas. Join Kerry in bringing the spirit of the Roaring 20s to life! Read more about Kerry here.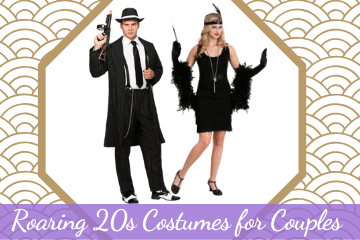 Roaring 20s Costumes for Couples That Dazzle!
Would you like to find the best roaring 20s costumes for couples for the upcoming Halloween or party? Check out our suggestions on how to dress perfectly!