This article contains links where we may earn a small commission at no cost to you: Learn more here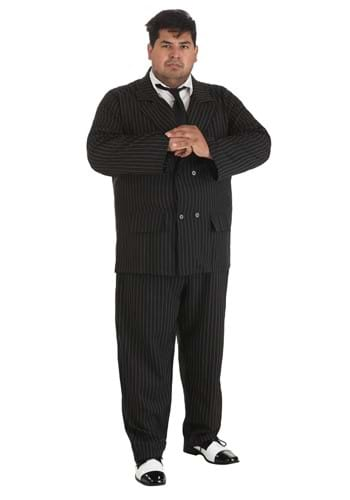 The most stylish men of the time. That is why many costumes ideas are inspired by Gatsby's character. For starters, you can always go with a classic men's vintage style costume.
Whether you are going to a 1920s event or a party inspired by any other era, black and white will never be a miss. However, you want the specific touches to fit the famous outfits worn during the 20s. A white shirt combined with a black jacket is a must, but what you want to consider is a satin swoop vest. It is a nice way to add elegance to your costume.
It is Your Turn to Shine!
If you feel inspired by the Great Gatsby, a white costume can be your opportunity to shine. It will secure that you look both elegant and classy, which will leave no doubt when it comes to whose character you wanted to portray.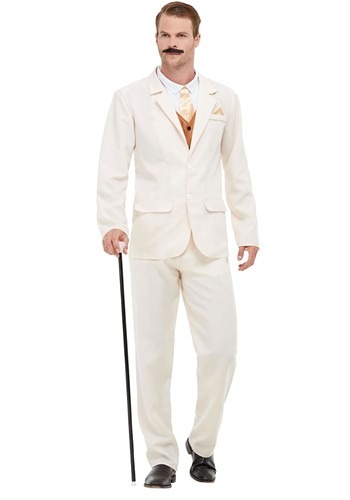 It is all about the small things, which is why the shirt should be complemented with a vest and the necktie. Depending on the costume, the necktie could be pre-attached so that you can easily put on your costume whenever necessary. As you can see from the photo provided, you don't want to go with the classic white color.
We all know that it is cream white that is associated with luxury and rich people. Jay Gatsby was one of the richest in New York City, which is why he loved cream white. Please note that not all costumes come with canes as an accessory. You could look around and see if any of the older household members have a cane you could borrow. Alternatively, go with a unique cane that features a unique pattern.
If you have to buy this accessory, at least make it worth your while!
1920s Men's Costumes – How to Dress Like a 1920s Gangster!
We can't escape the fact that crime bosses were among those that marked the entire 1920s period. Now, smart men would never let themselves do anything illegal in real life. That is where Halloween costumes come into play! They give you a chance to dress up as the classic mob boss, if only for a single night.
You can use different approaches, and it all depends on who your favorite mobster is. An easy 1920s character that comes to mind off the top of my head is Clyde. Also known as Bonnie's companion, Clyde didn't complicate when it comes to fashion. His favorite color was brown, and it was in line with the men's 1920s fashion demands.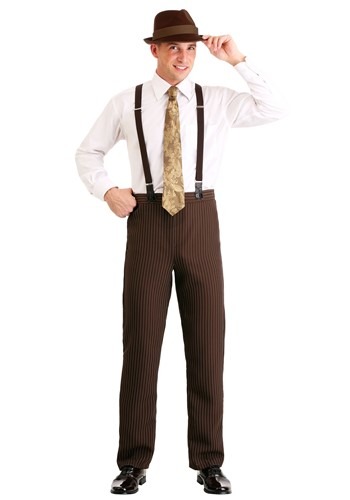 Apart from brown pants and white shirts, don't forget the important addition of suspenders. They were Clyde's trademark, and you can consider diagonally attaching the suspenders in the back. You can experiment with the tie as long as it fits your overall outfit. Since you are a bank robber, how about taking a money bag to the party?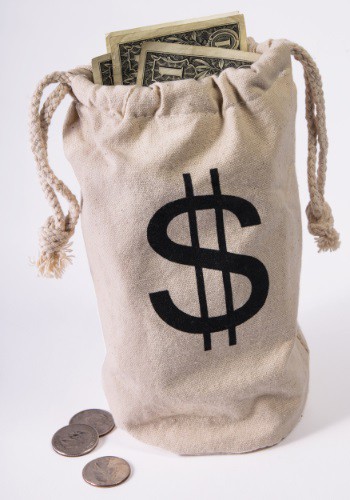 A bag filled with phony money is among the best details and ideas you could have for a bank robber role. If some women dress up as cops and they have wrist shackles, you can even act as if they are arresting you!
Full-On Mobster Mode – 1920s Costumes Men's Style
Are there any better men's vintage style costumes than those allowing you to enter the full gangster mode?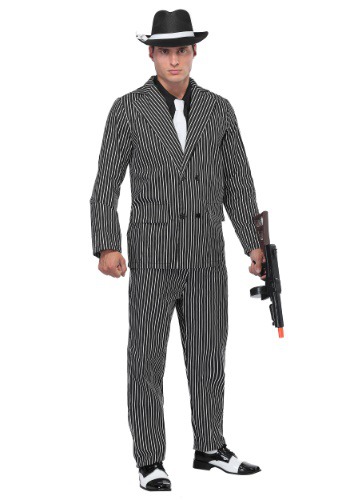 I'm talking about an entire suit inspired by the crime bosses of that era. These costumes should have wide pinstripes since the people associate them with dangerous mobsters. Yes, that is partially inspired by the movies, but it is a fact that many criminals wore stripes at the time.
The wide white stripes are an excellent fit for the black pants. It is worth noting that the buttoning fits the era, too, and the pre-tied necktie is convenient because you don't have to tie it yourself. Although costumes often point out the appearance, it is also important that you feel comfortable.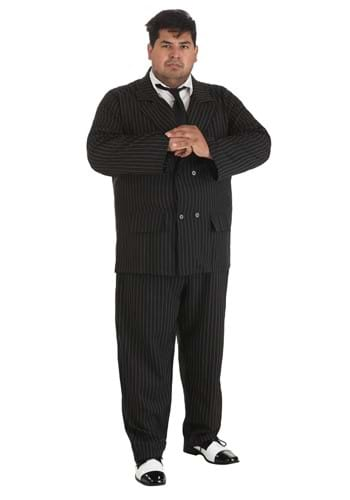 That is why you should consider costumes that feature an elastic waist so that they are not too tight at any moment. It is critical to pinpoint that you will be wearing the costume for hours since the odds are the party lasts through the night. As for the materials, polyester is a fine choice as long as you don't plan to wear the costume too often. If you take good care of the outfit, it will serve you for multiple occasions, but this material is not exactly for everyday use.
Experiment with Different Colors to Attract Attention
Top crime bosses were always giving their best to dress differently than others. It was important because it made it easy to set them apart from the crowds and their assistant. That is why many resorted to using various colors when dressing for going out.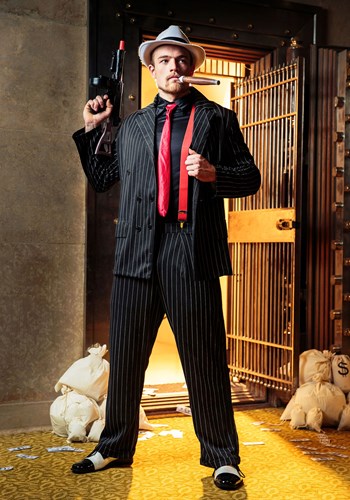 If you don't like extravagant shades, the secret will lie in combining everything properly. For example, you can go with a classic black suit with gray-white stripes. However, you can make that combination more dynamic if you choose a red necktie. If that doesn't seem like enough, add red suspenders, too!
Here is why that could be convenient. Not only the red color is an excellent contrast to the black, but the party might last for hours. If it is hot inside, you might need to take off your jacket after a while. Once you do, the red suspenders will ensure that it doesn't affect the attractiveness of your costume. It will be like you have two outfits ready at once!
A Classic Mob Boss with A Modern Sense of Style
While you can stick to the classics, the beauty of choosing the costume for the party is that you have the creative freedom. So, why wouldn't you try costumes that combine modern and vintage style?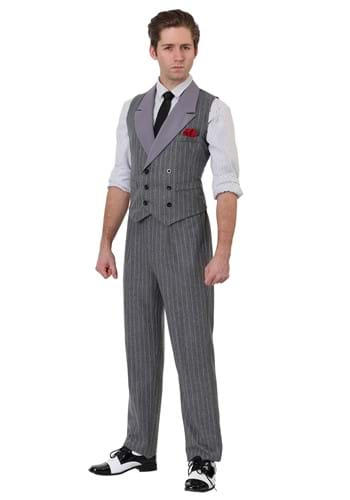 It doesn't seem much likely that a classy mobster from the 1920s would go jacketless to a formal event. However, if you feel like you can pull it off, there could be great costumes ideas hidden in that department! For example, how about a costume that features striped pants, but comes with a vest instead of a jacket?
You will achieve the desired casual wear level while maintaining a fashionable appearance. A white shirt is a must, but you can experiment with a tie that would have red and black shades. If you want to make anything more formal, you can choose clothing items that are a bit different.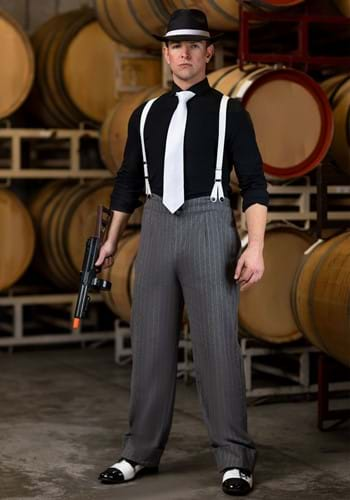 For example, going with a 1920s fashion men's costume inspired by mobsters could also mean dressing only striped pants. They should be high-waisted and wide-legged, and you should never forget the suspenders. If you go with the classic black shirt but match the suspenders and the tie, you are guaranteed to look classy The devil lies in the details, which is why you shouldn't forget a hat.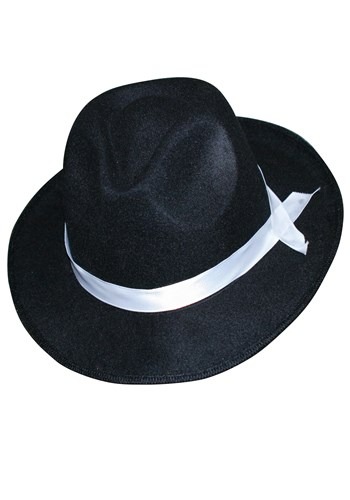 Rather than going for a top hat, you should prefer a round gangster hat. It will still look formal while ensuring that your costume meets the mobster theme.
Take Things to the Next Level with a Sexy Gangster Costume
Here is a unique and different idea – instead of going for classy and elegant, how about emphasizing true sexiness? If you would like to be the star of the Halloween costume party you are attending, you can consider adjusting your gangster suit to those needs.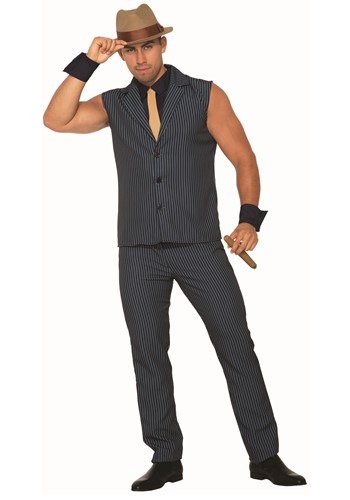 You should still go for dark pants with white stripes. However, instead of classic black, go with white stripes. Also, don't choose pants that are too wide because tighter ones will better emphasize your legs. If you feel like you have what to show, the next step is going sleeveless!
That means that you need a sleeveless shirt, as well as a sort of jacket/vest combination above that. The important thing is that your arms are bare, which will serve nicely to emphasize your muscles. You can always go with a necktie and wrist cuffs to add to the overall elegance of the combination. My personal opinion is that you should consider adding a hat, too.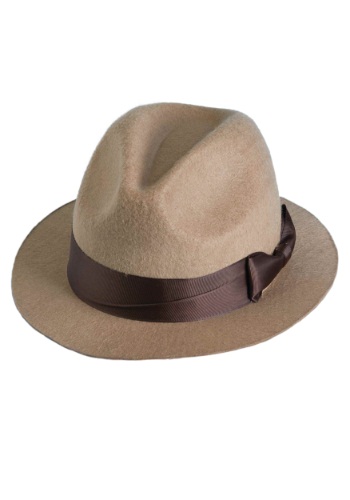 The costume I described seems a bit bare without a hat, which is why you might want to use it when assembling your outfit. It is also convenient when the ladies are passing by, and you take your hat off so that they can see you are a true gentleman!
Have You Ever Wanted to Try a Zoot Suit?
For those of you who don't know, a zoot suit is a costume that features wide-legged and high-waisted trousers and a long coat with padded shoulder. It only started in the 1920s but reached its true popularity a decade or two later. That doesn't mean you shouldn't experiment with zoot suit ideas.
It will help if you go with the mobster-like pinstriped design on your costume. The suit might be a bit modern for the 1920s, but it is the stripes that will sell you as a person from that era. You can't go wrong with a long jacket where the white-dominated, but the stripes are visible. Make sure to combine that with wide-legged pants that feature a matching design. And despite the domination of white, other colors can be important, too. For example, you can choose a black shirt under that costume. Adding a tie and suspenders, as well as a hat, can be other touches that come from the roaring 20s era. You can also go with an entirely different approach where the red color will dominate.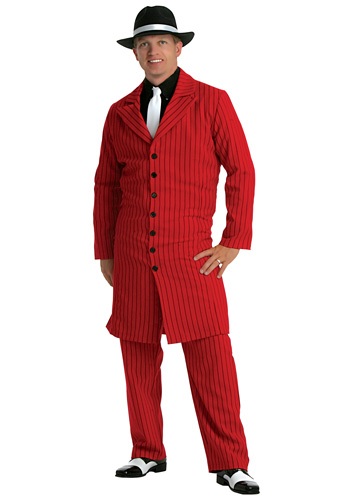 The pants and jacket should both be red, while the stripes should be either white or black. If you go with white, choose a black tie, and vice versa. The shirt should be black either way, and we could say the same about the hat and shoes. Always remember that colors are welcome, but you still want to look stylish, so try not to take things too far!
Think Outside of the Box
If you want a unique 1920s fashion men's costume, you shouldn't hesitate to get creative. What do you say about leaving the idea of dressing formally and choosing a costume for another event?
Beach costumes could be an excellent idea if you want to attract attention and add a bit of lucidity to the party. I'd suggest that you choose the colors, but blue and white horizontal stripes were the top choices back at the time. You want to present these costumes properly, which is why you could add a beach ball for impression.
I will admit that beach costumes might have a touch of comedy to them, but if you always dreamed of making people laugh, they can be a smart pick. These costumes might not be your best bet if you plan on approaching women during the event. However, if you do things right and get them to laugh, you would be surprised what the right approach is capable of doing. But let's get back to our dressing outfits. Finding a men's costume inspired by golfers is another unique approach to your outfit.
The good news is that you will have plenty of colors and styles to choose from, d you only need to pick your favorite. If golfing is your hobby and you feel comfortable in these outfits, they could be the perfect costume for the night. Make sure to look like a golfer from the 1920s rather than dressing like today's modern players.
Take the Role of Your Favorite Baseball Player
Baseball was incredibly popular in the first part of the 20th century (yes, it's still popular today). If you are a fan of this sport, how about taking the role of your favorite baseball player? You would have to choose someone from the 20s, but that shouldn't be a problem because we all know of Babe Ruth, Lou Gehrig, Ty Cobb, and others.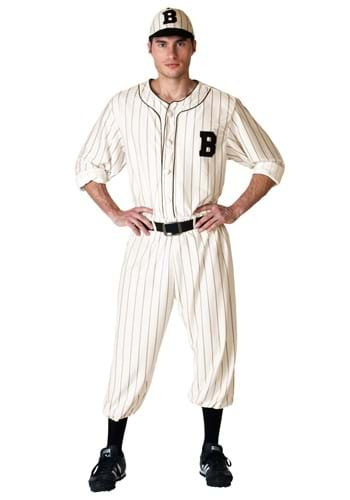 A vintage baseball costume will be an excellent fit regardless of which player you select. As you might assume, the cream color is the right way to go, and grey pinstripes will round-up the entire outfit. During the roaring 20s, players wore a shirt that had a round neckline and long sleeves. Make sure not to forget the baseball cap, which should be adjustable so that you can find the perfect size. Finally, if you cannot find the vintage style costume of your favorite team, settle on the letter "B." It stands for "baseball," and you can always say that you are a part of the "baseball team" that spreads the word about the game.
A Newspaper Boy
Yes, newspaper delivery people were usually boys and young adults. If you are heading to this event with a teen son, he might find it amusing to dress up like this. Alternatively, it could also be interesting for you to try this costume. It would be a fantastic fit for any journalist or other people from the world of media.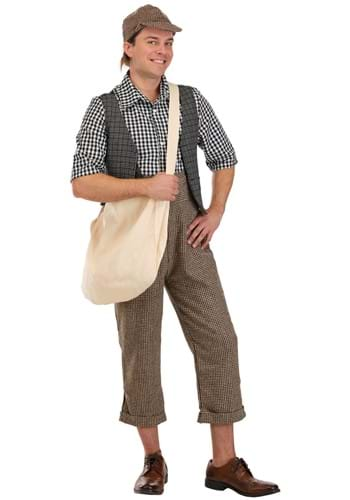 The newsie costume should feature pants that don't go all the way to the ground, but they are high-waisted. You can combine them with suspenders, but the important thing is to pick a patterned shirt. Newsies also wore vests, especially when it was a bit cold outside, and they wanted to look nice. Two items play a crucial role in this costume – the bag and the hat. The bag is crucial because that is where you hold the newspapers. It would be an excellent method of reminding people that the internet didn't exist at the time. Instead, people had to wait for the newspapers to arrive to discover what's new in town. Apart from that, a bag was a trademark of newsies in the 1920s, which is why it needs to be a part of your outfit.
A Roaring 20s Boater Costume Is Another Option
If you are looking for another characteristic option inspired by the 1920s, you can choose a boater costume.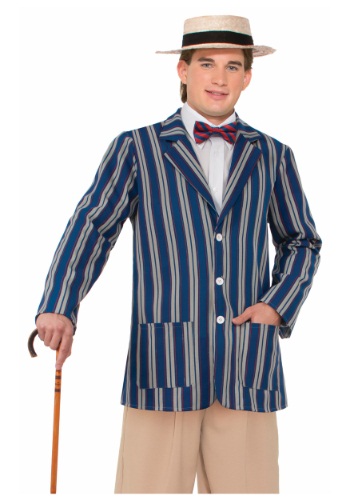 This outfit is most recognizable with the jacket that features a blue and grey striped design. These jackets were used by those who welcomed people on boats, but also as performers in clubs. It is a great combination if you like to dance, and you plan on being a part of the cabaret act. If that is the case, you will also need a cane since that was often an important part of a performance for a boater. Always remember that these guys kept their jackets closed. They combined the blue and grey stripes with single-color beige pants. It is interesting to note that people call this combination a boater's outfit, but the truth is that a boater is a hat.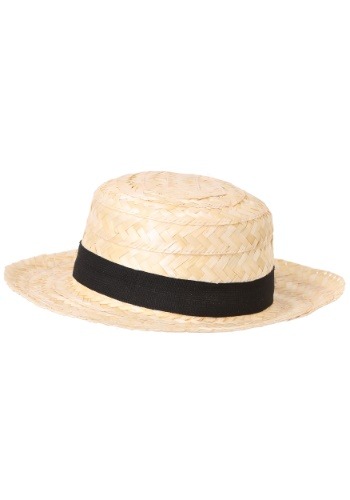 That's right – a boater is a semi-formal straw skimmer hat that performers and those spending time on boats wore in the 1920s.
The Importance of Choosing the Right Accessories
Get the 1920s Accessories Set!
You should never underestimate the power of accessories. Women tend to pay more attention to these additional pieces, but the truth is that details can contribute to anyone's appearance. If you have the right accessories, you don't have to buy a new costume every time. Instead, you can experiment with different details and look like you purchased a fresh outfit for each occasion. Here are some details to consider:
·Manhattan fedora hat – it was incredibly popular in the 1920s, which is why you can't go wrong with adding it to any combination.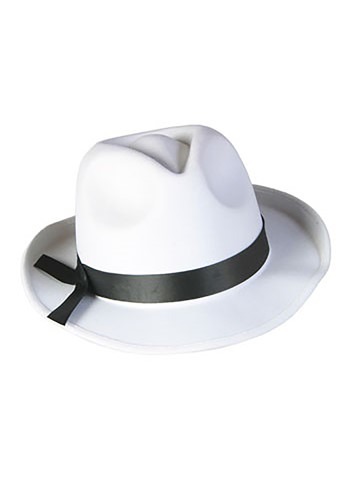 Bow tie – an excellent addition to all costumes that need to look a bit more formal.
Cigarette – if you are not a smoker, a plastic cigar will do. Not only is it better for your health, but it will add to your appearance, too. Women can consider getting a cigarette holder.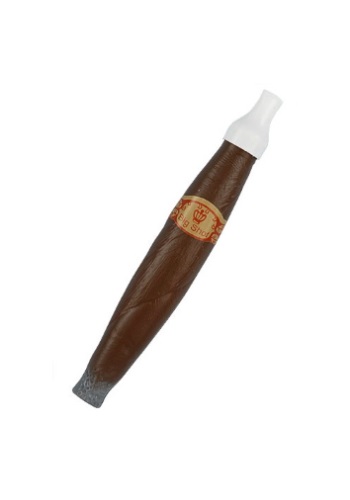 Pocket watch – believe it or not, it was a very popular item in the 1920s. It is both vintage and stylish, which will make it a perfect fit for your costume.
Handgun – a plastic handgun, of course, and not a real one. You can even borrow a toy from your child; it could still make you look cool with the right outfit!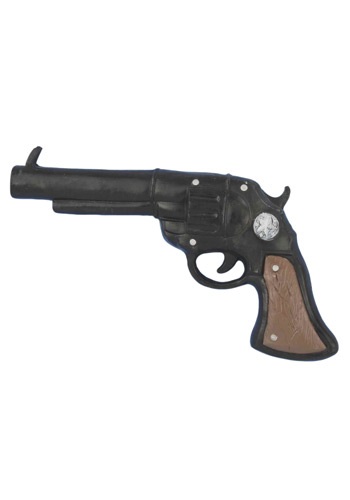 The good news is that you can often find sets of accessories to go with your costume. These mixes are different, which is why you should look for one that best fits 1920s fashion for men.
Shoes Will Never Go Out of Style
Real men understand the importance of perfect shoes. Whatever you are wearing, you cannot go wrong with a black shoe. It is a timeless piece that matches virtually anything.
Click Here to see all our Men's Shoes 1920s Style!
The good news is that high-quality shoes haven't changed that much over time. It means that leather can be a fine choice, and the odds are you have at least one leather shoes in your closet. You can also experiment and purchase specific items that will match your costume. Experimenting with black and white colors is allowed; you can also try brown or beige, but don't wear anything extravagant. It just won't fit the 1920s theme. If you would still like to find the perfect 1920s men's shoes, we have a detailed guide that will help you to discover the ideal models.
Frequently Asked Questions – FAQs
Q: What were the most popular items in the men's fashion in the 1920s?
A: If we are talking about formal outfits, men loved wearing jackets. They were usually fuller and a bit shorter than before. Many males experimented with colors and stripes, although the later is today connected to mobsters. Other patterns like checks, plaids, and chalk-stripes were also popular. If you are heading to a party, you can also consider wearing a tuxedo.
Q: Can Great Gatsby, Downtown Abbey, and other TV shows serve as an inspiration for my costume?
A: Yes, there is no reason why you wouldn't be inspired by any 1920s movie or TV show. If you want to look like your favorite character, you will find many great costumes available on the market. Think of it as a unique opportunity to become a character you love watching on TV!
Q: What are some good ideas for 1920s couples costume?
A: If you are looking for matching costumes for women and men, you can always go with a Bonnie and Clyde look. Those who wouldn't like to go as a team mobster can pick a combination where the male goes as a crime boss and the female as his girl. That allows the lady to wear flapper costumes and provocative dresses.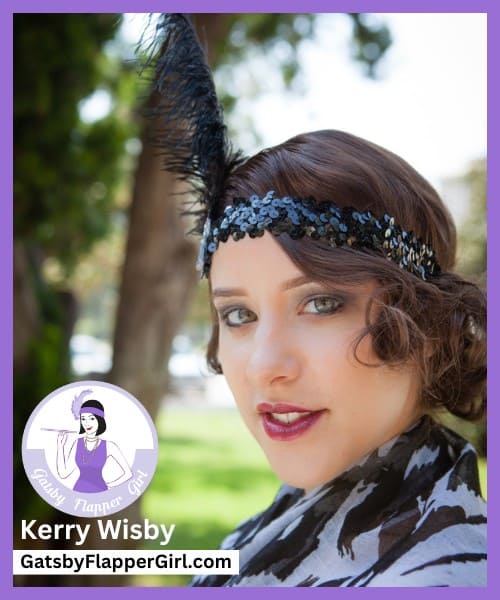 Written by Kerry Wisby – GatsbyFlapperGirl.com
Owner & Founder of GatsbyFlapperGirl.com
Kerry Wisby, a former teacher with a BA in English, is the founder of GatsbyFlapperGirl.com. With a passion for all things 1920s, including The Great Gatsby novel, her website is the ultimate source for Roaring Twenties fashion, history, and party ideas.  Read more about Kerry here.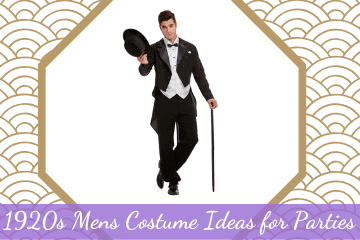 1920s Mens Costume Ideas For Parties and Halloween
We have the best costumes! Check out all our 1920s Mens costume ideas for parties or Halloween. Take a look at our suggestions and pick your favorite costume!