Find the Perfect 1920s White Gatsby Dress Today 
This article contains links where we may earn a small commission at no cost to you: Learn more here
Did you get an invitation to a wedding inspired by the 1920s? It doesn't even have to be a wedding; it might be a costume party or any other event that requires a flapper dress.
If you don't have previous experience, but you were suggested to wear white, it's crucial not to panic. The good news is that the market is filled with unique white flapper dresses that will fit the vintage style and ensure you look elegant and attractive.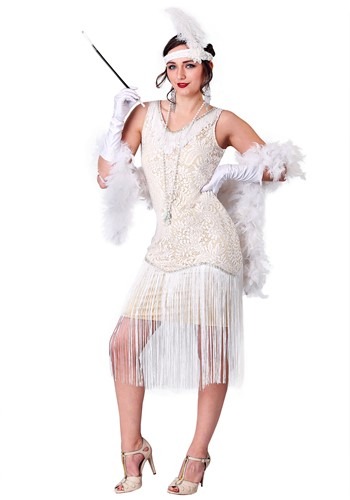 In this article, we will sort the most popular choices for white flapper dresses. Check out our guide to dress like a woman that even the Great Gatsby would be proud to take to the party!
Are You Dressing Up for a Formal Event?
The first thing you want to consider is the type of party you will attend. Is it a formal event like a wedding, and you need a white flapper dress that will look dazzling but also in line with the expected dress code?
Get the White 1920s Style Dress!
If you want to add that touch of the 1920s style, it is imperative to shop for a white fringe dress. You don't have to limit yourself to an all-white combination because featured silver details are perfectly fine. The spaghetti straps will ensure that the dress moves once you hit the dance floor.
The Classic Flapper Costume
Those women who want to go for totally white flapper dresses don't need to experiment. A classic costume will do the trick and ensure your appearance is flawless.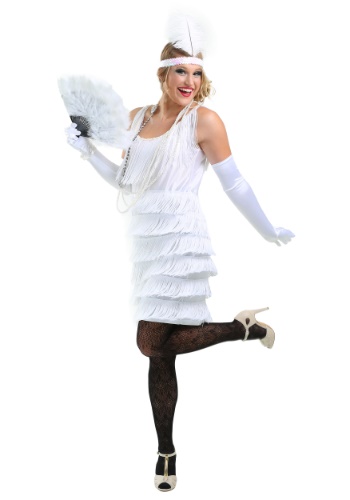 The idea is to ensure multiple fringe rows, as well as sequin edging. A headband is also an option, as well as a white fishnet stocking, although any color would do. As for the shoes, white flapper ones are great for the music floor and spending hours on them.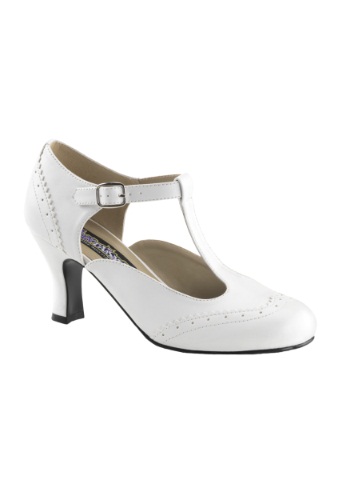 You can also go for a dress inspired by the roaring 20s, but one that's a bit more modern.

Get the Gatsby Vintage Style Dress!
These combinations will give you more room if you don't like tight clothing combinations. Also, make sure to get the right information on the available sizes because a plus size is available.
Do You Need a Maxi 1920s White Dress?
There is something beautiful about wearing a beaded maxi dress inspired by the 1920s style. You can go for an art deco combination that will feature an off-white color.
The off-white shade is critical because you don't want anyone to mistake you for a bride. It is up to you to choose the length of the maxi dress.
Get this Stunning White 1920s Vintage Dress!
Whatever you pick, there is no doubt that you will delight your Great Gatsby, and you will feel it's one of the best items you've ever bought.
Get this Unique Great Gatsby White Dress!
ivory is another excellent shade, especially if you combine it with a floral headpiece. It looks elegant, and it is the type of dress that will ensure you look like a real lady.
Stick to the Original 1920s Flapper Style Dresses
A white flapper dress is nothing else than a fringe costume for women that emphasizes your movement as you make every step. These vintage flapper dresses often feature spaghetti straps but don't forget about the importance of feather boa and other accessories.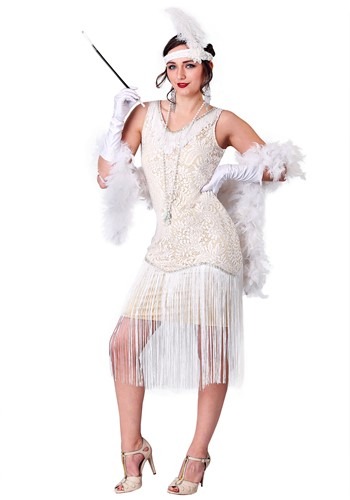 The great thing is that you can get the same dress in multiple sizes. That means it shouldn't be hard to find a plus-size clothing combination that will make you feel comfortable and still dazzle everyone around you.
Look Sexier Than You Ever Had In These White Flapper Dresses
Is it time to try something new and put on a hot white costume for the party? If the answer is yes, feel free to be unique and go with sexy flapper clothing. The brand doesn't matter because all you will need is to dress in this provocative outfit, and you will attract the views of all men (and women) at the party.
Fringe sleeves are a nice touch because not only do they look hot, but they also add to the elegance while you are moving on the dance floor. Even the Great Gatsby himself would be impressed with this combination.
You have other options to look hot and sexy, but you should never ignore an opportunity to wear a romper flapper costume.
Get this Gatsby Fashion Sexy White Dress!
The price of this white flapper costume will be worth every penny since you will be the superstar of the 20s party you are attending. Women know that details are important, so make sure to shop for accessories like a feather boa or a headband. They will complement your flapper style, and we could say the same for heels, which pinpoint your long legs even more.
Now, you can also go for the classic flapper option, but keep it as short as possible. This is perfect if you want to look unique and emphasize your dance movements.
Get the White Flapper Vintage Dress!
Girls who love spending time on the dance floor will enjoy the sparkly white color, especially if you pick a set that comes with satin gloves and a cigarette holder.
There Are Different Shades of White Flapper Dresses
Who says that pure white has to be the only color to stick to while choosing the desired item? If you don't feel like wearing it, please don't hesitate to take a look at cream white and similar shopping choices.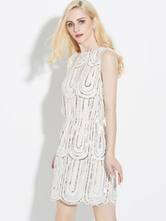 Get the 1920s Flapper SequinDress!
You might be inspired to wear a 1920s white flapper dress from a premium brand. The experts suggest keeping your dresses sequined. That way, you fit the era and ensure that everyone will be looking at you once you enter the room.
It doesn't matter which currency you pay in; a beautiful cream flapper dress will look impressive. A vintage flapper sequin combination is perfect for any event, from weddings to birthdays.
Get the 1920s Flapper Fringe Dress!
The unique patterns allow you to be creative and also combine accessories and heels with the primary dress color.
As you can see, the market offers a huge variety of white dresses that fit the 1920s style. You want to choose based on your preference and go for an item that makes you look classy but also ensures you feel comfortable.
Don't forget to match it with fantastic shoes, and you will attract glances from everyone attending that party!
To see more stunning Flapper Dresses – Click Here
To see 1920s Vintage Style Shoes – Click Here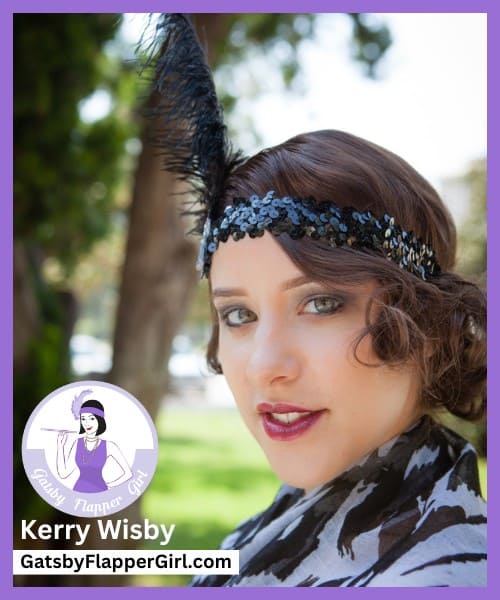 Written by Kerry Wisby – GatsbyFlapperGirl.com
Owner & Founder of GatsbyFlapperGirl.com
Kerry Wisby, a former teacher with a BA in English, is the founder of GatsbyFlapperGirl.com. With a passion for all things 1920s, including The Great Gatsby novel, her website is the ultimate source for Roaring Twenties fashion, history, and party ideas.  Read more about Kerry here.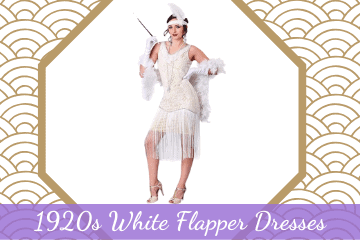 1920s White Flapper Dresses - Stunning Great Gatsby Styles
We have a great selection of Gatsby style white flapper dresses. Pick the perfect clothing combination to dazzle everyone at your next 1920s party or wedding!