This article contains links where we may earn a small commission at no cost to you: Learn more here
So you've been invited to a 1920s party. Now what?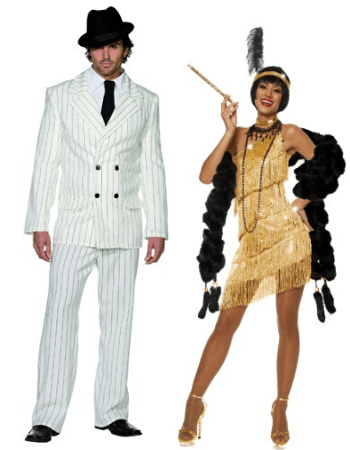 First, you should make sure that the 1920s party is in fact, a costume party. It might be a little awkward if you show up in full flapper gear and a crystal champagne glass while everyone else is drinking beer in t-shirts and blue jeans. Once you are sure that you are supposed to dress up for the event, you can ask yourself what you are going to wear.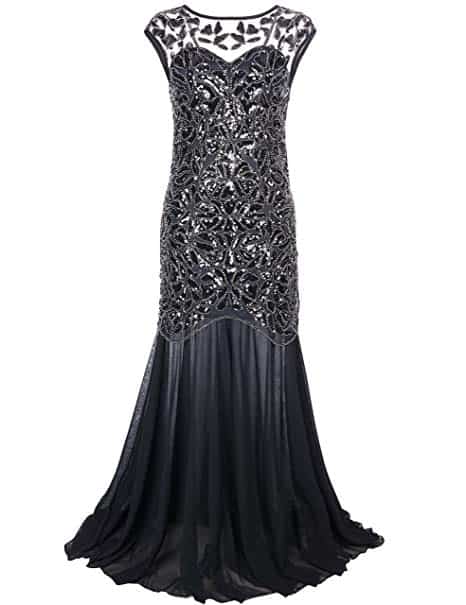 Theme parties are so much fun, especially ones themed to the 1920s! The 1920s were a time of illegal booze, jazz, dancing, social revolution, sexual exploration, art, music, and discovery. However, most themed parties focus on the booze part. (Not that booze is a bad thing!!)
The 1920s inspired decades of music, art, and social reform, and dared to defy the status quo that the Victorian-era had instilled into the older generations. Young people took the arts and speakeasies and ran with them, making them the most popular spots to be. The times were changing in the 20s, and the young people were the ones with their eyes on the time.
That's another reason why the 20s themed parties are so much fun! They are all about being cool and suave, having an unshakable attitude and a martini or glass of champagne in your black silk gloved hand. It is like living in the lap of luxury for a couple of hours, where you can pretend that the biggest one of your worries was ripping the beading on your flapper dress. 
Looking the Part
When you go to a 1920s themed costume party, you want to look the part.
1920s Inspirations for Women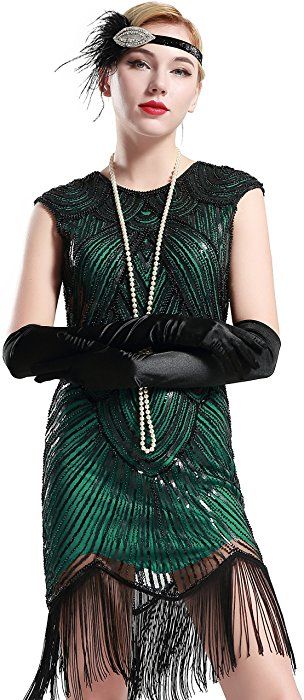 For women, that often means the classic, ever-loved, flapper dress. Flapper dresses were the peak of high fashion for women in the 1920s, and still are a piece of fashion history that has kept their unique form through the ages.
Flapper dress and style was based around high fashion trends, lose silhouettes, and accessories, such as feathered headpieces, hats, gloves, high heels, and long, draping jewelry. The dresses fell just around knee length, sometimes a little bit longer or a little bit shorter, but typically knee-length was the trend.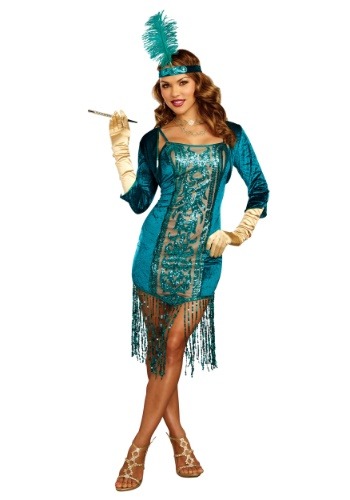 Get this Beautiful Teal Flapper Dress!
Flappers wanted to keep the mystery and allure of their bodies a secret, but also show skin and be modern women, thus the sleeveless dresses and beaded skirts to catch the light and the eye. Hair was usually styled in a bob, with gel. The hair was then waved and swirled to create curls that stayed on the foreheads, cheeks, and head.
Roaring 20s Inspirations for Men
For men, suits are usually the proper costume. Think about what types of movies based in the 1920s that you have seen, like the Great Gatsby. Try to channel the same luxurious clothing and style that the men in the movies wear.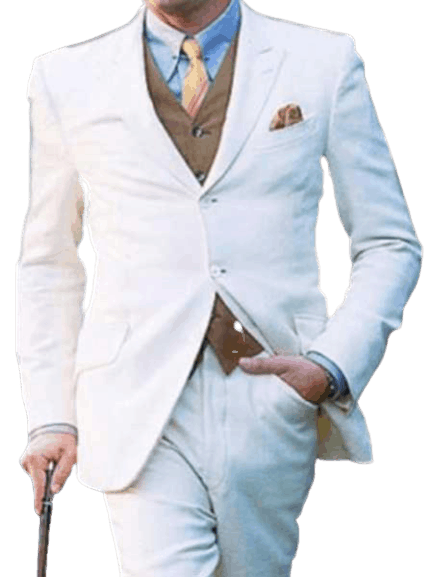 Blue, gray, and tweed three-piece suits will probably be your best bet for a 1920s costume since the three-piece suit had picked up as a style trend for young men.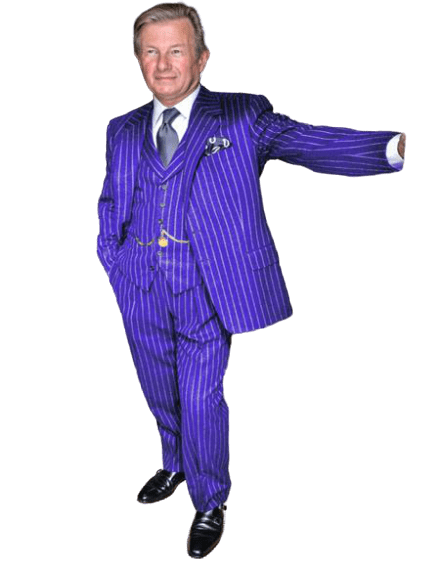 These suits were versatile, able to be worn to work environments with the suit jacket, but could then be dressed down with just the waistcoat or vest for going out to clubs or speakeasies at night, a la dapper young man.
Men should make sure to include accessories as well, as young men in the 20s did not shy away from fun add-ons. Suspenders are another must, as is the proper hat. A fedora that matches the color scheme of your suit would work. Spice it up a notch with cuff links, dress shoes, and a stylish coat! 
For men's hair, try clicking it all back. This does not always look great on everyone, so do try other things with your hair, such as a middle part with both sections of hair slicked down, or a side part with (once again) both sections of hair slicked back.
So What Do You Wear to a Great Gatsby Party?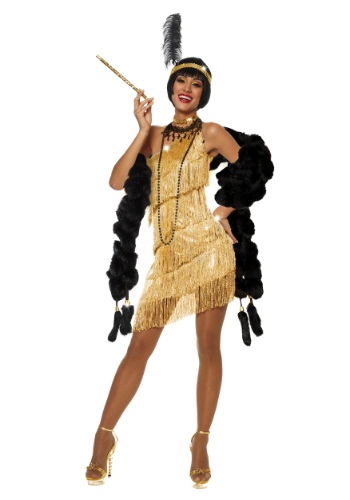 Ah, the Great Gatsby. A fantastic novel and a core piece of history – both of the time it was written and of the literature development into the 20th century.
Your outfit should not look modern if you are attending a Great Gatsby party. You should style your outfit to appear as you stepped out of a photo, or a scene from the book or movie. It's not too hard to emulate the aged style of the Great Gatsby, because the styles in the book and shown in the movie are still outfits popular today (see all our Great Gatsby Party Outfits).
Well, at least in the men's department.
Great Gatsby Men's Attire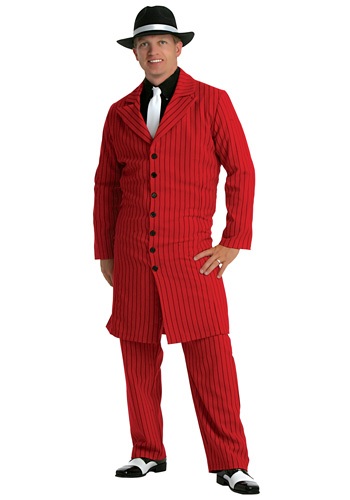 Get this Gangster Costume!
It's all about owning the style and the outfit, filling it with the same attitude Gatsby had. If you think this might be something you will struggle with, I'll help you out.
You will first need a three-piece suit. Yes, I know it sounds way over the top, but that's what the 20s were all about. Male outfits from the 20s were all about sophistication, accessories, long coats, and great hair. Top of the look with a hat, and wear a fake (or real if you have it,) pocket watch draped through a buttonhole.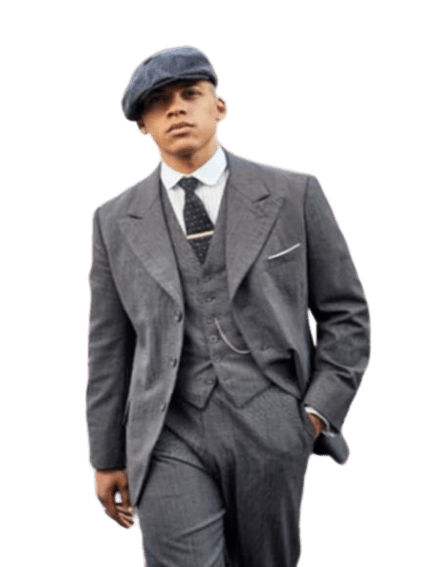 1920s Attire Female
Ladies: get a flapper dress, lots of long necklaces, long gloves, wear 1920s style high heels, and get a headpiece. Simply making a headpiece with a black headband and a large, plume-y feather in it could work. The look is never complete without red lipstick and your hair tucked into a mock bob. Last words, accessories!!!!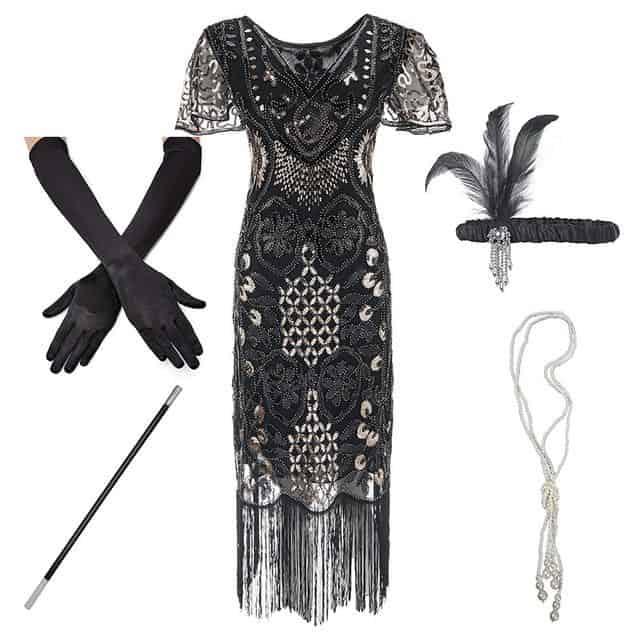 Your final look will be like that cool photo of your great-great-great-grandmother you have laying around somewhere!
Looking for More Inspiration on What to Wear to a Roaring 20s Party?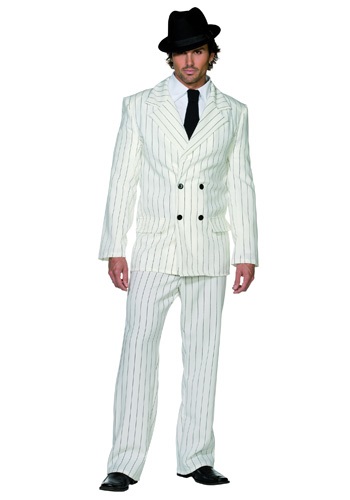 The styles that they thought were trendy back then, is still a trendy style today! You do not need to start buying the most popular suit you can find that has connections to the Great Gatsby, but try to find something that could help. Try reading these articles below to help you find some of the clothing items so you can get your new outfit!
Follow this link here where you can read about Great Gatsby's outfits, and find your new (or first), favorite flapper dress or outfit! – "CLICK HERE!"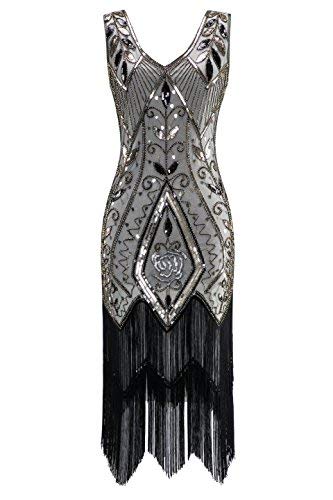 Follow this link to find out about what you want your men's Great Gatsby outfit to look like! – "CLICK HERE!"
Get this Stunning Plus Sizez Flapper Dress!
Finally, if you are concerned about finding the right shoes to match your 20s party look, then click on this link to see some of our most popular and best-selling 20s shoes!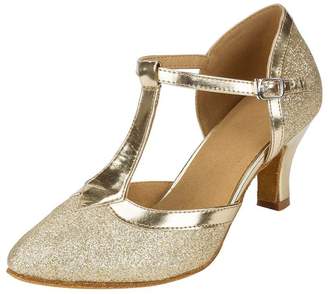 Is 2020 the Roaring 20s?
As much as I would love it to be, no, 2020 is not the roaring 20s.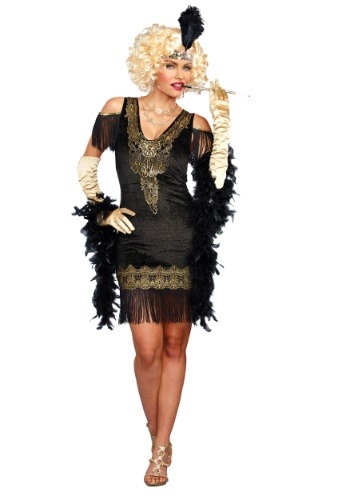 The roaring 20s had its hey-day in the 1920s, exactly 100 years ago. Some folks have made jokes about making the decade of 2020 a modern-day roaring 20s decade by partying, calling everyone "old sport," and wearing only the finest of clothes. Click here to see more 20s inspired dresses
The 20s of our time do have some political and social connections to the 1920s though. The 20s of the past had women reclaiming their bodies, owning their sexuality, and getting the right to vote as well as working jobs. Career women were just starting to become something in the 1920s, although these careers would not be considered actual careers now.
Now, women are CEOs of companies, becoming billionaires, running whole nations, and fighting for their equality the way that the suffragettes fought for the female right to vote. Similar to the 20s and the ending of world war I along with all the violence and economic struggles that came with the war, we have almost identical struggles today, with armed involvement overseas, several economic recessions, and an economy struggling to get back on its feet.
So to be honest, 2020 could be considered a form of the roaring twenties. Party on, old sport!
What Made the 1920s Roaring?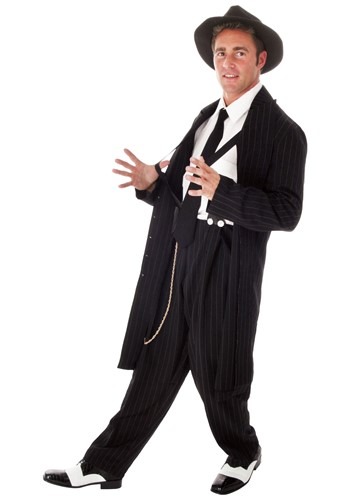 This is a very commonly asked question because we do not call other decades fun little nicknames. Imagine if we called the 2000s the ten years of no eyebrows? Or the Permed 80s? Well, that would be kind of cool, I won't lie to you.
But the real reason was every reason!
The 1920s were not only a time of social change and expression, but it occurred during an economic depression, where people were struggling to make ends meet, while the rich and wealth monopoly owners were able to live in the laps of luxury all the time.
People were beginning to reject the societal norms of poor people being subservient, women being objects, and the government. The biggest thing that young people were rebelling against was the values of their Victorian-era parents. Young adults and teenagers hated the stuffy and structured lifestyles that their parents had raised them in.
Other Factors of Change in the 1920s Era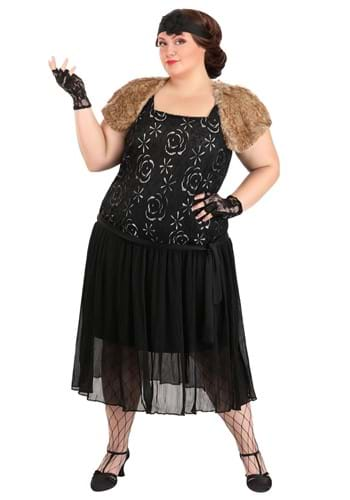 Jazz was a booming industry, taking over the airwaves and exploding into nightclubs and speakeasies. Jazz was faster than the music the older generations were listening to. It was not a waltz or even a tango, it was something completely different and quite literally, unheard of before the 20s.
1920s New Ideologies
Women were owning their bodies and sexualities like never before while shocking their parents by smoking in public and wearing scandalous clothing. Birth control was becoming accessible, making working (and play) easier.
New Technology and Laws in the Roaring 20s
Automobiles had recently become more accessible as well, making it affordable to have a method of transportation.
Prohibition was enforced, so the rebellious spirit of the young generations was only fueled by the want to have illegal beverages in speakeasies, with loud jazz, strange people, and all the decadence and high fashion you could get.
All these factors helped to form the 20s era of new thoughts and fashions, which is what makes it so fun to go to a 1920s party!
If you follow my guidance, you are going to have the most popular 20s inspired look at the function!
Have the best time at your 20s party!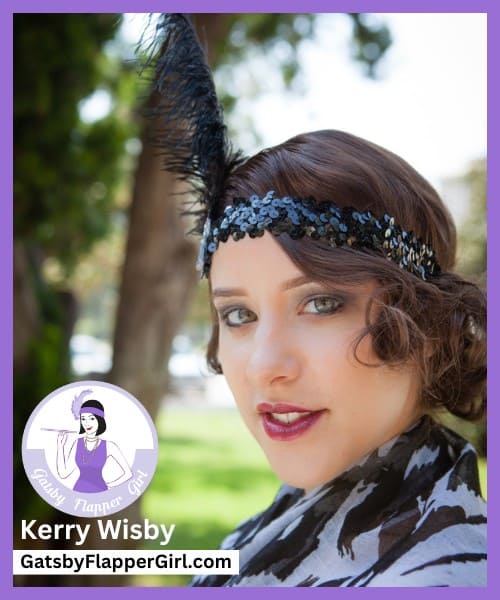 Written by Kerry Wisby – GatsbyFlapperGirl.com
Owner & Founder of GatsbyFlapperGirl.com
Kerry Wisby, a former teacher with a BA in English, is the founder of GatsbyFlapperGirl.com. With a passion for all things 1920s, including The Great Gatsby novel, her website is the ultimate source for Roaring Twenties fashion, history, and party ideas.  Read more about Kerry here.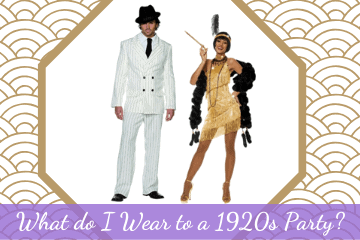 What do I Wear to a 1920s Party?
Have you been invited to a 1920s themed costume party? Panicking about what you will wear? Click here to read about 20s looks that you can replicate today!