From the movies that have perpetuated the legend of Bonnie Parker and Clyde Barrow, you'd think that the infamous couple had been robbing banks and living notoriously forever, but nothing could be farther from the truth.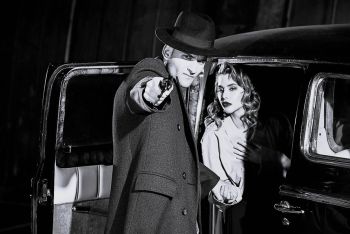 The fact is that Bonnie and Clyde were on the run for roughly 22-24 months only. Their crime spree together started in 1932 when Clyde was released from prison and ended in their violent death on May 23, 1934.
Although the outlaws Bonnie and Clyde have been gone for nearly 100 years, the public still seems fascinated by this pair.
No matter how much you think you might know, bits of information have become lost over the years and many questions remain. Many wonder how long this couple were on the run, why they were in Louisiana when they died, and how far north this couple traveled.
Find out all the details about the infamous Bonnie and Clyde here.
When Did Bonnie and Clyde Go on the Run?
Bonnie Parker and Clyde met in January 1930. She was 19, Clyde Barrow was 21. Later that same month, Clyde was arrested and sent to jail for burglary.
Bonnie smuggled a gun into prison, which Clyde used to escape. He was caught soon after and sent back to jail.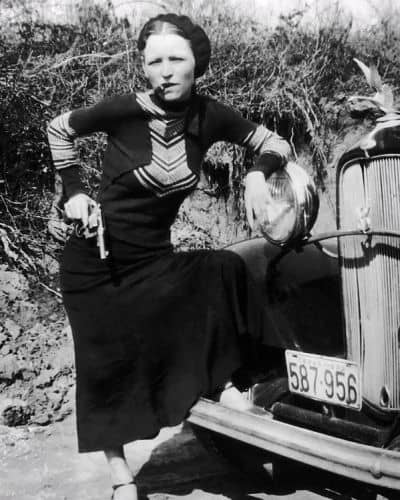 After his mother's plea to the governor that she needed her boy at home to help support the family, Clyde was released early in February 1932.
He immediately flew to Bonnie's arms and the two soon began their crime spree.
While we don't have an exact date when this pair started their life of crime, but it probably started with an automobile stolen from some local town in early 1932, then a bank robbery in April 1932, in Lawrence, Kansas.
How Long Did Bonnie and Clyde Run from the Law?
Bonnie Parker and Clyde Barrow were on the run for 21-24 months, depending on the exact date that they started their life of crime as partners.
This infamous couple died on May 23rd, 1934 in Louisiana, but not before Clyde's brother Buck Barrow was killed in a shootout and his sister-in-law was apprehended by the law and later sent to prison.
They were nearly caught in November of 1933 when an ambush was set up near Grand Prairie, Texas, but they escaped, stealing an attorney's car.
What Happened to Buck and Blanche after Joining the Barrow Gang?
Four months after joining the Barrow Gang, Buck Barrow, Clyde's older brother, was shot in the head by the Missouri Highway Patrol at the Red Crown Tourist Resort in Platte City, Missouri.
Blanche was also wounded in the eye, but Bonnie and Clyde, along with W.D. Jones, helped Blanche and Buck escape for the time being.
Despite having a blown off part of Buck's forehead and his brain being exposed, Buck was conscious most of the time, even eating, drinking, and talking.
Within a week, however, Buck was near death. He was wounded six times in the back during a shootout near an abandoned amusement park between Redfield and Dexter, Iowa.
Bonnie, Clyde, and W. D. Jones were all wounded in the same gunfight but managed to escape. Buck and Blanche, though, were captured.
Buck Barrow died July 29th, 1933, in Perry, Iowa. He was 30 years old.
Blanche survived the shooting but lost her eye. She later was sent to prison in Missouri where she served 6 years.
What Route Did Bonnie and Clyde Take?
Bonnie Parker and Clyde Barrow went as far west as Wellington, Texas, and perhaps as far north as Michigan.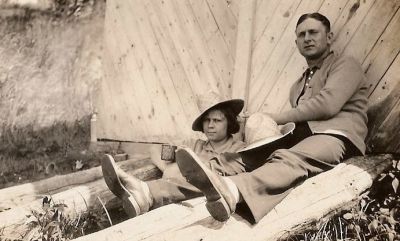 Bonnie and Clyde had Buck Barrow and his wife, Blanche, rent an apartment in Joplin, Missouri, so they could lie low while they waited for things to quiet down.
Clyde seemed to like to travel to the same areas over and over so that they could return home to West Dallas, Texas, and visit his family.
It was this loyalty to Clyde Barrow's family that helped to cement their demise. Texas Ranger Frank Hamer, drew out a map of every place the pair had been seen or committed a crime.
This quickly led Frank Hamer to believe that they would be returning to pick up Henry Methvin in Louisiana after they had left Texas.
After the apartment in Joplin had been scoured by the police, the scandalous photos they left behind are what made Bonnie and Clyde famous. It also identified his brother Buck and his wife Blanche as co-conspirators.
How Many States Did Bonnie and Clyde Travel Through?
We know that they committed crimes in Texas, Oklahoma, Kansas, New Mexico, and Missouri.
They traveled through other states, including Louisiana, but they didn't commit crimes there that we are aware of, or the crimes they committed were not attributed to them.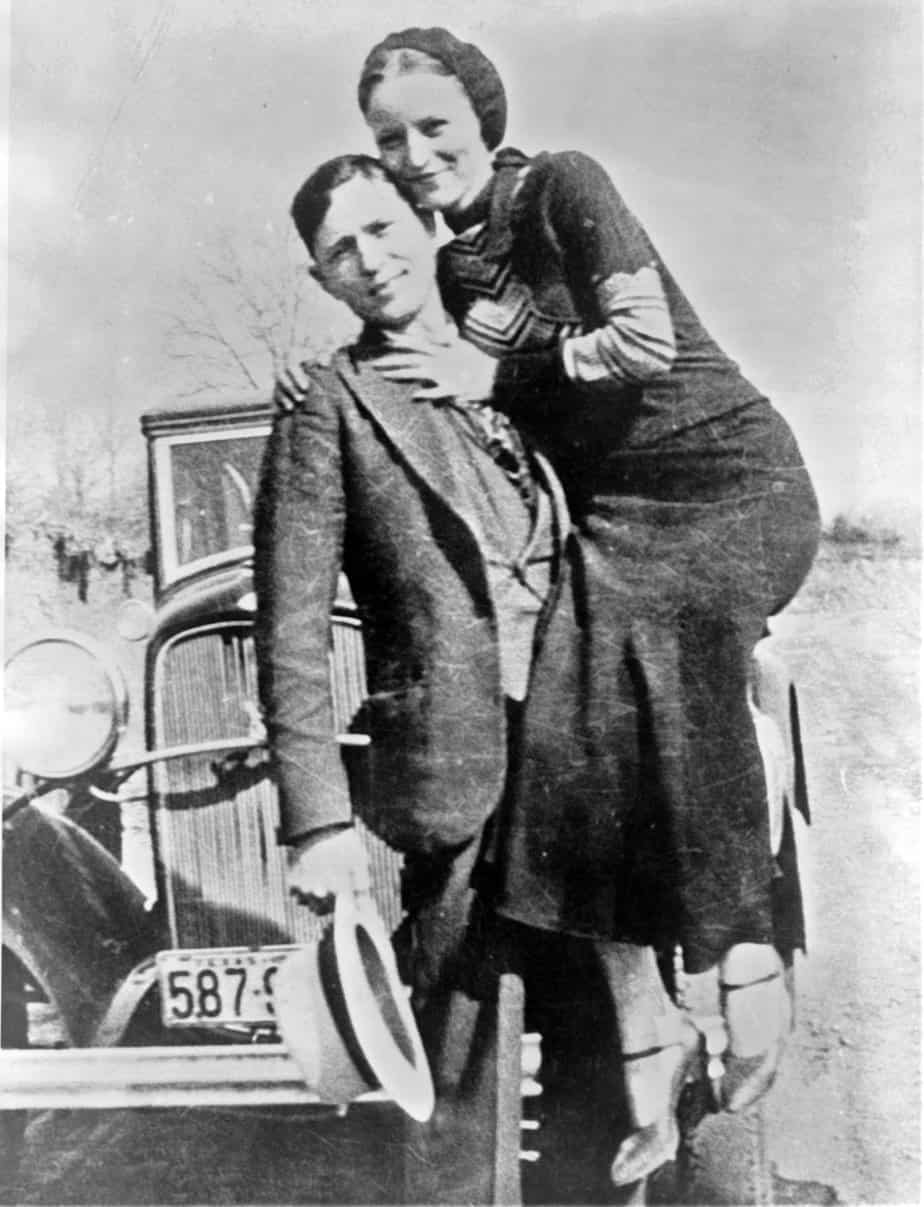 This was most likely because Clyde wanted to buy property in Louisiana for his parents. He may have hoped that after the pair had stolen enough cash, they could all live together in Louisiana, safe from the law.
Bonnie and Clyde didn't know that robbing banks in different states put them on the FBI's most-wanted list, and although they didn't commit any crimes in Louisiana, they could still be arrested.
Their Accomplice Henry Methvin
Bonnie and Clyde also had an accomplice, Henry Methvin, whose father lived in Louisiana. This couple believed in the importance of family, so they would frequently drop off Henry Methvin at his father's house for visits.
Whether this played a role in why the pair did not commit any bank robberies in Louisiana remains unknown.
Did Both Bonnie and Clyde Have a Limp?
Yes, they did.
When Clyde Barrow was first in prison for burglary in 1930, he ended up at Eastham Prison Farm, at the time considered one of the worst prisons in the US.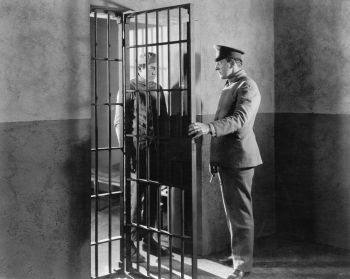 Clyde was raped and abused by another prisoner, Ed Crowder. Unable to take the abuse, Clyde ambushed Crowder and beat him to death with a lead pipe. Another inmate, who was serving life in prison, took responsibility for the murder since he was already a "lifer."
Still, Clyde wanted out of that awful prison where the guards regularly beat them without mercy. Clyde, or a fellow inmate, chopped off two of his toes in hopes of gaining freedom or at least a transfer.
Clydes Mother Appealed for Mercy
What Clyde did not know was that his mother was appealing for mercy to the governor, saying she needed Clyde at home to earn money to support the family. The governor granted Clyde an early release.
Unfortunately, Clyde's missing toes caused him to limp. It also caused him to drive barefoot or in his socks, which is how Bonnie Parker got her limp.
Clyde was driving and he missed a detour sign about a bridge under construction. Doing an estimated 70 MPH in his stolen V-8 Ford, he was unable to stop the car because his foot slipped off the brake pedal.
The car smashed through the barrier and went airborne before landing on a dry riverbed. The crash caused the battery to break apart and cover Bonnie's leg in acid, damaging it down to the bone.
Bonnie and Clyde did not want to risk getting caught at a hospital or doctor's office, so they nursed her leg as best as they could, but after that, Bonnie had a pronounced limp to her walk.
Bonnie Parker was in serious pain because of her injury. Clyde had his mother arrange for a niece to have a doctor write a prescription for laudanum, which was a tincture with 10 percent opium powder. An uncle would pick up the medication from the pharmacy, and Clyde would pick it up from his mother.
Are Bonnie Parker and Clyde Barrow Buried Side by Side?
No, Clyde & Bonnie aren't buried next to each other, but that might change.
Bonnie Parker's mother, Emma, did not want her daughter buried next to Clyde.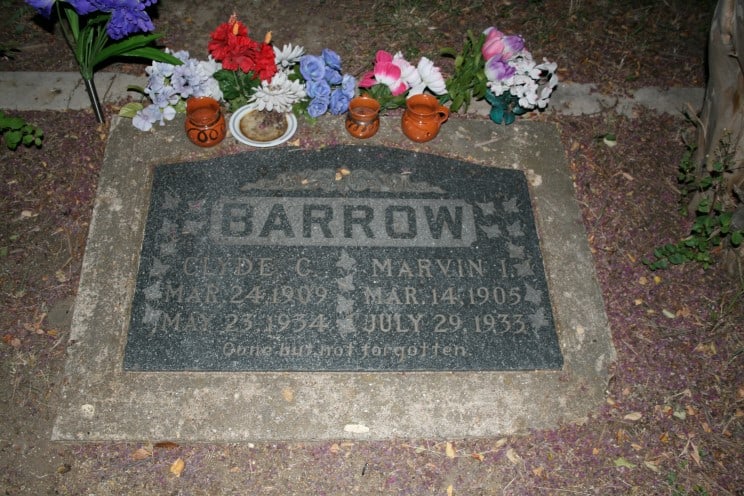 Clyde Barrow is buried next to his brother Buck, and family members dug a grave on the opposite side of Clyde for Bonnie Parker.
However, Bonnie's mother would have none of it. She had never wanted Bonnie to hook up with Clyde Barrow, so it's not too surprising that she refused to have them buried together.
Maybe, we're about to see a twist because Bonnie's last surviving relative says she thinks that her great aunt Bonnie Parker should be buried next to Clyde.
Clyde's surviving family has always wanted Bonnie to join Clyde in death.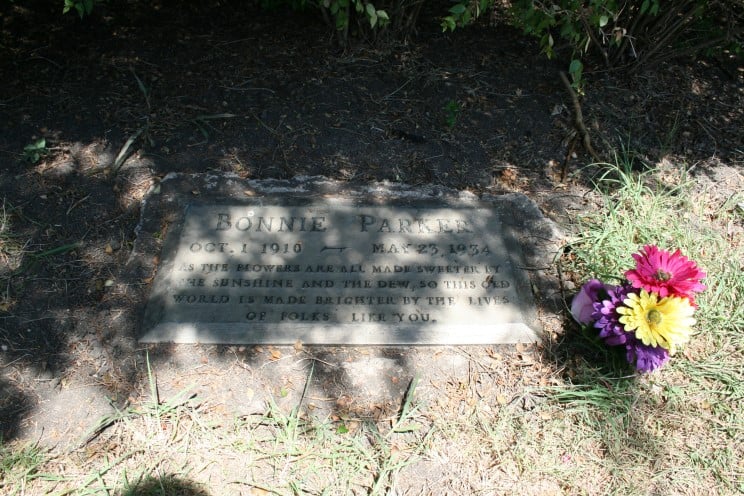 The only thing standing between Bonnie and Clyde appears to be the cash to disinter Bonnie, give her bones a new coffin, and take her place next to Clyde.
Final Thoughts
Bonnie and Clyde had a nearly 2-year crime spree that will go down in American history as one of the ugliest endings ever.
From their stolen automobile, Bonnie and Clyde would be shot to death in a spectacle that the nation had never seen and would likely never see again.
The Barrow Gang made interstate transportation seem like a circus as police officers chased them from state to state in hopes of stopping their crime spree.
Why are American's still so fond of the Bonnie and Clyde story? Perhaps because the Barrow Gang made the chase look fun.
Perhaps because Bonnie and Clyde appeared to be in love, which made them popular around the world.
Regardless of the reasons why the world is still fascinated with Bonnie and Clyde, the fact is that Bonnie and Clyde's bloody demise shows that the wages of a life of crime is death.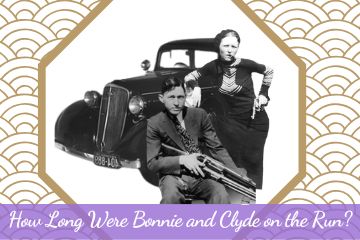 How Long Were Bonnie and Clyde on the Run?
You may think you know everything about Bonnie and Clyde, but do you know how long they were on the run? What states they were in? Why they died in Louisiana?