Are you a fan of Downton Abbey? I know, I certainly am, and starting with Season 3, the series takes us back in time to the glamour and sophistication of the 1920s, an era that redefined women's fashion and forever left its mark on the pages of history.
Check out these Downton Abbey Dresses!
The Roaring Twenties brought about a seismic shift in societal norms, and this transformation was reflected vividly in the wardrobes of women across the globe.
In today's article, I want to explore 1920s Downton Abbey Women's Fashions and delve into the sartorial choices that epitomized this remarkable decade, with a particular focus on the iconic women of the beloved series.
Whether you are looking for a flapper dress that challenges tradition or a luxurious evening gown that oozes opulence, I'm sure you'll find something in this article.
The women of the Roaring 20s epitomized the spirit of the age. Join me as I unravel the secrets behind the intricate beadwork, drop-waist silhouettes, and daring hemlines that defined this period.
1920's Downton Abbey Costumes for Women
If you're a fan of retro fashions, then you'll love wearing something from the Downton Abbey series. Whether you are attending a wedding or looking for a retro wedding dress, or perhaps you have plans for a Halloween party, a prom, or some other formal event, you simply can't go wrong by choosing one of these costumes or cosplay regalia.
Would you like to channel the spirit of Lady Mary Crawley with her sophisticated elegance? This would mean that you will slip into a fabulous drop-waist dress that exude timeless charm and refinement.
The opulent beading and intricate lace details of this dress pay homage to Lady Edith's evolving sense of style, capturing her journey from innocence to sophistication.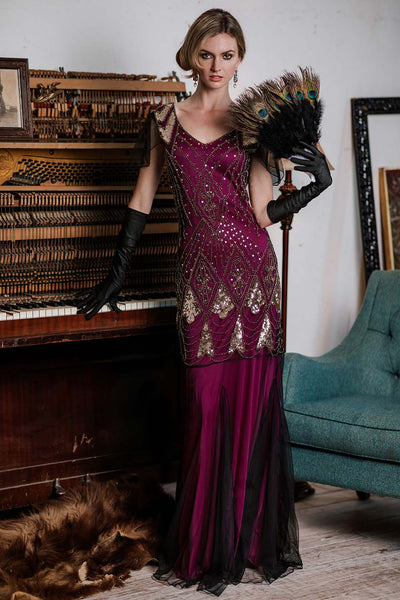 For those who admire Lady Sybil's daring spirit, our flapper-inspired ensembles boast daring hemlines and shimmering sequins, ensuring you make a statement at any event.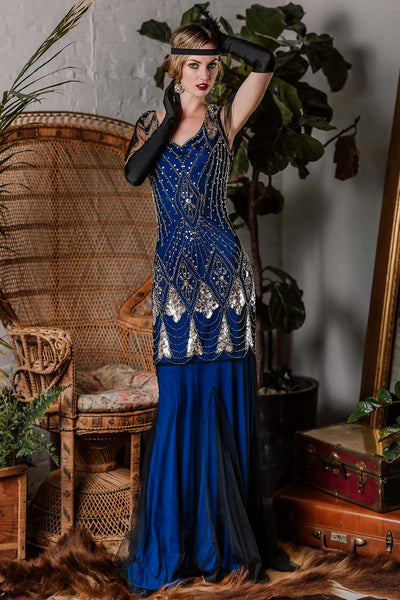 Get this 1920s Sequined Maxi Dress!
If you keep in mind that 1920s fashions were inspired by many cultures, you can pick a dress that suits your tastes. For example, fashions with a taste of Africa might feature fake leopard spots, such as this:
I can imagine Lady Sybil wearing something like this.
Or, if you prefer, you could wear something a bit more exotic, such as this peacock-inspired dress
Get this Vintage Peacock Dress!
This looks like it came right out of Lady Mary's wardrobe, doesn't it?
One of the things I love about Downton Abbey costumes is that they use incredibly rich fabrics that make these dresses stand out from the crowd.
Get this 20s Tea Party Dress!
Starting in Season 3, which portrays the era when the World War I has ended, the Edwardian-era clothing style is going out the window! Hemlines will get shorter as the season continues, but that doesn't mean that mid-calf dresses are completely out of style.
Check out Lady Edith as she tries to find her place.
Luckily for most of the characters in Downton Abbey, restrictive corsets are out the window, but fashion is at an all-time high. Did you love Lady Cora's red gown? I know I did!
Are you looking to go all out Martha Levinson? This mermaid dress should do the trick.
Get this Stunning Mermaid Dress!
You'll want to cover up just a bit with a shawl, but being Martha, you'll want to make it flashy
Let's talk about the super important accessories that you must have for your costume.
The Best Downton Abbey Accessories
Take a close look at the clothing styles from this series, and you will note that it's the accessories that make the outfit!
First, of course, are hats. Now the hat you choose will depend on which character you are trying to emulate, or what occasion.
For many outfits, a plain cloche hat that matches your dress color will do just fine. There are many different styles, but a basic cloche hat can always be dressed up with a fake flower or brooch. To look authentic, it should match the color of your dress.
Get this 1920s Black Cloche Hat!
I like this basic hat since it comes in a wide range of colors, but this style is super appealing.
Fascinators aren't seen as often, but for a true flapper look, there are so many styles to choose from that it's hard not to wear one!
You can choose a fascinator that matches your dress or contrasts with your outfit, the choice is yours, but I bet you'll have a hard time walking away from this beauty:
Are you interested in something a bit more traditional? Feathered and/or beaded headbands were another popular choice for flappers.
Get this Great Gatsby Style Band!
This is a personal favorite because it's super versatile:
Get this 20s Sparkling Headband!
For more formal events, consider a wide-brimmed flowery hat such as this one:
Remember that, like cloche hats, your hat color should match your dress.
Get this Stunning Vintage Fascinator!
Shoes are always important, and whether you consider it a good thing or a bad thing, women's shoe choices were rather limited compared to today's styles.
A basic T-strap Mary Jane shoe is always a good choice.
You can wear some muted colors (such as brown or mahogany) but nothing too bright.
Two-toned Mary Janes are another option that can add a little pizzazz to your outfit.
Last, we should talk about jewelry. When it comes to necklaces, you'll want to wear something very Art Deco, so think long, sparkly, and very ornate.
Get this Classic Beaded Necklace!
Pearls were very popular, and I like this set because it comes with matching earrings:
Get this Flapper Pearl Necklace Set!
Or you could also go with several strands of plain faux pearls:
Get this Gorgeous 1920 Necklace!
If you are interested in something retro but more modern looking, I am crazy about this necklace:
Get this Roaring 20s Pendant Necklace!
Earrings should be worn and should match the color of your necklace. Again, go with dangly earrings such as these, which match my favorite necklace above:
You might also go with basic green
Get this Vintage Pearl Earrings!
or these art deco pearls and fake diamonds to match your pearl necklace
Get this 1920s Crystal Earrings!
Bracelets were typically worn for formal events but weren't a necessity like hats and necklaces. If you add bracelets, again, they should match the necklace and earrings.
If you go with the red necklace and earrings, this bracelet matches perfectly
Choose each piece meticulously and you can't help but capture the essence of this unforgettable era. You'll feel as if you've stepped right onto the set of the beloved show.
Downton Abbey Wedding Dresses
I've seen several Downton Abbey-themed events and weddings, and they are so beautiful!
Whether you are the bride, the maid of honor, or the mother of the bride, you can embrace the allure of a bygone era, and let the clothing collection from Downton Abbey transform your style.
Wedding Dress
Let's start with a few choices that would look perfect on the bride. Most brides did not wear the typical wedding dress we see today, but that doesn't mean the dresses were ugly!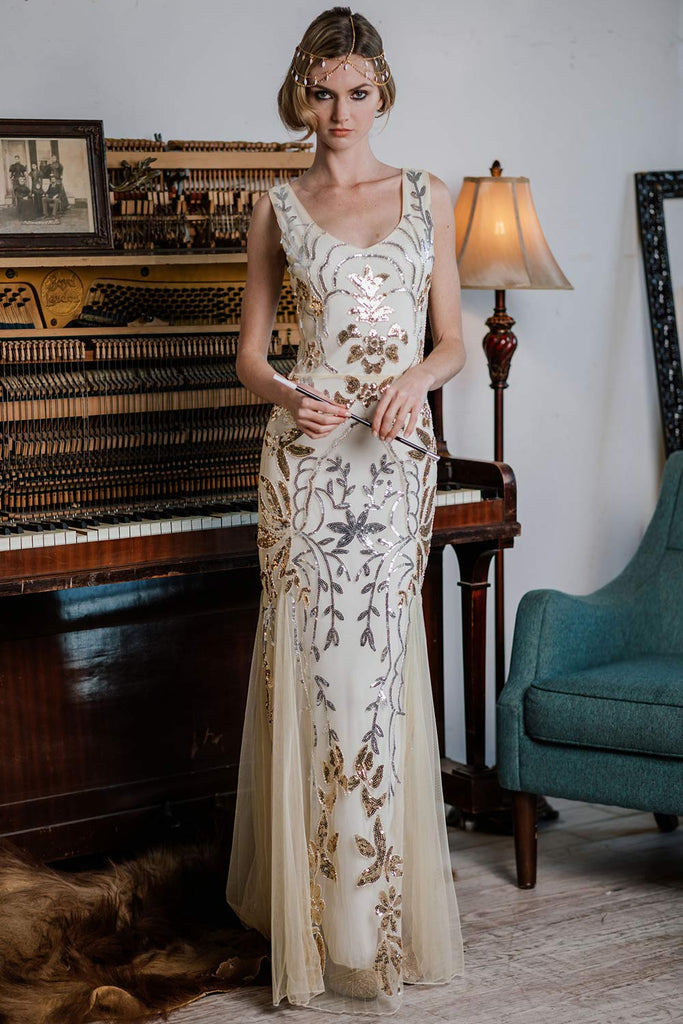 Of course, this woman is using a cigarette holder, but imagine if she was holding a bouquet of flowers!
Remember Lady Rose's dress? This is similar and every bit as gorgeous!
For a Downton Abbey costume, I love this simple white gown (no black shoes like the model, please!) with a very long veil.
Get this Gatsby Style Dress for Women!
The Mother of the Bride
Of course, your mother will want to look as beautiful as her daughter but not outshine her on her special day.
Get this Downton Abbey Party Dress!
I love this blue retro looking dress for a Downton Abbey-themed event:
but I would choose a different hat, such as this one:
The same with this dress:
but I would go with a different hat.
Last, but not least, if you are looking for something a bit more flashy, this dress is more eye-catching without looking trashy.
It's your special day, so don't be afraid to make a statement, and seize the opportunity to infuse your life with the enchantment of the 1920s!
One Last Thing
The allure of 1920s Downton Abbey women's fashion continues to captivate while transcending time and trend.
It's a testament to the enduring appeal of an era that redefined not only how women dressed but also how they perceived themselves – confident, liberated, and ready to embrace change.
Get this Flapper Accessories Set!
The exquisite styles of Lady Mary, Lady Edith, and Lady Sybil have left an indelible mark on fashion history, reminding us that the past can inspire our present and future wardrobes.
As you embark on your own fashion journey, drawing inspiration from the opulence and audacity of the Roaring Twenties, remember that this era was about more than just clothing. It was a celebration of individuality and empowerment.
Whether you're donning a flapper dress for a special occasion or incorporating vintage elements into your daily attire, let the spirit of the 1920s infuse your style with a sense of timelessness and self-assuredness.
In this era of fast fashion and fleeting trends, the enduring elegance and boldness of 1920s Downton Abbey women's fashion serve as a reminder that true style transcends the ages.
So let's embrace the grace, glamour, and grandeur of this remarkable period and make it our own! As the saying goes, "Fashion fades, but style is eternal," and the style of the 1920s, whether it's Downton Abbey or The Great Gatsby, is nothing short of eternal.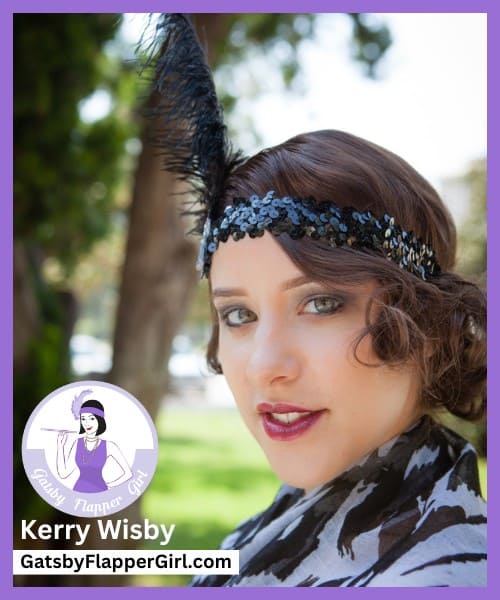 Written by Kerry Wisby – GatsbyFlapperGirl.com
Owner & Founder of GatsbyFlapperGirl.com
Kerry Wisby, a former teacher with a BA in English, is the founder of GatsbyFlapperGirl.com. With a passion for all things 1920s, including The Great Gatsby novel, her website is the ultimate source for Roaring Twenties fashion, history, and party ideas.  Read more about Kerry here.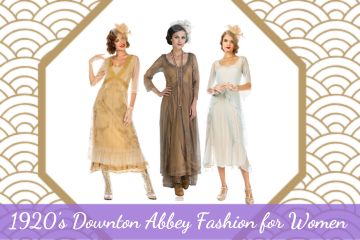 1920's Downton Abbey Fashion for Women
Step into the timeless elegance of 1920s Downton Abbey fashion. Explore the flapper flair and opulent gowns that defined an era.