I've been a fan of the 1920s from a young age. As a fashion enthusiast, I've always been captivated by the glamour of this era, and now, I'm thrilled to share that timeless elegance with all you fellow plus-sized fashionistas!
Get the Plus Size Downton Abbey Dress!
If you think that you can't wear flapper dresses or Downton Abbey-styled clothing because you are plus-sized, think again!
In this article, I want to take you on a journey back in time to explore the enchanting world of Downton Abbey-inspired dresses for curvier figures.
I'll guide you through a stunning collection of plus-sized dresses, from the opulent flapper styles to the intricately beaded gowns that capture the spirit of the roaring twenties.
Get ready to embrace your inner vintage diva and discover how these iconic designs can make you feel like the belle of the ball!
How to Dress Classy Like a Downton Abbey Lady
One thing you'll quickly note about the women in this series is that they all tend to dress and look classy, not trashy, even if it isn't a special occasion.
I believe this is the one thing that really appeals to me about fashion from this era. I'm sick of the trashy show-your-booty looks that are common in the 2020s! Give me class and glamour!
In order to achieve that classy look from the Roaring 20s when you're plus-sized, you should pay attention to a few tips.
Elongate the Body
Of course, you can't make yourself taller, but you can give the appearance of height, which makes you look thinner. Wearing one solid color is one way to achieve this.
Get this Downton Dress for Plus Size!
While many women go for black because it's slimming, you can still get the same look as long as you wear one solid color.
You can also look taller and draw attention away from the waist by wearing dresses that show the ankle and/or have sleeves.
Get this Stunning 1920s Plus Dress!
Alternatively, you can wear something that cinches in a bit at the waist. This gives you that voluptuous hour-glass figure that everyone adores.
Get this 20s Beaded Dress for Plus Size!
While most dresses from this era are drop waist, you can actually have both in a single dress. I love this beauty because it not only has a cinched waist but also gives the illusion of being a fashionable dropped waist.
Get this Downton Cocktail Dress!
I wish I could add every color of this dress to my wardrobe!
Pick the Right Shoes
Here's a little secret that you won't hear often- high heels make your legs look heavier. That might be yet another reason why I love the shoes from the 1920s, even though the selection is limited.
Kitten heels or chunky short heels will actually make your legs look thinner.
Get this Classic Mary Jane Shoes!
You can dress things up a bit with some sparkly sequined shoes
or go all out fashionista with two-toned shoes!
Get this Gorgeous Vintage Pumps!
Try matching your shoe color to your dress for that slimming monochrome look.
Let It Flow
If you're super self-conscious about your weight, you shouldn't be! Weight is mainly determined by genetics, which you can't do anything about. What you can do is skip the hourglass, nipped-waist look and go with flowing dresses that skim over your curves.
Keep in mind that if the dress is too baggy, it only tends to make you look even bigger. A tunic should skim over your curves so that you get a hint of what's underneath, but not so tight that you have bulges.
Get this Gatsby Cocktail Dress!
This dress looks like so much fun, but it is a bit short and has a deep V-neck. Perhaps a nude bodysuit underneath or a shrug would be appropriate.
Work with Your Proportions
We aren't all built the same, ladies! Some of us have big hips but a tiny bust, while others are bursting out on top but have thin legs. Still, others have thick waists but are more average in the legs and bustline area.
Work with what you have and accent the positive in gorgeous Downton Abbey style!
For example, if you have a thick waist, avoid dresses that draw attention to that area. Empire dresses use your midriff or go under the bust and draw attention away from your middle. This lovely golden beauty is what I have in mind!
Get this Elegant Downton Abbey Dress!
Wrap dresses are terrific for ladies with a thick waist and/or a full bust.
Get this Pretty Vintage Dress!
You can always tack the open part of the dress to not show too much leg and wear a cloche hat,
Get this Downton Abbey Style Hat!
along with classic black Mary Janes to complete the look.
Keep things classy by wearing simple drop-waist dresses, similar to the kind the Crawley sisters wear
with a matching hat,
and you will feel as good as you look.
For more fashion ideas, you'll want to read this about Downton Abbey inspired dresses.
It's All about the Accessories
One of the keys to dressing like a true Downton Abbey lady is to accessorize everything!
During the flapper era, even proper English ladies knew that something as simple as a long necklace, a hat, and a pair of gloves make all the difference between a dress and an outfit.
Jewelry
Costume jewelry was all the rage starting about Season 3 (the 1920s). The war had ended and everyone wanted to celebrate life.
Get this 1920s Pearl Necklace!
This is terrific news for all of us everyday, average women who don't have the cash (or don't want to spend the cash) on real jewelry.
You can wear one or more strands of pearls since these were extremely popular during the Jazz Age or go with colored crystals that match your outfit.
Likewise, earrings should be long and dangly. There are tons of options, including pearl earrings,
beaded earrings,
Get this Flapper Drop Earrings!
or Art Deco inspired earrings.
Get this Elegant Studded Earrings!
Bracelets were also common. You can have several pearl bracelets,
wide crystal bracelets,
Get this Roaring 20s Bracelet!
or a couple of gold bangles.
Hats and Headbands
For everyday wear, many women chose a cloche hat.
There are a great many styles and colors to choose from, whether it's the classic felt hat,
a linen hat,
or a wool hat.
You'll find lots of options and colors.
For more formal occasions, you can wear one of the derby hats.
Get this Roaring 20s Fascinator!
This type of hat also comes in a wide range of styles, materials, and colors, so why not choose one that matches your dress?
Headbands were all the rage in the 1920s, especially for flappers. Whether your headband is a beaded affair with a peacock feather,
a heavily beaded headband in gold,
or feathers galore,
you are sure to find the perfect headband for your flapper attire.
Let's not forget fascinators. Sometimes called hatinators, these are an excellent choice for any outdoor event. You can go with a veiled hatinator for a mysterious look,
a more simple design with peacock feathers,
or perhaps you would rather have something completely different.
I love this rose fascinator! Imagine wearing a red dress, a rose hat, and a stunning pearl necklace.
Coats and Shawls
You see quite a few coats in Downton Abbey because, well, England is wet and cold much of the time!
Depending on the weather, you might want to go with a heavy weight coat in a wool blend.
I love this coat because it comes in so many colors!
Or you might want to go all-out glam if you are attending a wedding, let's say. Fur stoles were quite common and while they were real fur back in the day, today you can find a terrific selection of faux fur coats that look like the real thing.
For the true flapper, however, nothing will do except more glitz and pizazz!
I'm not sure how warm this will be, but I guarantee that you will get lots of double-takes when you walk in wearing this number!
Gloves
For a Downton Abbey look, you might want to invest in two pairs of gloves. Gloves were commonly worn even during the day as people believed they were more sanitary than bare hands.
So wearing a pair of gorgeous satin-look gloves will add a nice touch to your outfit,
or if you prefer, shorter gloves.
I simply adore these with the little rhinestone flowers! How elegant!
However, if you are going to be outdoors in the winter, you might want to opt for some warmer gloves than satin.
Aren't these velvet gloves simply adorable? If it's just a bit chilly, these might do the trick.
Look at all the colors! I'm crazy about these!
No 1920s outfit is ever really complete without accessories. If you're a minimalist or short on cash, a necklace and a hat would be the barest of necessities.
Before You Go
I hope you found my exploration of the evolution of Downton Abbey-inspired fashion for plus-sized women helpful. If you want more great ideas, you'll find this art deco plus-size info useful.
In a refreshing departure from traditional, restrictive norms, this fashion line embraces diversity and body positivity, catering to a wider range of sizes. You don't have to be rail-thin to dress like the fashionable Crawley sisters!
I've drawn a bit of inspiration from the elegance and style of the show's characters. I'm sure that these designs offer plus-sized women a chance to embrace their curves while exuding sophistication.
From flowing dresses to intricate lacework, the collection captures the timeless charm of the Downton era while promoting inclusivity in the world of fashion.
I hope I've created a pivotal shift towards celebrating all body types and empowering women to feel confident and beautiful, regardless of size.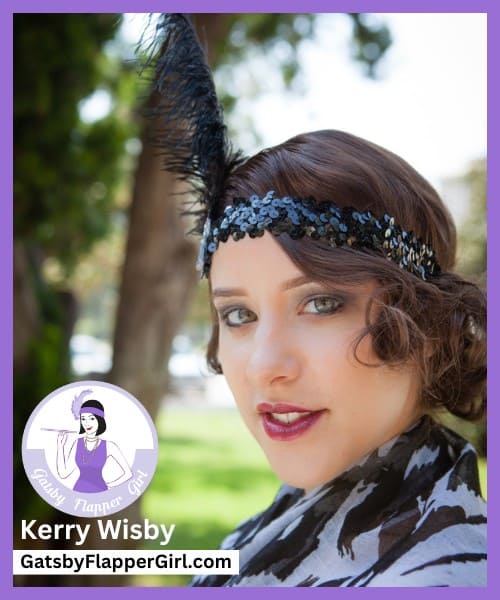 Written by Kerry Wisby – GatsbyFlapperGirl.com
Owner & Founder of GatsbyFlapperGirl.com
Kerry Wisby, a former teacher with a BA in English, is the founder of GatsbyFlapperGirl.com. With a passion for all things 1920s, including The Great Gatsby novel, her website is the ultimate source for Roaring Twenties fashion, history, and party ideas.  Read more about Kerry here.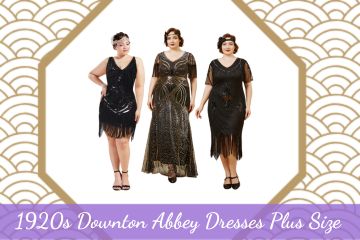 1920s Downton Abbey Dresses Plus Size for Women
Discover timeless elegance for everybody! Explore the stunning plus-sized fashion of Downton Abbey dresses and dress up with style!