Are you planning on going to a Great Gatsby-style party?
Perhaps you're enamored with the speakeasy culture of the 1920s and want nothing more than to kick back in a room full of flapper dresses and gangster costumes.
If this is the case, you're going to need an outfit.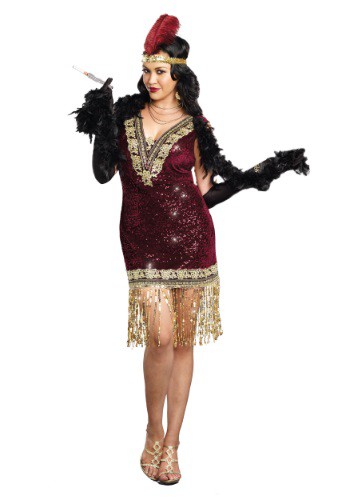 Well, dear reader, we are here to help!
We've collected some of the best Roaring 20s women and gangster costumes from across the web and listed them right here in this article.
But first, a little slice of history to whet your appetite.
What are 1920s flapper girls?
The Roaring 20s was a time of dramatic cultural change. The decade saw a transition in the attitudes of young people. Following the First World War, people were determined to let loose and enjoy themselves.
However, there were a couple of things that stood in the way. Curiously, these forms of repression gave way to iconic changes.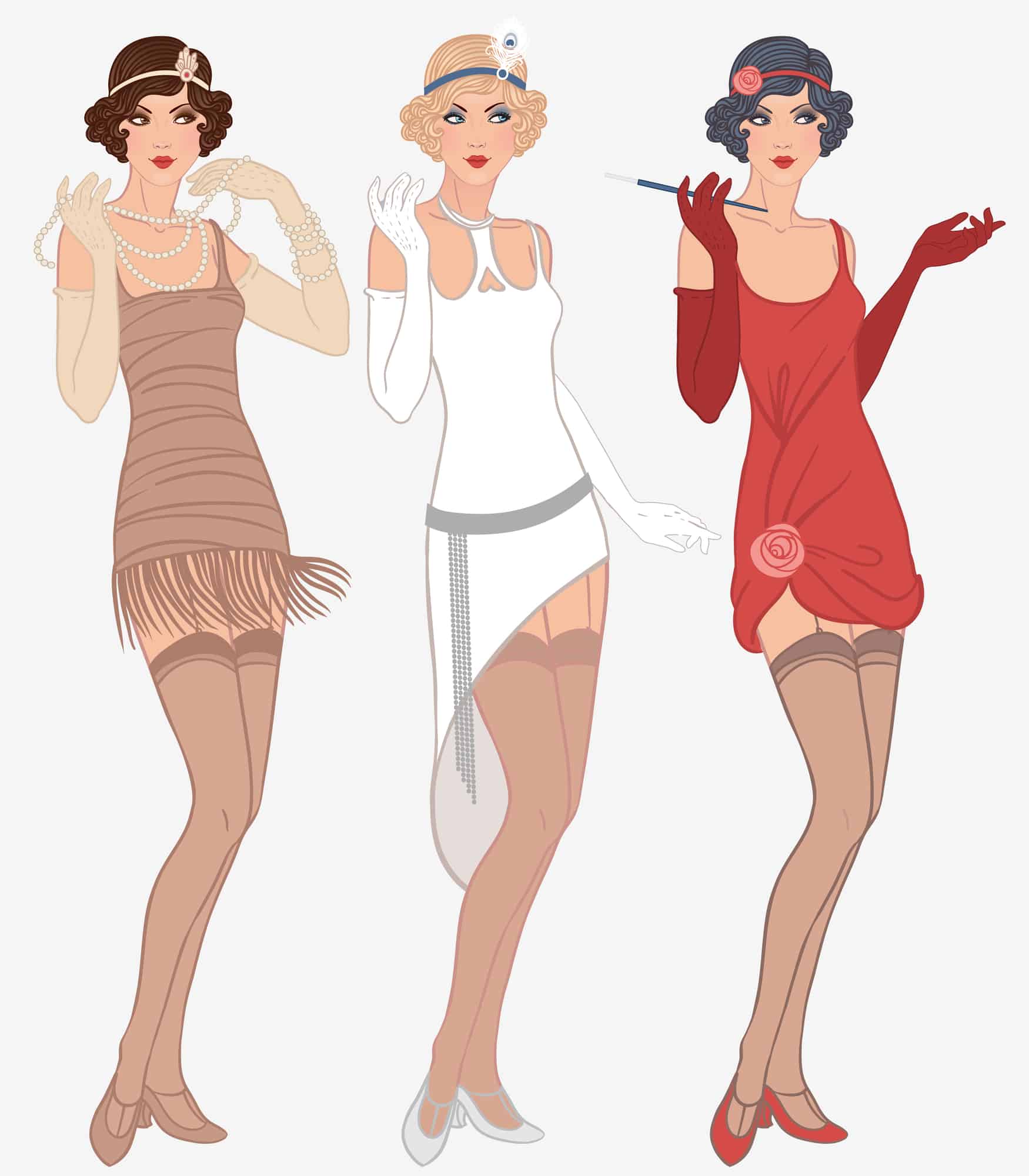 Strict moral views and norms led to flapper fashion
The women were in the midst of a cultural shift. They rebelled and broke away from the strict moral code of their elders. This showed in their choice of clothing, which was loose but glamorous. Showing cleavage was still very much taboo, but many women were definitely willing to show more skin than usual.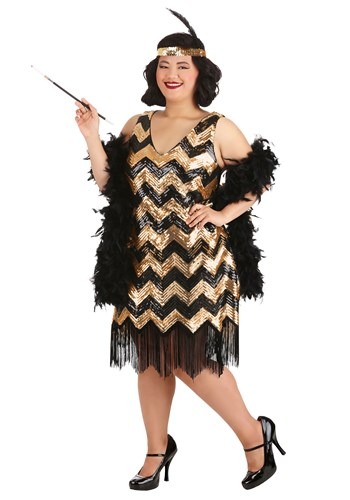 These young females became known as flappers, who garnered a reputation for their energetic quest for freedom to the extent of living their life in a way that seemed immoral and unbecoming. Many people consider these trendsetters as the first independent women of America. Flappers broke down economic and sexual barriers, changing the landscape of gender politics forever.
Prohibition laws gave birth to speakeasies
The Prohibition banned the sale of alcohol in the United States but did not stop young people from finding ways to have a good time. Prohibition gave way to one of the most infamous illicit concepts in American history –  the speakeasy.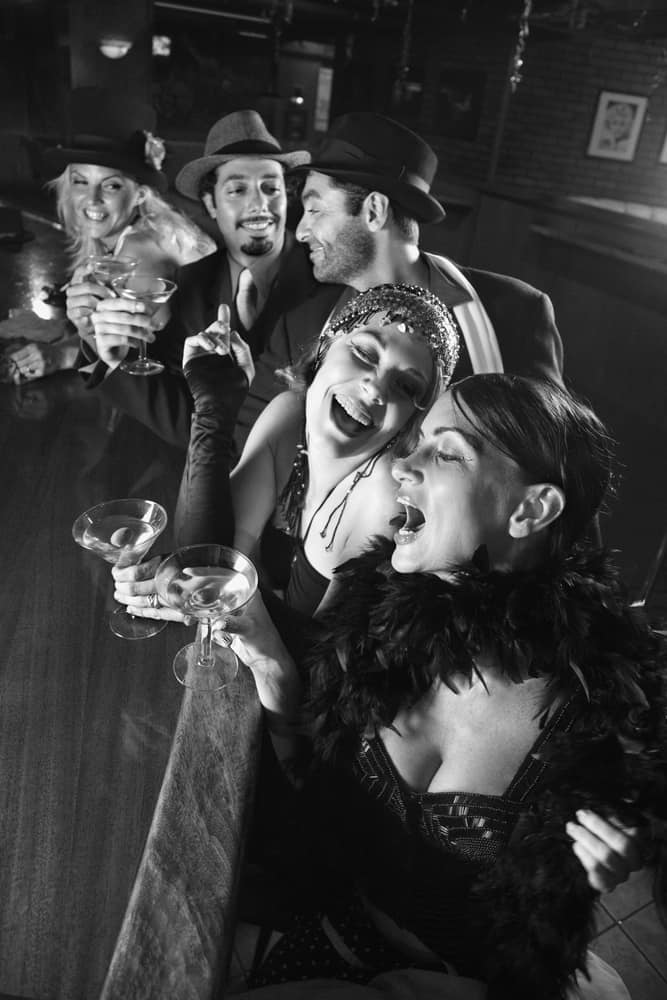 Speakeasies were bars that sold illegal liquor to patrons. They were supposedly top-secret, yet were incredibly popular. What more – they increased the reputation (and lined the pockets) of organized crime syndicates in the country. Basically, the mob owned the liquor, and people did not seem to mind. Many of these patrons were gangsters themselves. And yes, this included female gangsters, who were referred to as "molls".
What did female gangsters wear in the 1920s?
If you're going to a Roaring 20s or Great Gatsby-themed vintage party, you may want to dress up as one of these molls. You should remember that molls dressed up like all the other young women of the time. They didn't wear pin stripe suits and suspenders like the men, although you may want to dress up like this if you fancy yourself as a modern-day gangster like Al Capone.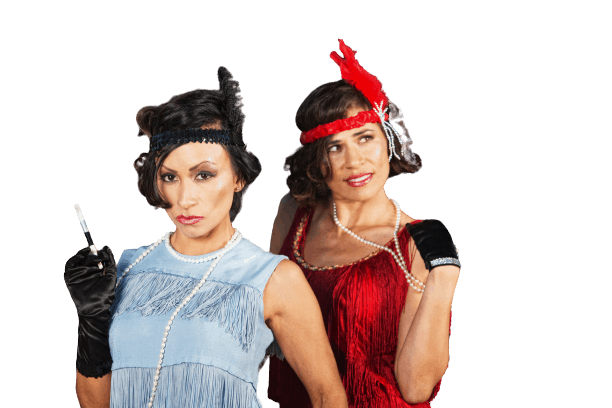 Women wore what is called a flapper dress – a glamorous outfit that rose to prominence in 1925. Whether they were a gangster or not, these ladies would don loose and slinky outfits, usually slip-overs. They would also add accessories like a headband or feathers to complete the look. While this type of clothing was most popular with young girls involved in big-gang cities like Chicago and New York, a lot of older women would wear similar outfits, although they would need slimming lingerie in order to make the dresses look right.
How should you dress for a speakeasy?
These dresses were very different from the outfits of the previous generation. In fact, if you were to step into a speakeasy of a gangster, you would probably be seeing lots of backless dresses and women who were not afraid to show a bit of thigh.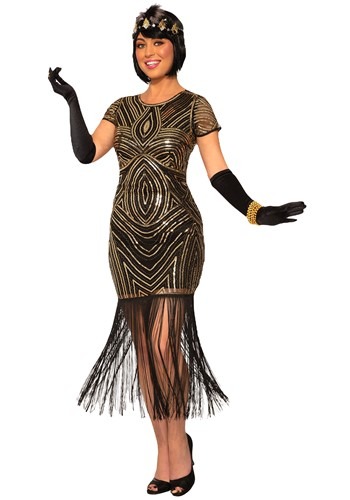 If you're considering a flapper costume, you'll want to find a dress with a high hem covered in beads and designed with lots of fringe and fabric tiers. You can usually buy a flapper costume at a costumes store.
If not, simply look for a similar style dress made of light material (chiffon or silk) and add some finishing touches, like beads or sequins. If you want to splash out on something a little bit durable than fancy costumes, there are many flapper dresses available online that will be a hit at all your social gatherings.
Make sure your flapper costume is knee-length or longer, although you could get away with a shorter dress if you feel like bringing your flapper costume into the 21st century. And don't worry if you're plus-sized, there are many modern flapper dresses and gangster costumes that will fit larger people.
Best Roaring 20s Flapper Dresses and Gangster Costumes for You!
Women's 1920s Socialite Costume

This flapper dress from Halloween Costumes is the perfect speakeasy attire for anybody who wants to remain modest but still be playful. The dress fits well over your curvy bits and flares below the knees, giving you a very desirable shape.
It also comes with a velvet jacket and faux fur collar so you can look just as classy as Daisy herself from The Great Gatsby. The satin headband and upright feather are a lovely touch as well or complete the look with a stunning 1920s fascinator.
Plus Size Sophisticated Lady Flapper Dress Costume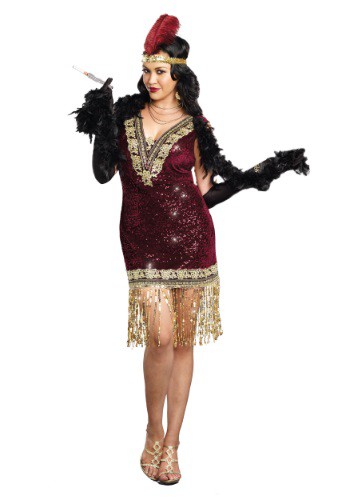 If you want to look sophisticated but still pull off the look of a 1920s female gangster, this plus-size flapper dress from Halloween Costumes should be your first choice piece of clothing.
The vintage fringe and hemline are very reminiscent of the era, and the color is sure to set tongues wagging. Unfortunately, you do not receive the boa and cigarette holder as part of the outfit, but you can add them to your cart.
Women's Dapper Flapper Costume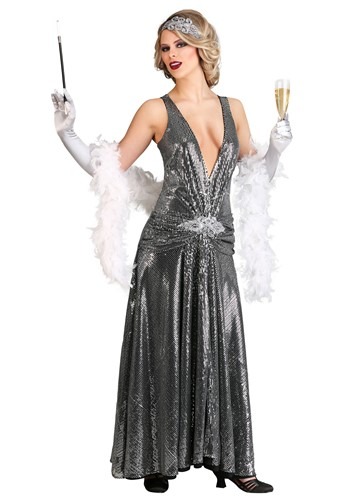 There is a reason the word "dapper" appears in the name of this costume dress. The style is very dramatic. In fact, we think the Great Gatsby himself would drop Daisy like a bad habit if he saw you wearing this sexy piece of clothing. The dress is exclusive to Halloween Costumes who continue their fine run of high-quality flapper dresses and gangster costumes.
Women's Art Deco Flapper Dress Costume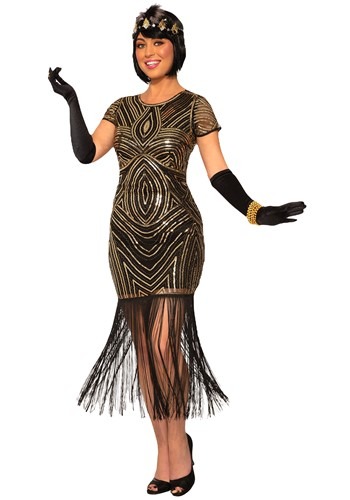 Art deco design was very popular during the flapper period. This flapper dress calls back to that innovative style with a delightful black finish and shimmering gold sequins. The hem comes with long fringe fabric which makes this fancy dress costume much more elegant than it has any right to be. Head out onto the dance floor and do a Charleston in this number, and you can take home any gent who catches your eye.
Roaring Roxy Costume
The sexiest dress on our list so far, the Roaring Roxy is a playful piece of vintage clothing that really leans into the sequin pattern and alluring sheer mesh bust. The silver and white detailing is top-quality and the zig-zag fringed hem shows just enough leg to make a statement without being too revealing.
Women's Feathered Showgirl Costume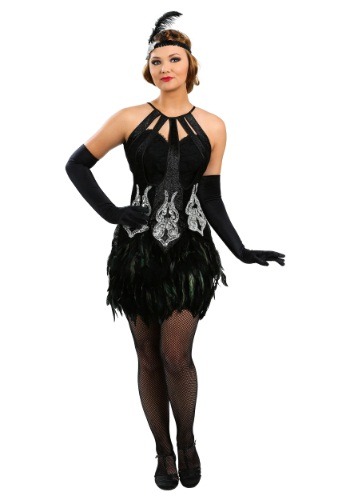 Get this Feather Flapper Dress!
This costume may not actually turn you into a Great Gatsby character, but you will definitely look the part at your local speakeasies and fancy dress parties.
This vintage ensemble features a stylish high neckline and an assortment of beaded appliques. The layered feathers finish the look perfectly. If 1920s clothing is your jam, look no further than this outfit. All you need are some black gloves to complete the set.
PrettyGuide Women's 1920s Flapper Dress
Available in black, burgundy, and rose gold, this flapper dress will make a glamorous addition to your wardrobe and will surely make you stand out in any vintage party or gathering. The attention to detail makes this dress a stone-cold winner, but we just wish some of the additional clothing accessories of the time (headband, boa) could have been included as well.
1920s Sequined Fancy Flapper Dress
Get this Stunning 1920s Dress!
This gorgeous flapper dress would turn the head of even the most hardened gangster, no matter the color you choose. The skirt drapes right down the floor, so you won't be showing anybody your body unless they ask nicely.
The sequined detail is somewhat unique and very bold, while the mesh bust adds a touch of sensuality. A must-own if you are planning a Great Gatsby party any time soon.
Sequined Mermaid 1920s Dress
Another modest dress of the era, this is not just another one of those flapper costumes. This dress is a statement. Whether you purchase the outfit in green or black, you'll have all eyes on you when you step in the room looking like the vintage goddess that you are. Bring the Jazz Age back to life with this little number!
Plus-Size Options
Don't worry if you are curvier than other women, we have also found three of the best flapper dress options that will suit your frame and boost your confidence when you step foot in that next vintage party.
Ladies Plus Size Swanky Flapper Costume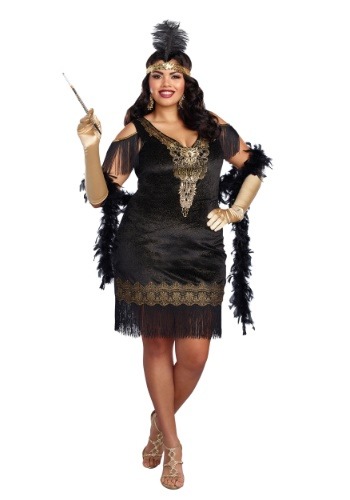 Flapper clothing doesn't have to fit slim and young people, you can still rock the look even if you're on the curvier end of the scale. This knee-length dress is made of black velvet and gold glitter.
The slight stretch accentuates your curves, while the golden lace around the neckline and hem really makes this dress pop. The headband comes complete with a black ostrich feather for authenticity.
Women's Plus Size Dolled Up Flapper Costume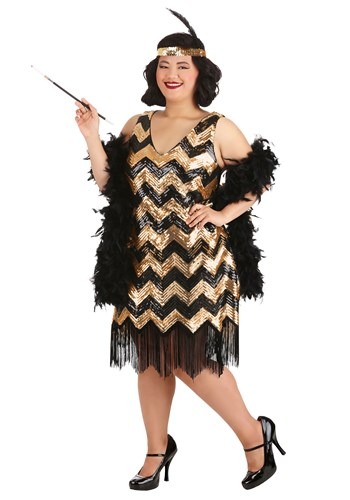 Get the Plus Size 1920s Dress!
If you're looking for some golden Great Gatsby-inspired clothing to show off your curvy figure, this flapper costume is the one for you. The dress is suitably vintage and will make you feel as if you have truly gone back into the roaring 20s.
The chevron pattern is adorned with sequins. It is also somewhat unique compared to a lot of other modern flapper dresses. The hemline has a long fringe that looks great when you dance – so make sure you bust out your best Charleston moves!
Women's Plus Size Crystal Flapper Costume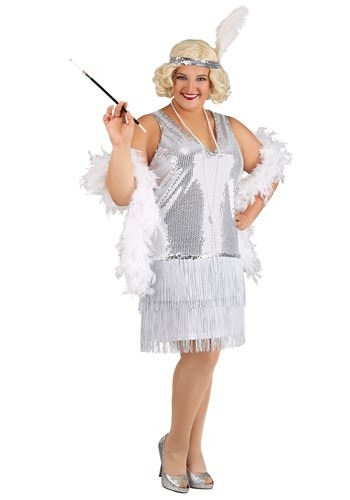 See the Plus Size Sequin Dress!
Do you want a piece of flapper clothing that can stop a party dead in its tracks? Try this costume on for size!
The straight-cut design includes a very stylish sequin-trimmed V neck, dropped waist, and multiple tiers of fringe, making it a great choice for any plus-sized beauties who like to dance at all those vintage parties. 
The accessories and shoes are not included in the Halloween Costumes deal, but this just gives you the chance to jazz up the dress yourself.
So there you have it! Whether you're petite or plus-sized, this selection of suitably vintage dresses will make you look like you've stepped right out of the pages of The Great Gatsby itself.
I hope you found the link to each costume helpful. These are very affordable items, and there are sale and discounts every now and then. You may check out similar articles in this website too – enjoy reading!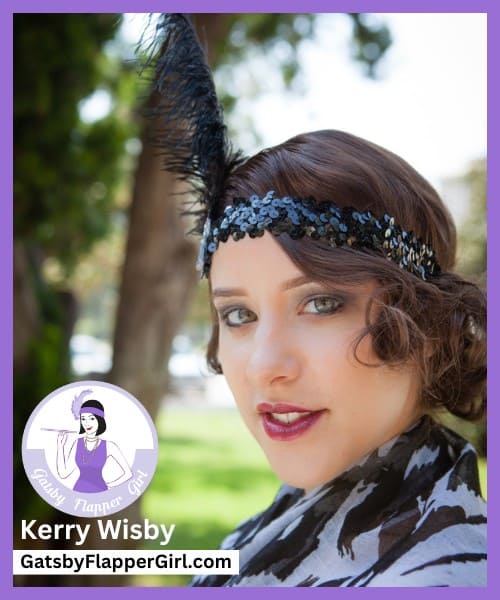 Written by Kerry Wisby – GatsbyFlapperGirl.com
Owner & Founder of GatsbyFlapperGirl.com
Kerry Wisby is the owner & founder of GatsbyFlapperGirl.com, your go-to source for all things 1920s & The Great Gatsby. With a passion for the era & a wealth of knowledge to share, Kerry is dedicated to providing you with everything you need to know about Roaring 20s fashion, 1920s history, & Great Gatsby-themed party ideas. Join Kerry in bringing the spirit of the Roaring 20s to life! Read more about Kerry here.
Best Roaring 20s Women's Costumes & 1920s Plus Size Outfits
Take a dive into the fashion of the Roaring 20s and find the best vintage flapper costumes for any Jazz Age-themed event! Stunning designs and styles!