While you might recognize those elegant drop-waist dresses from the 1920s, did you know that they are making a comeback?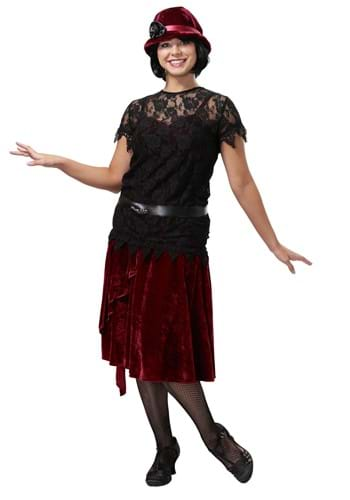 It's true! What's old is new again when it comes to fashion, so don't be surprised to find drop-waist dresses back on the racks this spring or summer.
If you've got a costume party coming up, or you love those cosplay events that feature the Great Gatsby as a background, then you'll love the drop-waist dress styles we've found for you.
Whether you want evening dresses or everyday tea dresses, look no further for the perfect 1920s-style drop-waist dresses!
What Is a Drop Waist Dress Called?
Believe it or not, the typical drop-waist dress is called exactly that. However, after the 1920s, it's not unusual to hear people refer to these dresses as flapper dresses or even Gatsby dresses.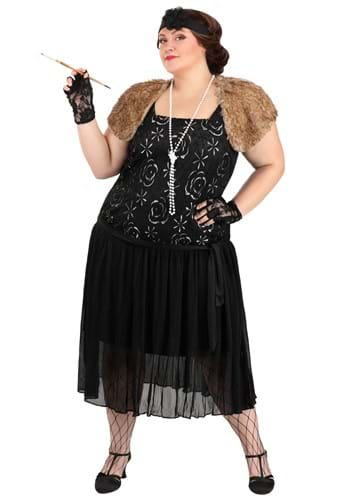 Get this Drop Waist Gatsby Dress!
This dress style became popular during this era. It only lasted for a decade or so, then it fell out of fashion, but what an impression it made! Even women today are wearing drop waist dresses again!
You can always recognize one of these vintage-inspired dresses by the waistline that falls more along the hips than the natural waist. Yes, by dropping the waist to the upper or lower hips, a woman looks taller.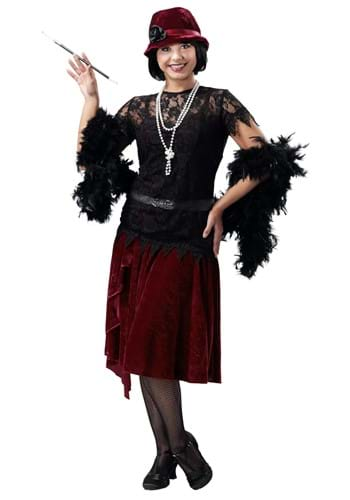 This style allowed flapper women to move freely and show more skin, which was a departure from the norm and the constricting bustle that their mothers wore.
While many modern-day women who favor these drop-waist dresses want a hemline that is a bit higher, the typical Flapper would wear these dresses with a hem that fell right above or right below the knee.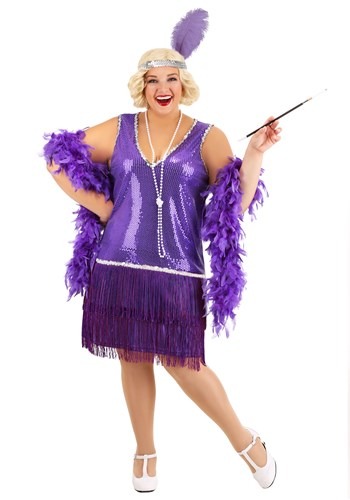 Some dresses did away with the waist altogether, focusing on the shape of the bust and torso and leaving a long line of fringe to make up the hemline! Click here to see all our favorite plus size drop waist 1920s dresses
However, the drop-waist dress was only in fashion for about 10-12 years. As the times changed and the Great Depression fell, many women abandoned this style for more structured, formal-looking dresses that had a natural waist.
The good news is that you can still buy fashionable drop-waist dresses and look retro cool, yet remain stylish at the same time.
Elegant 1920s Evening Dresses with a Drop Waist
While we often think of the feathered headband, pearl swinging, drop-waist flashy dress of the Flapper girl, the truth is that there were also times when a lady needed to look more elegant, such as for the opera, a wedding, or other special events.
This is where floor-length dresses came about. These dresses are quite different from the short "party" dresses we typically associate with Flappers, there is no doubt that these dresses came straight out of the 1920s.
If you remember the movie Titanic, you'll clearly remember Rose wearing these floor-length, heavily beaded evening dresses for supper.
These dresses could be without sleeves or they might have shorter sleeves, but they always had beading and a drop waist. Rather than sporting fringe, these dresses often had a long chiffon or silk skirt that peeked out from the bottom of the dress and hung to the floor.
Get the Glitter Flapper Dress!
If you are looking for a dress that will do double duty, you can always find vintage-inspired dresses that will play the part. This dress is elegant and long enough for a dinner party, but fun and fringe-y enough for dancing the Charleston all night long!
Get the Vintage Roaring 20 Dress!
The History of the 1920s Drop Waist Dress
This poem from 1926 sums up the Flapper girl lifestyle
"With silken legs and scarlet lips
We're young and hungry, wild and free,
Our waists are round about the hips
Skirts are well above the knee
We've boyish busts and Eton crops,
We quiver to the saxophone
Come, dance before the music stops
for who can bear to be alone?"
James Laver – The Women of 1926
Women were looking to blow apart the stifling culture they were raised in. Young women in the 1920s didn't want to wear corsets, floor-length dresses with bustles, layers of lace, high collars, large hats, and long sleeves.
The invention of film and the influence of Hollywood stars also went a long way towards changing fashion norms.
In addition to shorter hemlines, women also took on shorter hairstyles and less frivolous hats.
The cloche hat, along with the bob hair cut, was extremely popular.
Chemise dresses were simple one-piece dresses that hung from the shoulders to the knees in one easy piece. No waist line, no accentuated busts, just a straight dress, similar to a sheath dress but not as form-fitting.
Chemise dresses allowed women to dress up or down as the situation required. They could add a flowing, loose jacket and low pumps for shopping, or put on some heels and layers of necklaces for a night on the town.
Pleated skirts matched with sweaters and a belt at the waist were common attire for everything from running errands to working in the office.
What Did Women Wear to Accessorize in the 1920s?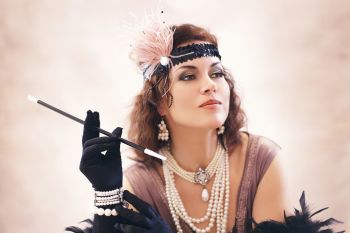 When women started showing more leg, silk stockings became very fashionable. It was not uncommon to see silk stockings in all kinds of colors, although black and nude were the most commonly worn colors.
T-strap shoes were also typical for daytime wear, and strappy sandals with heels were for flapper parties!
Costume jewelry was a common sight, as was makeup. Women in the past rarely wore makeup, and they especially would not consider anything as loud as red lipstick.
That all changed in the 1920s. Bright red lipstick, eyeliner, blush, and eyeshadow became the norm for parties, but not so much for daytime wear.
The look for the 1920s was long and lean. Big hips and big busts were only fashionable in the movies, such as the look Mae West gave audiences.
For everyday women, you wanted to look more like a cigarette with a hat. This style was called "la garçonne", which means the boyish look.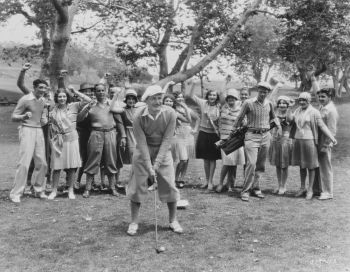 It's believed that Coco Chanel first wore the drop-waist dress that would become the popular style. Did she create the dress or see it elsewhere on her travels? No one knows for certain.
One last trend in the 1920s was wearing sportswear as daywear.
While sportswear (think golf clothes or riding clothes) had long been used by men, women did not embrace this style of clothing until the 1920s. In the Great Gatsby movie, you'll see golfing pro Jordan Baker wearing sports clothing that had been strictly reserved for men up until that point.
Tennis was a popular sport for women at this time, so you'll see photos of women wearing pleated tennis skirts at the knee or just below, along with sweaters and turban-style headwraps to keep their hair in place.
There is a lot more to 1920s fashion than flapper dresses, but clothing is meant to be fun, and the 1920s had a style all their own.
Final Thoughts on the Drop Waist Flapper Dress
When hosting a costume party or cosplay event, the main idea is to have fun. This is really what the 1920s were all about anyway—comfort, style, and a little bit of sass.
Check out some of the costumes above, and don't forget the fun accessories, like cloche hats, several long strands of pearls or other costume jewelry, cigarette holder, and some bright red lipstick!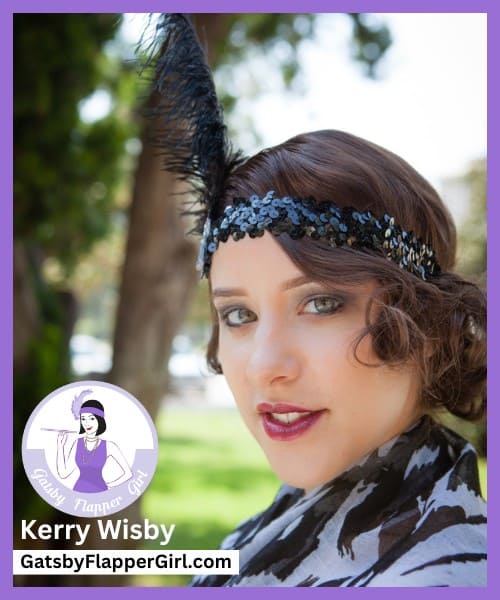 Written by Kerry Wisby – GatsbyFlapperGirl.com
Owner & Founder of GatsbyFlapperGirl.com
Kerry Wisby is the owner & founder of GatsbyFlapperGirl.com, your go-to source for all things 1920s & The Great Gatsby. With a passion for the era & a wealth of knowledge to share, Kerry is dedicated to providing you with everything you need to know about Roaring 20s fashion, 1920s history, & Great Gatsby-themed party ideas. Join Kerry in bringing the spirit of the Roaring 20s to life! Read more about Kerry here.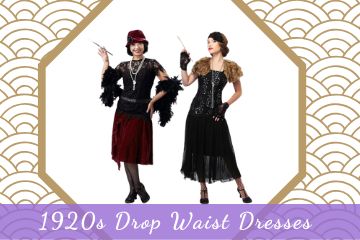 1920s Drop Waist Dresses Great Gatsby Style
Are you looking for the best options for drop-waist dresses for your costume party or cosplay event? Find elegant 1920s drop waist dress styles here!