What fashion immediately comes to mind when you think of the roaring 20s?
Fedoras? Flapper girl dresses? Zoot suits?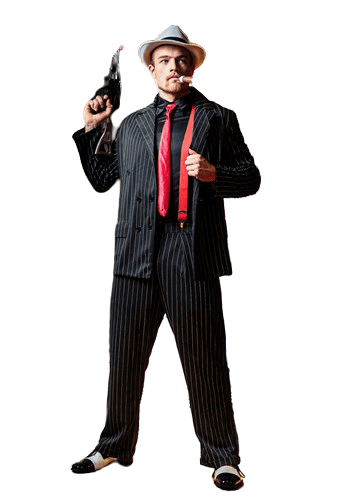 While some people think that zoot suits were from the 1940s, their popularity actually began back in the late 1920s.
African Americans wore zoot suits in comedy routines. These suits were probably their way of mocking gangster attire, but the zoot suit became incredibly popular within a few years with a few alterations.
Why were zoot suits so controversial? What did the suit symbolize?
We will answer these questions and more, as well as how you can wear an authentic-looking zoot suit for your next party or cosplay event.
Were Zoot Suits from the 1920s?
Yes, they were.
The zoot suit got its start in African American playhouses and entertainment locations. The baggy pants made dancing easy and a very long coat fit men of all sizes.
Zoot suits were first seen sometime in the late 1920s.
Most likely, these suits were originally worn to mock gangsters as this fashion style slowly made its way into the mainstream wear by the middle of the 1930s.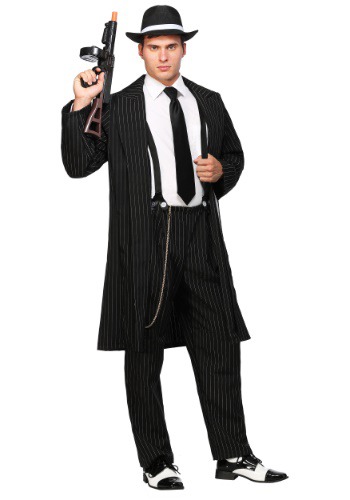 This fashionable suit was originally seen in Harlem jazz clubs and on stage, then slowly made its way across the country, including Chicago, Detroit, and Memphis.
While these suits were stylish, they were strictly urban wear. You would never catch a farmer or rancher wearing one of these!
However, for a night on the town, nothing was more fashionable, especially for the Hispanic and black communities, than a well-accessorized zoot suit.
What Did the Zoot Suit Symbolize
Today, most people think of zoot suits as just another fashion craze, like spats or two-toned shoes, but once this suit hit main street, it began to take on a life of its own.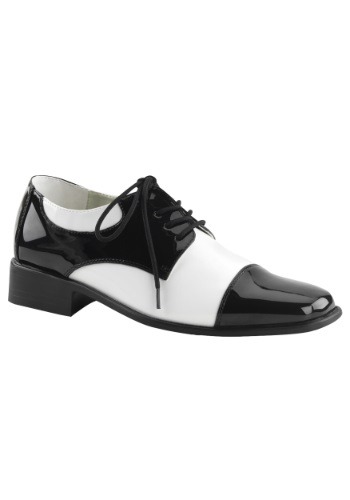 Since the overwhelming majority of men wearing this suit were people of color, it began to be viewed as a symbol against racism.
Men also saw this suit as a token of respect and solidarity, uniting men of color simply by wearing similar clothing. The same way that women in today's world might wear a pin with a pink ribbon to signify support for breast cancer.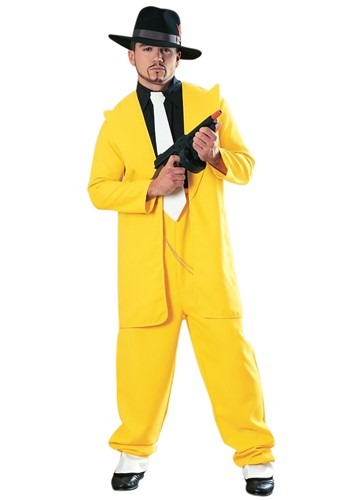 The zoot suit was quite flamboyant, and while it was favored among minorities, by the early 1940s you might even see some hip white youngsters wearing this suit.
While one Detroit retailer and other clothing designers have tried to take credit for "designing" the zoot suit, there was no one manufacturer or designer who set the trend.
Were Any Celebrities Seen Wearing Zoot Suits?
Yes, that's when zoot suits moved from the jazz clubs of Harlem to Main Street.
Many celebrities of the time, including Cab Calloway, Dizzy Gillespie, and a Mexican entertainer, Tan-Tan, all famously wore zoot suits.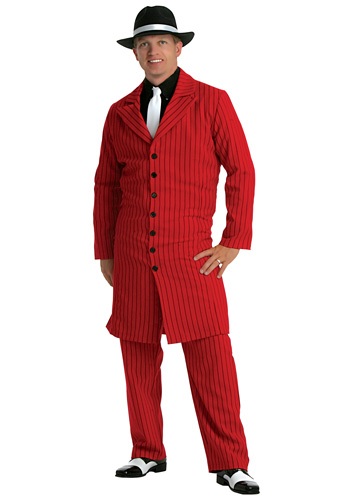 Even a young Malcolm X, then known as Detroit Red, was a big fan of zoot suits.
Other activists and celebrities who were fond of zoot suits include the Mexican-American labor activist Cesar Chavez, as was Louie Armstrong, and big band trumpet player Henry Fox.
Any internet search of the 1920s and 1930s will show young men of color wearing this controversial suit that would eventually lead to a dark day in history.
Why Were Zoot Suits So Controversial?
This is where a simple piece of clothing becomes larger than life.
As was customary in the 1920s-1940s, most men's suits were made of wool. When America joined WW II in 1941, the armed forces took control of many clothing and wool factories to make clothing for servicemen and women.
In the same way that Prohibition only led to the illegal production of alcohol, the ban on new clothing caused some tailors and wool manufacturers to create a black market for new clothing, including zoot suits.
Many white communities and servicemen saw the wearing of a zoot suit as un-American and unpatriotic.
Tensions had been increasing over the years—from the influx of Hispanics from Mexico, who were legally working in the fields and machine shops to take the place of men who had gone to war, to the racism of the times, along with what was seen as disrespect by zoot suit wearers—all came to a head in June of 1943 in Los Angeles, California.
In what would be called the Zoot Suit Riots, white servicemen who were stationed or on leave in and around southern California began stripping the clothes off of those who wore zoot suits, frequently beating that person and then burning the suits.
Thankfully, no one was killed during the Zoot Suit Riots, although many people were injured and arrested.
To restore peace, the governor was forced to outlaw zoot suits in public and forbid servicemen from entering California wearing their uniform.
The zoot suit fad eventually died a natural death in the 1950s, but it might be the first time that a piece of clothing was said to be the cause of a riot.
What Did a Men's Zoot Suit Costume Look Like?
The fun thing about a zoot suit is that, since there was no designer who set a standard look, zoot suiters were free to wear this fashion any way they liked!
The typical zoot suit included high-waisted pants that had balloon-type legs. These wide-legged pants narrowed at the ankle and then featured a very narrow cuff.
Suspenders were more commonly worn rather than a belt, along with a button-up dress shirt.
While the shirt was really important for gangsters, it wasn't so much of a thing for zoot suiters. Any button-up dress shirt would do since the shirt was not the appeal, but the jacket and trousers were.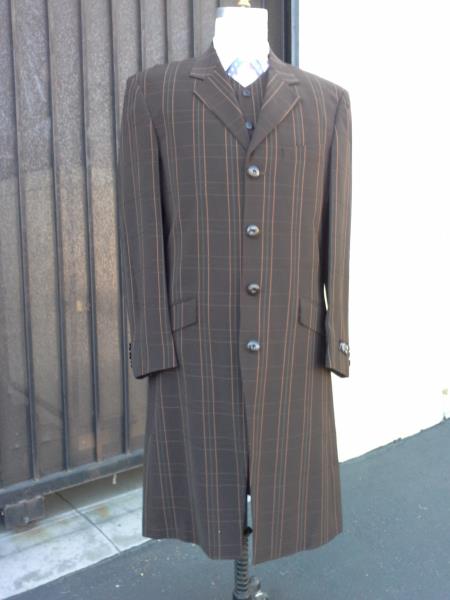 The jacket had very wide shoulders that used padding to accentuate the tight waist of the pants. Jacket arms were very long, sometimes reaching to the fingertips or at least to the middle of the hands, and wide lapels were common.
The overall length of the jacket was also important. It frequently hit the knees but could be even longer.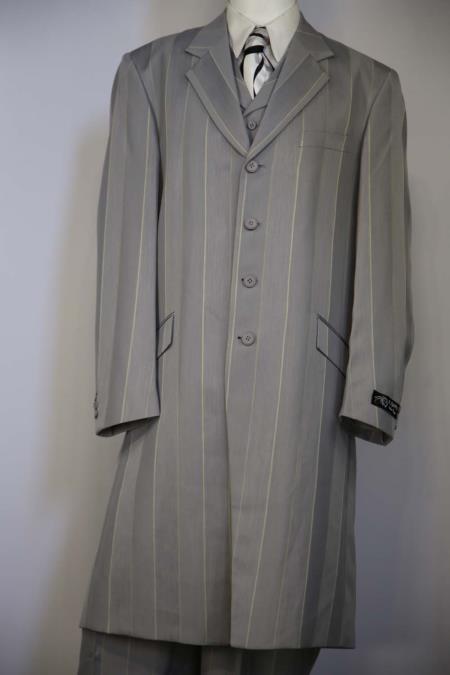 The look of the zoot suit is basically a jacket worn loose, the waist on the pants was tight, the legs were loose and the ankles were very slim.
Gangster suits were well known for their vests, but zoot suits can be worn with or without the vest, the choice is yours.
While two-toned shoes were common, by the 1940s, just simple dress shoes in brown or black were worn.
Perhaps one of the most outstanding features of the zoot suit was the gold chain. A thin chain, frequently two or more strands were used, was hooked from belt loop to belt loop on one side or from the front of the suspenders to the rear of the suspenders.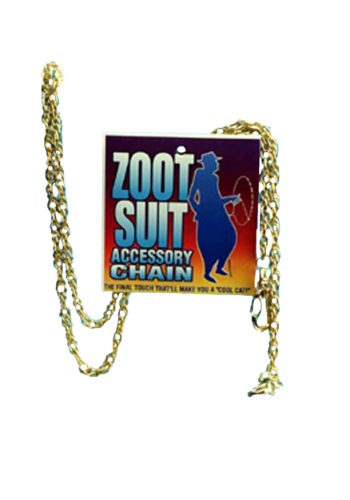 The chain should hang very, very low, usually with one strand hitting the top of the knee and the second strand hitting the bottom of the knee.
The hat was an optional accessory, but if you really want to play the part of a zoot suiter, then get a fedora with a band so you can put a feather in your hat. This would be the ultimate zoot suit look!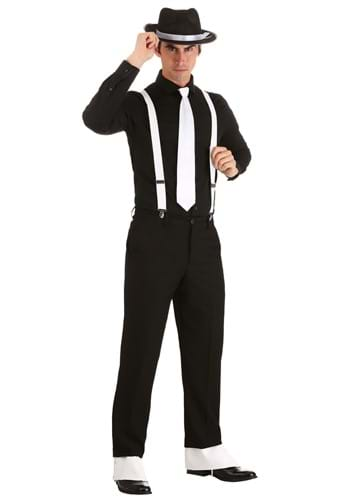 Ties were also optional, so wear a white one like this or a black one such as this, if you really want to dress up, or you can go a bit more casual by wearing just a dress shirt.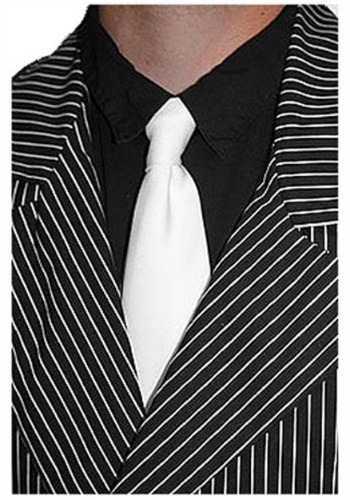 Make sure that the pants are snug around the waist. Zoot suit pants are worn high-waisted, but the legs are very, very loose until the ankle cuff, which is very narrow, or even snug.
Whether you are interested in a costume for your next party, or you are into cosplay, you'll find zoot suits are easy to recreate.
A long, loose jacket, baggy pants that are tight at the waist and ankles, combined with a few accessories such as the hat with a feather, suspenders, and a gold chain, and you've got everything you need to recreate this history-making fashion suit.
Get these Gangster Accessories!
Final Thoughts
While the zoot suit fashion isn't worn by today's stars, it will forever be a part of American history.
The zoot suit style of long, loose coats, topped by tight, high-waisted pants that were baggy at the knee yet tight at the ankle, will always be a hit at any cosplay event or costume party.
Get your zoot suit on and be prepared to be the fashion hit of the party!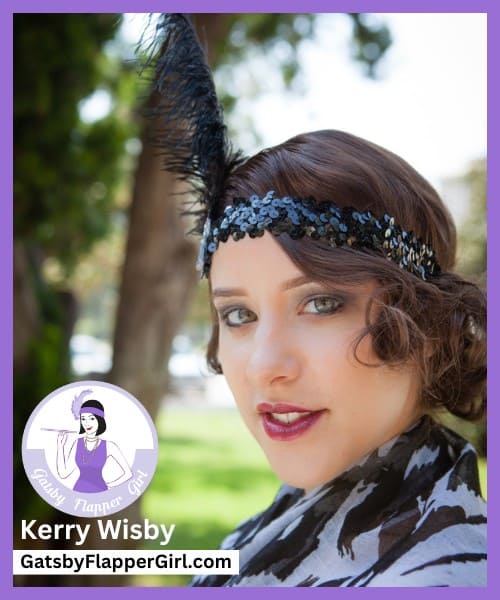 Written by Kerry Wisby – GatsbyFlapperGirl.com
Owner & Founder of GatsbyFlapperGirl.com
Kerry Wisby is the owner & founder of GatsbyFlapperGirl.com, your go-to source for all things 1920s & The Great Gatsby. With a passion for the era & a wealth of knowledge to share, Kerry is dedicated to providing you with everything you need to know about Roaring 20s fashion, 1920s history, & Great Gatsby-themed party ideas. Join Kerry in bringing the spirit of the Roaring 20s to life! Read more about Kerry here.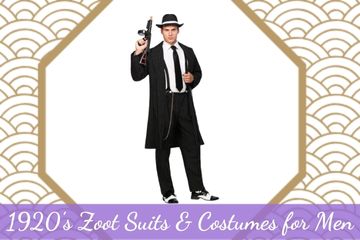 1920's Zoot Suits & Costumes for Men
Did you know that African Americans first wore Zoot Suits? Find out more about how to wear and buy a zoot suit and the facts regarding this controversial outfit.