Get the Outfit!
Every time you check yourself out in the mirror, you love what you see. And there is a good reason for that because you are beautiful. Why not use that to your advantage when picking a mobster costume for your upcoming 1920s themed party or even for this year's Halloween?
Females living during the Great Gatsby's era dressed liberally and embraced their attractiveness. That is precisely what you will do if you choose a sexy gangster or mobster costume. Here are some tips that will help you make the right selection!
Romper Is the Definition of Sexiness
It might be my opinion, but when in the world a romper didn't look sexy? The good news is that you can find plenty of costumes inspired by this style. As expected, most of them feature a pinstripe pattern since that was the main motif of outfits worn by crime bosses.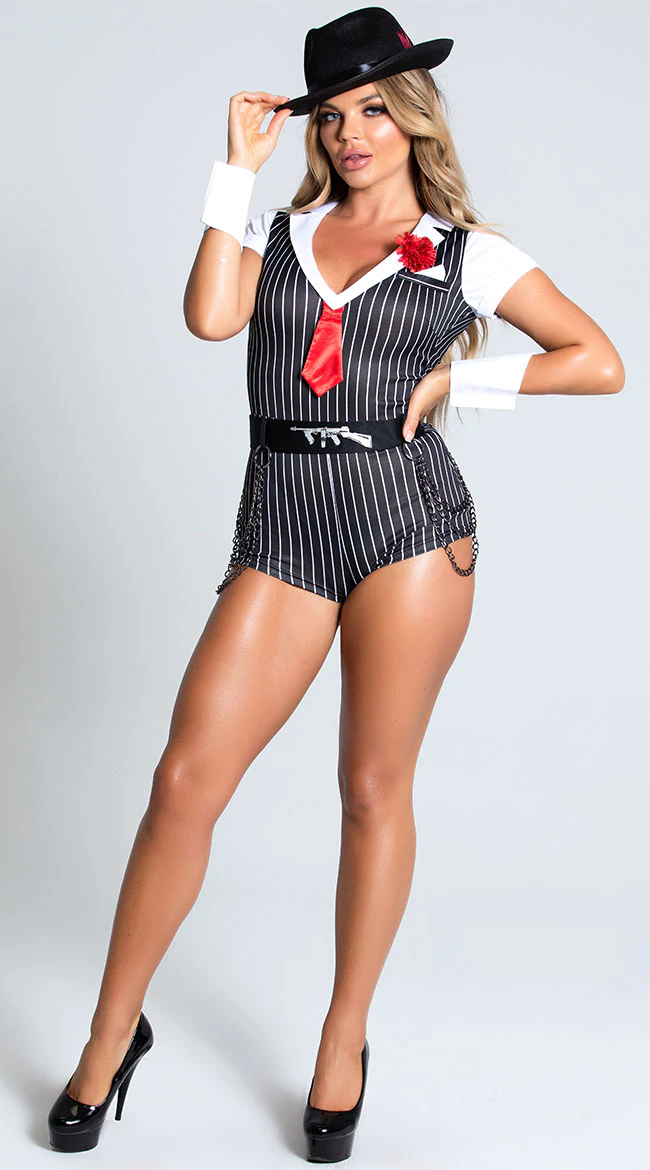 Get the Outfit!
You don't have to experiment with colors much. Combining only black and white can make your mobster costume look amazing. Don't hesitate to add unique touches, such as button bodice detail, to your combination.
Turn Heads with this Outfit!
If you want to look extra hot, find gangster costumes that feature a V-neckline. That way, those people at the Halloween party won't know where to watch first- in your stunning legs, or that provocative neckline! If you want to add a bit of color to your costume, how about an attached red satin tie?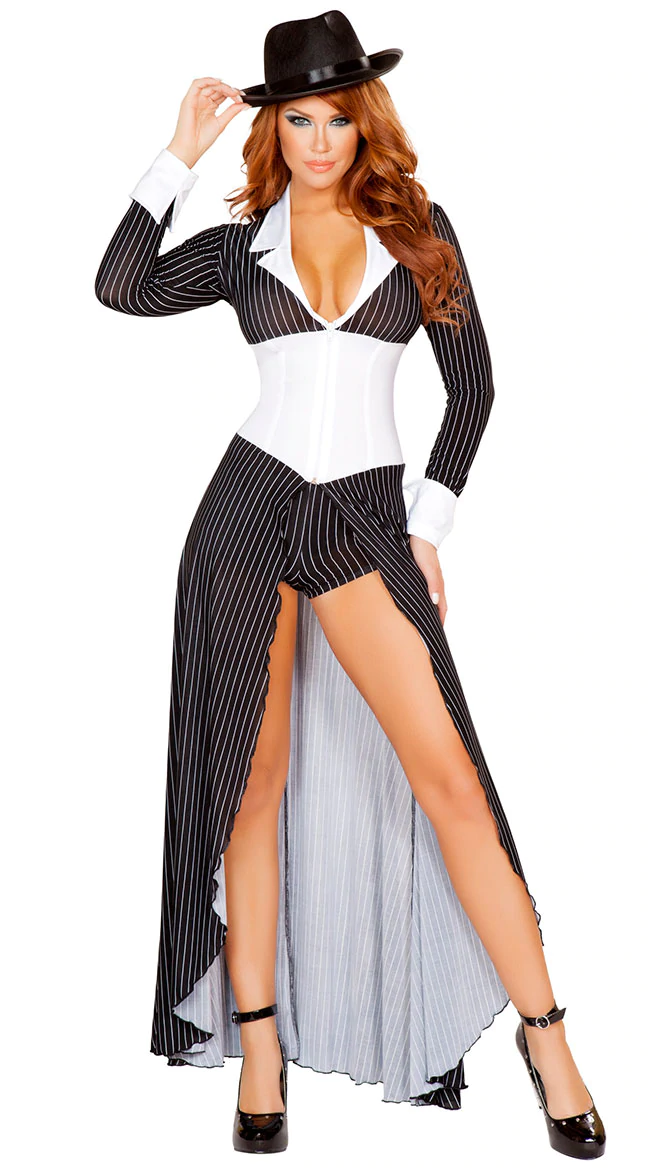 Get the Costume!
Red seems to be the color that will best match the classic black and white pattern of your costume. That is why you will find it in many products focusing on 1920s-themed Halloween event outfits.
Get the Outfit!
Apart from the tie, consider other details, such as a red carnation accent pin and some beautiful cuffs.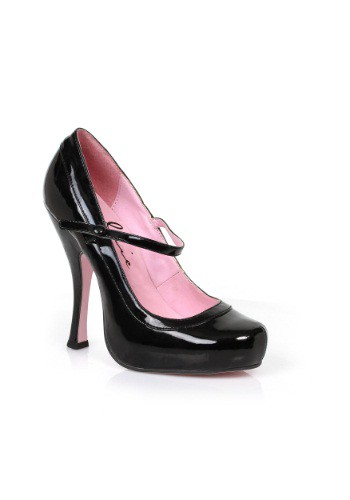 Get the Shoes!
An amazing hat can round up your appearance, but make sure not to forget the shoes.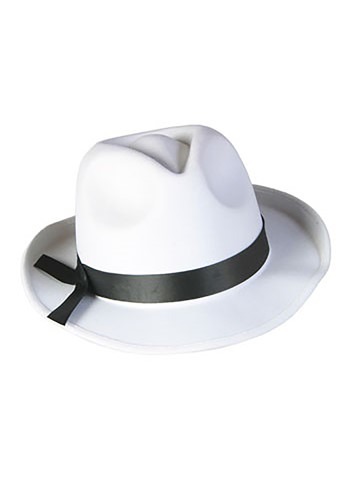 Don't forget the Hat!
Heels have always been a sign of sexiness, which is why the best costumes gangster girls can wear should be matched with them. Feel free to experiment with your favorite colors, but black will never go out of style!
Be Ready for Cold Weather
What if it's cold outside? Halloween is in October, and the temperatures can go low at that period. You can't go sleeveless because you will freeze until you reach the party. That is why you want to look for products that include a coat.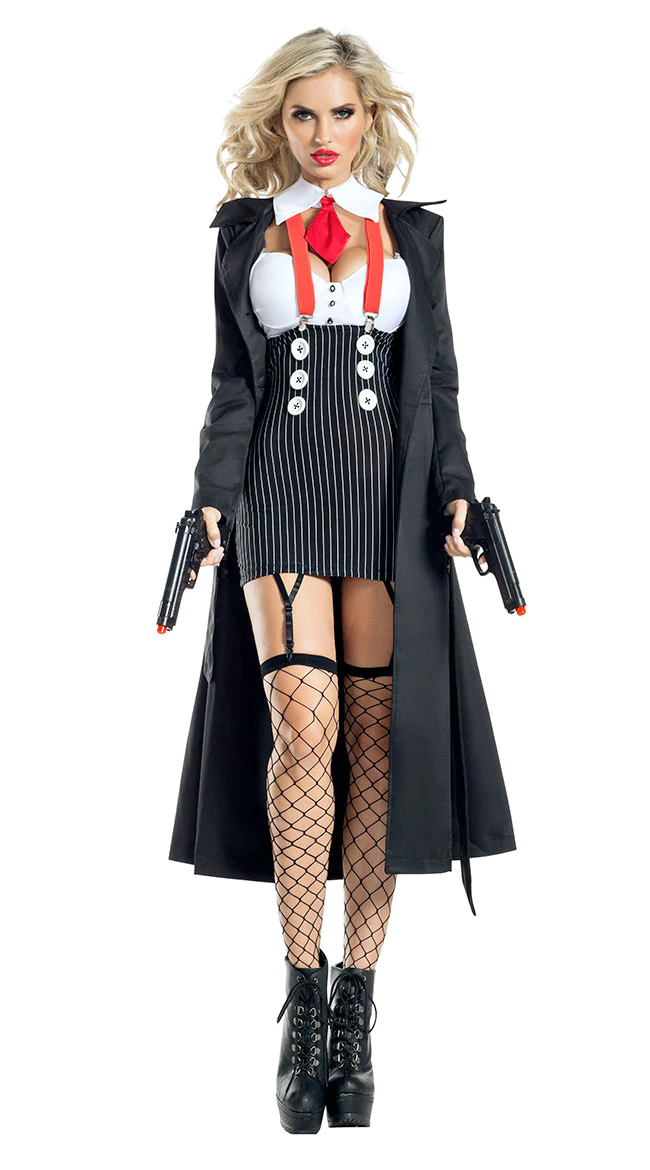 Get the Outfit!
Fortunately, there are gangster costumes for women that include a large trench coat. You will look hot and provocative while wearing the coat, but it's also important that you won't be cold. Once you reach the destination, you can show off your actual costume.
Get this Cute Outfit!
I would go with a mini dress or cute shorts that would show off some skin as that is an excellent way to transfer from gracious to sexy and dazzling in less than a second! If you can't find a mobster costume that includes a coat that you like, how about purchasing it separately?
Get this Great Fur Coat!
You can go with a stylish coat with a colored lining. Satin is a sexy material, and purple is a provocative color. That is why you can't go wrong if you choose a fur coat with a satin lining.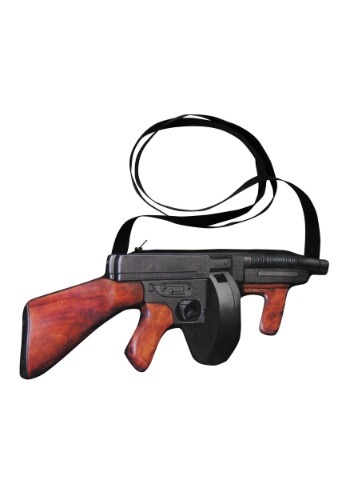 Get this Great Handbag!
If you feel like adding an extra touch to your outfit, you can order a machine gun handbag. Not only will you look like a true gangster, but the accessory will be useful for storing your makeup and other essentials.
Don't Take Off Your Coat!
I will admit that trench coats might be a true winter outfit. If it is not that cold for Halloween, or you would prefer a combination that doesn't show that much skin, how about an integrated pinstripe coat?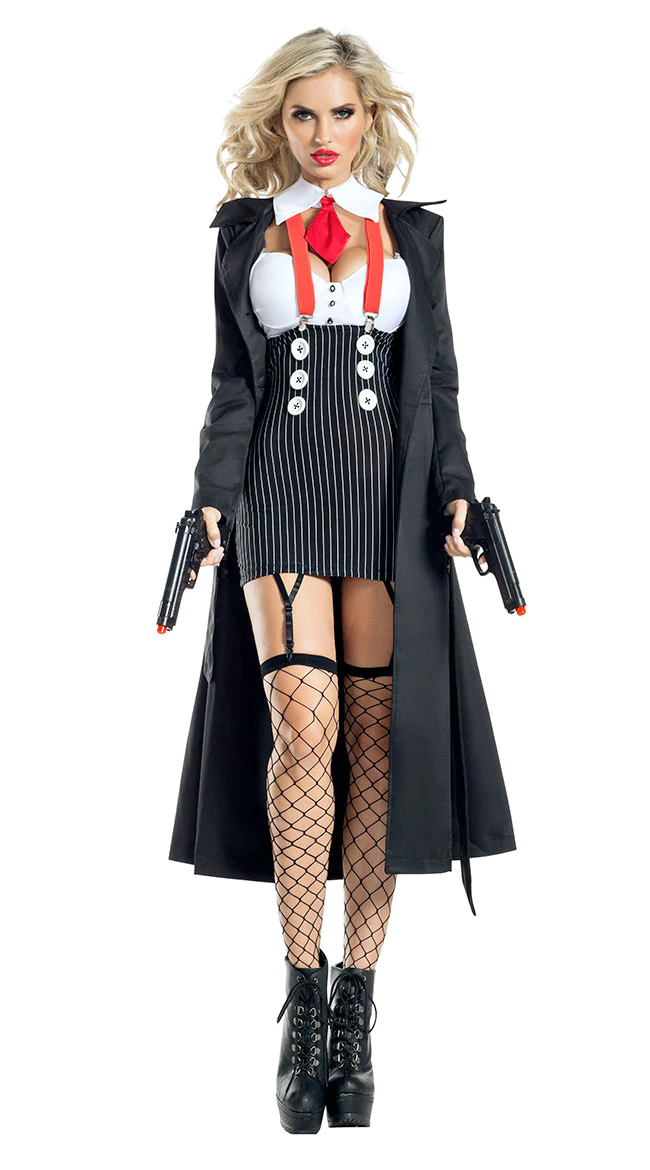 Get the Coat!
A thin coat that features long sleeves will add to the elegance and keep you warm. The same could be said for the lower part that goes all the way to the shoes in the back. However, you will still show those long legs of yours thanks to the shorts hiding below the coat. The neckline at the top confirms that this type of gangsters' costumes is still capable of dazzling everyone!
Add a Modern Touch to Your Outfit
It is time to move to products that are inspired by modern times, but still use clothing items, materials, and colors suitable to the classic crime era of the roaring 20s.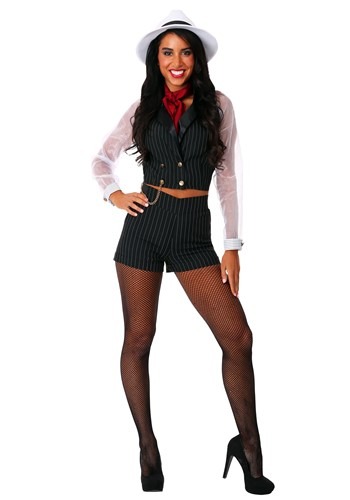 Get the Outfit!
Not many girls wore cropped vests to show their stomach at the time, but that shouldn't stop you! That is especially true if you have what to show at the upcoming Halloween event. The pinstripe design will ensure that you fit the theme perfectly. You will get a colorful red scarf to add dynamics to the combination, and the chain connected to the shirt contributes to the mafia motif.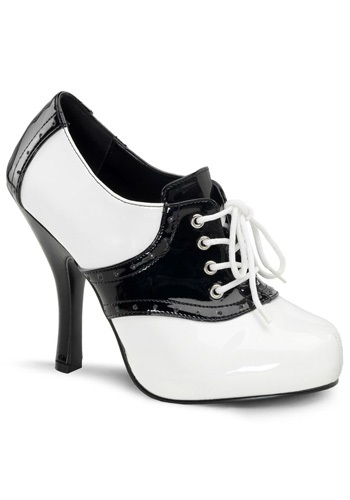 Complete the Look with these Shoes!
Now, you can wear a selection of shoes with this combination. However, high-heeled saddle shoes can add to the overall appearance while giving you a few extra inches to look more attractive!
An Overlap Between a Business and Gangster Babe
Are you a businesswoman in these modern times, and you have a habit of wearing elegant pants? How about incorporating that detail and finding gangster costumes that come with this clothing piece?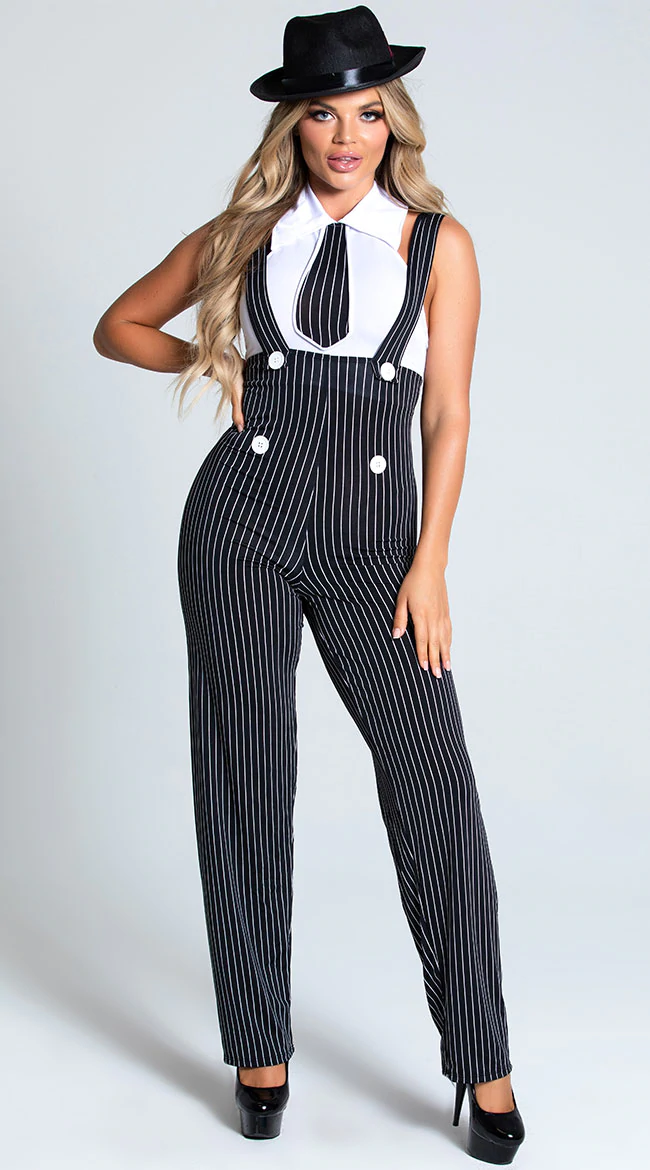 If you order pants, make sure to go with stripes. Suspenders will contribute to the classic theme, but you can add a business twist to everything with a tie. While you are there, consider faux leather gangster shoes with high heels.
Complete the Look with Matching Heels!
Skirt As the Main Focus of Your Costume
Women love wearing skirts, so why not make them the primary focus of your Halloween or party combination? The 1920s mob theme shouldn't stop you because you have plenty of options to incorporate a skirt. For starters, you can always go with a variant with suspenders and a classic white shirt.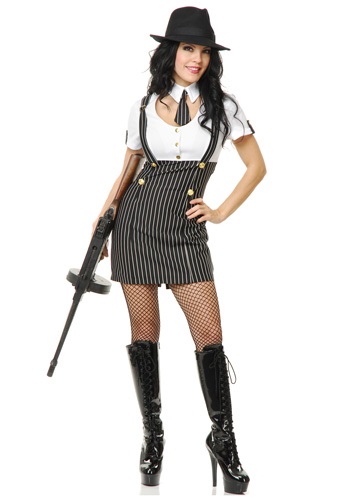 Get the Outfit!
Those who would like something a bit more provocative will want to go with a pleated skirt that gives you more flow. It can be perfect for those who don't hesitate to dance when the music starts!
Final Thoughts
That wraps up our article; I hope you can use these guidelines to find a sexy gangster girl costume that perfectly fits your taste and style.
Get this Seductive Outfit!
You have many different routes to take, so don't hesitate to experiment a little. If you take your confidence with you, these costumes are guaranteed to dazzle everyone with its hotness!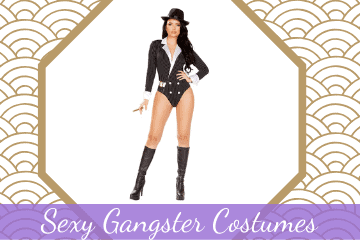 Sexy Gangster Costumes – Guaranteed to Sizzle!
Looking for a sexy gangster costume that is guaranteed to turn heads at your next party or Halloween? Look no further we have got you covered!