Did you get invited to a 1920s costume party? For starters, this era is so inspiring for both men and women. If you are a female, you will need to explore what flappers wore at the time. That is where this guide comes into play!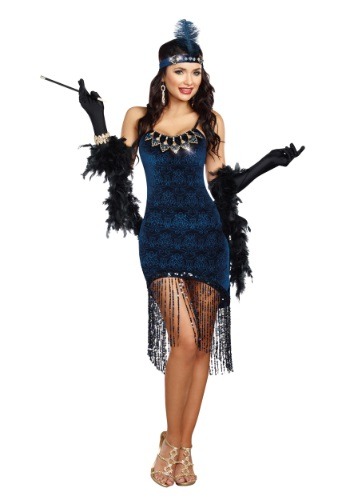 We will reveal everything that you need to know about flappers' dresses in the roaring 20s. Our guide also answers questions about 1920s flapper shoes and other accessories for women wearing the costumes from that era.
Who Inspired the 1920s Flapper Fashion?
For starters, we will take a quick history lesson. The first part of the 20th century brought a lot of changes for young women's fashion. We have several notable designers in that era, including Elsa Schiaparelli and Coco Chanel. The primary fashion direction was to reduce the quantity of fabric worn by women. For example, ladies replaced long dresses with knee-length or shorter options.
Get this Stunning 1920s Dress!
A classic flapper dress had bare shoulders or short sleeves and spaghetti straps on the bottom. Those would move whenever you dance, which is what attracted male attention. You can check out more suggestions for 1920s flapper dresses on this page.
Is It Okay to Wear a Longer Dress and Still Look Like a Flapper?
Flappers loved showing a bit more skin than usual (at least up until that time). However, you can go with more formal 1920s attire and still look fantastic. If you do decide on that combination, we suggest keeping things shiny.
The shiny details, such as beads, will make you sparkly and ensure that you fit the era. If you are going for a long dress, don't forget to wear the accessories that go in line with the flapper style.
How Did Flappers Wear Their Hair?
Would you like to resemble the appearance of flapper women from the 1920s? If that is your goal, we have two words for you – bobbed hair! Yes, "the bob" might be a male-name, but it is the haircut that flappers picked at the time. It was rare to see short hair on a female in the roaring twenties. That is when the hairstylists got creative and came up with the bobbed haircut.
If you like "the bob, don't hesitate to find a wig or cut your hair like that. However, if you like another haircut, there is no reason why you wouldn't go with it. The only thing to avoid is dying your hair in colors like purple, blue, or green. Those trends arrived a bit later. However, don't let it stop you from going with a red curl pin wig, which perfectly fits the timeline.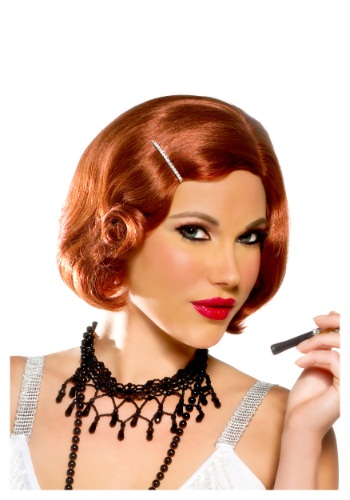 Complete the Look with this 1920s Wig!
Did Flappers Wear Headbands?
Have you ever seen a flapper in a movie? Have you watched the Great Gatsby, Boardwalk Empire, Peaky Blinders, and similar films and TV shows? If the answer is yes, then you know that it is hard to imagine a flapper without at least some accessory on her head!
Now, here is the excellent news – you can choose from a variety of different flapper headbands and headpieces. If you ask us, you have two ways to go. The first option is to choose a classic feather headband. These can go great with a flapper dress, and you can pick from different styles to wear.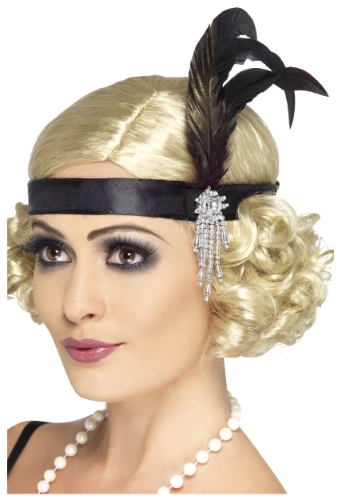 While the classic is a single or a couple of feathers on the side, feel free to go with a more luscious option if you like it. These were the trademark of flapper dancers in the roaring twenties. Would you like to try something different? If the answer is yes, you can consider a beaded headpiece. 
This looks luxurious, and it is a perfect fit for an elegant combination.
What Other Accessories Can I Use to Achieve a Flapper Look?
Flappers were all about attracting attention to themselves by using the right details. Even the celebrities of the time, such as Clara Bow, knew how to use accessories to their advantage. The first thing to pinpoint is that you need a 1920s purse or handbag.
Now, if you are combining a flappers dress with additional details, here is what you should pay attention to during the selection process. For starters, if your shoulders are bare, a beautiful boa is the right way to go.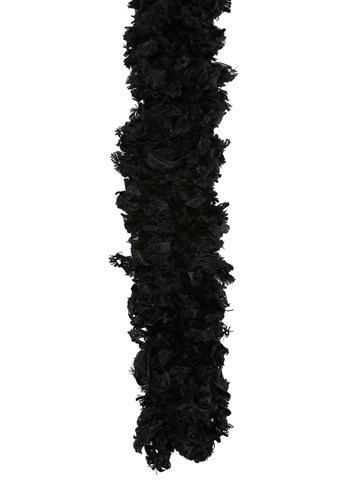 Our tip is to always choose a featherless variant. That way, you will avoid a mess but also a potential allergic reaction that causes itchiness. We already described the headpieces, but we didn't mention gloves.
Now, gloves have always been a trademark of elegant women who wanted to pinpoint their culture. Extra-long black satin gloves will fit almost any dress color out there.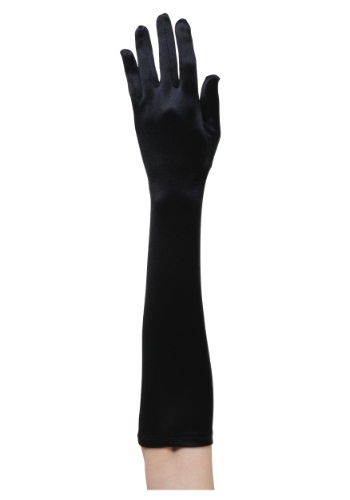 Complete the Look with Gloves!
You can also be creative with the accessories. Some suggestions might include a plastic cigarette holder, stockings, and a garter. If you are going for a garter, how about adding a flask to it?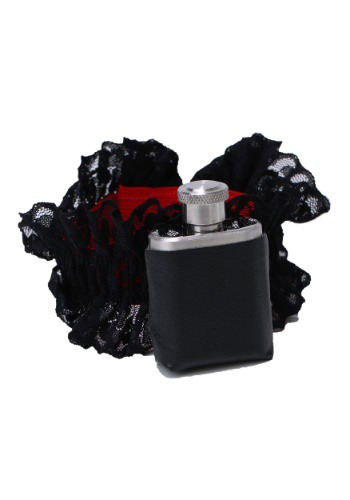 Not only will you look fantastic, but you will impress all men out there when you offer them a drink from your garter!
What Jewelry Would a Flapper Wear in the Roaring 20s?
Whatever era it is, we are sure of one thing – women love jewelry! That was true in the 1920s, and it is every bit as accurate now. As for the jewelry picked by females of that era, they knew how to pick the right pieces.
The main thing to consider is that the dresses flapper wore always agreed with their jewelry. You can never go wrong with a long pearl necklace around your neck. That emphasized classiness and style, and the same is true for bracelets. Going with art deco jewelry can be the right move, especially if you combine the pieces well.
Get the Matching 1920s Earrings!
You shouldn't forget the earrings, but aim for them to match the rest of the outfit. It might be wise to choose stud earrings, but dangle pieces can be a smart pick, too. Here is a good trick – it is possible to get some jewelry that fits the era in accessory sets available on the web:
Did Flappers Wear Makeup?
Women could access makeup long before the 1920s, but this period brought an important change. It was then when people started seeing females with their makeup on even during the day. The use of mascara, eyeliner, and lipstick wasn't limited to formal evening events. Instead, it was perfectly okay to use makeup if you are going for a walk in the middle of the afternoon.
Apart from the makeup, the period brought another important trend. You could rarely see a 1920s flapper without plucked eyebrows. These women took care of themselves and knew a lot about how to do that.
Which Shoes to Pick with a Flapper Costume?
If you are attending a formal event, perhaps you should consider women's shoes inspired by the Great Gatsby. Whatever the type of party that you are going to, here are the two principles to consider during the selection process – comfort and movement.
Flappers were all about moving on to the dance floor. Whatever shoes you wear, it should allow you to dance for hours and show your graciousness. You can't go wrong with the classic white flapper shoes.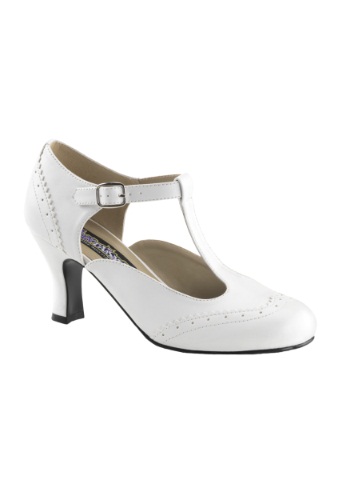 These have medium hell and are quite thick, which is to contribute to movement and comfort. If you don't plan on moving that much, a higher heel will do, too.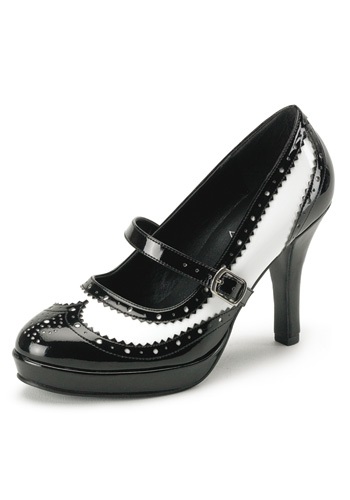 As you can see, flappers loved freedom and dressing the way that fits their personal style. Don't hesitate to combine your preference with a few of the 1920s touches. If you do that, you will be the star of the party and any other event you attend!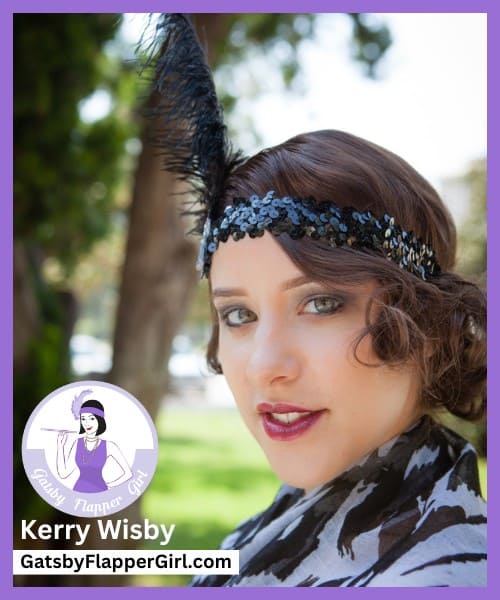 Written by Kerry Wisby – GatsbyFlapperGirl.com
Owner & Founder of GatsbyFlapperGirl.com
Kerry Wisby is the owner & founder of GatsbyFlapperGirl.com, your go-to source for all things 1920s & The Great Gatsby. With a passion for the era & a wealth of knowledge to share, Kerry is dedicated to providing you with everything you need to know about Roaring 20s fashion, 1920s history, & Great Gatsby-themed party ideas. Join Kerry in bringing the spirit of the Roaring 20s to life! Read more about Kerry here.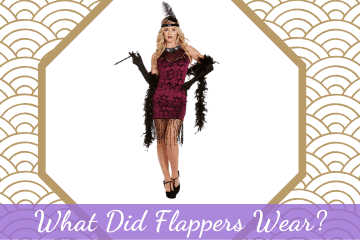 What Did Flappers Wear in the 1920s?
Are you getting ready for a 1920s party, and need to learn what did flappers wear? Here is a complete guide on women's fashion in the roaring twenties!