Dress Styles of the Roaring Twenties
The 1920's decade was a colorful post world-war time where fashion became exciting and an evening out on the town was not just a fun pastime but a way to express yourself.
• Dress Styles of the Roaring Twenties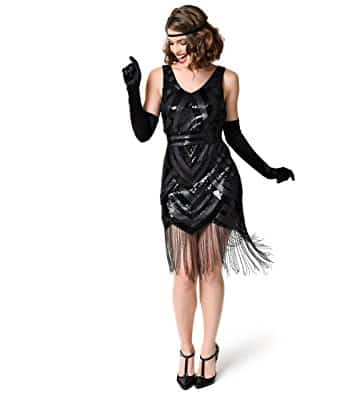 Popular novels such as the Great Gatsby perfectly depict this era filled with parties, fashion, and elegance.
Even though prohibition was in full effect, special bars known as 'speakeasies' popped up around cities, and 1920's dress styles shifted from more simple clothing to Art Deco inspired beads, gems, and flapper dresses.
It's safe to say that the dress styles of the roaring twenties were unique, and is still a popular dress style today with 1920's inspired theme parties, vintage fashion, and attitude that is still very much alive.
• Fashion Forward
The 1920's was a fashion forward era, where styles evolved from Edwardian era skirts and corsets, to more streamlined and stylish outfits.
20's fashion was the era to begin to express yourself.
The free spirited style evolved with the times, where it was essential to have fun and make a statement with many different accessories, and the extremely popular flapper dress came on the market.
Not only that, but short, bobbed hair was in style, and women all over were embracing the flirtatious and fun 1920's inspired style.
• 1920's Cocktail Dresses
After World War I the whole world was celebrating, and although Prohibition was in full effect it was mostly ignored by the population, and so a new way of parties with dress styles to go along with it was born.
These roaring 20's dresses were fashion statements perfect for dancing the night away.
Many of these dresses had beads and embellishments that jingled along with the music as women danced until dawn.
They characteristically were just below the knee, a political fashion statement that was quite daring at the time, and was popular among youthful women who were celebrating their new found freedoms in this vibrant era.
Many of these dresses were depicted in the book, The Great Gatsby, where scandel and fabrics were the setting for an epic story.
These Gatsby themed dresses are the inspiration for many 20's themed parties where a Gatsby themed party is filled with Jazz, Charleston Dancing, and a Speakeasy atmosphere.
• The Flapper Dress
With the dawn of a new era and women gaining the right to vote, the youthful women of the 1920's created a style uniquely their own!
Known as the 'Flapper' these women were young, free, and independent.
Short hair, no corsets, and a stylish new trend known as the  'Flapper Dress'.
The dresses was a staple of this era, adorned with beads and jewelry, but most importantly had lots of fringe that shimmied along with the music as you danced.
Hemlines went from longer to shorter, a classy just below the knee, and many different fabrics such as lace, beaded chiffon, sequins, and lame.
These dresses were a fashion statement in and of itself, and perfect evening dresses for a night on the town.
• 1920's Charleston Dress
The Charleston Dress is the perfect dress to dance the night away to upbeat jazz music.
The 1920's Charleston dress first began as a dress that can easily move to the complex and exciting music genre, and dress hems are shorter, fringe is more flamboyant, and making a fashion statement is the most important part of this dress.
Since the 1920's was 'the Jazz Age' coined by the infamous F. Scott. Fitzgerald, these dresses are the perfect reflection of the era, complete with sequins, beads, and all.
• Dressing for a Gatsby Themed Party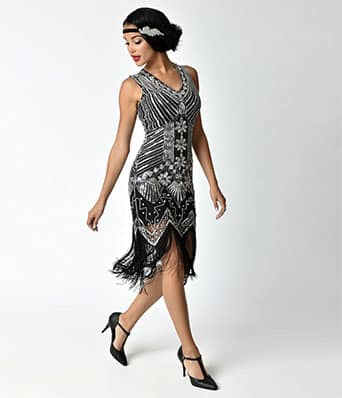 The Great Gatsby was a popular novel written by F. Scott Fitzgerald, who depicted what life was like in the roaring 20's, and is a popular party theme today.
Many vintage costumes are available for an evening out or dinner parties, that depict class, elegance, and style.
There are many dress styles you can wear to this particular type of theme party, the first being of course a flapper dress.
Whatever the theme is for your party, whether it's dancing the night away at a jazz club or a fancy dinner party, pick and choose your style of flapper.
Whether it's with beaded fringe, sequins, or a very popular type of fabric known as lame.
This was a metallic lace evening gown that shimmered under candle light.
Whether you are dancing all evening or enjoying a dinner party, a shimmery fabric with lots of fringe is an essential for a 20's themed party!
20's inspired fashion did not necessarily need to be colorful.
Many dresses can be in simple colors such as black or white.
However, the 20's was all about individuality and creativity with fashion, and picking whatever color suits you is the perfect one.
For more formal wear, a longer dress in silk style fabrics in colors such as dark green, navy, or black are perfect for a classy evening dinner.
Accessories were essential for 1920's style evening dresses, including headdresses that were styled with medallions, feathers, or beads.
Along with that, cloche hats or turbans were also popular for evening wear.
Beaded bags that were envelope style were also popular, that had Art Deco designs on them, and came in black, white, or nude.
Popular shoes include mary-janes, t-straps, oxfords, and peep toes with a comfortable heel for you.
Stockings were also often worn in either black or white.
The 20's inspired look cannot be complete without makeup.
Then, the look was simple, with white powder, rouge cheeks, and bow style red lip.
• Make a Fashion Statement
The 1920's was an era filled with activism, change, and a whole lot of fun.
The fashion sense is a reflection of an era that Jazz music ruled, women's rights made headlines, and parties went till dawn.
It is a fashion era that gives so much to play around with.
Whether you have a Great Gatsby themed party, just want to dress up to a jazz club, or attend a dinner party, 20's inspired vintage fashion is sure to make a statement!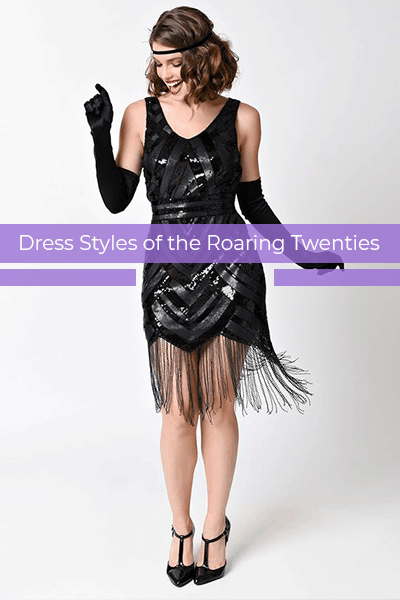 GatsbyFlapperGirl.com is a participant in the Amazon Services LLC Associates Program, an affiliate advertising program designed to provide a means for sites to earn advertising fees by advertising and linking to amazon.com.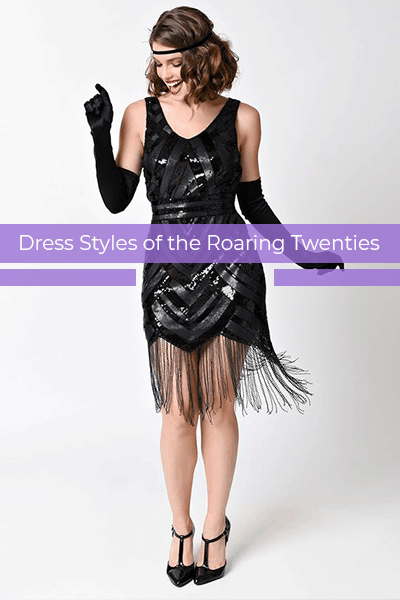 Dress Styles of the Roaring Twenties
This is the best modern Dress Styles of the Roaring Twenties: Great Gatsby Dresses.